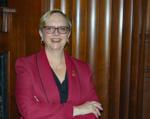 President Bob Garagiola rang the bell at noon promptly followed by the Pledge of Allegiance and the Rotary Four Way Test. Past President and Past Assistant District Governor, Richard Losciale, gave us an inspiring and thought provoking invocation. Bill Piper filled in for Juli Niemann giving us a decomposed version of "It's Beginning to Look a Lot Like Christmas." Well done, Bill!
After a brief respite for lunch, President Bob returned to the podium with the sad news Past President William (Bill) Schierholz (1981-1982) passed away. A moment of silence was ended with the traditional single ring of the Rotary bell.
President Bob reminded us to read the Pepperbox to "be in the know" of the upcoming programs, opportunities to serve as well as upcoming fun events. Here is a quick rundown of the announcements:
Past President Jim Sheets thanked everyone for making our Veterans Day program a great success!
Bob Sherrill, Immediate Past President, announced the election slate. Ballots will be going out in early December. Thanks to EVERYONE for raising their hand to be part of the election!

Vice President

Mike Mosella, Earl Poe, Ken Schuman

Directors

Dan Conway, Tom Keeline, Bob Kocher, Doug Lorenz, Pete Milne, Mike Regan, Rebecca Richie, Jack Whittle

Bob Zangas, Past President, asked for help with Scouting for Food.
President Bob made an "unreasonable request" for help at Lift for Life.
Sean Smith asked for help with Old Newsboy Day on November 21st. (No bad weather, no bad weather, no bad weather!)
Don Klackner reminded us about Rolling for Rotary on November 24th.
President Bob reminded us about the Turkey Burb at LoRusso's on November 29th.
Phil Hesley asked for participation in giving holiday gifts to seven families at Gateway 180. Gifts must be returned by December 12th.
Yours truly filled in for Dan Conway as Sgt. At Arms. Lucky me got off with a bad impression of Dan, no guests or visiting Rotarians but an awesome Rotary Foundation joke! Hey, I wrote this so I was AWESOME!
Past President and Past District Governor, Rose Cooper, was called up next to introduce our speaker, Sue Cobb. Sue serves as the District 6060 Foundation Chair and provided us with information about the Rotary Foundation and how Rotarians change the world. She first provided a detailed list of activities. They were:
Polio Eradication
Peace Scholars
Ambassadorial Scholar
Youth Exchange
CAP Grants
Club Initiated International Projects
Global Grants (Sue highlighted four water projects)
Sue ended her talk with an invitation to give to the Rotary Foundation. She supported her ask with information about Club 11 and our past giving statistics. At this point, our club has five major donors, has given $1,017,769 to the foundation and has 83 Paul Harris Fellows.
As is our tradition, the meeting ended with the book donation and 50-50. Bob Hesley pulled the King of Hearts so our pursuit of a "green" holiday season is still in play!