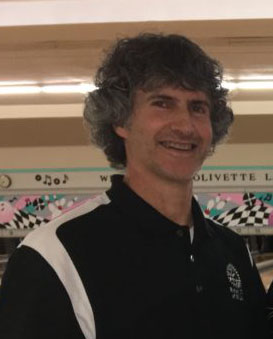 The 1st quarter is winding down and we still have a race.  Team Soifer maintains a 12-point lead over Team Cooper heading into the final week of the quarter.  They will be going head to head next week with the Soifer bunch (Vic Difate, Don Fuller, Tom Keeline, Pete Milne, Mike Regan and John) needing 6 points.  Team Cooper(Jim Conway, Blake Critzas, Arnold Hadler, Bob Kocher, Dave Wicks and Rose) will undoubtedly be yucking it up trying to throw them off their game with Rose, aka Moe, the ringleader of their hijinks.
Well, how did we get here?
Team Captain Doug Lorenz with his team of "high hopes and low expectations" tried to derail Team Cooper on Lanes 23 & 24.  They started off strong defeating Cooper 889 – 866.  With scores like that it is ashamed someone had to lose.  Blake Critzas led the way for Cooper with a 219/242 handicap only to be outdone by Doug (177/240 handicap) and John Guilfoy (189/244 handicap).  Cooper did come back to take the last two games (829-803) & (840-784) to stay in the hunt.  Bob Kocher led the way for Cooper with a 190/246 handicap in Game 2 and a 526/ 694 handicap series.  Bob attributed his success not to his excellent fish sandwich and Tito's & Cran dinner but to his team support.  Although, he closed with, "There is no I in TEAM but there is a ME."  Team Cooper won the match 14-8.
Doug Lorenz took $55 from Bob Barnes in the 50/50 drawing. Doug had a senior moment trying to read his tickets. He attempted to explain his logic but most of the crowd dismissed him. In a first time ever event in the history of the Rotary Bowling League, no one claimed to have the winning ticket. A second ticket was drawn and the pot awarded to Bob "Newsy" Barnes prior to Doug figuring out he did hold the original winning ticket. A gracious Rotarian, Bob ceded the $$ to Doug. The league president highly recommends that you look at the high and low number and if the ticket drawn is anywhere in between them – you have WON!
That leads us to Lanes 21 & 22 where Newsy was shuffling a lot in Game 2 with a double and a turkey in the same game – finishing with a 170/244 handicap. He was outdone by teammate Steve Lafara with a 214/253 handicap game. Doug Russell led the resistance for Team Conway with a 156/253 handicap, but it was not enough as Team Cowell took the game 882-857, another tough one to lose. Bob ended up with a 446/668 handicap series and Steve (549/660). To say Game 3 was close was an understatement as Birthday Boy, Matt Weiss, threw a double in the 10th and Steve struck and picked a 10 pin under pressure to pull out a draw. Yes, after 10 frames a winner could not be determined. Happy Birthday, Matt! Team Cowell took the match over Team Conway 18-4. After 5 weeks Team Cowell had amassed a staggering 22 points winning only two of 15 games. In the last two weeks they have yet to lose a game and have moved into a tie for 5th with Team Lorenz. These two will square off next week.
At the other end it was Team Soifer attempting to maintain their position atop the standings. Things got off to a rocky start with a mix-up between Vic Difate and Mike Regan left them short a man. It was not a problem as Captains Dan Conway and I were both looking for a lane. Happy to fill in for a fellow Tiger I got the opportunity. I did not provide much help in Game 1 and like Team Cooper, Team Soifer dropped Game 1. League President and Team Captain, Ralph Decker, led his team with a trio of 200 games and a 624/684 handicap series as they took the first one. Ralph now has the high scratch series to date. Team Soifer heated up in Games 2 & 3 and took both games and the match 14-8. Jon Soifer leading by example from the leadoff position had a 408/669 handicap series and I fell short of besting Ralph in my substitute role with a 618/678 handicap series. The two 600 series are the first of the year. I am sure we are all just figuring out the lanes and we will see many more in the coming weeks. My 245 in Game 3 moved me past Ralph's earlier 226 for high scratch game and tied me with Blake for high handicap game (265). Blake still has the high handicap series with a 715. Jon will be checking his roster and his phone to make sure he has 4 next week.
There were some great individual and team scores for the night. Let's do it again next week at Olivette Lanes!