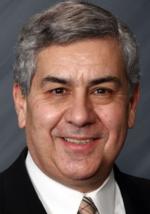 President's Corner
This week's President's Corner will bring you up-to-date on how Club 11 is having to deal with the city & county's Stay-at-Home order.
I. The M.A.C. remains closed to meetings and events through April 23.  At that time, they have announced that they will re-open, subject to the 10 person limit until May 15.  All Rotary events remain cancelled for now.T 
II. The Board of Directors met by conference call on 3/25, discussing, among other items, Second Quarter (2Q) Dues & Fees.  The following arrangement was approved:
Credit for the two cancelled March meetings will be processed with the 2Q invoice
Subsequently, for meetings cancelled in April, credits will be issued approximately           5/1
When the Board meets in April, they will re-visit this procedure.
III.  Bowling (league, banquet,and Columbia trip vs. K.C.) has been postponed;   Golf league was been pushed back until, at least, June.  
IV. The annual St. Louis Rotary Club Golf Tournament is tentatively scheduled for May 20  —  the committee is working with the Forest Park Golf Course on alternate dates.
V.  The Program Committee is working to re-schedule speakers of cancelled programs.
VI. Community Service Committee is reviewing Grant applications (15 so far) and will be presenting their recommendations to the Board in April.
VII.  Look for another Rotary 5 in 5 next Thursday.  It may be an "oldie but goodie".  There were 84 views of Katie LaMarsh's interview as of Saturday morning.
Finally, I remind all members to call or e-mail other Rotarians for Goodwill and Friendship; such an act will be beneficial for all concerned.
President Bob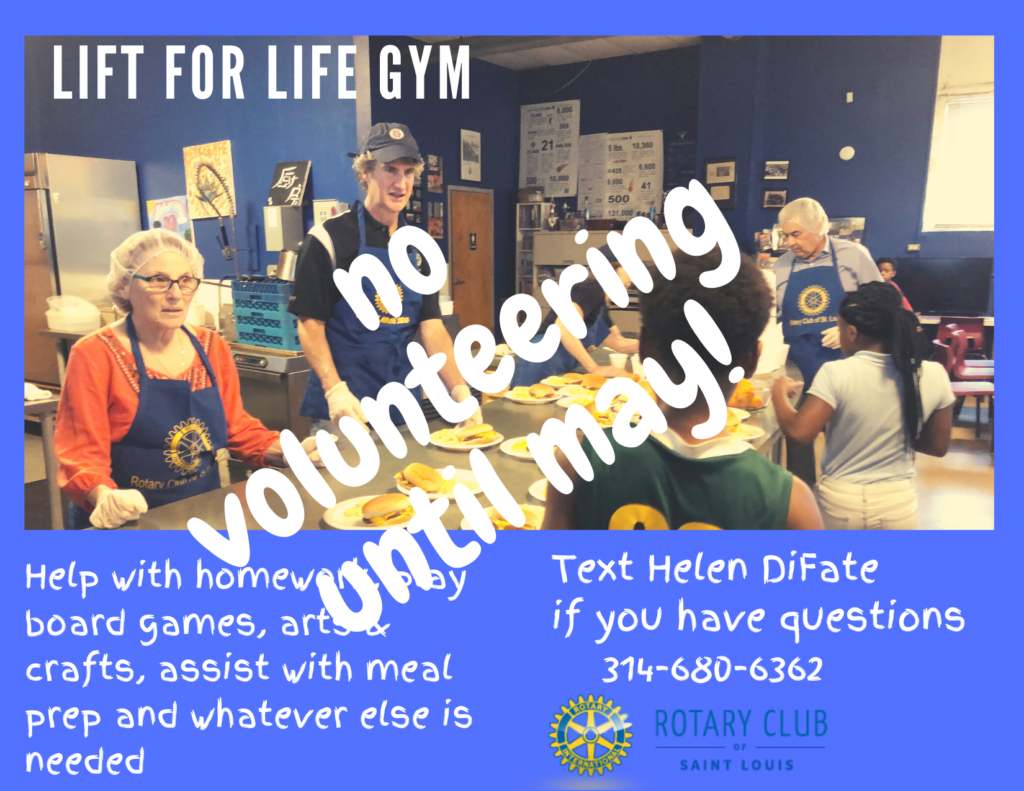 Community Service Programs and  Projects | Fundraisers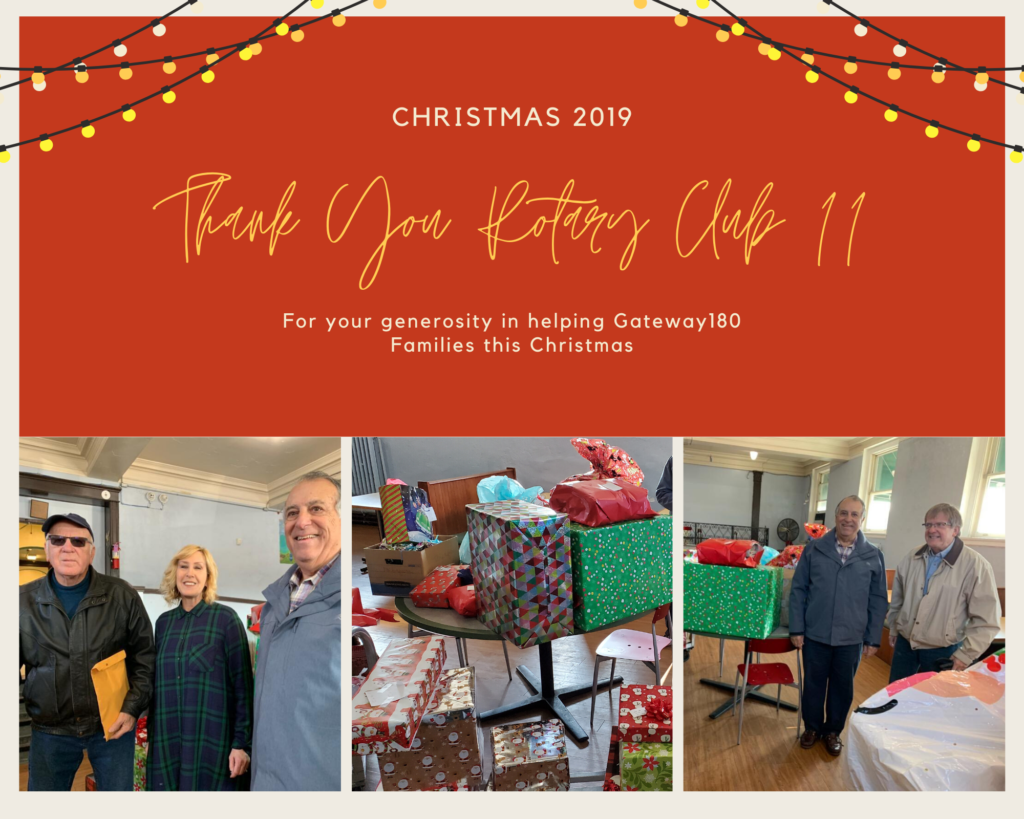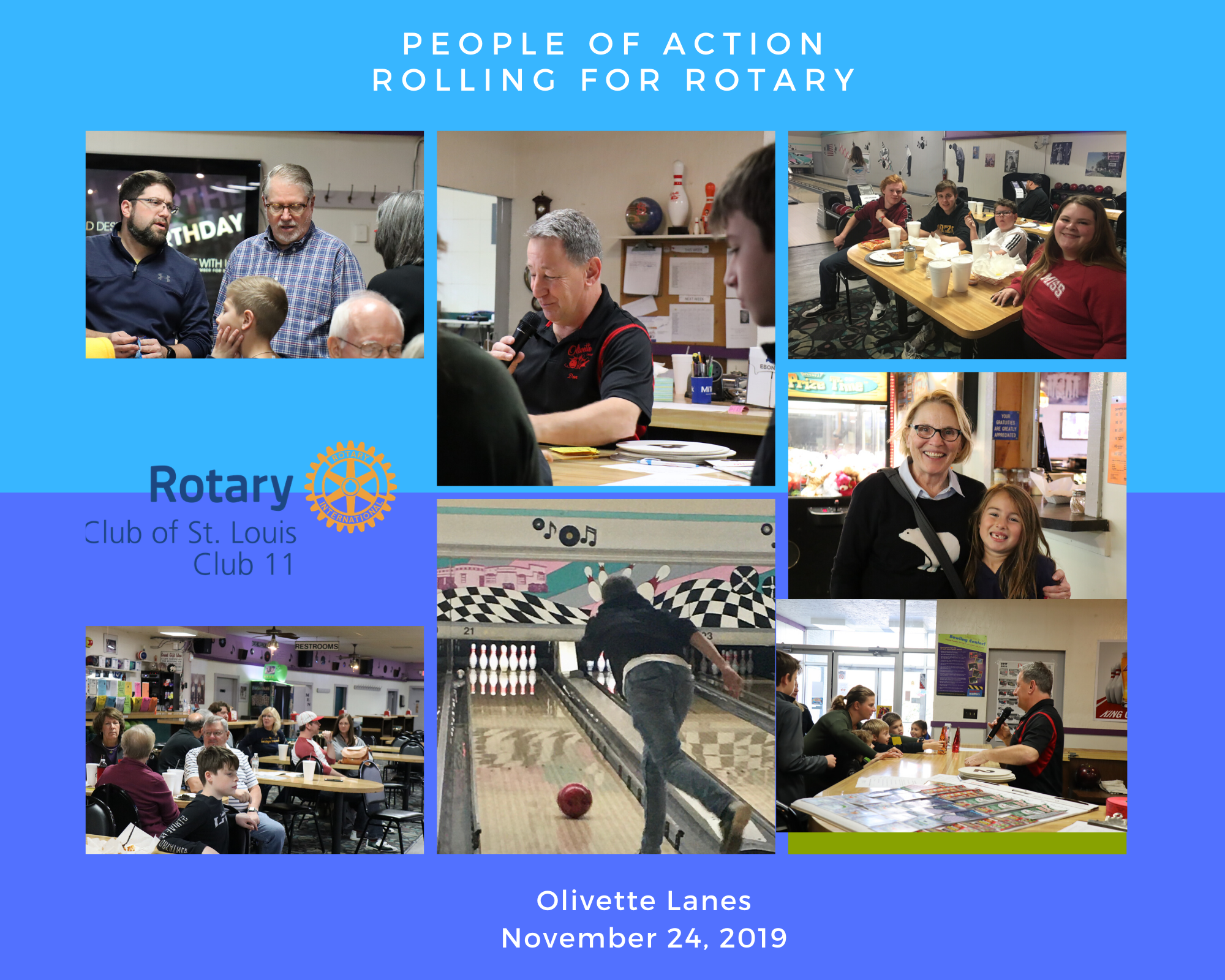 Rolling for Rotary ~ A Great Success
'Our annual Rolling for Rotary fundraiser was a great success on Sunday Nov 24th by raising over $3200 at Olivette Lanes.  Thanks to the 11 Rotarians that sponsored lanes for $150 each including Beth Russell, Pete Milne, Matt Weiss, Doug Lorenz, Don Lorenz, Katie LaMarsh, Steve Rosenblum, Richard Warriner, Rebecca Richie, Terry Werner and Rose Cooper.  Thanks to Rotarians Ralph Decker, Don Klackner, Jean Cowell, David Cowell and Bob Garagiola who added personal donations to the total.  The silent auction netted another $475 and Rose Cooper was the 50/50 winner of $210.  A Lottery scratchers raffle netted $315.  The lanes were filled with Rotarians families and friends including a slew of young kids, the youngest just 2 weeks old (Terry Werner's 1st grandson).  Our games of "Rob your Buddy" and "Heads or Tails" were a lot of fun and we even threw in a practice round of Trivia.  Team Werner was the Trivia winners with 13 of 15 questions answered correctly.   So much fun while raising money for the Rotary Welfare Fund.  Mark your calendars for the next year's event in early November.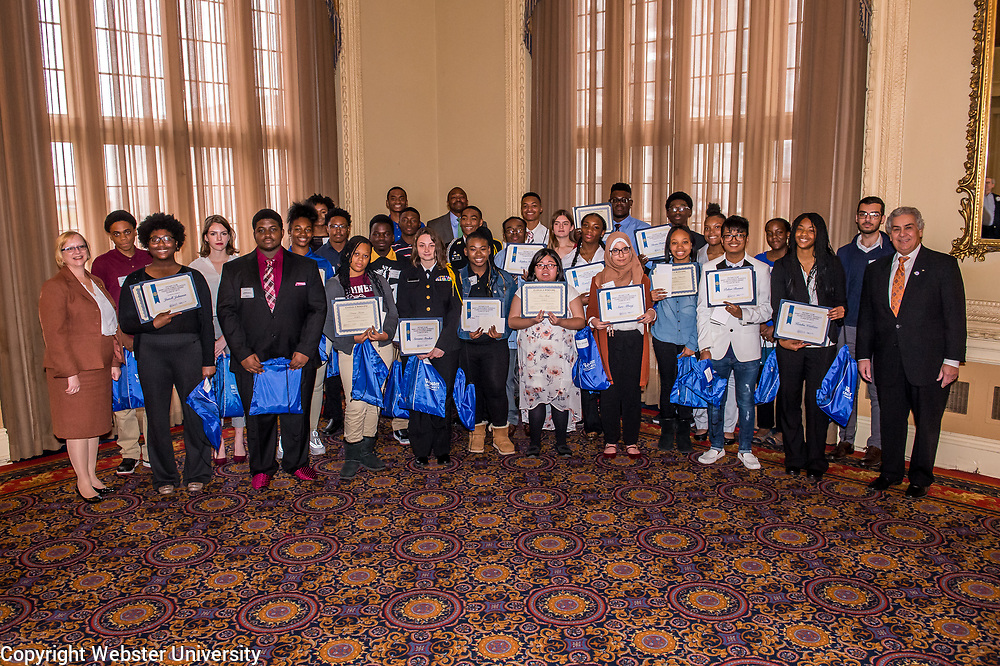 Class of 2020 Young Citizens 
Tran Thach, Stephen Walker, Nottingham CAJT
Terriel Herndon, Andrew Hudson, Carnahan High School
Nikkita Dismuke, Ali Hall, Central Visual & Performing Arts 
Serenna Stocker, DeShaun Russell, Cleveland NJROTC
Gabriale Millender, Devin Harris, Clyde C. Miller Career Academy
Asra Albaaj, Trishten Gregory, Collegiate School of Medicine & Bioscience
Jennifer Theodore, Pukar Basnet, Gateway STEM
Haley Clegg, Quinton Keller, McKinley CLA
Ava Farrar, Layth Aljorani, Metro Academic & Classical
Janell Johnson, Keisha Watkins, Northwest Academy of Law
Zarria Mackins, Maki Shukuru, Roosevelt High School
Brandnesha Duncan, D'Marco Gibbs, Soldan International Studies
Danise Harris, RaiSean Booker, Sumner High School
Fatima Ndon, Domonic Archie, Vashon High School
PEOPLE 
OF 
ACTION
IN 
ACTION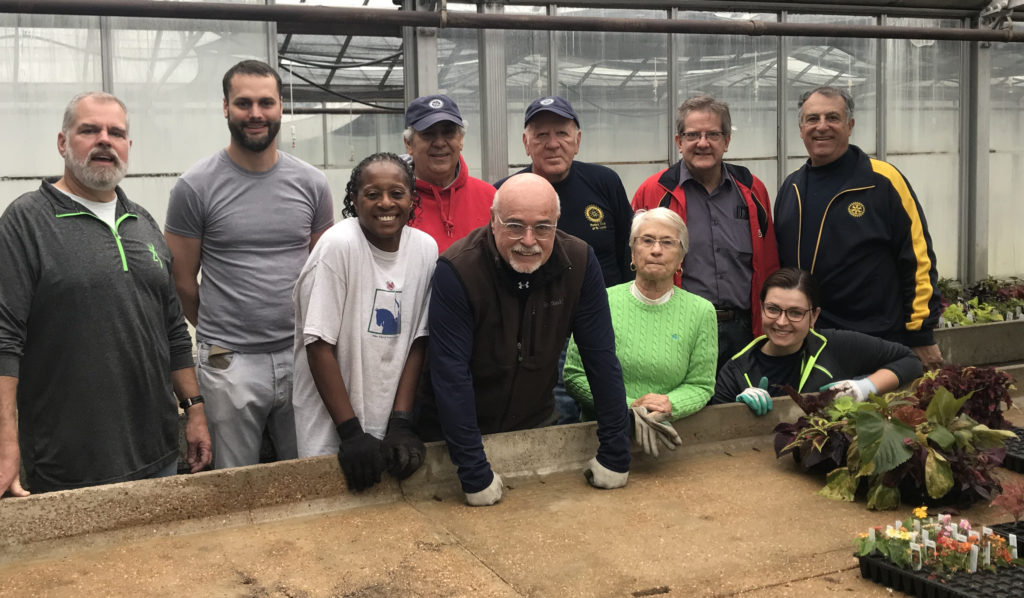 On Saturday October 26th a group of Club 11 members gathered to plant tulips at the Jewel Box in Forest Park. Well we would of planted tulips had only the weather cooperated. Remember, Saturday was a solid day of rain. Not to be daunted by the weather, our group of hardy members potted Coleus instead. We all gathered at the green houses just south of the Jewel Box and following the instructions of master gardener Jack, learned about how cuttings from a few plants can make hundreds of plants which will then be used for both ornamental plantings around the Jewel Box and the Muny next summer, but also support the annual Mothers Day plant sale. Club 11 members participating included, President Bob Garagiola, Community Service Chair Phil Hesley, Bob Hesley, Mark Rubinelli, Rick Tinucci, and Eric Boston. The Community Service Committee is considering other options for volunteer opportunities and welcomes your ideas.
Old Newsboys Day ~ November 21, 2019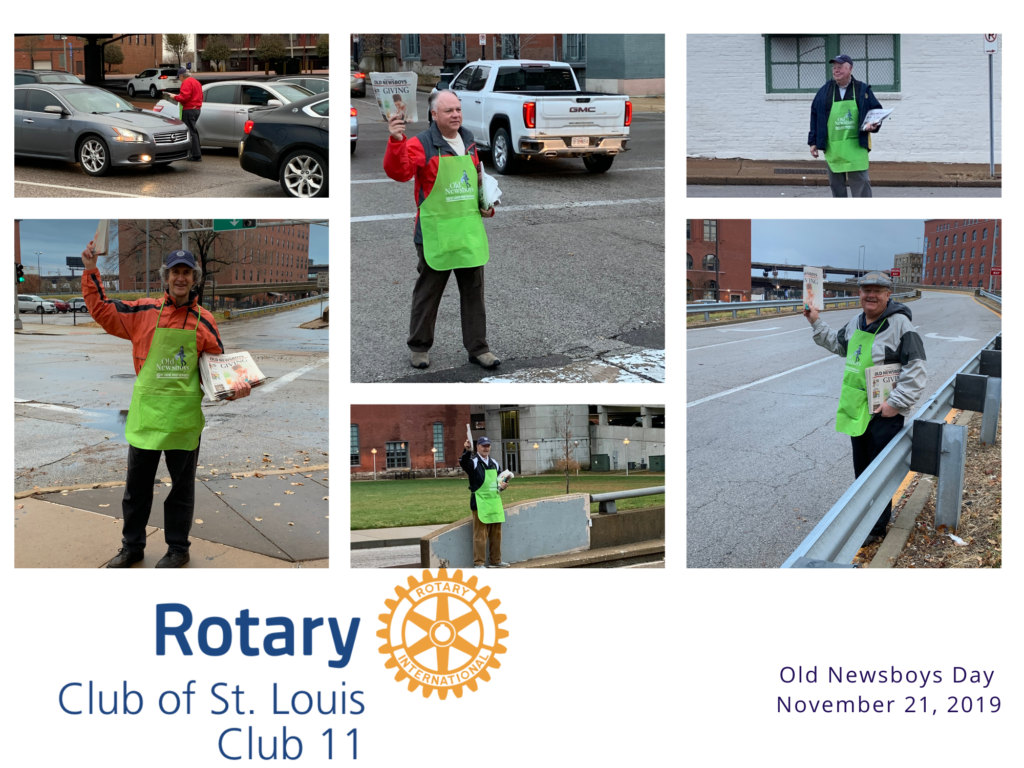 On Thursday, November 21, 2019, members of St. Louis Rotary Club 11 participated in the Old Newsboys Day paper drive by selling special edition newspapers at various locations downtown. This is part of an annual campaign that takes place throughout the St. Louis metropolitan area. All funds raised by this event go towards supporting local children's charities. I would like to thank the following "newsboys" for their participation: 1. Mike Borough 2. David Cowell 3. Bob Garagiola 4. Don Klackner 5. Doug Lorenz 6. Phil Roush 7. Sean Smith 8. Kent Steinbrueck 9. David Wicks The top three "newsboys" this year were Bob Garagiola at $180.05, Phil Roush at $258.84 and Kent Steinbrueck at $354.60. All together, Club 11 raised $1,356.64 for local children's charities. Thank you to all who participated in making this year's event successful!
MY ROTARY STORY – JIM CONWAY