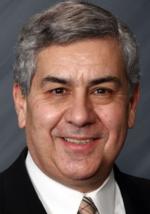 Our regular Thursday Rotary Meeting returns to normal this week following our special events:
Young Citizens Awards and M.A.C./Rotary Veterans Day Program.
Our thanks goes to the Young Citizens Awards Committee (Mary Jane, Rose, Beth, Jean and Michele & video by Doug) for their hard work. Further thanks goes to Jim Sheets who represented Rotary on the M.A.C./Rotary Veterans Day Committee; Rotary
had over 75 Rotarians and guests in attendance. As I said in my welcoming remarks, it is a highlight of our club year, as is the Young Citizens Awards
With all those activities, in last week's President's Corner, I listed our upcoming Rotary
events in November. They are all featured in the PepperBox so there is no
need here to repeat the schedule. BUT, I forgot about one of our monthly
commitments: Lift for Life Gym on November 19, 3:30 pm to 5:30 pm.
This is a very rewarding service. If it's been awhile, or if you never have, it is
worthwhile to spend time with these children. In fact, it has now been
added to my list of "Unreasonable Requests. Rotary needs
volunteers for Lift for Life on Tuesday November 19 – see Helen DiFate.
Finally, our program this week is the Rotary Foundation presented by Sue Cobb, District 6060 Rotary Foundation Chair. The Foundation is an important part of Rotary.
Be sure to wear your Paul Harris pins and medals.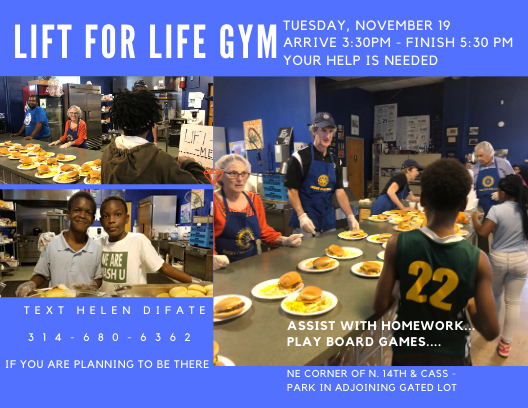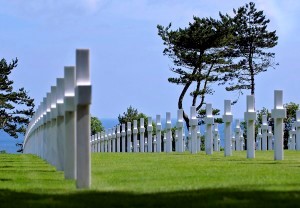 As Diane and I negotiated the small streets in Vernon, France a few years ago, we heard yelling ahead. As we turned the corner, we saw an older woman waving three large flags out her second story window and enthusiastically proclaiming, "Merci, Merci!"

As we paused she continued earnestly, "Etes vous Americain? Anglais? Canadien?" When she learned that most of this group was American, she switched the flags to display the Stars and Stripes as she shouted in French, "Thank you for our freedom! Thank you for our freedom!"

We didn't know what to think, but our guide's explanation touched our hearts. This woman, he explained, waits for occasional passing Western tourists to loudly display her gratitude for their country's involvement in the D-Day Normandy invasion that liberated the French from German occupation in World War II. The woman isn't crazy, and she isn't senile. She just wants to do her small part to tell the world that she has not forgotten that seventy five years ago, young men came to help strangers release her country from the strangle hold of tyranny. How can the children and grandchildren of those who put their lives on the line so long ago, be unmoved as they continue past this small but profound connection?

The next day, our tour moved on to those Normandy beaches. Gentle English Channel waves lapped fine sands where, on June 6, 1944, transport after transport deposited groups of young men tasked with crossing a mine and barrier filled expansive sand tract and climbing up a bluff on which concrete German bunkers protected with rapid firing machine guns. You may have seen the movies, Saving Private Ryan or The Longest Day, but, let me tell you, the distance between water and bluffs is significantly longer than you imagined — impossibly longer than you imagined.
Just beyond the bluffs which you can't imagine anyone climbing, let alone someone weighed down with packs and military gear, is the American cemetery, where 9,000 of the 30,000 casualties rest. Rows of granite crosses make the sunny field a place of poignant remembrance. A short film within a small museum offers a bit of information about those interred: One boy put himself in harm's way helping a wounded friend … who came home. The parents of another chose to bury their son in France rather than home in America to keep him close to his buddies and the land he sacrificed himself to liberate. The average age of the fallen is 24. And a woman a few miles south on the Seine River waves three flags in the peaceful sun and shouts, "Merci! Thank you!"
America and her allies have sent young men to help in world conflict after world conflict, and we are blessed that many of those young men have returned home. Those young men have become fathers and grandfathers and great grandfathers, and they carry the memories of those conflicts with them. November is the month of Thanksgiving. It is also the month of Veterans Day. On this Veterans Day let us all wave our heart flags and say, "Thank you" to those who have served. Thank you for our continued freedom.
Congratulations to all Twenty-eight Class of 2020 Students Receiving the Young Citizens Award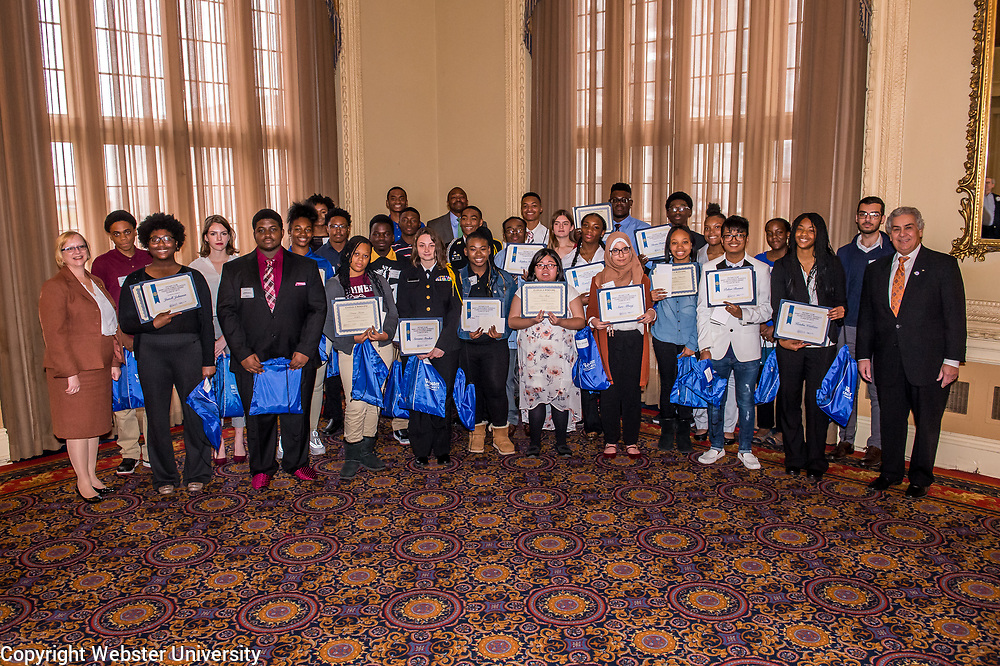 Class of 2020 Young Citizens
Tran Thach, Stephen Walker, Nottingham CAJT
Terriel Herndon, Andrew Hudson, Carnahan High School
Nikkita Dismuke, Ali Hall, Central Visual & Performing Arts
Serenna Stocker, DeShaun Russell, Cleveland NJROTC
Gabriale Millender, Devin Harris, Clyde C. Miller Career Academy
Asra Albaaj, Trishten Gregory, Collegiate School of Medicine & Bioscience
Jennifer Theodore, Pukar Basnet, Gateway STEM
Haley Clegg, Quinton Keller, McKinley CLA
Ava Farrar, Layth Aljorani, Metro Academic & Classical
Janell Johnson, Keisha Watkins, Northwest Academy of Law
Zarria Mackins, Maki Shukuru, Roosevelt High School
Brandnesha Duncan, D'Marco Gibbs, Soldan International Studies
Danise Harris, RaiSean Booker, Sumner High School
Fatima Ndon, Domonic Archie, Vashon High School
PEOPLE
OF
ACTION
IN
ACTION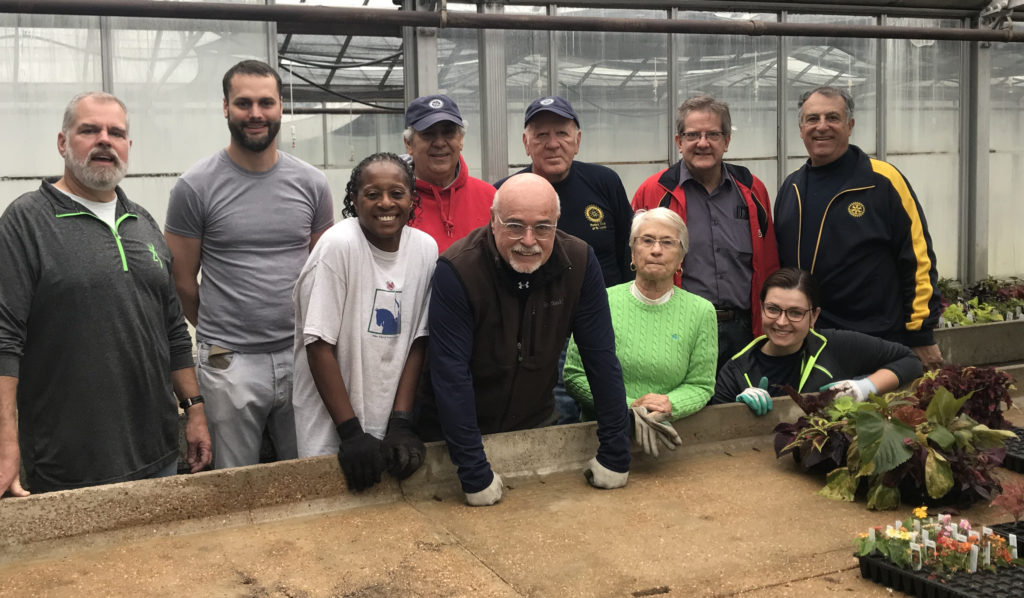 On Saturday October 26th a group of Club 11 members gathered to plant tulips at the Jewel Box in Forest Park. Well we would of planted tulips had only the weather cooperated. Remember, Saturday was a solid day of rain. Not to be daunted by the weather, our group of hardy members potted Coleus instead. We all gathered at the green houses just south of the Jewel Box and following the instructions of master gardener Jack, learned about how cuttings from a few plants can make hundreds of plants which will then be used for both ornamental plantings around the Jewel Box and the Muny next summer, but also support the annual Mothers Day plant sale. Club 11 members participating included, President Bob Garagiola, Community Service Chair Phil Hesley, Bob Hesley, Mark Rubinelli, Rick Tinucci, and Eric Boston. The Community Service Committee is considering other options for volunteer opportunities and welcomes your ideas.
Scouting for Food ~ November 16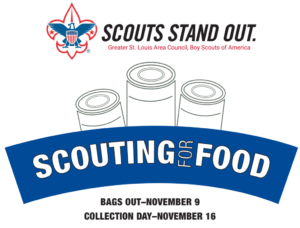 On November 16, 2019, Club 11 will be assisting the Boy Scouting for Food Drive.We will be meeting at Firehouse 36 at 5000 South Kingshighway from 9:00 am until about 1:30 pm.
 
Old Newsboys Day ~ November 21, 2019

We need YOUR help…
On Thursday, November 21, Club 11 will once again be participating in Old Newsboys Day.  We are looking for volunteer "newsboys" and "newsgirls" to help sell special edition newspapers downtown.  This is part of an annual campaign that takes place throughout the St. Louis metropolitan area.  All funds raised by this event go towards supporting local children's charities.
This is a great event for you to get involved.  No experience is necessary–everyone is welcome to participate.  We will be meeting in the Art Lounge (bottom of the steps) in the MAC at 6:00am for street assignments.  Pastries and coffee will be served.  We sell papers until 8:30am-ish.
So, RSVP for your paper route now!  To reserve your spot, or for additional information, contact Sean Smith at (314) 494-8628 or ssmith@muny.org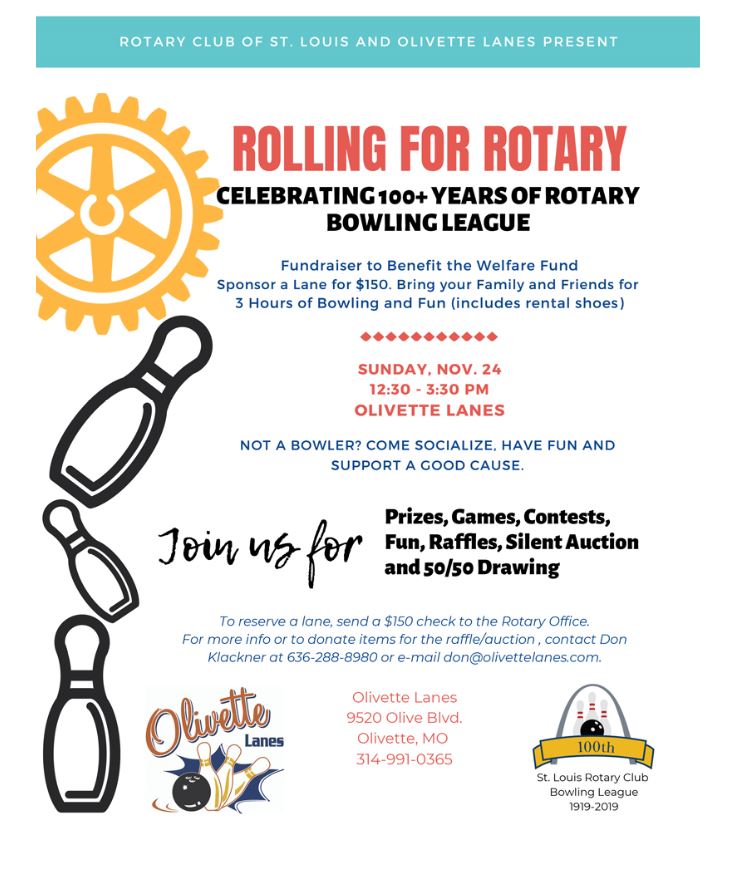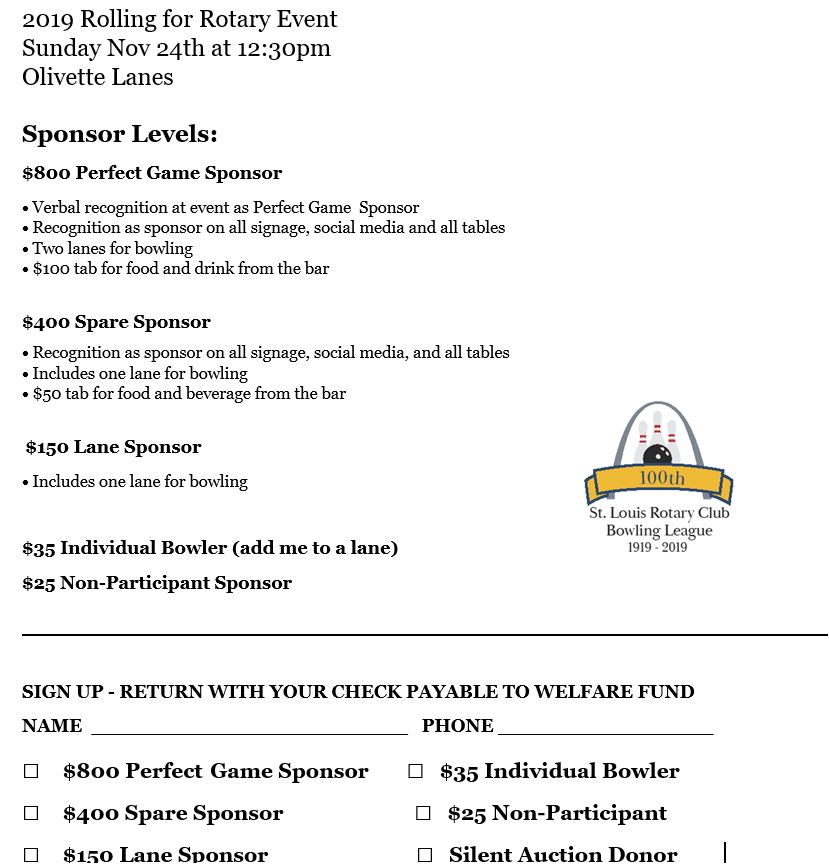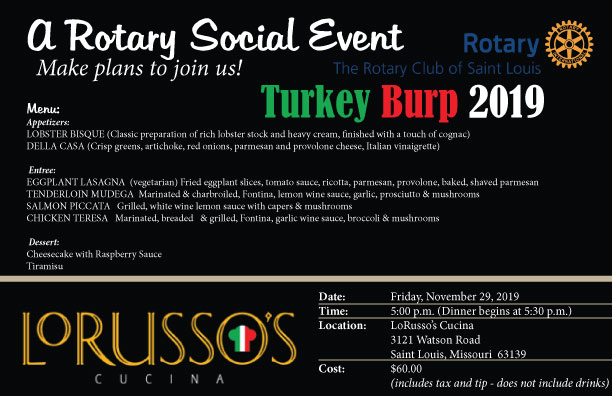 Rotary Happy Hour ~ 08.29.2019 by Doug Russell
Rotary Happy Hour || 08.29.2019

A great evening of bowling and fellowship at Olivette Lanes last night to kick off the 102nd Year of Rotary Bowling! Thanks to Rotarian Don Klackner and the staff of Olivette Lanes for the great hospitality. Special thanks to Michele Goad, Chair of our Social Committee for her great work! Join us for our next happy hour on September 11th at Vin de Set!

Posted by The Rotary Club of Saint Louis on Friday, August 30, 2019
Great Fellowship….by Doug Russell
Great Rotary Fellowship!

More than 30 Rotarians and friends came out on Monday, August 12th for our first Rotary Social event of the year! A fantastic evening of wine, food and fellowship at Scarlett's Wine Bar! Thanks to our social committee and chair Michele Goad for a great event!

Posted by The Rotary Club of Saint Louis on Thursday, August 15, 2019
MY ROTARY STORY - JIM CONWAY