March 2, 2023 ~ Pepperbox Edition ~
Engineers Day | Bob Clark, Executive Chairman and Founder, Clayco
"Bob started Clayco with the goal of finding new, better ways to do business, and hasn't looked back since. Over the past 35+ years, Bob has grown Clayco into one of the top full-service building firms in North America while building Clayco's commitment to the communities in which they work and becoming a national civic and business leader. Bob has …


March 2, 2023 Meeting Links for St Louis Rotary Club |
Please use the In Person Link to Register in advance for St Louis Rotary March 2, 2023 meeting. If registration is closed call 314-894-1759 or email joanh@rotarystl.org 63102. Or join us via Zoom Link…


St. Louis Rotary Lunch Menu ~ March 2, 2023
Sliced Pork loin w/ Mushroom Cream
Grant Guidelines & Forms 2023 | St. Louis Rotary Club 11
Rotarian Sponsor may only sponsor one Financial Grant Application. Applications must be submitted to the Rotary Sponsor by March 10, 2023. The Rotary sponsor …


St. Louis Rotary Bowling Alleygations - February 20, 2023
Bowling Alleygations Week 21 | February 20, 2023 | Ralph Decker .

As our nation celebrated President's Day, seventeen Rotarian bowlers showed up for the 3rd quarter position night. …


Rotary Club of St. Louis Board Members for Year '23/'24
(July 1, 2023 - June 30, 2024)
Dale Ruthsatz, President
James Webster, President Elect
Richard Warriner, Immediate Past President
Denise Wondolowski, Vice President
Terry Werner, Vice President
Amy Lewis, Sergeant at Arms


Doug Lorenz, Cris Conner, Ken Schuman, Nick Angelo
Bob Garagiola, Don Klackner, Chris Wilson
Next Week: My American Journey | Dr. Benjamin Akande, Stifel Financial Group | March 9, 2023
Dr. Akande served as the ninth President of Champlain College in
Burlington, Vermont. During his tenure as President of Champlain,
undergraduate applications doubled, institutional fundraising increased significantly and
the college forged partnerships that continue to pay dividends.
Club Social at Pietro's Last Thursday, February 23, 2023
Thank you Bob Garagiola for taking these pictures at our Club Social at Pietro's on February 23, 2023. We had a great time!
Mark your calendars now for our next social: March 23, 2023. We will be at Seamus McDaniel's!
Missouri Rotary Youth Leadership Academy (MO-RYLA) 2023| Scholarships
St. Louis Rotary Club is awarding scholarships to the Missouri RYLA Academy 2023. MO RYLA is a 4-day, 3-night leadership training program focused on service for current high school freshman, sophomore and junior students across Missouri.


February 23, 2023 Zoom Recording | Soccer Made in St. Louis | Dave Lange
This is a zoom recording of Dave Lange, Author, speaking to the St. Louis Rotary Club on February 23, 2023. Topic: Soccer Made in St. Louis


March 2023 Programs & Events | St. Louis Rotary Club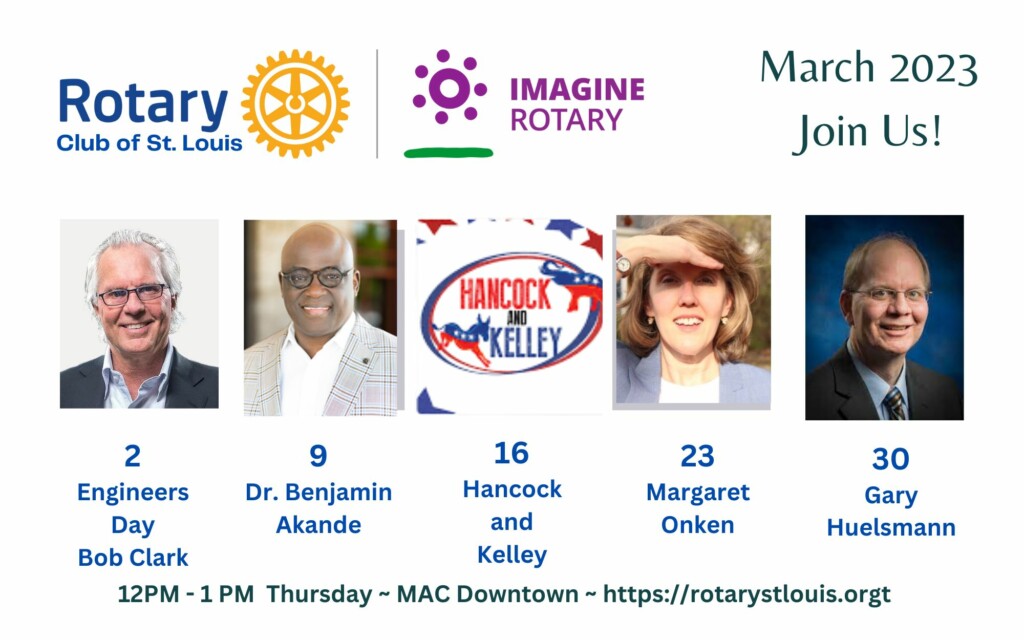 March 2023 | St. Louis Rotary Club Event Details