November 9, 2023 ~ Pepperbox Edition ~ St. Louis Rotary Club
Veterans Day Joint Program with the MAC | Major Gen. (Ret) William B. Blaylock, II
Major General (retired) William (Will) B. Blaylock, II
Former Commanding General – 35th Infantry Division
Major General William B. Blaylock II retired in March of 2023 after serving as the Commanding General of the 35th Infantry Division from July 2019 - March 2023. During his tenure, …


November 9, 2023 Meeting Link for St Louis Rotary Club
St. Louis Rotary Meeting Link for November 9, 2023 is no longer available. Registration is Closed


St. Louis Rotary Lunch Menu ~ November 9, 2023
Chicken Parmesan, Roasted Yukon Potato, Asparagus w/ roasted tomato wedge
No Alternative meals are available this week.


Week Eight St. Louis Rotary Bowling Alleygations | October 30, 2023
This is my first Alleygations folks, so go easy on me. I promise it will get better.


Hard to believe this is the end of the first quarter of the bowling season. Time sure flies when you are having fun.


May I have the envelope please. The winner of the first …


Old Newsboys Day - Join us!
Old Newsboys Day is Thursday, November 16! We're looking for volunteers to help out. We will meet in the Rendezvous Room at the MAC (inside the Jack Buck Grille on the 1st floor) at 6:00am. No experience is necessary and all money raised goes towards supporting local children's charities. If you are interested, contact Sean Smith at ssmith@muny.org or (314) 494-8628. We will see you there!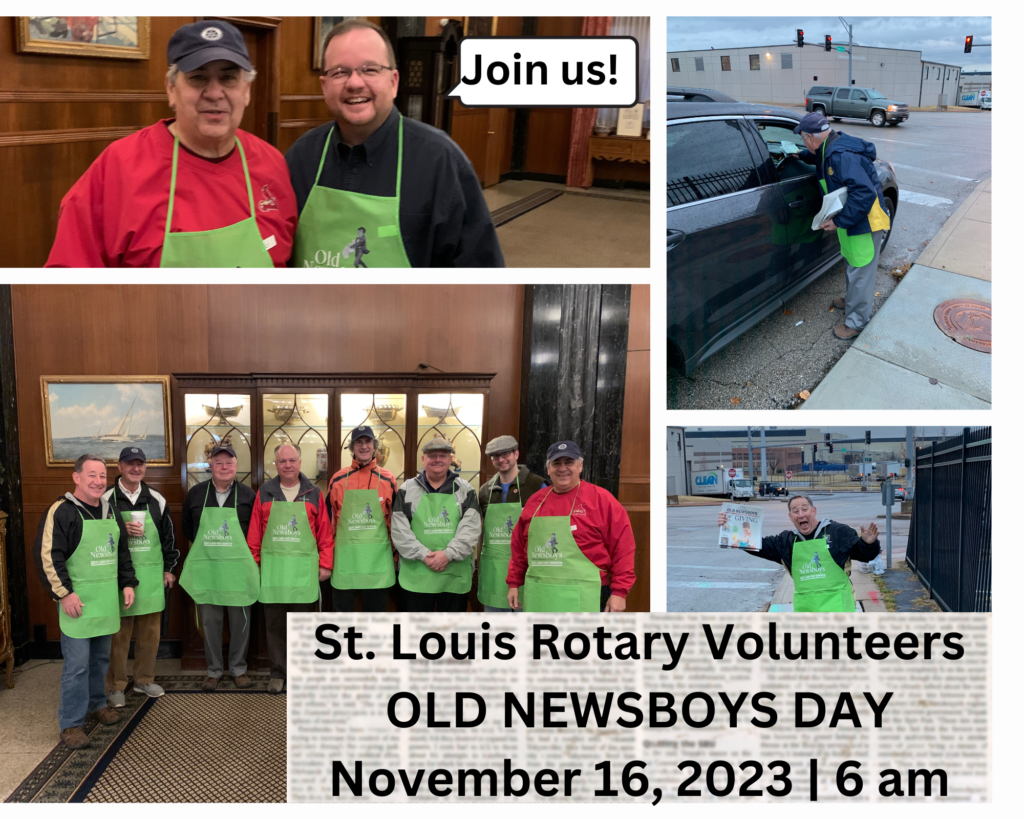 Scouting for Food Volunteers for Saturday, November 18, 2023
Scouting for Food will take place on Saturday, November 18th. We will be at Firehouse #36 at 5000 South Kingshighway. We will be working from 9:30 until about 1:30. If volunteers could e-mail at
rzang9@yahoo.com
. Many thanks.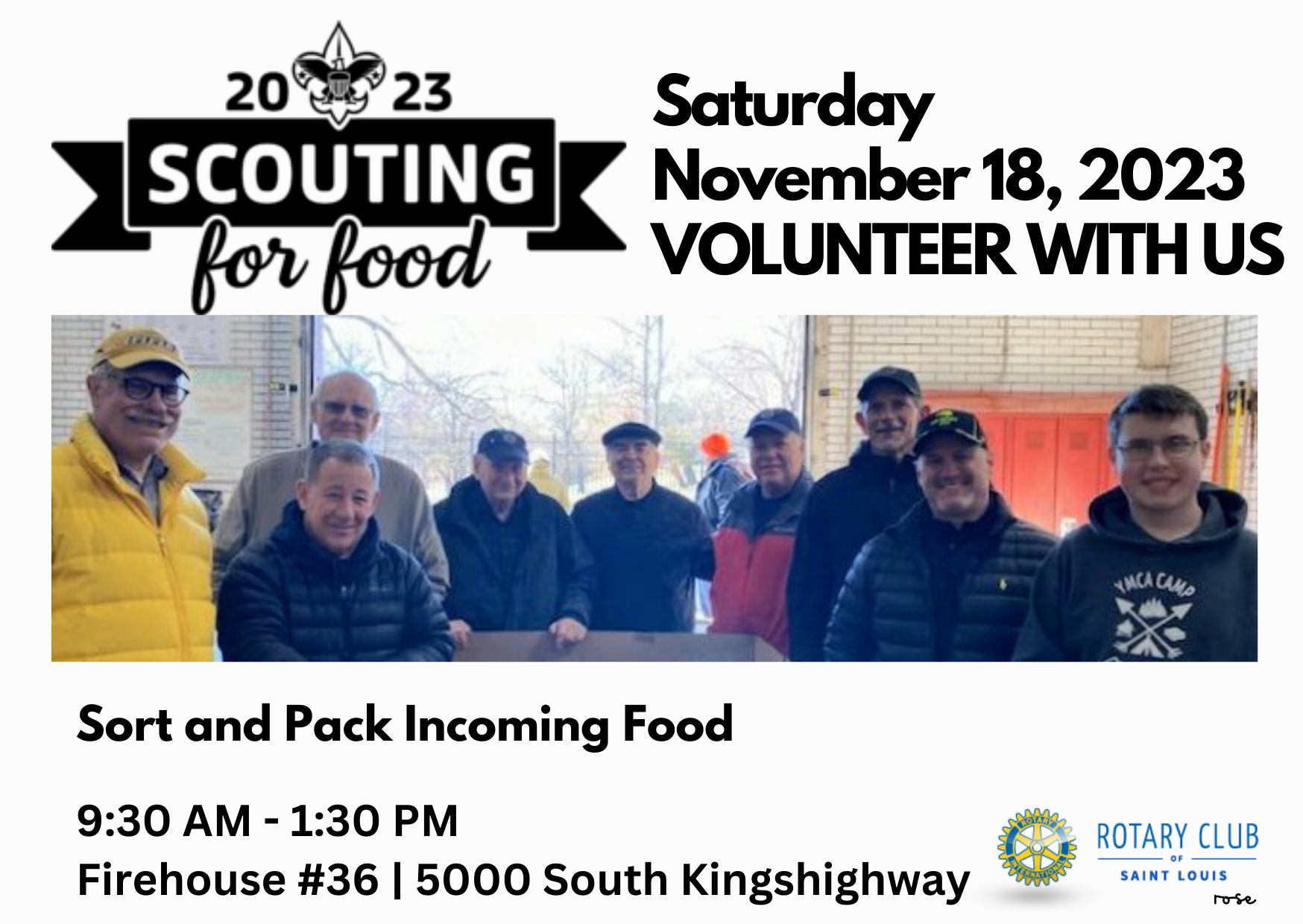 SIGN UP FOR CLUB TURKEY BURP AT LORUSSO'S FRIDAY, NOVEMBER 24, 2023!!! 5:30pmTURKEY BURP RSVP LINK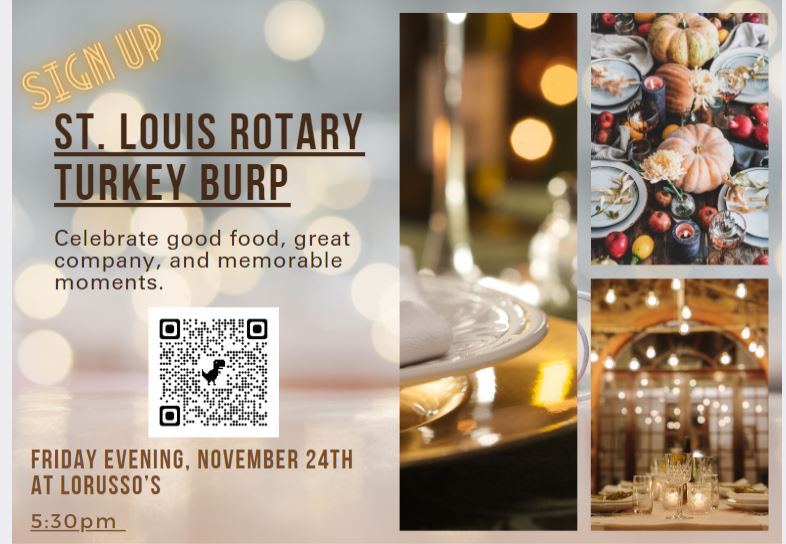 RSVP with QR Code or Link Above
Next Week: November 16, 2023 | Brandon Williams, Saint Louis Battlehawks, VP, Team Business & Event Operations
XFL Names Brandon Williams Vice President in St. Louis


Hometown Executive Will Oversee Team Business and Event Operations St. Louis, MO., December 8, 2022 –


The XFL today announced that they have appointed St. Louis native and former NFL wide receiver, Brandon Williams, as the Vice President of Business …


Congratulations Young Citizens Award Winners 2023
St. Louis Rotary Young Citizens Awards 2023 | October 26, 2023 Congratulations to each of the twenty-four St. Louis Public School high school juniors who were awarded the St. Louis Rotary Club Young Citizens Award for 2023 at a luncheon in their honor at the Missouri Athletic Club. Two students from each of the twelve high schools received this St. …


Missouri Rotary Shoe Drive | Bring Shoe Donations to St. Louis Rotary Lunch!
Missouri Rotary Shoe Drive| Donate Shoes at St. Louis Rotary Lunch
Help a child in need. Give a pair of shoes. We are continuing to collect new shoes for kids of all sizes.