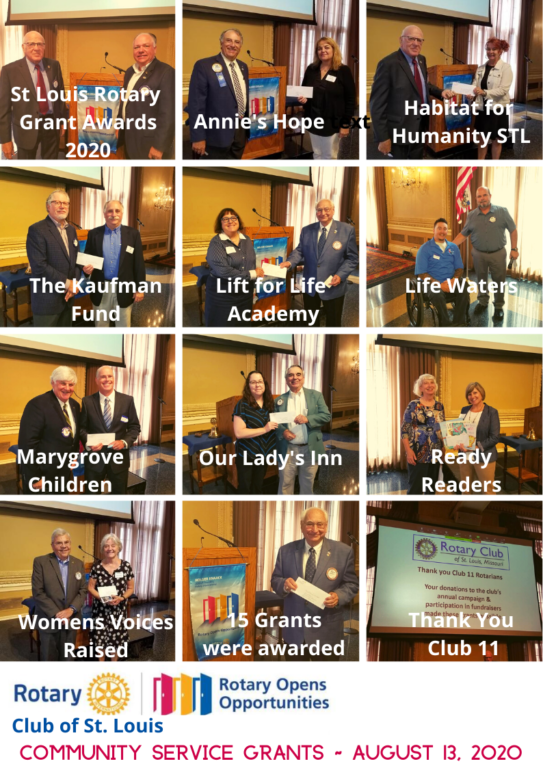 Congratulations to the recipients of the 2020 St Louis Rotary Grants. Fifteen local organizations received grants from our club. Thanks to all club members for your donations and fundraising!
2020 St Louis Rotary Grants were awarded to:
(501(c)3 Organization Name is followed by St. Louis Rotary member sponsor)
Annie's Hope – Rick Tinucci
Birthright Counseling ~ Tom Keeline
Boy's Hope Girl's Hope ~ Bob Sherrill
Champ Assistance Dog ~ Bob Zangas
GiFT ~ Jean Cowell
Girls on the Run ~ David Pokorny
Habitat for Humanity St Louis ~ Hesley
Kaufman Fund Veterans ~ Steve Rosenblum
Lift for Life Academy ~ David Cowell
Life Waters ~ Matt Wilson
Marygrove Children's Home ~ Matt Weiss
Our Lady's Inn ~ Bob Garagiola
Quest Scholarship Fund ~ Suzanne Sebert
Ready Readers ~ Suzanne Schoomer
Women's Voices ~ Ken Schuman
Thanks to the Community Service committee for vetting the many applications submitted by our club members. Thanks to all St. Louis Rotary club members who sponsored an organization this year.
Every year our club members have the opportunity to submit a grant application for consideration for a local organization that meets our grant guidelines.