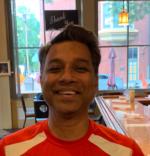 Rahman's funeral will be held on Tuesday, Nov 21st at 2pm. Please meet at 1:45pm at the front gate of Bellefontaine (4947 W Florissant Ave, 63115). We will all meet by the offices (two cottages made of stone) and walk to the gravesite together.
After the funeral, please meet at Civil Life Brewery (3714 Holt Ave). If you choose not to come to the gravesite, you are welcome to join us at Civil Life at any time after 3pm. Those who want to join after work, are welcome to join us then.
Anyone who wants to celebrate Jyoti's memory is welcome.
More Information: