AddToAny Universal Sharing ~
AddToAny is at the bottom of each post on our website: https://rotarystlouis.org/st-louis-rotary-blog
there are four blue social icons. These icons allow each of us to share our website content with our friends, family, business associates etc. You can even email a post to someone. Share a post, and invite someone to join you at a club lunch! Tell someone how great our club is!
If I want to share a post on my Facebook page, I click the Facebook icon below the blog post I want to share. Wait for the screen that opens to populate the blog post chosen. Add a comment if you like, then click the "Post to Facebook" button at the bottom and it will be shared! You can see the post below on my Facebook page now!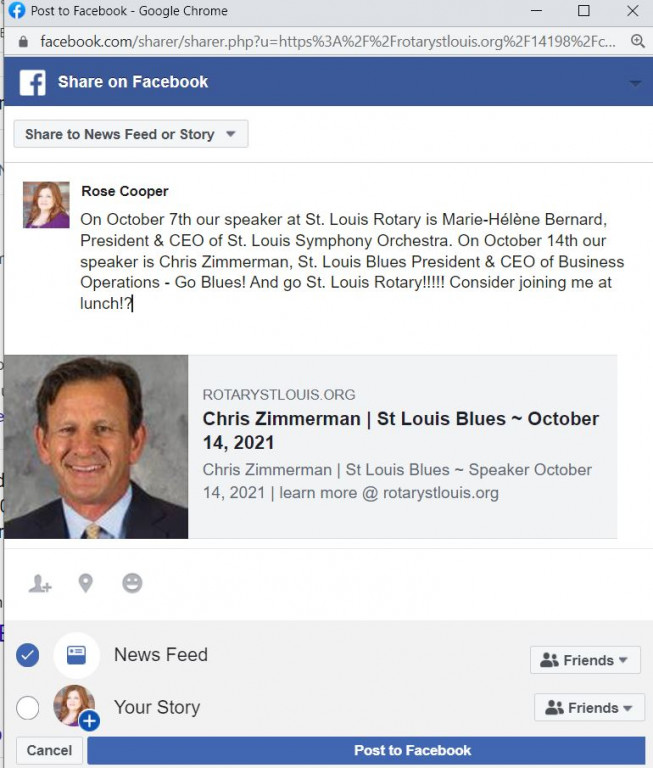 I have displayed 4 icons but when you click on the + button, the screen shown in the image below opens up and shows many more ways that you can share the blog post.
AddToAny is the way millions of websites have enabled visitors (and club members) to share & save content, resulting in more traffic, larger audiences, awesomely viral content, and much more. This is why I added AddtoAny to our club website. It's such a great way to share information about St. Louis Rotary! Share a post, invite a friend!
If you need help figuring out how to use it, let me know!
Thanks!
Rose