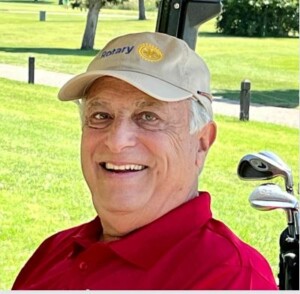 We had a great day of fellowship and fun at our annual charity golf tournament this year. The weather cooperated with cooler temperature and low humidity for a great day of golf. The turnout was our best ever with 134 golfers joining in on the fun. While the final number are not yet determined, early indicators are we will clear over $52,000 to benefit the Club's philanthropic efforts. A special thank-you go out to our major donors who include Air Comfort Service, ACI Plastics, Bank of America, Conway Contracting, Dobbs Tire and Auto Centers, Sallie Kratz, Lashley & Baer, Niehaus Construction, Olivette Lanes, Don & Cheryl Lorenz, Stifle, Dave & Linda Wicks, The Dale J. Wernig Foundation, and Wilson Manufacturing. In addition, there were over 55 Rotarians that supported the event with either Hole, 19 th Hole or Cart sponsorships.
No event can be successful without the support of volunteers willing to give of their time during the event. A big thank you to this year's volunteers including Rose Cooper, Michelle Critzas, Joan Hecker, Michelle Heath, Chuck Hodge, Carl Lane, Amy Lewis, Mathew Maddox, Brien McCarthy, Dave McNutt, Lora Richie, Rebecca Richie, Dale & Jackie Ruthsatz, Wade Weistreich and Missy Wilson. Becky Byrne and Kennedy Wiegel from Annie's Hope also came out to support the event.
This year tournament committee consisted of Blake Critzas, Don & Doug Lorenz, Bob Kocher, John Guilfoy, Steve LaFara, Rebecca Richie, Kent Steinbrueck, Rick Tinucci, Matt Weiss, Matt Wilson, and Jack Windish. We wish to extend our thanks to all those that helped make this a successful event. We hope to see you all again next year for another great tournament.
Rick Tinucci
Chair
St. Louis Rotary Charity Golf Tournament 2022