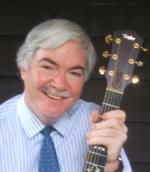 Scribe Report February 6, 2020
James Webster
Thursday, February 6th, what a wonderful day to be a scribe for Rotary Club #11. Why, you may ask? Because this was no ordinary lunch. For starters it was held in The Art Lounge rather than our habitual location. Indeed, it could be reported that President Bob opened the meeting at noon, Pledge of Allegiance, Four Way Test, The Song etc… but this would hardly capture the spirit of excitement of the promised tour of the MAC facilities.
Our insouciant Sergeant at Arms, Dan Conway, greeted several guests and also entered into a reminiscence regarding The Rams 20th anniversary of their Super Bowl success. This followed congratulations for the Kansas City Chiefs, which Dan described as a Kansas State based team. Ha! a mistake I guess anyone could make.
President Bob then announced an early adjournment of the Rotary meeting in order to accommodate the MAC program and planned tour.
Joint Rotarian/MAC members, Jim Sheets and Beth Russell were then called on to introduce the program and our guest speaker, Najah Fennoy.
Najah gave a brief history of the MAC from its beginnings in preparation for the World's Fair, opening on September 13, 1903, its destruction in the great fire of 1914, and its rebuilding and reopening in 1916. In 1939 the club reverted to its original name, "Missouri Athletic Club" and has remained thus to this day.
The MAC is rated as a "Platinum Club of America" placing it in the refined company of only 3% of clubs in the country. It is owned and governed by its members. Its charitable arms comprise; Preservation; Art; and Sport foundations. Through the "Clubs Within the Club" members have the opportunity to meet, socialize and plan events with members who share similar interests. Some of the shared interest areas focus on dancing, reading, fitness, history, bridge, whiskey, wine and beer tasting.
Its facilities include 70 overnight rooms, workout areas, squash courts, basketball courts and a swimming pool together with a 4th floor dining room and The Jack Buck Grill located on the 1st floor.
What followed was a personal tour of these facilities, my group headed by Rodney Stoyer, Director of Membership. What an experience! For someone who has only ever navigated from the parking lot to The Missouri room this was an eye-opening observation. We visited the overnight rooms, executive suites, dining and grill room and workout and basketball facilities. Of particular interest to the writer were the squash courts. The glass walled singles courts on the 7th floor and the stadium style doubles court on the 5th floor were first class.
For those readers unfamiliar with the game of squash it basically consists of two players locking themselves in a box and then thrashing around until one suffers a cardiac arrest. He is then designated the loser. The thwack of nylon on gutta percha brought back memories of my playing days, an aspiring professional at the time whose career was tragically cut short due to the over consumption of alcohol. But I digress.
Finally, we were able to view the Olympic sized swimming pool. Well, on reflection it may have been smaller but it was, nevertheless, the same shape.
Some of our members harbor athletic aspirations; the 300 point game (Matt Weiss), the hole in one (Steve LaFara), victory at Chutes and Ladders (Cris Conner). However, these ambitions pale in comparison for those of us of a more intellectual bent. Being in the front line of reportage, given the opportunity to recount the happenings on this prodigious day, furnishes us with the apogee of the scriveners trade. A scribe's delight. I can only implore those of you with an interest in writing to approach president Bob for an opportunity to become part of this impassioned, fervid group of scribes. An electrifying future could be just a handshake away.
Given the risk of over-stimulation at today's lunch it was decided not to hold the 50:50 drawing. No matter. The outcome was the same. Nobody won.
Next week's meeting has a Mardi Gras theme. Bring yer beads!
James Webster