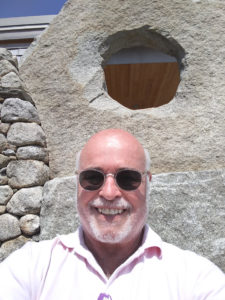 President Bob rang the bell at High Noon to open our meeting and rang the bell at the crack of 1pm to close it. My task as your Scrivener is to condense the plethora of activity within that 60-minute span as tightly and tersely as possible, which given my propensity for prolixity is a daunting task indeed! So, here goes:
First order of business was a moment of silence in honor of the passing of long-term member Jim Mellow. This was followed by an Arkansas-tinged supplication by Richard Warriner and the mellifluous warbling of song-leader Beth Russell.
Upcoming programs were announced (Blues Museum, District Governor, and a Navy Admiral!), and then our ebullient and effervescent Leader gave a nod to Al's Steakhouse for attaining St Louis Landmark recognition, boasted of the excellent Happy Hour turn-out at Scarlet's Wine Bar in the CWE, reminded us of the next gathering at Olivette Lanes (Bowling Draft!) on August 29, and made a sartorial pitch for the Rotary Club Vest (Only $75 and Not Available in Stores! Order Yours Now!). Kent Steinbrueck awarded a $750 seed-money check to Club 11's satellite club (sorry, I can't explain what this is) known as the "Civilians" (sorry, can't explain that one either. See Bob or Kent).
Next up: our insouciant Sgt-at-Arms Dan Conway. His official obligation is to recognize guests and visiting Rotarians, a task he does with great equanimity. But in the hallowed Club 11 tradition of comedic shtick, Dan has adopted the modus operandi of the autobiographical vignette. If you have ever wondered why Dan is introduced to the metallic cacophony of Steppenwolf's 1968 biker ballad, "Born to be Wild" (as I have!), perhaps Dan's latest avian anecdote provides the answer. He gave us a peek into the Conway household of his youth, wherein Father Jim had an aviary pastime but young Dan defaulted in his task of keeping them sustained. Hence, his siblings attached to Dan the sobriquet, "Interfectorem Avem". Oh, sorry, for those of you not fluent in classical Latin, it means "Bird Killer."
Phil Roush introduced our feature speaker, Kathy Connors, the Executive Director of Gateway 180. Kathy gave us a spirited overview of her organization, which is the largest emergency family shelter in the State of Missouri (and located only minutes away from the MAC). The mission of Gateway 180 is empowering adults and families to become independent and permanently housed. Gateway is a temporary home to about 70 adults and 90 children daily, serving between 1,000 and 1,600 people over the past 5 years. From humble beginnings as a place to offer food and a bed to get misfortunate people off the streets, Gateway 180 now offers programs to educate their clients on financial literacy, household management and life skills, leading to consistent employment. One half of the organization's revenue comes from government grants, and the rest from contributions/donations. Kathy is pleased to state that 82 cents of every dollar contributed goes directly to providing services. Kathy responded to the question of how Rotary can help by having Rotarians "get the word out" that Gateway 180 serves the important function of being part of the solution to homelessness in the St Louis region. One of the strengths of Club 11 is the amazing job the program committee fulfils in bringing timely and important speakers to our meetings. Today's meeting was a fine example of this.
The meeting closed with the always eagerly anticipated lotto ticket call and card draw. Bob Barnes' number was called but he only drew the 8 of diamonds. As Bobby G soulfully, if not perhaps a tad bit sardonically, stated "50/50 wins again!"
Respectfully, if not a tad bit facetiously, submitted,
Mark Rubinelli