Rotary Club 11 ~ St. Louis, MO https://rotarystlouis.org |https://www.Facebook.com/RotarySTL
Lieutenant Colonel Lawrence M. O'Toole, Assistant Chief of Police | Annual Police Awards
Lt. Col. Lawrence O'Toole was commissioned as a police officer on January 9, 1984. After graduating from the Police Academy, he was assigned to the Ninth District and Intelligence Unit.
Lt. Col. O'Toole was promoted to the rank of Sergeant in March of 1991. As a Sergeant he served in the Third and Ninth Districts, as well as working for the Board of Police Commissioners.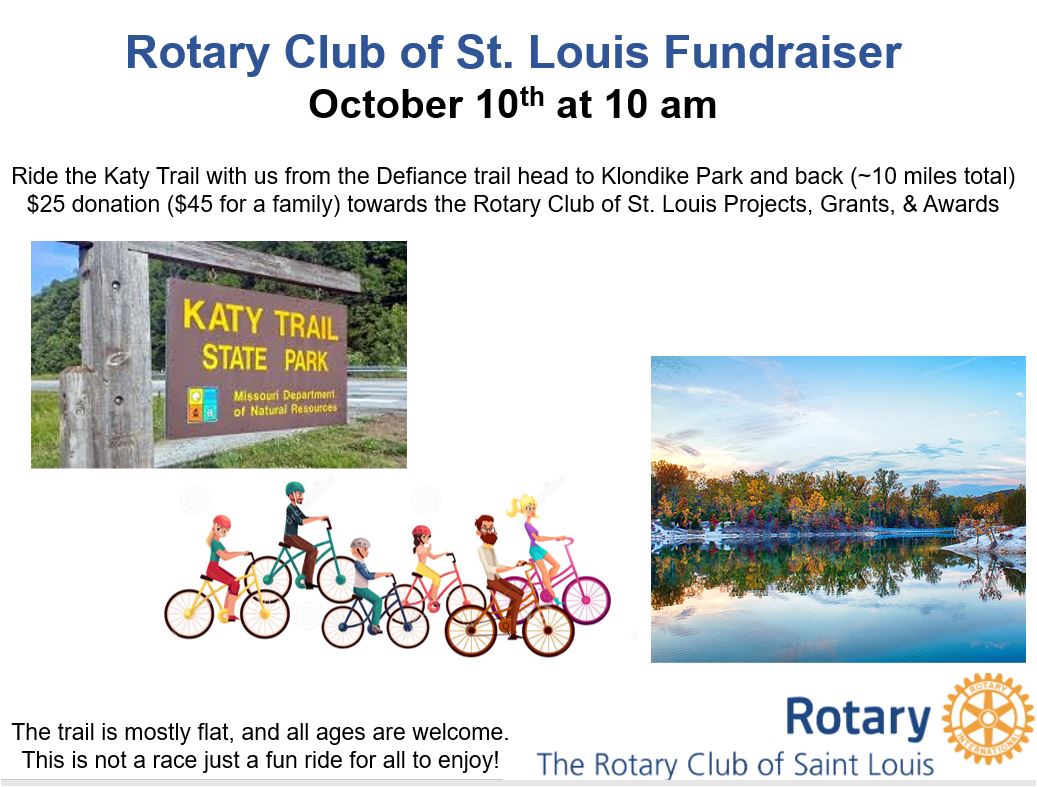 Rotarians, Family and Friends:
Enjoy a fun bike ride October 10, 2020 at 10:00 am. Ride the Katy Trail from the Defiance Trail Head to Klondike Park & back (~10 miles total). The trail is mostly flat, and all ages are welcome.
$25 Donation ($45 for a family) benefits the Rotary Club of St. Louis Projects, Grants, and Awards ` Proceeds go the the Rotary Welfare Fund.
Use the link above to register and pay for the October 10 Bide Ride Fundraiser!
Registration for
In Person

Meeting October 8, 2020 | Lt. Col. Larry O'Toole, Asst Chief of Police | Annual Police Awards
Please be sure to register with the In Person link if attending in person

.
Register in advance for this

ZOOM

meeting,
Lt. Col. Larry O'Toole, Asst Chief of Police | Annual Police Awards
When: October 8, 2020 12:00 PM

Central Time (US and Canada)

After registering, you will receive a confirmation email containing information about joining the meeting
Bowling Alleygations 9-28-20 | Dan Conway
There must have been something added in the drinks last Monday September 28th since there were an unprecedented amount of high scores. Team Conway was pistol whipped by Team Klackner with the following handicapped series scores from Le0nard Lehmkuhl bowling a 623, Don Klackner a 635 and Matt Weiss a 653.
Jeannine Conway whispered to Dan Conway that we need to buy Team Klackner drinks to throw off their game. Dan Conway mentioned back it would probably only make things worse! Matt Weiss had such a command of the lanes he was able to stare down any pins that were even thinking of still standing. Probably was all of the lane jumping he was doing. Team Klackner took all 20 points reducing Team Conway's commanding lead down to one point!
Rotary Golf Greenbriar Hills CC Wed 30th
The temperature was just right and we had just a little more than a light breeze at times. The course was in great shape and the greens were very fast to say the least, another words it was best to be below the hole, wow fast! After the round we all enjoyed a drink or two on the patio and recalled some of the unbelievable shots that were made out there. After the stories settled down we met in a private room for dinner which included a salad, chicken piccata with angel hair pasta, broccoli and to top it off a large piece of chocolate cake! Sorry if you missed it, the meal was excellent!
The results:
Next Golf League: Tuesday, October 6, 2020
St Louis Rotary Golf League
1 PM Tuesday
9555 S Geyer Rd, St. Louis, MO 63127 .
Lunch Menu ~ October 8, 2020
October 8, 2020
Caesar w/ Romaine & Arugula w/ Sundried Tomatoes, Pickled Onions w/ Pretzel Bread Croutons
~
Meat Balls in penne w/ broccoli, mushrooms, onions in Creamy tomato sauce
Guests with dietary restrictions, alternative meals are available, but they must be ordered by no later than 11:30 am on Wednesday,October 07, 2020.
If you don't reserve in advance please do not take a special meal ticket.
Alternative meals may be ordered by emailing the Club Administrator @ joanh@rotarystl.org or online with this link: Order Special Meal
Presidential Telegram - Kent Steinbrueck ~ October 8, 2020
READ THE PEPPERBOX – BE PROUD TO BE A ROTARIAN
Pass on information about our club and about Rotary to your friends
Have you opened your Rotary Magazine yet this month?
MAKES ME PROUD TO BE A ROTARIAN IN THE ROTARY CLUB OF ST. LOUIS
The Four-Way Test of the things we think, say or do
Is it the truth?

Is it fair to all concerned?

Will it build goodwill and better friendships?

Will it be beneficial to all concerned?
Ageless Quotes - Age 6 to 15
I've learned that I like my teacher because
she cries when we sing "Silent Night". Age 6




I've learned that our dog doesn't want to eat
my broccoli either. Age 7




I've learned that just when I get my room the
way I like it, Mom makes me clean it up again. Age 12




I've learned that if you want to cheer yourself
up, you should try cheering someone else up. Age 14




I've learned that although it's hard to admit
it, I'm secretly glad my parents are strict with me. Age 15
MORE TO FOLLOW NEXT WEEK
Congratulations to those achieving perfect attendance for the 1st quarter of this Rotary year. The quarter ended on September 30th.
Jim Conway
Help Shape St Louis Rotary Club Future
Club 11 is looking for interested Rotarians to help shape the future of our Club. We are preparing to conduct strategic planning which will consist of 3 One-hour sessions. This will be a facilitated process to determine a vision for the future of our Club and those action items that will ensure we reach that future vision.
The attached flyer further describes the process and the outcomes.
If you are interested in participating, please plan on attending a short information session immediately following our Club meeting on October 15th. If you can't attend in person, you can attend via Zoom using the same link as our regular meeting.
For additional information, please see me or Rick Tinucci.
Kent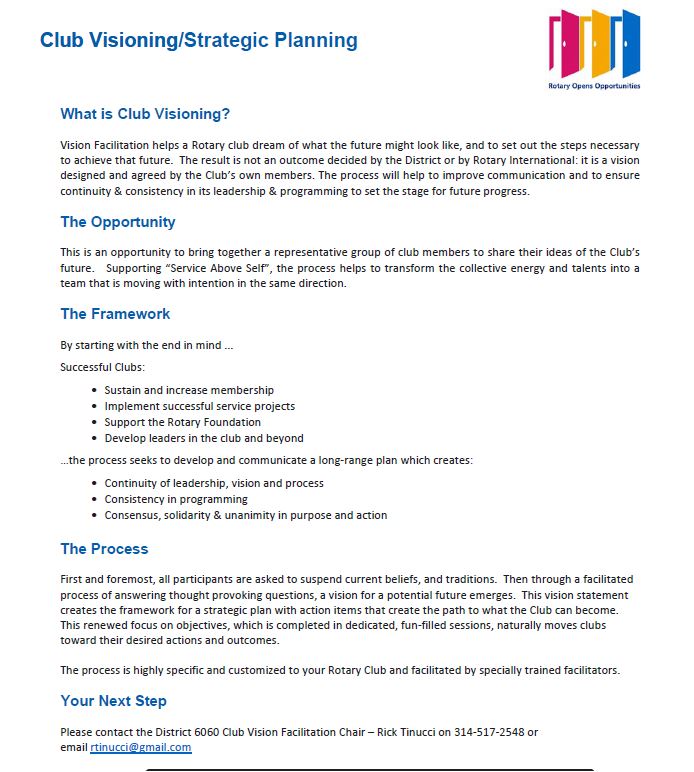 Ryan Carney ~ Society of St. Vincent De Paul | October 15, 2020
Ryan has worked in the nonprofit sector since 2007. He has a passion for helping organizations clarify their message and sharing it with people of influence to advance important causes. Currently, he is the Director of Development for the Society of St. Vincent de Paul, and is responsible for raising money to support its outreach to neighbors in need. Ryan graduated from the Chaifetz School of Business at Saint Louis University. He lives with his wife Debra and four children in Crestwood, MO.
Zoom Recording for Ed Wheatley October 1, 2020
If you missed hearing Ed Wheatley on October 1, 2020 or you want to watch the meeting again. Click the Zoom link below.
Use Passcode: Ge9+LZ2S