Rotary Club 11 ~ St. Louis, MO https://rotarystlouis.org |https://www.Facebook.com/RotarySTL
Jeffrey Richard Carter Professor & Chair of the Department of Music at Webster University | Webster University Dept of Music ~ November 12, 2020 Via ZOOM
Carter is a native Missourian, with roots in the Kansas City area and a long history of being a student, teacher, and conductor in that area.
Carter has gained success with university ensembles, amateur choral groups, show choirs, volunteer church choirs, and festival choruses alike. His performance experience and training ranges through nearly 1000 years of the Western musical tradition, with performing and educational endeavors taking him to the continents of Asia, South America,
Register BEFORE NOON on Wednesday 11-11-20 with the In Person link if attending in person.
Register in advance for this 12:00 PM

ZOOM

meeting
Central Time (US and Canada)
After registering, you will receive a confirmation email containing information about joining the ZOOM meeting
Rotary Social @ Chateau Maplewood November 18. 2020
Join us for a Rotary Social!
Wednesday, November 18, 2020
5 pm - 7 pm
Chateau Maplewood
7326 Manchester Road
Maplewood, Missouri 63143
There is street parking and a lot behind the building.
We will have the whole venue to ourselves.
Scouting For Food | November 21, 2020
On November 21, 2020 will be the Annual Boy Scout, Scouting for Food collection. Club 11 will be at our usual working place at Firehouse #36 at Kingshighway & Christy. . Please come and assist from 8 am - 12 pm.
Bowling Alleygations 11-02-20 | Captain Carl Lane ~ Team 2
11-2-2020 Week 8
The first quarter has ended with Team Maddox winning the top spot, followed by Team Klackner. It was a close race with only two wins separating the top 2. However, Team Lane is seeking court intervention to challenge the results.
Their contention is every pin should count and, as can be seen from the following chart, Team Lane should be number 2 based on the actual scratch scores.
Lunch Menu ~ November 12, 2020
November 12, 2020
Tomato, Cucumber & Red Onion in Red Wine Vinaigrette
~
Cannelloni w/roasted tomato sauce ~ Sautéed Mushrooms & Spinach
Guests with dietary restrictions, alternative meals are available, but they must be ordered by no later than  11:30 am on Wednesday,November 11, 2020.
If you don't reserve in advance please do not take a special meal ticket.
Alternative meals may be ordered by emailing the Club Administrator @ joanh@rotarystl.org or online with this link: Order Special Meal
Presidential Telegram - Kent Steinbrueck ~ November 12, 2020
Presidential Telegram
Rotary Club of St. Louis – Club 11
Last Thursday out club co-hosted the Annual Veteran's Day Celebration where we honored all Veteran's but especially 4 honorees shown below. Every year this is one of the best programs of the Rotary year. If you were there I am sure you will agree with me.
The awards this year went to:
Veteran of the Year
First Lieutenant John J. Glenn,
United States Marine Corps
Veteran of Achievement
Sergeant Russell Eugene Whitener,
United States Army
Mel E Witt Lifetime Dedication
Colonel Corinne E. Bardgett,
United States Army
Special Recognition
Petty Officer First Class Robert (Bob) Croak,
United States Navy
Congratulations to the recipients and THANK YOU for your Service in making it possible to be FREE in the United States of America.
This coming Thursday will be our music program presented by the Webster University Department of Music.
Veterans Day Tribute ~ Honoring All Who Served 11-5-20
MAC Veterans Day Video 2020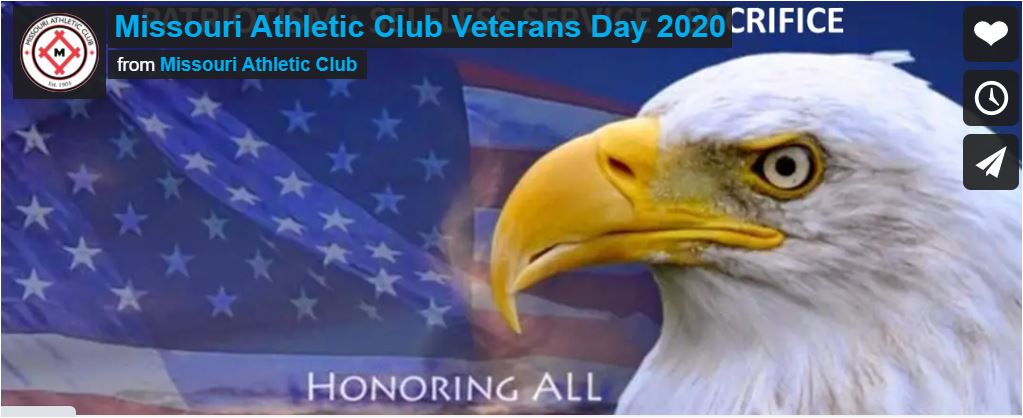 The Rotary Foundation | November 19, 2020
Linda Puchbauer
District Foundation Chair
November 19, 2020
No Meeting Thursday, November 26, 2020
~ Happy Thanksgiving