Rotary Club 11 ~ St. Louis, MO https://rotarystlouis.org |https://www.Facebook.com/RotarySTL
Veterans Day Commemoration ~ November 5, 2020
Jointly Hosted with the Missouri Athletic Club
General Frank J. Grass, a native of Missouri, Chief of the National Guard Bureau and a member of the Joint Chiefs of Staff will be the guest of honor and keynote speaker.
Register BEFORE NOON on Wednesday 11-04-20 with the In Person link if attending in person.
Register in advance for this 12:00 PM

ZOOM

meeting
Central Time (US and Canada)
After registering, you will receive a confirmation email containing information about joining the ZOOM meeting
Rotary Social @ Chateau Maplewood November 18. 2020
Join us for a Rotary Social!
Wednesday, November 18, 2020
5 pm - 7 pm
Chateau Maplewood
7326 Manchester Road
Maplewood, Missouri 63143
Scouting For Food | November 21, 2020
On November 21, 2020 will be the Annual Boy Scout, Scouting for Food collection. Club 11 will be at our usual working place at Firehouse #36 at 5600 South Kingshighway Blvd. 63109 (Kingshighway and Christy).
8am-12pm
Bowling Alleygations 10-26-20 | Captain Don Klackner ~ Team 1
It was great to see the Conways back on the lanes. There were two big highlights for the week. First was a huge 227 game by our oldest member in the league Arnold Hadler who just turned 88 years young. ip.
Thanks Michele Goad, Jennifer Krassinger and Social Committee for arranging this fun Social for us!
We were joined by Nash Overfield and Sanjana Reddy, both incoming officers of the newly forming Rotaract Club at Washington University and
Lunch Menu ~ November 5, 2020
House Salad w/ Creamy Herb Dressing
~
Roast Strip Loin w/ Mushroom Sauce ~ Rosemary roasted red Potatoes ~ Roasted Cauliflower
Guests with dietary restrictions, alternative meals are available, but they must be ordered by no later than 11:30 am on Wednesday, November 4, 2020.
If you don't reserve in advance please do not take a special meal ticket.
Alternative meals may be ordered by emailing the Club Administrator @ joanh@rotarystl.org or online with this link: Order Special Meal
Presidential Telegram - Kent Steinbrueck ~ November 5, 2020
Presidential Telegram
Each week I will highlight something about Rotary that all Rotarians should know or be aware of.
HONORARY MEMBERSHIP
"Honorary" is one of the two types of membership a person may have in a Rotary club. This type of membership is the highest and
is exercised only in exceptional cases to recognize an individual for unusual service and contributions to Rotary and society. Honorary members cannot
Photo Album & Zoom Recording Link David Smale 10-29-20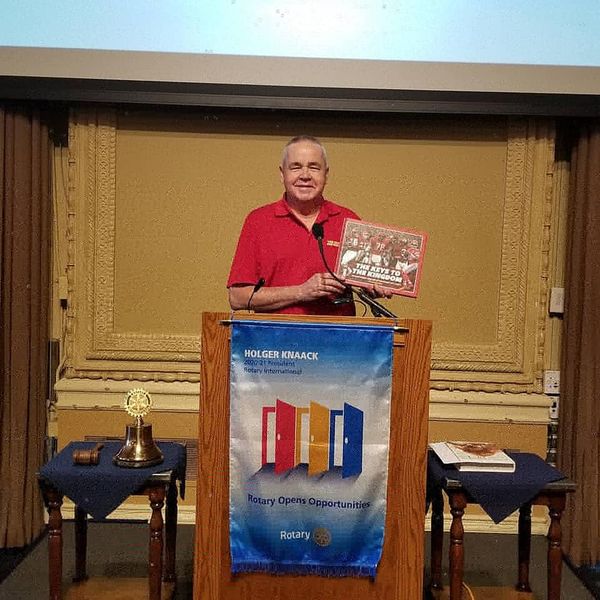 Passcode: 0dAG!Abk
David Smale, Author of "The Keys to the Kingdom, An Illustrated Timeline of the Kansas City Chiefs" spoke at St. Louis Rotary Club on Thursday, October 29, 2020.
Jeffrey Richard Carter is Professor & Chair of the Department of Music at Webster University | November 12, 2020 Via ZOOM
Carter is a native Missourian, with roots in the Kansas City area and a long history of being a student, teacher, and conductor in that area.
Carter has gained success with university ensembles, amateur choral groups, show choirs, volunteer church choirs, and festival choruses alike. His performance experience and training ranges through nearly 1000 years of the Western musical tradition, with performing and educational endeavors taking him to the continents of Asia, South America, and Europe, in addition to the