Rotary Club 11 ~ St. Louis, MO https://rotarystlouis.org |https://www.Facebook.com/RotarySTL
Patrick Murphy, Author of "The Candymen: The Story of Switzer's Licorice" | October 22, 2020
Patrick Murphy has spent the past 30 years producing television programs for PBS, both locally and nationally. A five-time Emmy award winner, he has created documentaries, weekly series, and musical variety shows. For the past 22 years he has hosted the St. Louis Speakers series from Powell Hall, interviewing more than 150 of the world's most renowned artists, writers, adventurers and political leaders.
Register BEFORE NOON on Wednesday 10-21-20 with the In Person link if attending in person.
Register in advance for this 12:00 PM

ZOOM

meeting
Central Time (US and Canada)
After registering, you will receive a confirmation email containing information about joining the ZOOM meeting
Missing Bowling Alleygations 10-12-20 | Captain Gary Jones ~ Team 5
No Bowling Alleygations were received from Team 5 Captain Gary Jones. I will include his Alleygations next week if they are available. He did seem "different" at the alley last Monday :) See what I mean.... this is Captain Gary Jones at Olivette Lanes on 10-12-20 :)
Team Maddox is still leading the league this week. They are 7 points in front of Team Jones The point spread has widened now to 37 points between the first place team and Team Lane with 28 pts.
Rotary Golf League 2020 Season Has Come To An End
Lunch Menu ~ October 22, 2020
October 22, 2020
Wedge of Baby romaine w/ feta cheese, olives, tomatoes & Greek Vinaigrette
~
Bacon Wrapped Meatloaf w/ Sweet Tomato/Brown Sugar Sauce | Green beans & Carrots
Guests with dietary restrictions, alternative meals are available, but they must be ordered by no later than 11:30 am on Wednesday, October 21, 2020.
If you don't reserve in advance please do not take a special meal ticket.
Alternative meals may be ordered by emailing the Club Administrator @ joanh@rotarystl.org or online with this link: Order Special Meal
Presidential Telegram - Kent Steinbrueck ~ October 22, 2020
READ THE PEPPERBOX – BE PROUD TO BE A ROTARIAN
Pass on information about our club and about Rotary to your friends
Have you opened your Rotary Magazine yet this month?
MAKES ME PROUD TO BE A ROTARIAN IN THE ROTARY CLUB OF ST. LOUIS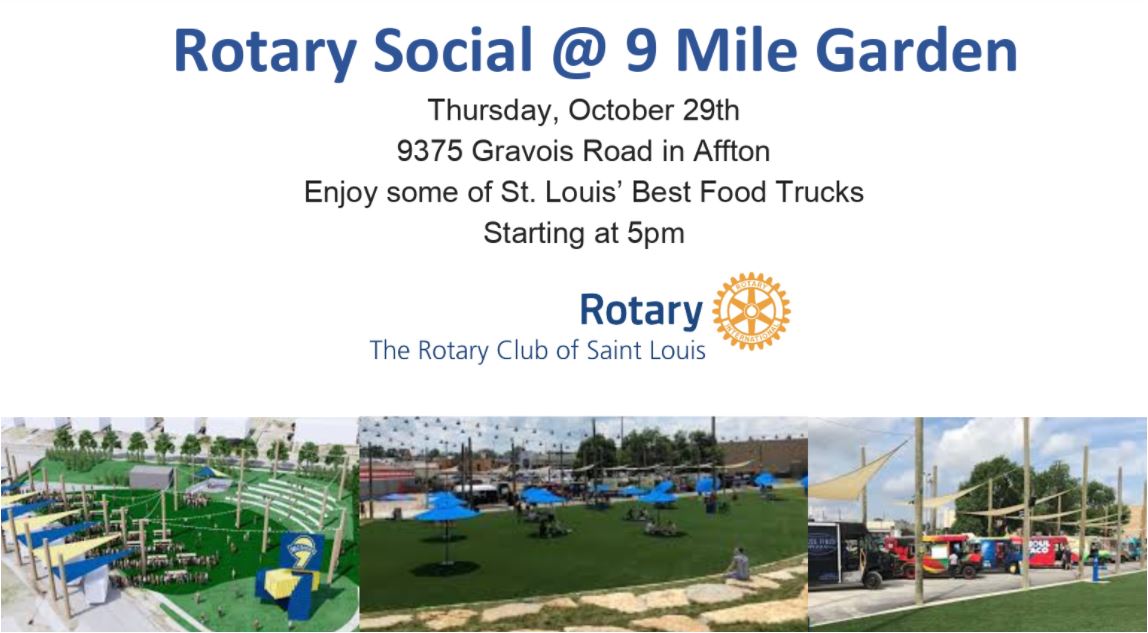 The Keys to the Kingdom: An Illustrated Timeline of the Kansas City Chiefs | David Smale, Author 10-29-20
| | | |
| --- | --- | --- |
| | | "In the summer of 1963, Kansas City became the new home of the Dallas Texans, proudly inaugurating the Kansas City Chiefs rise to become the most successful football franchise in the ten-year history of the American Football League. |
Zoom Lane Narrows -New Band - Original Song
Above is the YouTube video link to my band (Lane Narrows) original song "A Zoom Tune" recorded at The Gaslight Studios on The Hill a couple of weeks ago.
"I wrote this song and the band enhanced it... please feel free to enjoy and share as you see fit.. hope it brings a little fun 🤩 to all who give a listen. Richard (stage name "BoneDaddy ")"
Zoom Recording for Ryan Carney October 15, 2020
This recording also includes the strategic planning meeting held right immediately after our regular meeting.
Use Passcode: ZR0WB.Z=
Board Meeting - October 21st, 2020
Board Meeting
4:30 PM Wednesday
1335 S Lindbergh Blvd, Saint Louis, MO 63131