Rotary Club 11 ~ St. Louis, MO https://rotarystlouis.org |https://www.Facebook.com/RotarySTL

Monsignor Vincent Bommarito | Piazza Imo
This Thursday, August 20, 2020 MAC & ZOOM
"You have to understand The Hill. The Hill doesn't understand you; you understand The Hill. We're blessed here." ~ Monsignor Bommarito of St Ambrose
Built in the heart of The Hill, St. Louis, Missouri's historic Italian neighborhood, Piazza Imo stands as a symbol to past and future generations.
Presidential Telegram - Kent Steinbrueck ~ August 20, 2020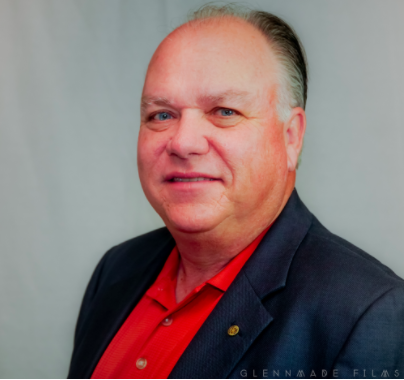 A quote of inspiration
"Ability is what you're capable of doing. Motivation determines what you do. Attitude determines how well you do it."

~ Lou Holtz
Each week I will highlight something about Rotary that all Rotarians should know or be aware of.
INTERNATIONAL RESPONSIBILITIES OF A ROTARIAN
As an international organization, Rotary offers each member unique opportunities and responsibilities. Although each Rotarian has first responsibility to uphold the obligations of citizenship of his or her own country, membership in Rotary enables Rotarians to take a somewhat different view of international affairs. In the early 1950s a Rotary philosophy was adopted to describe how a Rotarian may think on a global basis. Here is what it said:
"A world-minded Rotarian:
• looks beyond national patriotism and considers himself as sharing responsibility for the advancement of international understanding, goodwill and peace;
• resists any tendency to act in terms of national or racial superiority;
• seeks and develops common grounds for agreement with peoples of other lands;


Registration for
In Person

Meeting August 20

Please be sure to register with the In Person link if attending in person.
Register in advance for this

ZOOM

meeting:
You are invited to a Zoom meeting.
When: August 20, 2020 12:00 PM Central Time (US and Canada)
After registering, you will receive a confirmation email containing information about joining the meeting
Lunch Menu ~ August 20, 2020
August 20, 2020
Oil & Vinegar Romaine salad w/ Shredded Romano Cheese & Croutons
~
Chicken Spedini w/Lemon cream Sauce
Parmesan Risotto ~ Roasted Brussel Sprouts w/ Onions
Special Menu Requests For Members and Guests with dietary restrictions, alternative meals are available, but they must be ordered by no later than 11:30 am on Wednesday, August 19, 2020 If you don't reserve in advance please do not take a special meal ticket.
Alternative meals may be ordered by emailing the Club Administrator @ joanh@rotarystl.org or online with the link: Order Special Lunch Here
Golf Alleygations August 12, 2020
FOREST HILLS COUNTRY CLUB
The weather in most of the St. Louis area gave us heavy downpours with flooding in many areas. I had a couple Rotarian golfers texting me on the status of the outing scheduled for 1:30 at the beautiful Forest Hills Country Club. Since our league has had the last 3 golf outings shortened by rain, I am sure everyone assumed this would be the same. They forget that Terry Werner was the organizer of our first 4 outings and everyone knows the track record Terry has with the rain.


NOT THIS TIME. As I was heading west on 44 toward West County, I noticed blue skies in the distance. As soon as I hit 270 heading toward 40/64 the sun was out and there was barely a hint of cloudiness. OH MY!!! I remembered telling someone a week before that I guaranteed NO RAIN for the Forest Hills outing. Was my promise going to come true? Apparently, they had no rain in Chesterfield that day and the weather for golf was almost perfect.


Golf League Schedule ~ Updated 8/16/2020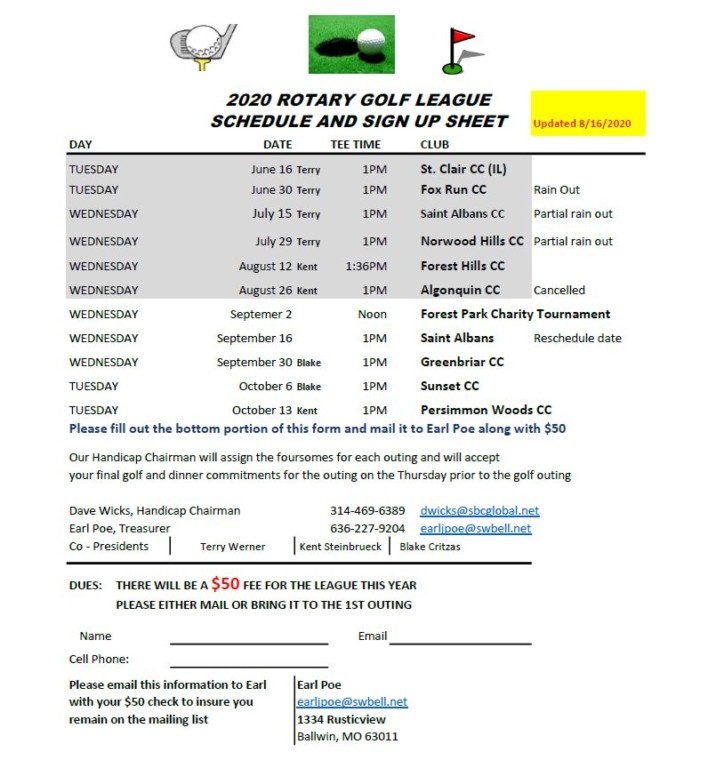 Club 11 Charity Golf Tournament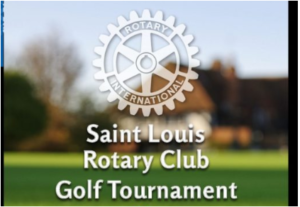 All Club 11 Rotarians, your help is needed. The Rotary Club of St Louis will host our Charity Golf Tournament on September 2, 2020 at the Probstein Golf Course in Forest Park. This is our main fundraiser that has raised over $400,000 over the last 10+ years for local charities and nonprofit groups. Most of the funds used for our Community Service Grants come from this event.


So, how can you help. First, if you are a golfer, or know someone who is, please sign up to play. We will play a 4-man scramble, with the first and second place teams in two flights winning prizes. Since we are still affected by the Covid 19 pandemic, registration and dining will be outside under the pavilion. There will be no access to the Club House except for the Pro Shop. Masks will be required during registration.


We can also use your help as a volunteer the day of the event.


Welcome New Member Kevin Shaughnessy
Hobbies:
Have coached baseball, basketball, football, soccer at various levels ---high school/grade school. Politics, history, geography, economics, current events, movies etc. Not a lot of "free leisure time" with 5 kids.


Description:
Life long St. Louisan--from Oakville, MO. Married with 5 children. Truman State University St. Louis University High School Queen of All Saints Grade School--current parishioner I have been in financial services for 11+ years spanning various roles at Wells Fargo Advisors, Edward Jones, and MetLife. (Started out career teaching High School Economics/History and Coaching.) I am currently a Private Wealth Advisor at U.S. Bank Private Wealth Management. I have deep expertise in the high net worth and ultra high net worth investment/consulting space, etc.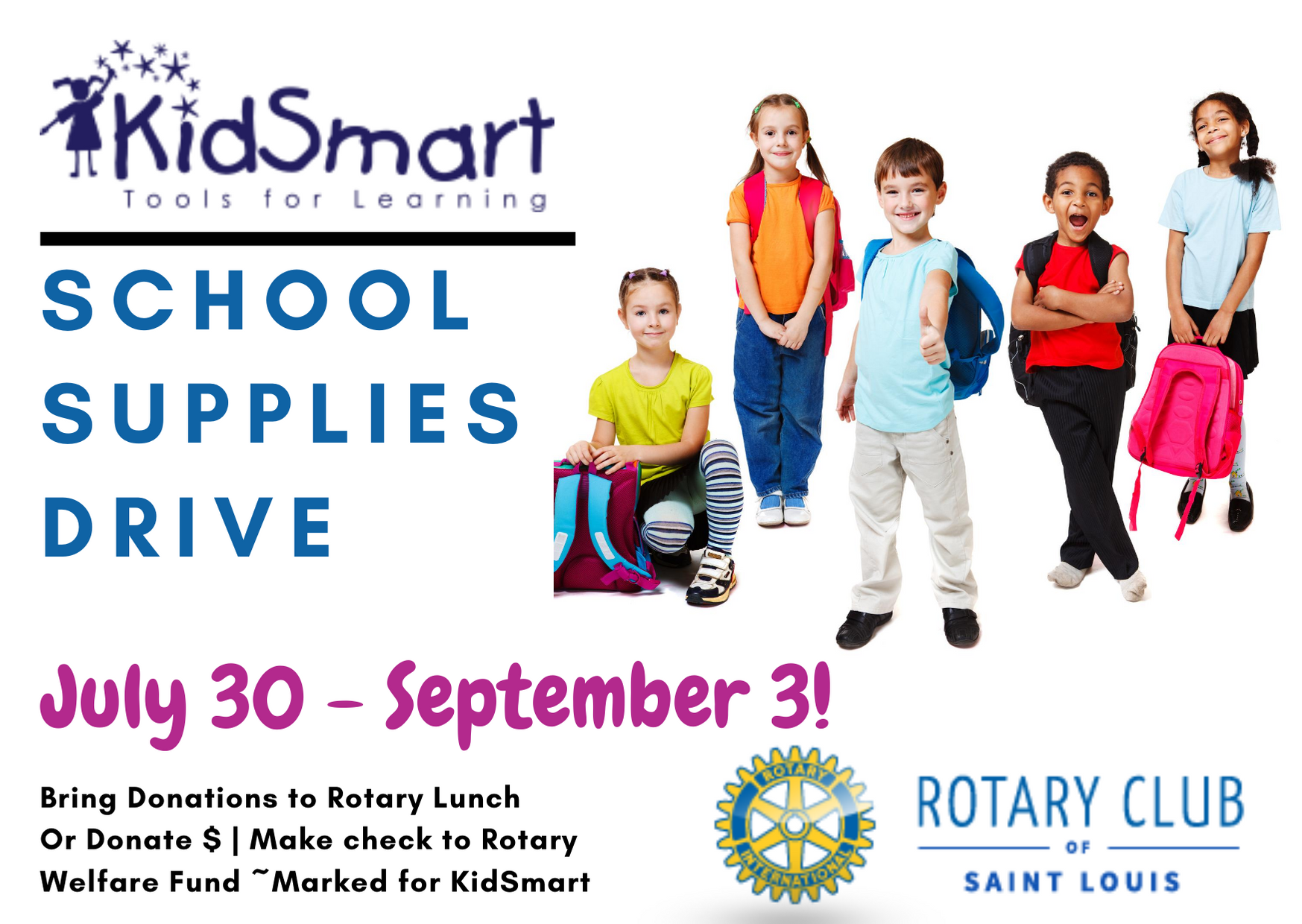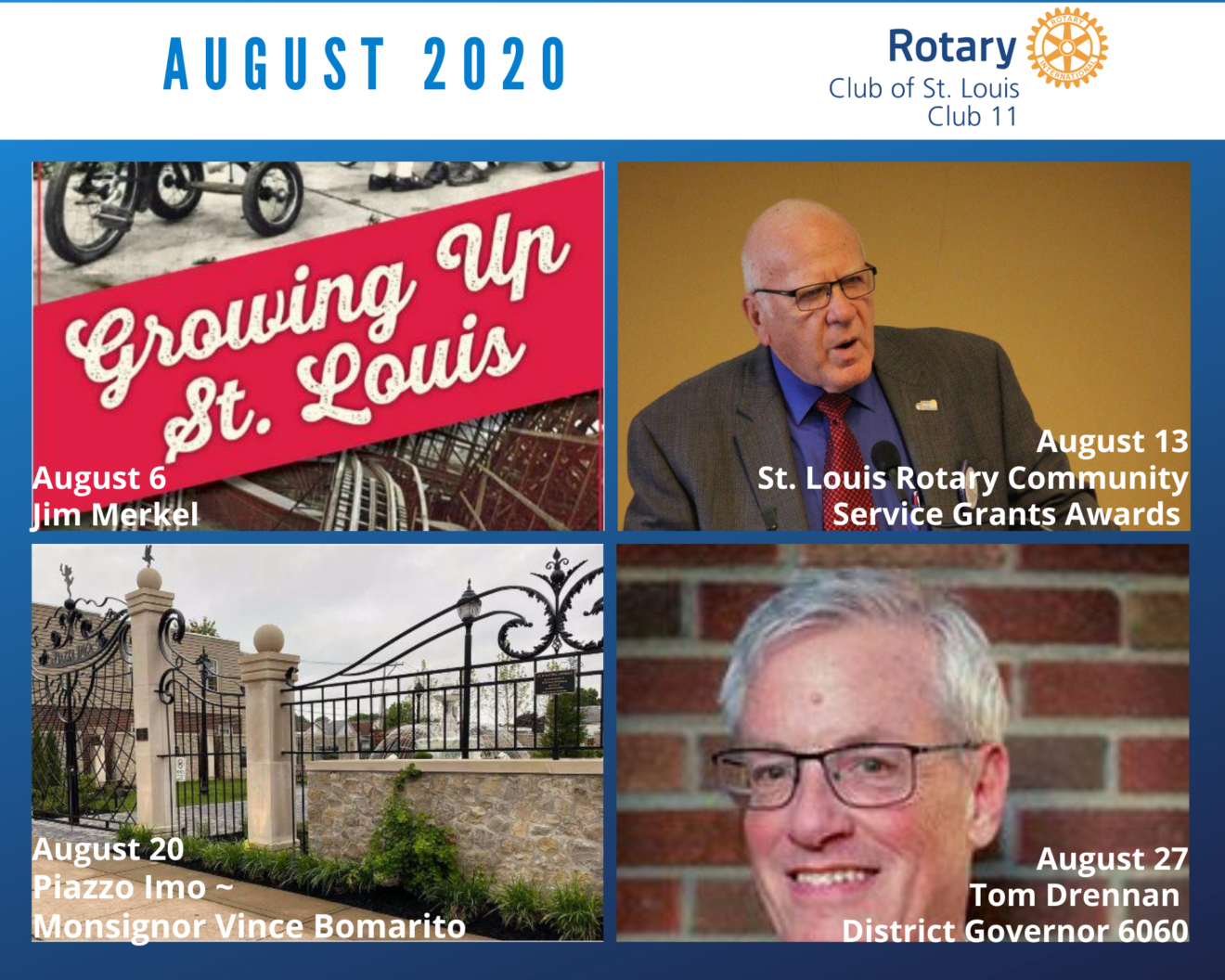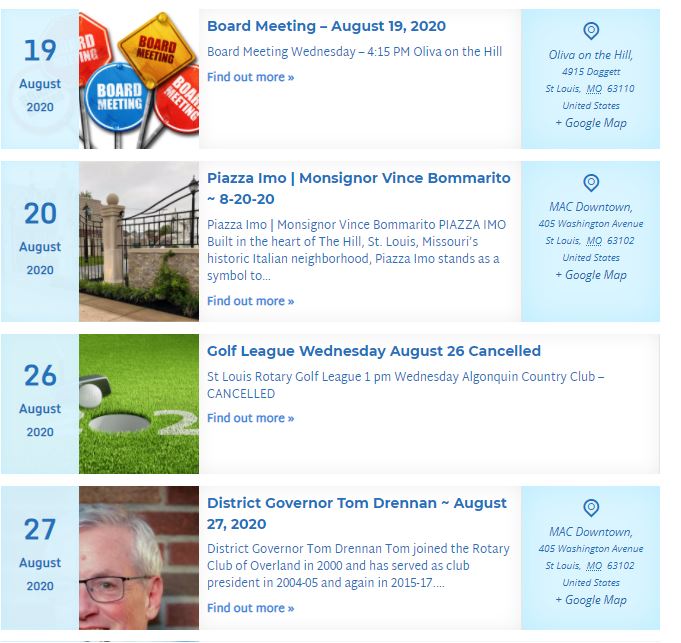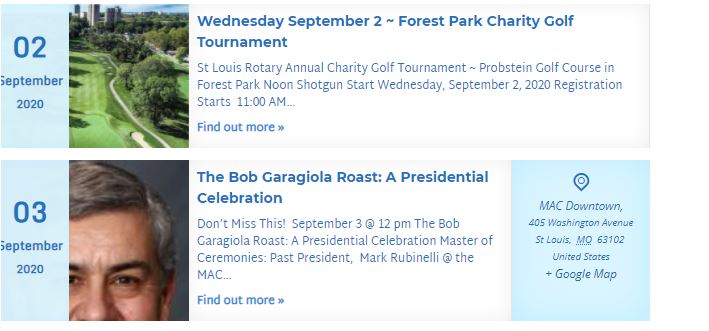 Fifteen Community Grants Awarded by St. Louis Rotary Club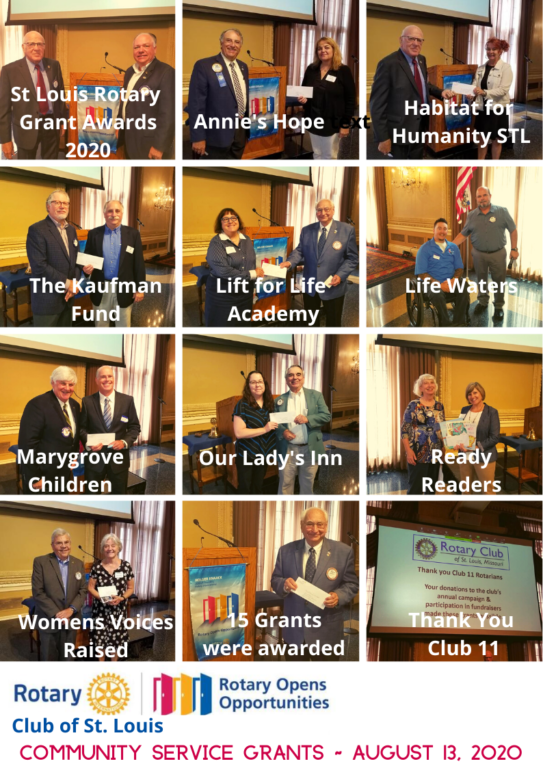 Congratulations to the recipients of the 2020 St Louis Rotary Grants. Fifteen local organizations received grants from our club. Thanks to all club members for your donations and fundraising!


2020 St Louis Rotary Grants were awarded to:


(501(c)3 Organization is followed by St. Louis Rotary member sponsor)

If you missed our meeting on August 13, 2020: St Louis Rotary Community Grants Awarded, click the Zoom link for 8/13/20 to watch it:

Password: Fi7+BXss
St Louis Rotary Bowling League Starts September 14, 2020 @ Olivette Lanes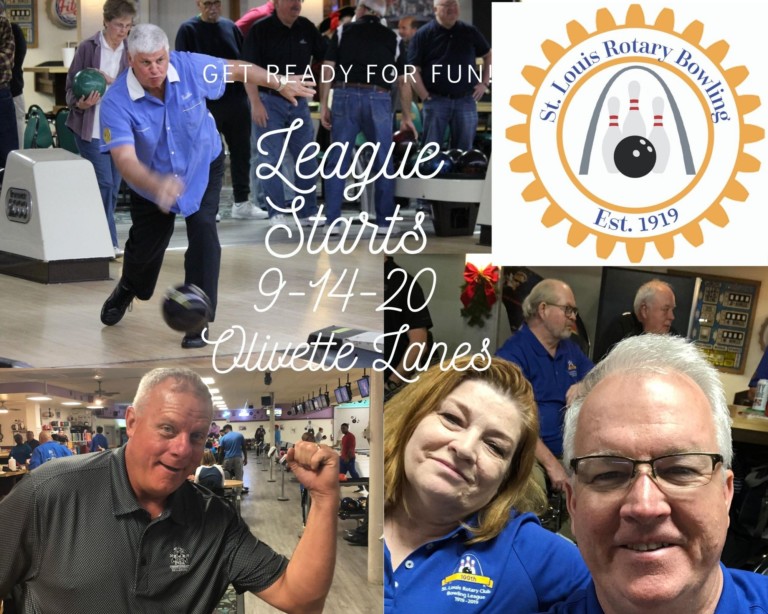 St Louis Rotary Bowling League begins on Monday, September 14, 2020. We bowl @ Olivette Lanes


Save the Date - Rotary Bowling Draft | September 10 @ Olivette Lanes
More Details will Follow ~ Club Social