Rotary Club 11 ~ St. Louis, MO https://rotarystlouis.org | Facebook.com/RotarySTL ~ 6/18/20 .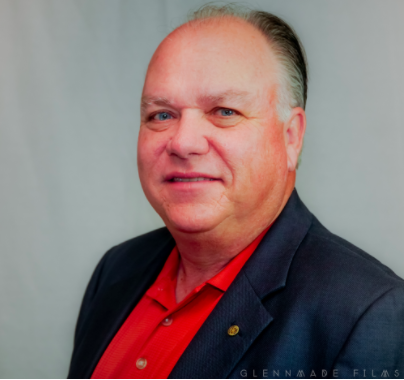 President Elect's Telegram ~ June 18, 2020
President Elect's Telegram
Each week I will highlight something about Rotary that all Rotarians should know or be aware of.
I have always wondered how the 4 Way Test came about
In the early 1930's
Herbert J. Taylor
set out to save the Club Aluminum Products distribution company from bankruptcy. He believed himself to be the only person in the company with 250 employees who had hope. His recovery plan started with changing the ethical climate of the company. He explained:
The first job was to set policies for the company that would reflect the high ethics and morals God would want in any business. If the people who worked for Club Aluminum were to think right, I knew they would do right. What we needed was a simple, easily remembered guide to right conduct – a sort of ethical yardstick- which all of us in the company could memorize and apply to what we thought, said and did.
"I searched through many books for the answer to our need, but the right phrases eluded me, so I did what I often do when I have a problem, I can't answer myself: I turn to the One who has all the answers. I leaned over my desk, rested my head in my hands and prayed. After a few moments, I looked up and reached for a white paper card". Then I wrote down the twenty-four words that had come to me:
2.
Is it fair to all concerned?
3.
Will it build goodwill and better friendships?
4.
Will it be beneficial to all concerned?
He called it "The Four-Way Test of the things we think, say or do
We will have our first live meeting at the MAC on Thursday June 18th. We have not met at the MAC since the beginning of March so we still have a few procedural items to work out, especially in keeping in compliance with new COVID procedures. Please be patient.
Masks will be required from the time you walk into the MAC until you get to the Ballroom. Then they are optional. I am told they will also be taking temperatures of everyone entering the MAC.
We will be trying a new pre-meeting online registration starting with this meeting. Although this is not mandatory (yet) please respond to the email to give us a good idea of attendance.
Club 11 Rotarian Dale Ruthsatz
will be the speaker on June 18th, giving us an update on the many developments in the City of St. Louis. I hope most of you come downtown for the meeting. If you don't feel comfortable or if you can't make it, we will be zooming the meetings that you can watch at home.
PLEASE CONTINUE TO WORK AT BEING HEALTHY DURING THESE TRYING TIMES
A quote from Rotary International President Mark Daniel Maloney
Rotary Program June 18, 2018
Current City Development ~ Dale Ruthsatz, Deputy Executive Director, St. Louis Development Corporation | June 18, 2020
Mr Ruthsatz is a graduate of Washington University in St. Louis with a B. S. degree in Architecture. He began his career in the private practice of architecture, but began working at the St. Louis Plan Commission in 1995. He has held various planning and development related positions in the City, and since 1990 worked for the St. Louis Development Corporation. He is currently Deputy Executive Director, focusing on real estate incentives, including tax abatement and tax increment financing. He is a member of APA, AIA, MEDC and MEDFA.
MAC guidelines for entering the building requires you to wear a face mask in the MAC until you get to the ballroom. Then it can be removed. As you leave the ballroom you will need to put the mask back on to exit the MAC. ( We will bring masks and gloves that will be available for members if needed).
There is one way in and one way out only. You will enter at the garage entrance of the MAC. The front doors are locked.
We are also streaming the meeting with Zoom:
Meeting ID: 842 9731 4379

Password: 031609
Lunch Menu ~ June 18, 2020
6/18/20
Southwest Cobb w/ black beans, tomatoes, egg, bacon & Spicy Roasted Tomato vinaigrette
~
Blackened Chicken Breast w/ Fresh Pico
Spanish Rice Roasted Squash Medley
Special Menu Requests For Members and Guests with dietary restrictions, alternative meals are available, but they must be ordered by no later than 11:30 am on Wednesday, June 17, 2020 If you don't reserve in advance please do not take a special meal ticket.
Alternative meals may be ordered by emailing the Club Administrator @ joanh@rotarystl.org or
Think Tank Zoom Meeting a Success...Thanks Trish Cheatham!!
We had another successful virtual Rotary meeting on Thursday June 4th. It was a very inspiring program by Trish Cheatham from Think Tank with some outstanding information. Thanks to Andrew Darling who works with Trish for setting up this program. Outstanding company.
Thanks to our club member Andrew Darling for introducing us to Trish Cheatham and Think Tank!
If you missed the this Zoom meeting, OR want to watch it again use the link below:


Good News for Our Members Don Klackner & Richard Losciale

Don Klackner, owner of Olivette Lanes reopened @ 11 am on June 15, 2020! They open on Monday through Saturday @ 11 am and on Sunday @ 12 pm.
Congratulations Don, we're glad our favorite bowling alley is open!
________________________________________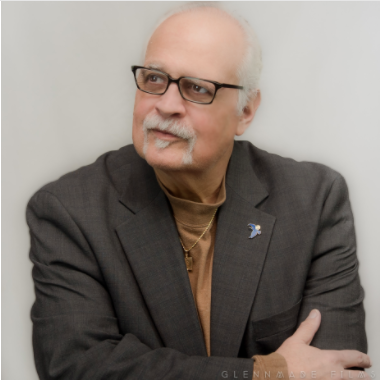 St Louis County has included Richard Losciale's music in it's bibliography of local songwriters:
| | | |
| --- | --- | --- |
| | | Tiny as this is in this big crazy world I am grateful that St Louis County has included my music in its bibliography of local songwriters A Little Parlor Music file:///anthology-collection/5fdb4d25-c80f-421a-8ee9-3c54ee878bcb/24e7ad2b-4f29-4c3a-8751-32df5976d9c |
Congratulations Richard!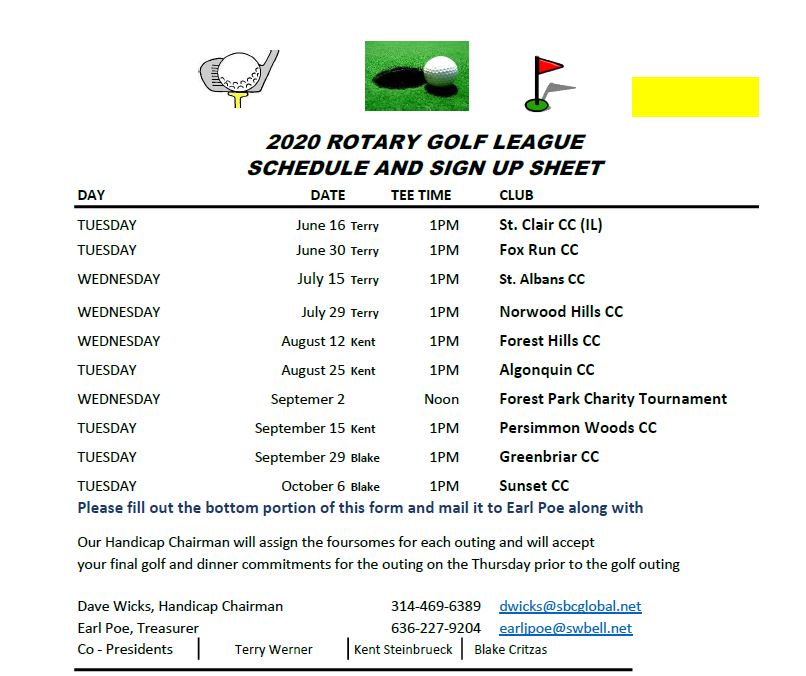 CANCELLED COVID | NO MEETING JUNE 25, 2020
Kent Steinbrueck - Installation | 7/09/20
(Next meeting at the MAC)
Kent Steinbrueck - Installation as President of Rotary Club of St. Louis


And Club Business Meeting
Join a new weekly Facebook Live series to create connections and take part in engaging conversations. The #RotaryResponds Live series features Rotary leaders and members, and leaders from partner organizations sharing how they're taking action in their communities during the COVID-19 pandemic. View all episodes at facebook.com/rotary/live.


Wednesday June 17 ::
Find out how Rotary's partnerships are being utilized to respond to COVID-19. Rotary International CEO John Hewko will be welcoming Brock Bierman, Assistant Administrator, Bureau for Europe and Eurasia, U.S. Agency for International Development and Mike McGovern, Chair of Rotary's International PolioPlus Committee.
Sign-up: 2020 Rotary International Virtual Convention ~ June 20-26, 2020
At Rotary, we have no tolerance for racism. Promoting respect, celebrating diversity, demanding ethical leadership, and working tirelessly to advance peace are central tenets of our work.


We have more work to do to create more just, open and welcoming communities for all people.


We know there are no easy fixes and that challenging conversations and work lie before all of us. Rotary's strength has long been our ability and commitment to bringing people together. We will tap into that strength now as we stand with those who are working for peace and justice.


Rotary will do our part to listen, learn and take action to ensure that we continue to contribute to making positive change.