Rotary Club 11 ~ St. Louis, MO https://rotarystlouis.org | Facebook.com/RotarySTL ~ 6/04/20 .

President's Corner ~ June 04, 2020
CLUB 11 — I have said over and over that my favorite part of Rotary is its people. As a new member my wife, Teddy, would ask me about the meetings I attended. Who was the speaker? What did you have for lunch? Who did you sit with?


What else is happening in Rotary? Before I answered these specific questions, I would simply say that these are the friendliest and nicest people you would ever want to meet. It was true then and it's still true today.


My recent heart problems (triple by-pass & complications) has us humbled by Club 11's response — cards, calls, e-mails, texts, gifts, books, Masses, notes of encouragement and prayers. You have honored us with your concern for Teddy & me. Thank you.


These expressions have worked to strengthen me as I recover. It will be a long, long road, but that's our plan.


I am thinking of all of you and do miss you. Your efforts in reaching out have kept us close. We are blessed..Thank you for your goodwill and friendship.


President Elect's Telegram ~ June 04, 2020
ROT – ARY THAT SPELLS ROTARY. Some of you may know the song but Rotary is much more than the song or the name. Service Above Self and the 4 Way Test should always be on top of mind and I have seen a lot of that during these unusual times.
If you don't know by now, we had our first Rotary meeting last Thursday virtually via Zoom. I think it was a success as we had about 50 people signed in during the lunch hour. Great job from everyone that made this possible. Thanks for being the program Brian Elliot.
We will have one more Zoom meeting this week and then be able to meet in person at the MAC on June 18th. Judging by everyone's reaction last Thursday, I think everyone is looking to get together again. We will be limited to 83 people (25% of capacity) with spacing but that should be no problem, so plan to attend. Let's try to get good attendance that day. In the meantime, tune in on June 4th.
PLEASE CONTINUE TO WORK AT BEING HEALTHY DURING THESE TRYING TIMES
Please be assured that your Board of Directors for our club is taking measures and making decisions that will make keeping everyone's health the top priority. Always remember as we come out of this all of our meetings and activities will be optional and each individual should make decisions that are best for YOU.


We are all dealing with an unprecedented situation with COVID-19. Hopefully we will get through this in short order and be able to get back to our "normal" lives again. When we get through this, hopefully we will realize how important our FREEDOM is and we can work harder on treating each other kindly every day.


UPDATE – President Bob continues to get a little, and I stress little, better every day. He called me about a week ago and he sounded great. In home help almost every day and the loving assistance from his wife Teddy.
MAKES ME PROUD TO BE A PART OF SUCH AN OUTSTANDING GROUP – THE ROTARY CLUB OF ST. LOUIS
Our Throwback Thursdays have been an overwhelming success. Much thanks to Doug, Mike, Joan and everyone else that have made sure they are published timely. Since we will be meeting live soon and we've almost gone through the list we are considering whether to run them again. Anyone interested in seeing them again?
A quote from International President Mark Daniel Maloney – "As COVID-19 reached around the globe, we found ourselves in a world transformed. We have been forced to connect in ways we could never have imagined, testing our ability to adapt."
Keep connected with Rotary by reading one article a week from the Rotarian Magazine.

Here is a quote from the always whimsical BOB HOPE that will probably put a smile on your face.
ON TURNING 70 - "I still chase women, but only downhill."
ON TURNING 80 - "That's the time of your life when even your birthday suit needs pressing."
ON TURNING 90 - "You know you are getting old when the candles cost more than the cake."
ON TURNING 100 - " I don't feel old. In fact, I don't feel anything until noon. Then it's time for my nap."
"Call a Rotarian" – President Bob kicked off this program on April 7th. Let's see if we can keep this going in support of Bob. I think this is a good gesture and will help keep us connected. And you will feel good just to make a "personal" connection. I know I have and if you do also, you'll be amazed at the results.


Finally, if you have questions, concerns, or ideas regarding Club 11 please let me know


President Elect Kent Steinbrueck
Brian Elliot, Zoom Meeting ~ 5-28-20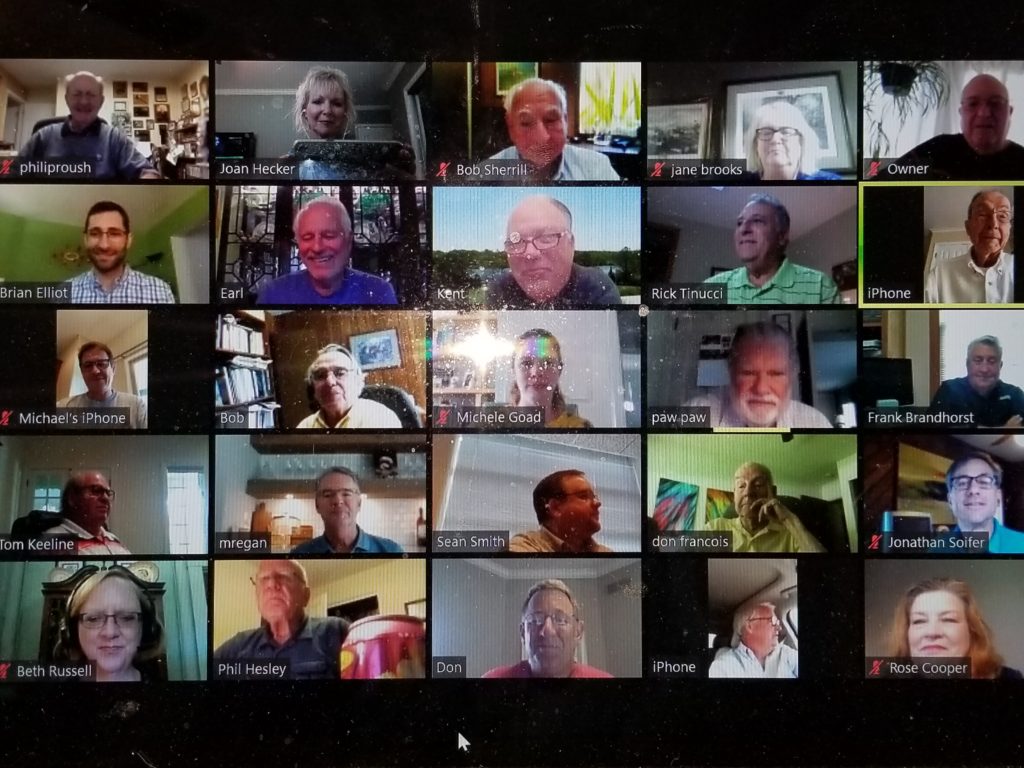 Thanks Brian Elliot for the fantastic Zoom presentation on May 28, 2020! I
How To Pivot Your Business In Times of Crisis ~ Trish Cheatham, CEO & Founder of Think Tank PR & Marketing | Virtual ~ June 4, 2020
Join CEO Trish Cheatham of Think Tank PR + Marketing + Design as she explains how you can pivot your business, reimagine and implement new growth strategies, and keep your business open and even growing in these trying times.
You will learn:
Ideas on how to rethink your business and pivot into possible new revenue streams

How to reassess your growth plans and goals

How to find a collaborative team and make useful connections

How to meet consumers where they are and successfully address their unique needs

How to take quick actions and become a lean, nimble machine

How to predict your business's future and set attainable goals

How to take advantage of downtime and how you can set your business up for success

Brand messaging – what to say, what not to say in times of crisis

How to market your business in a crisis and stand out from the crowd
Includes a Q&A session open to all for help and collaboration.
Featured Speaker Bio
Q: Does Rotary Have Virtual Zoom Backgrounds?
Rotary International Update
I hope all of you are doing well and dealing with the physical distancing mandated by this global pandemic. This will certainly be a time we all remember and like 9-11, will be another inflection point. Life going forward will not be the same. While Diane and I are fine, we feel the change and miss the opportunity to meet and visit with our Rotary friends.


Have you seen the information about the upcoming Rotary International Virtual Convention being held this year? The convention will be held on June 20th through June 26th via Zoom with general sessions on Saturday and Sunday and then various breakout sessions Monday through Friday. There is no cost to attend. I have attended 12 International Conventions and have enjoyed meeting Rotarians from around the world and being inspired by the work and dedication of those Rotarians. While the experience of a virtual convention will be different (much like watching a baseball game on television), I believe tuning in to this virtual event will broaden your Rotary experience. To see what I mean, watch this video of Rotaractor Chris Wells at the Hamburg convention. https://eovimpro.com/rotary/hamburg-international-convention/video/340503705


Finally, Rotary International has been at the forefront of the Covid 19 relief efforts. On May 2nd a telethon, coordinated by Rotary Foundation Trustee Jennifer Jones raised more than $521,000 and will fund at least 21 Rotary disaster response grants to pay for projects related to the pandemic. In addition, the Rotary Foundation has approved $4.7 million in disaster response grants and over $15 million in District grants to respond to local community needs. Like Polio, Covid 19 is transmitted from person to person and the testing labs Rotary created to monitor Polio are now focus on tracking this new coronavirus. Again, Rotary making a difference.


June is Rotary Fellowship Month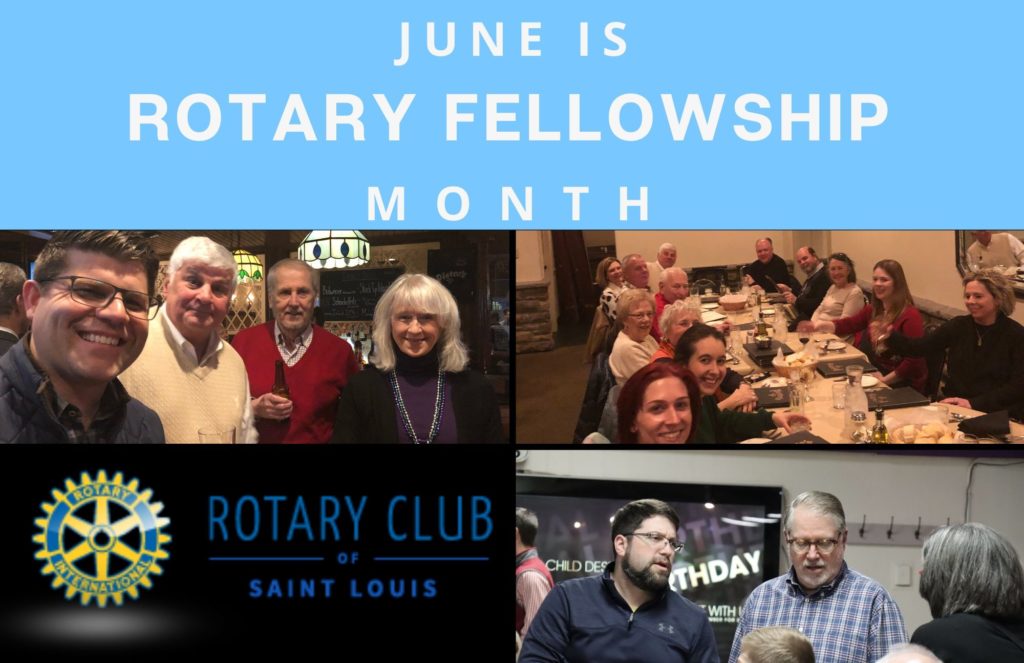 Rotary BREW Fellowship has a Facebook group; and they are getting ready for their 2nd virtual happy hour on June 6, 2020. Check it out on Facebook and sign up to attend if you're interested. They have spots for 500 and 150 have RSVP'd as of today.


Rotary Golf League ~ 2020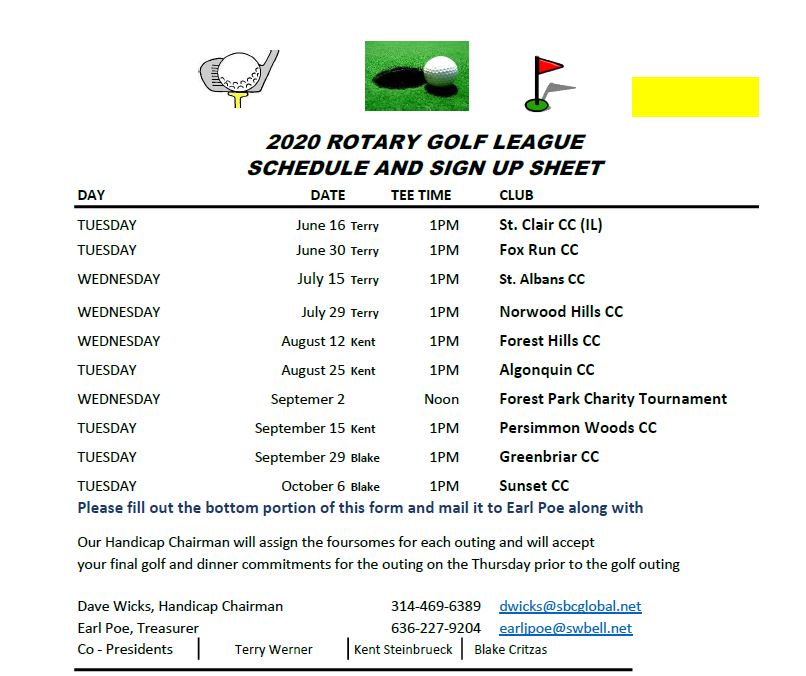 Our first golf outing will be June 16th at St Clair Country Club in Illinois.


Golf courses are open and we are planning to play golf with all the rules of social distancing applied. Instead of our normal 13 outings we will have 9 and will follow all of the rules that the country clubs have presented to us.


If you play golf please think about signing up for one or all of the outings. This year we have waived the fee of joining the club and but will also not have the normal prizes for each event. Let's just get together again and enjoy a day on the links.


Current City Development ~ Dale Ruthsatz, Deputy Executive Director, St. Louis Development Corporation | June 18, 2020
Current City Development ~ ZOOM Meeting | June 18, 2020
Mr Ruthsatz is a graduate of Washington University in St. Louis with a B. S. degree in Architecture. He began his career in the private practice of architecture, but began working at the St. Louis Plan Commission in 1995. He has held various planning and development related positions in the City, and since 1990 worked for the St. Louis Development Corporation. He is currently Deputy Executive Director, focusing on real estate incentives, including tax abatement and tax increment financing. He is a member of APA, AIA, MEDC and MEDFA.


Online Rotary Meetings Database ~ Travel the World!
Join a new weekly Facebook Live series to create connections and take part in engaging conversations. The #RotaryResponds Live series features Rotary leaders and members, and leaders from partner organizations sharing how they're taking action in their communities during the COVID-19 pandemic. View all episodes at facebook.com/rotary/live.


Wednesday June 3 ::
Rotary Internationall CEO John Hewkoo in conversation with Rotary members sharing their service projects to respond to COVID-19. Guests include: Maggie Clark, Rotary Club of Guthrie, Oklahoma, USA and Joe Otin, Rotary Club of Nairobi Lavington,


RSVP now and don't miss an episode!
The 2020 Rotary International Virtual Convention ~ June 20-26, 2020 | Updated Breakout Schedule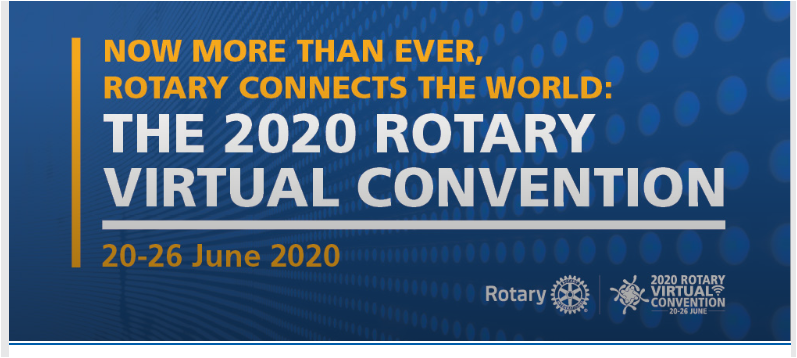 Save the Date for Rotary International's Free Virtual Event
"Now More than Ever, Rotary Connects the World: The 2020 Rotary Virtual Convention"


Schedule at a glance
Saturday, 20 June
General Session 1: Together, We Connect
08:00-09:15 in Chicago, USA (UTC-5)
14:00-15:15 in Lagos, Nigeria, and London, England (UTC+1)
21:00-22:15 in Taipei, Taiwan (UTC+8)