Rotary Club 11 ~ St. Louis, MO https://rotarystlouis.org April 16, 2020 .
President's Corner ~ April 16, 2020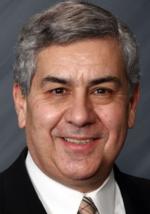 President's Corner
ALL CLUB 11 ROTARY EVENTS AND MEETINGS REMAIN CANCELLED FOR NOW.
SOCIAL DISTANCING !!
WASH YOUR HANDS!!
MASKS !!
SELF QUARANTINE !!
SANITIZER!!
NEW NORMAL !!
STAY-AT-HOME ORDER !!
……..AAAARGH !!
….had to
get that out of my system.


Last week I was able
to give out some good Rotary news. How about some more….!


Long-time member, Don
Lochmoeller, (a Club 11 Rotarian since 1979) was recently featured on KMOV and
the CBS Morning News as he was released from the hospital recovering from
Covid-19. AttaBoy, Don!!


Motown Mike Mosella
reports that there have been over 150 views on social media of the "Throw
Back Thursday" video of featuring Mike DeCola's March 2018
presentation on the 100th PGA Championship at Bellerive CC. There has
been great response to all of the "Throw Back Thursday" videos –
thank you Motown Mike and Doug Russell


"Call a Rotarian
on Tuesday Day" kicked off on April 7. I personally called five
Rotarians ranging from Senior Actives to several of our newer members.
I'd say that both sides enjoyed the conversation and my "callees" appreciated
the call. Let's do it again on April 14.


We are attempting to
get an up-date from the M.A.C. to find out when we can get back to regular
Rotary business. We hope to do so as soon and as prudently as possible.


Club Member Don Lochmueller - Recovers -COVID-19
Throw Back Thursday with the 2018 PGA Championship ~ Mike DeCola
Rotary Live || March 1, 2018 || PGA Championship Presentation


Bring Out an Old Favorite to Pass the Time....
April 13 is World Scrabble Day
Brush up on your knowledge of Scrabble with these fun facts. Some may surprise you!

The game Scrabble was invented in 1938 by Alfred Mosher Butts, an American architect.
The original name for Scrabble was Lexico.
There is a Braille version of Scrabble for blind players.
RYLA Application Deadline Extended: Friday, May 15, 2020
The St Louis Rotary Club awards a scholarship to Missouri RYLA annually. The links below take you to the St. Louis Rotary Club RYLA 2020 Handout for our club and to the St. Louis Rotary RYLA 2020 Application. Submit completed application to club11@rotarystl.org by Friday, May 15, 2020.


This scholarship is available to relatives of Rotarians.


All Club 11 Rotarians, your help is needed. With the successful completion of our Club Trivia Night (thank you Terry Werner and team), it's time to turn our attention to our Club Charity Golf Tournament. The Rotary Club of St Louis will host our Charity Golf outing on May 20th, 2020 at the Probstein Golf Course in Forest Park. This is our main fundraiser that has raised over $400,000 over the last 10+ years for local charities and nonprofit groups. The majority of the funds used for our Community Service Grants come from this event.


Make this world a kinder place.
Being kind to someone lifts their spirits and makes you happier too. "There are no small acts of kindness.
Every compassionate act makes large the world."
- Mary Anne Radmacher