Weekly Newsletter January 23, 2020
Speaker Jim Kavanaugh ~ CEO & Co-Founder, World Wide Technology ~ January 23, 2020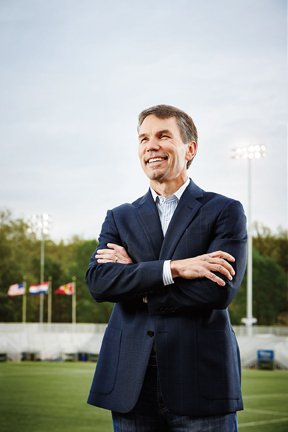 Jim Kavanaugh is the CEO and Co-Founder of World Wide Technology. Kavanaugh and his proven management team have guided WWT from a small start-up technology company into a world-class organization.


In the early years, Kavanaugh solidified WWT's financial position through profitable growth and a $27.5M venture capital investment which was repaid in 2005. Kavanaugh currently focuses his time in the areas of technology innovation, long term planning, strategic acquisitions, financial performance, employee development, and passionately overseeing WWT's unique corporate culture. Prior to founding WWT, Kavanaugh worked at Future Electronics and played professional soccer. He received his Bachelor of Science in business administration from Saint Louis University (SLU) in 1986.


President's Corner ~ January 23, 2019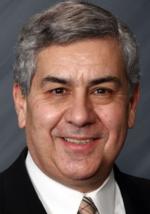 To me, those are the two significant
takeaways from last week's Annual Business Meeting.


Much information was shared by all
presenters: Finance,
Membership, Social, Community Service, Fund Raising, Program, Publicity, New
Generations, Endowment, and Rotary Foundation. There were comments on
administration and alternate meeting sites/times. Going forward, plans to address Club issues were also
highlighted.


But, with our numbers down and
running a deficit there are a lot of challenges to overcome if we want to keep
our Rotary Club appealing to our members and attract new ones whether they be
"Millennials", "Gen Xer's" or "Boomers". The state of the Club
was thoroughly presented. I am grateful to
all the chairs for their reports and especially their efforts to lead their
committees. Club 11 should be proud of the work they've done and we need
to be ready to commit to support their efforts.


We are
"People of Action."


What was your takeaway? Do you
still have questions? Do you have suggestions? What actions are you
ready to undertake for Rotary?
.........................................


Lunch Menu ~ January 23, 2020
1/23/20
Pear & Shaved prosciutto on Bibb lettuce w/ Pickled Onion w/ Pesto Vinaigrette
~
Herb Roast Salmon w/ Lemon Jus
Braised Rosemary Lentils & Roasted Cauliflower
Special Menu Requests For Members and Guests with dietary restrictions, alternative meals are available, but they must be ordered by no later than  11:30 am on Wednesday, January 22, 2020


Lift for Life Gym ~ January 21, 2020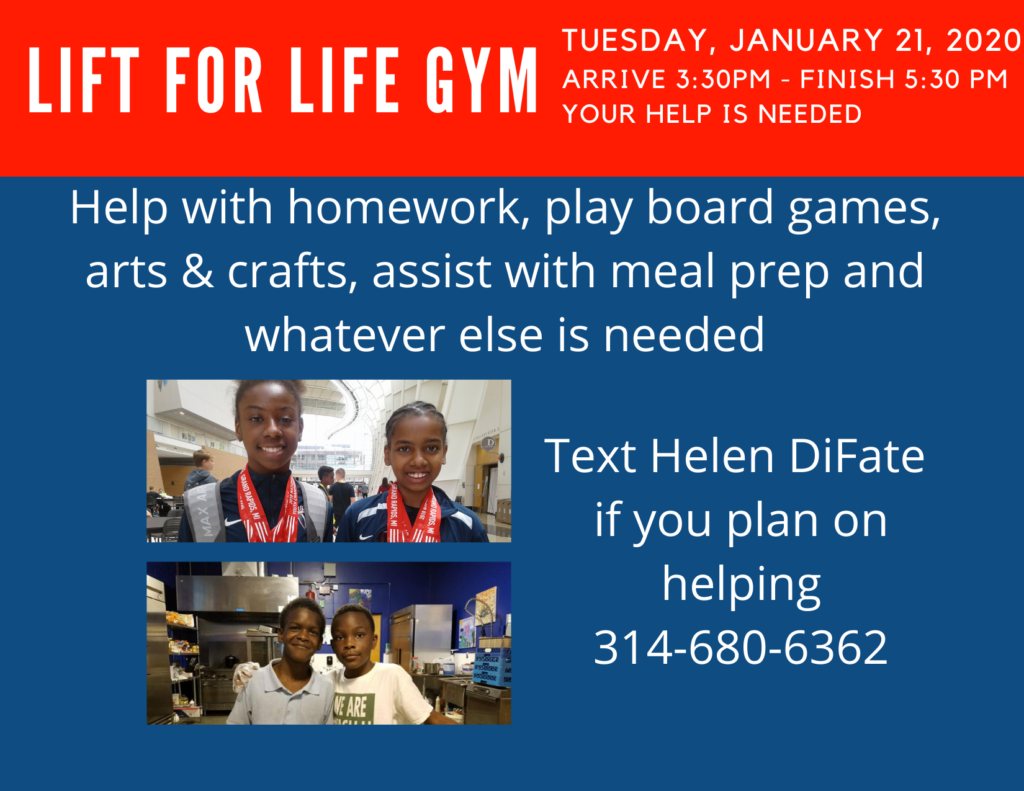 Trivia Night ~ February 29, 2020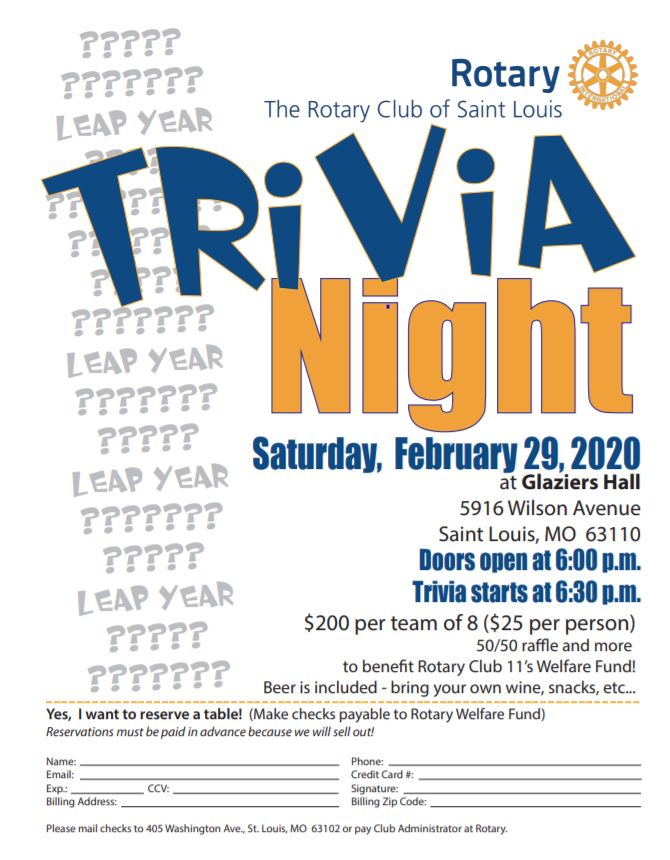 Trivia Night - Saturday, February 29, 2020 at Glaziers Hall, 5916 Wilson Avenue, St. Louis, MO 63110. Reserve a table: $200 per team of 8 ($25 per person) to benefit our community grants. Beer is included - bring your own wine, snacks, etc..
Scribe Report ~ Sean Smith ~ January 16, 2020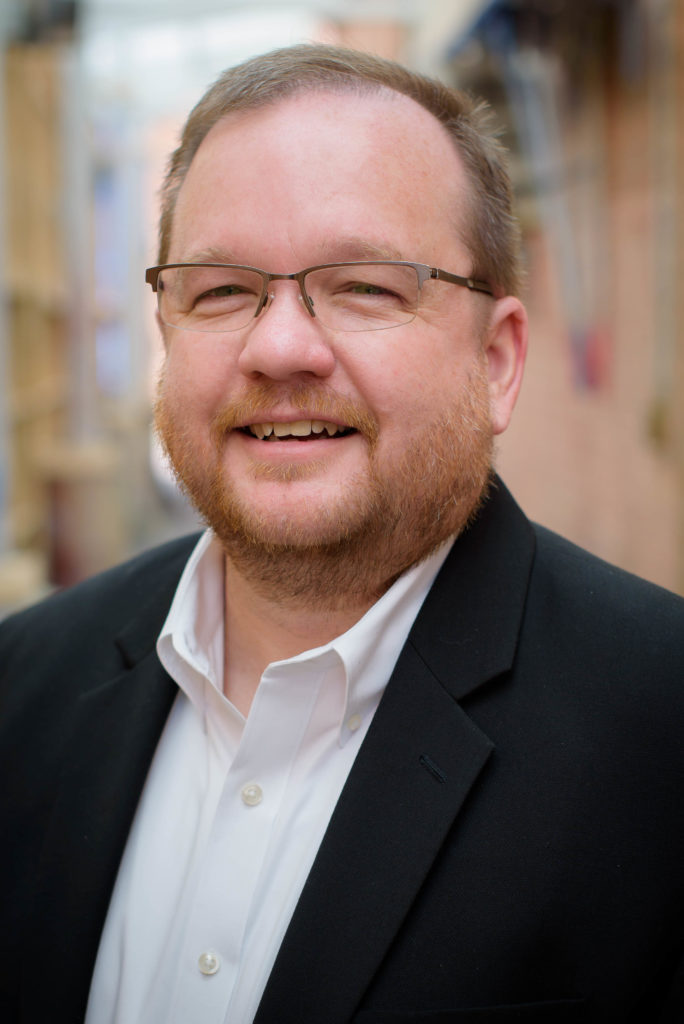 Filling in for President Bob, President-Elect Kent
Steinbrueck called the meeting to order by the ringing of our Rotary Bell. Kent then led us in the Pledge of Allegiance
and reciting of the 4-Way Test. Denise
Wondolowski provided the invocation and Beth Russell led us in singing "I'd
Like to Teach the World to Sing."


There was only one announcement—a reminder that the Club
Trivia night will be taking place on February 29, 2020 and there are still
tables available.


Following an amusing story regarding his early investment
history, Sergeant-at-Arms Dan Conway introduced guests and our perennial visiting
Rotarian, J. Gary Neal.


Kent Steinbrueck then returned to the podium to plug our
upcoming programs:

January 23 – Jim Kavanaugh, CEO of World Wide
Technologies, will be speaking about #MLSinSTL
January 30 – Tom Chulick, President & CEO of
the St. Louis Regional Chamber of Commerce
Kent then introduced our very own Juli Niemann who
provided her State of the Economy (along with the customary
slide-a-palooza). Highlights of her
presentation included:

Her opening slide set the tone with the
commentary that "Both diapers and politicians needed to be changed regularly."
Overall, our economy is doing "OK"
She said that presidential tweets only cause
short-lived anxiety in our markets but seem to be more of a concern in world
markets. We have become accustomed to
this and our stock market tends to only react to the Federal Reserve. The bottom line is that nothing significant has
changed with our economy over the last year.
With regard to gasoline, we shouldn't see a rise
in prices except on a seasonal basis.
This is due to a larger supply.
The U.S. is now able to export both oil and natural gas as a result of
(controversial) fracking efforts. We are
also seeing many substitutes for gasoline, so she anticipates a steady decline
in the use of gas for vehicles over the next several years.
Boeing's recent issues are having an impact on
the economy.
Tariffs are also having an impact on the
economy. She stated that the tariffs are
working to protect the targeted industry; however, they are reducing the
overall growth in the economy.
For St. Louis specifically, she said we are
experiencing a rising market in real estate.
She said that many people watching the market
are concerned about a recession, but there are no signs of a recession in
sight. However, she does expect to see a
slowdown in market growth.
Today, Millennials tend to be more interested in
spending money on experiences rather than "stuff". So, rather than collecting, they are
disposing. This in turn results in not
as much moving from one house to another.
Bowling Alleygations ~ Jon Soifer ~ January 13, 2020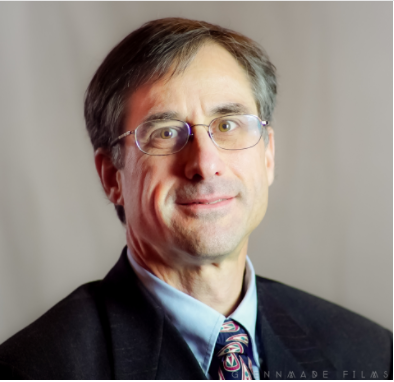 Week 2 of the second half started with us welcoming two new
bowlers to the league. Matt Maddox
joined team Cooper, and Jennifer Krassinger joined Team Cowell. Jennifer managed to get a lot of unsolicited
advise. It's going to take her years to
unlearn everything she learned last week.
We also welcomed back Ken Schuman.


It seemed that no one had much to report. Maybe the strikes and spares are becoming too
common. On lanes 23 and 24, Dave Cowell
and Mat Weiss were on fire – bowling well above average, and winning 18 points
against Team Soifer.


Teams Conway and Lorenz were battling it out on lanes 21 and
22. Every time I looked over, it seemed
that Dan Conway was picking up some hard to get spare. The bowling gods must have been smiling on him
on Monday. It was reported that Carl
Lane (Team Conway) blew it in the 10th frame for one of the
games. However, Team Conway took all 22
points, steamrolling team Lorenz. The 22
point jump pushed Team Conway into a 2nd place tie with Team Decker
(2 points behind Teams Cooper and Cowell who are tied for 1st
place), and dropped Team Lorenz to last place.


Get to Know Rotary Breakfast ~ February 5, 2020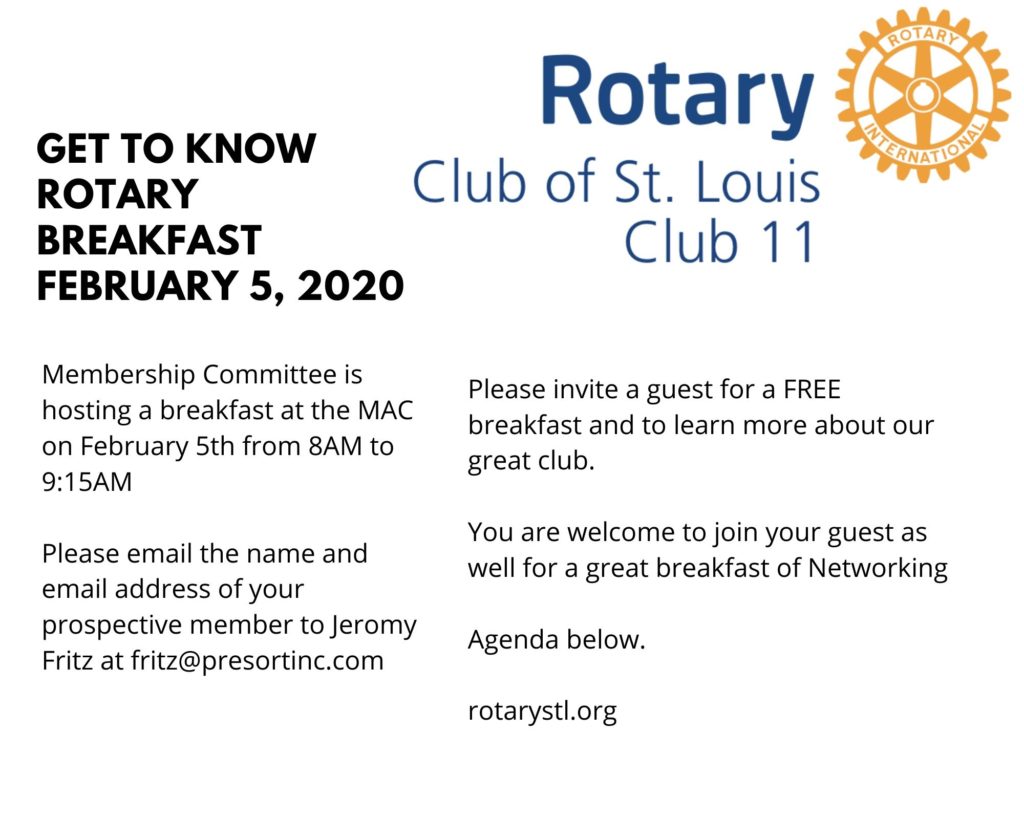 Membership Committee is hosting a breakfast at the MAC on February 5th from 8AM to 9:15AM.
Please invite a guest for a FREE breakfast and to learn more about our great club.
You are welcome to join your guest as well for a great breakfast of Networking. Please email the name and email address of your prospective member to Jeromy Fritz at
fritz@presortinc.com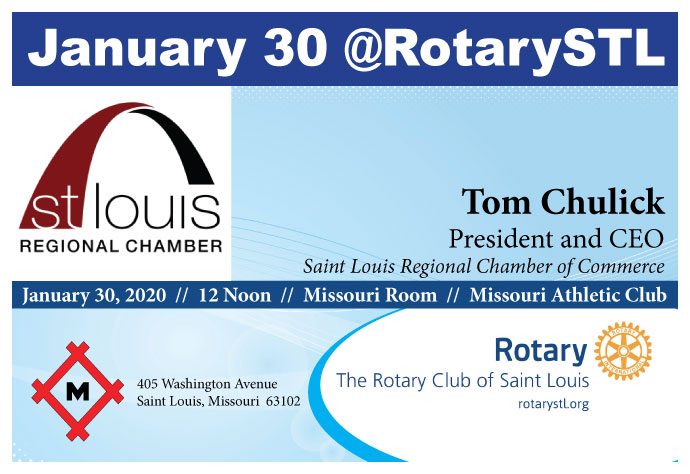 Club11 Member ~ Are you sponsoring a Grant 2020?
St Louis Rotary Grant Guidelines and Form are online at rotarystl.org: Click on the tab marked: Grant Guidelines & Form 2020. Applications must be submitted to the Rotary sponsor by March 12, 2020. Completed application with all signatures and attachments are to