Weekly Newsletter January 16, 2020
Speaker Juli Niemann, Executive Vice President, Smith Moore & Company - January 16, 2020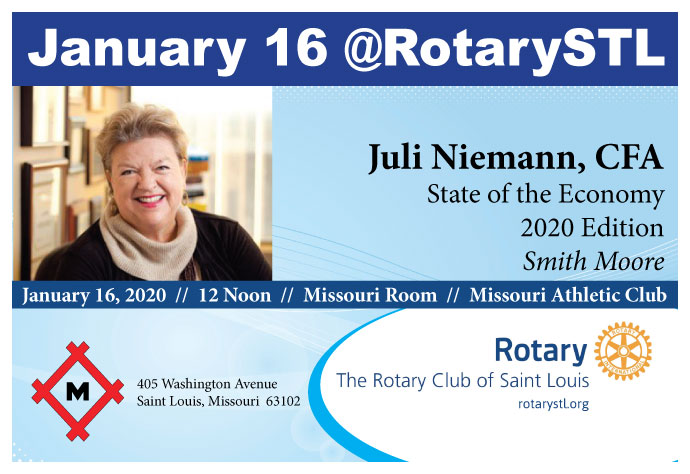 St Louis Rotary Grant Guidelines and Form are online at rotarystl.org: Click on the tab marked: Grant Guidelines & Form 2020 at rotarystl.org
President's Corner ~ January 16, 2020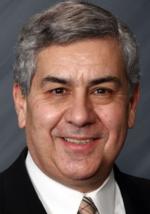 Membership and Money! To me, those are the two significant takeaways from last week's Annual Business Meeting.What was yours?


Much information was shared by all presenters: Finance, Membership, Social, Community Service, Fund Raising, Program, Publicity, New Generations, Endowment, and Rotary Foundation. There were comments on administration and alternate meeting sites/times. Going forward, plans to address Club issues were also highlighted.


But, with our numbers down and running a deficit there are a lot of challenges to overcome if we want to keep our Rotary Club appealing to our members and attract new ones whether they be "Millennials", "Gen Xer's" or "Boomers". The state of the Club was thoroughly presented. I am grateful to all the chairs for their reports and especially their efforts to lead their committees. Club 11 should be proud of the work they've done and we need to be ready to commit to support their efforts. We are "People of Action."


Trivia Night ~ February 29, 2020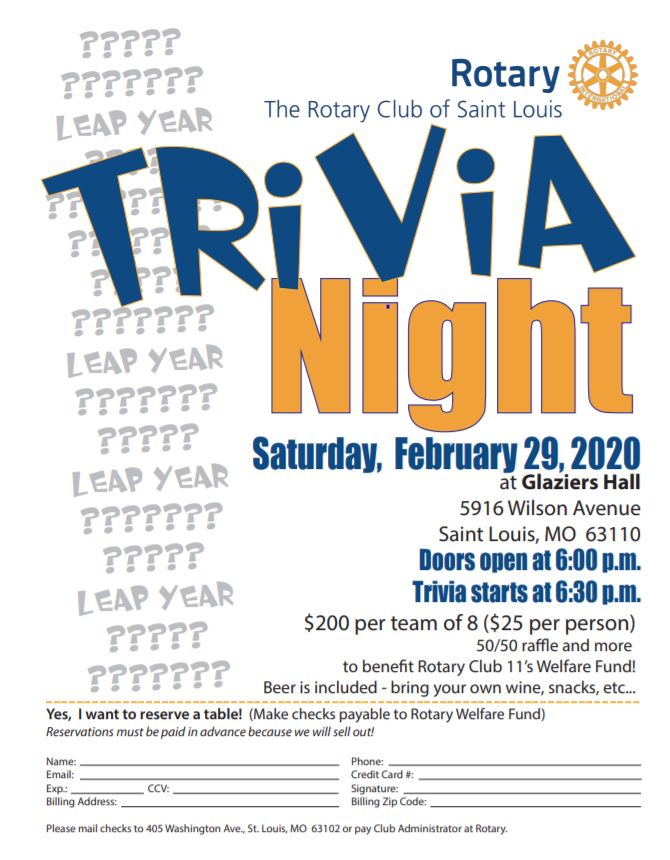 Trivia Night - Saturday, February 29, 2020 at Glaziers Hall, 5916 Wilson Avenue, St. Louis, MO 63110. Reserve a table: $200 per team of 8 ($25 per person) to benefit our community grants. Beer is included - bring your own wine, snacks, etc..
Lunch Menu ~ January 16, 2020
1/16/20
Ambrosia on leaf lettuce
~
Chicken Scaloppini w/ Lemon Caper sauce
Herb Linguini Bundle
Squash & pepper Medley
Special Menu Requests For Members and Guests with dietary restrictions, alternative meals are available, but they must be ordered by no later than 11:30 am on Wednesday, January 15, 2020


Andrew Darling ~ New Member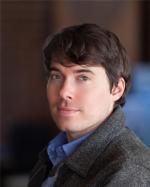 Brian Elliot ~ New Member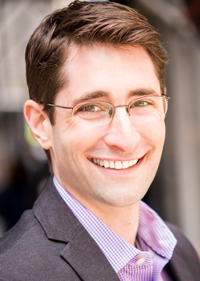 Scribe Report 1/9/2020
President Bob called our meeting to order by the ringing of our Rotary Bell. On cue, all Rotarians rose for the Pledge and reciting of the 4-Way test. Kent Steinbrueck provided an inspiring invocation while I led us all in singing R O T A R Y.


President Bob's made his "unreasonable request" for scribe's. The Club needs a scribe for the January 30th
meeting as well as those meetings in February.
The scribe report is the most read feature of the Pepper Box, so your
contribution is appreciated by many.
We have two upcoming programs you will not want to miss. On January 16th Julie Nieman will present
her thoughts on the State of Economy and on January 23rd Jim Kavanaugh
with World Wide Technologies with talk about the MLS expansion team in St.
Louis. Mark your calendars for these not
to miss programs.
Our Club Trivia night fundraiser is scheduled for February 29,
2020. This should be a great opportunity
to have fun and raise money for our Welfare Fund which supports our Club's work
to improve lives in our St. Louis Community.
Mark your calendars now and get a team together to support this event.
The first meeting in January is always set aside as our annual meeting and Club assembly. This year Bob asks all committee chairs to make a short report on committee operations. Kent Steinbrueck lead off by filling in for Club VP/Treasurer Don Lorenz. While the Club finances are solid, the Board terminated a few members wrote off some receivables as bad debt for nonpayment of dues. The Club is running a small deficit YTD but has cash reserves to cover it. The addition of Association Business Services has helped clean up booking errors, so Kent advised we are on a strong footing.


Nick Angelo
reported on Club Membership. We have
added 5 new members since July 1st.
They are Andrew Darling, Brian Elliot, Mathew Maddox,
Melody Quinn, and Lindsey Rawlings. However due to member terminations for nonpayment
of dues, our current membership is down to 138 from the 145 members on July 1st. The membership committee will be holding
prospective member breakfasts in February and March, plus a prospective member
event at the Bocce Club in April.


Michele Goad
reported on the Social Committee. The
committee has organized 7 very successful events thus far. 5 Rotary after hours plus the Turkey Burp and
Christmas Party. The committee looks to
continue to build fellowship and have fun in the coming months. If you have suggestions for possible venues,
please see Michele.


Phil Hesley reported
on the Community Service Committee. The
Club has participated in 6 events during our first six months culminating in a
very successful Christmas giving tree where Club members contributed over $3500
in gifts and $600 in cash for Gateway 180.
The Grant Application is now posted on the Website for the coming year Grant
Awards and there are several upcoming volunteer events planned. Stay tuned to the Pepper Box for details.


Terry Werner
reported for the Fund-Raising Committee.
Contribution to the All in One request letter are still being
accepted. If you have not sent a
donation, please help support the work of the Club. The Rolling for Rotary event resulted in $3,200
contribution. The Trivia Night scheduled
for February 29th will help support the Community service
Grants. Our Clubs big fundraiser is our
Charity Golf outing scheduled for May 20th. This event needs all our support whether a
golfer or not.


Mike Reagan
reported on the Program Committee. The outstanding
programs we have each week are the result of this committee. The committee looks to provide a balance
between topics and is open to any suggestions from our membership. Contact either Mike or Beth Russell with your
ideas.


Lift for Life Gym ~ January 21, 2020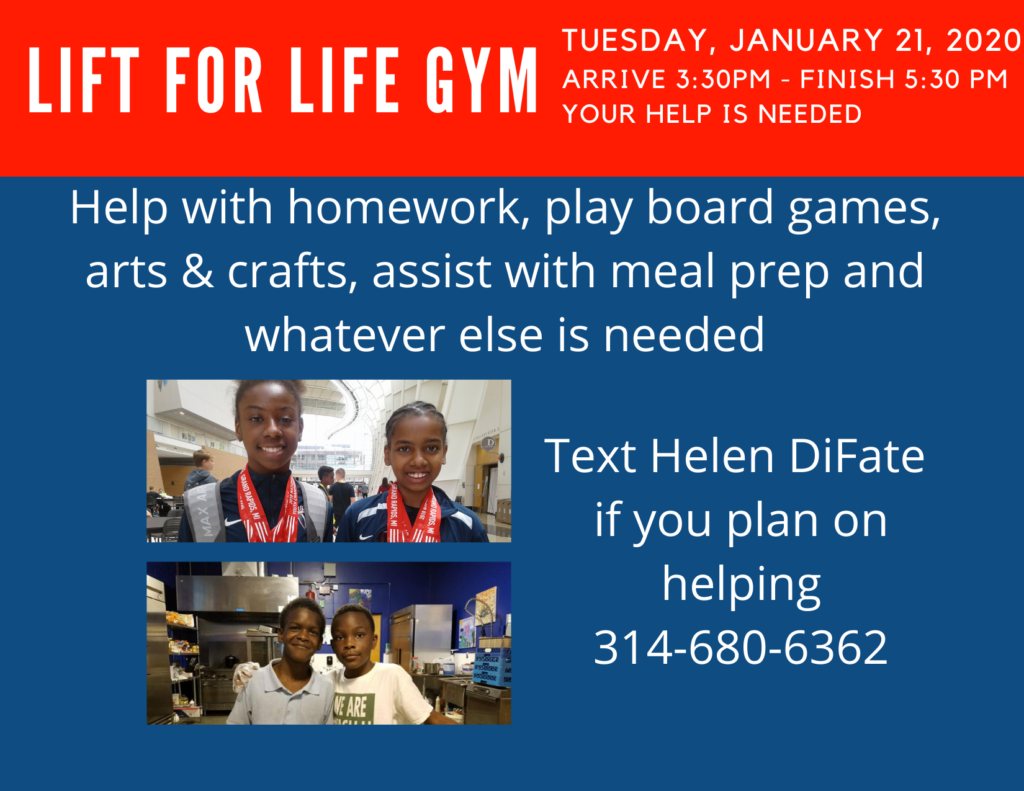 The kids at Lift for Life Gym need you to help with homework, play board games, do arts and crafts, assist with meal preparation and whatever else may be needed. Please text Helen DiFate if you will help on January 21, 2020 from 3:30 pm until 5:00 pm.


Bowling Alleygations ~ Doug Lorenz, January 6, 2020
We started the second
half of the season and the first round of 2020 on Monday night 1/6/2020.
It also turned out we were celebrating Dan Conway's 57th birthday.
Dan brought cupcakes for everyone to mark the occasion. Unfortunately,
Team Conway did not have much to celebrate by the end of the evening.
Team Decker with only 1 actual team bowler (Terry Werner) and 1 substitute (Don
Klackner) managed to win 20 points from Team Conway who had a full team.
Rough night for the celebrating Conway's. Don Klackner also had a 709
handicap series.


Team Soifer went up
against Team Cooper and came out on top 14 to 8. Dan Naes shot a
248. It was another hard fought battle as the games were very
close. Bob Kocher was absent, we assume protesting the fact that we
didn't bowl last week and he showed up anyway.


Team Lorenz faced off
against Team Cowell to see if either team could finally get out of the cellar
at the start of a quarter. Team Lorenz won 14 to 8 on the night.
Doug Lorenz finally contributed a good game with a 223 in the third game (not
so much in the first two games). We welcomed back Tim Lorenz for the
second half on Team Lorenz he started with a 464 series, nice start. Don
Lorenz had a 202 and Matt Weiss had a 201. Katie LaMarsh was over average
all 3 games and finished with a 606 handicap series. It was a hard fought
match all night.


Get to Know Rotary Breakfast ~ February 5, 2020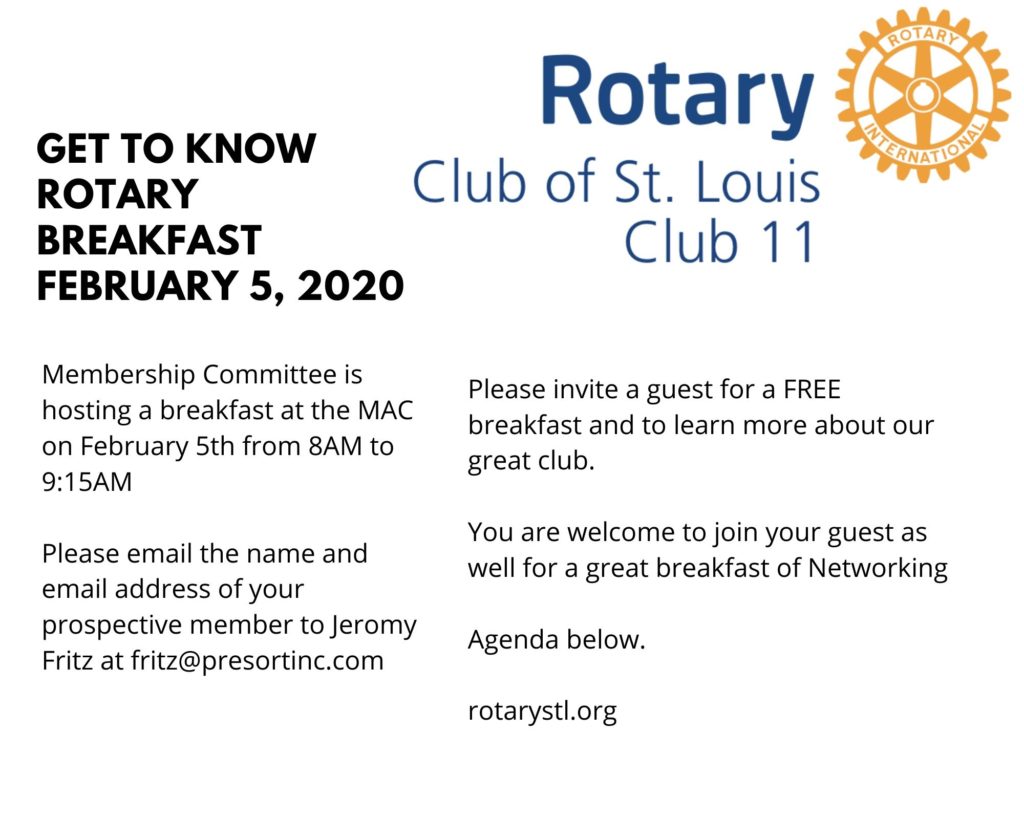 Membership Committee is hosting a breakfast at the MAC on February 5th from 8AM to 9:15AM.
Please invite a guest for a FREE breakfast and to learn more about our great club.
You are welcome to join your guest as well for a great breakfast of Networking. Please email the name and email address of your prospective member to Jeromy Fritz at
fritz@presortinc.com
Agenda
8:00AM-8:15AM-Networking
8:15AM-8:25AM-Introductions & Welcome, Jeromy Fritz (breakfast to be served)
8:25AM-8:30AM-President Bob Garagiola, the roll of the Club President