President's Corner ~ March 19, 2020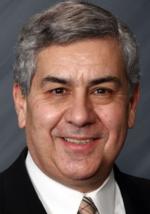 President's Corner
Given the unprecedented and rapidly changing developments regarding the Covid-19 virus and in consultation with the Board of Directors,
ROTARY CLUB 11 WILL BE CANCELLING ALL MEETINGS (including the Board) AND ALL EVENTS THROUGH MARCH 31.
During this period, the Board will be monitoring the situation and consider next steps. We will provide up-dates.
I encourage all members to continue to exercise common sense and follow the many precautionary practices to minimize the health risk.
As I mentioned in my message this past Saturday, we should take time to reflect on the positive messages from our invocations and keep those thoughts in mind.
Club 11 Charity Golf Tournament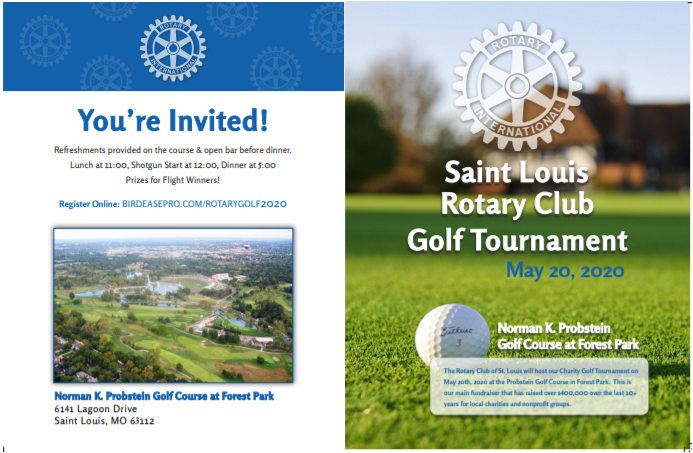 All Club 11 Rotarians, your help is needed. With the successful completion of our Club Trivia Night (thank you Terry Werner and team), it's time to turn our attention to our Club Charity Golf Tournament. The Rotary Club of St Louis will host our Charity Golf outing on May 20th, 2020 at the Probstein Golf Course in Forest Park. This is our main fundraiser that has raised over $400,000 over the last 10+ years for local charities and nonprofit groups. The majority of the funds used for our Community Service Grants come from this event.
Ok, I know what most of you are thinking, "I am not a golfer, so this event is not for me". While it may be true you are not a golfer, that doesn't mean your help isn't needed to make this year's event a success. Perhaps you know of someone who is a golfer and could extend an invitation to play. Or you could help with securing a sponsorship from you, your company, or one of your vendors. Finally, you might be able to find an auction item from a store or restaurant you frequent (our silent and oral auction is a great ending to the day). No item is too small as we can combine items together to make an attractive package.
Registration or providing a sponsorship is easily accomplished through our web page. Just go to

https://www.birdease.com/Rotarygolf2020

and follow the dropdown menus. Or you can use the hardcopy flyer and send your registration form with your check into the Rotary Office. If you have an auction item, please contact either Rick Tinucci or Rebecca Richie. We can arrange to get it from you at an upcoming Rotary meeting. And if you're not a golfer, you can still enjoy the fun of the Silent and Oral Auctions by joining us for dinner.
The Club 11 Charity Golf Scramble is an important Club fundraiser that truly needs every Club members' support. Please take a moment and consider how you might be able to contribute. If you have any questions, contact either Rick Tinucci or Rebecca Richie.
Scribe's Report ~Bob Zangas ~ March 12, 2020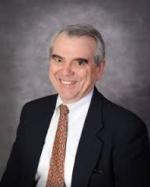 Club 11 • Rotary Scribe Report • March 12, 2020 • Submitted- Bob Zangas
President Bob called the meeting to order followed by the Pledge of Allegiance and the Rotary Four Way Test. Don Fuller did the invocation followed by song leader extraordinaire Beth Russell. Beth gave us a great rendition of an engineer beer drinking song.


The President of the New XFL Football Team.


Monsignor Bommarito from St Ambrose to talk about the new addition to the Hill neighborhood.


Architect Day at Rotary honoring the Architects of St. Louis.


All grant requests were due today March 12, 2020. They will be reviewed by the Community Service Committee.


Lift For Life Gym will not need our services till May.


Remember May 20th is the Rotary Golf Tournament start lining up your foursomes and try and get some new people to attend.


March 18th is the Rotary Breakfast for potential new Rotary members.


No Bowling March 16 and 23, 2020
St. Louis Rotary Club Bowlers: we will not be bowling on Monday, March 16 and Monday 23, 2020
No Volunteering @ Lift for Life Gym Until May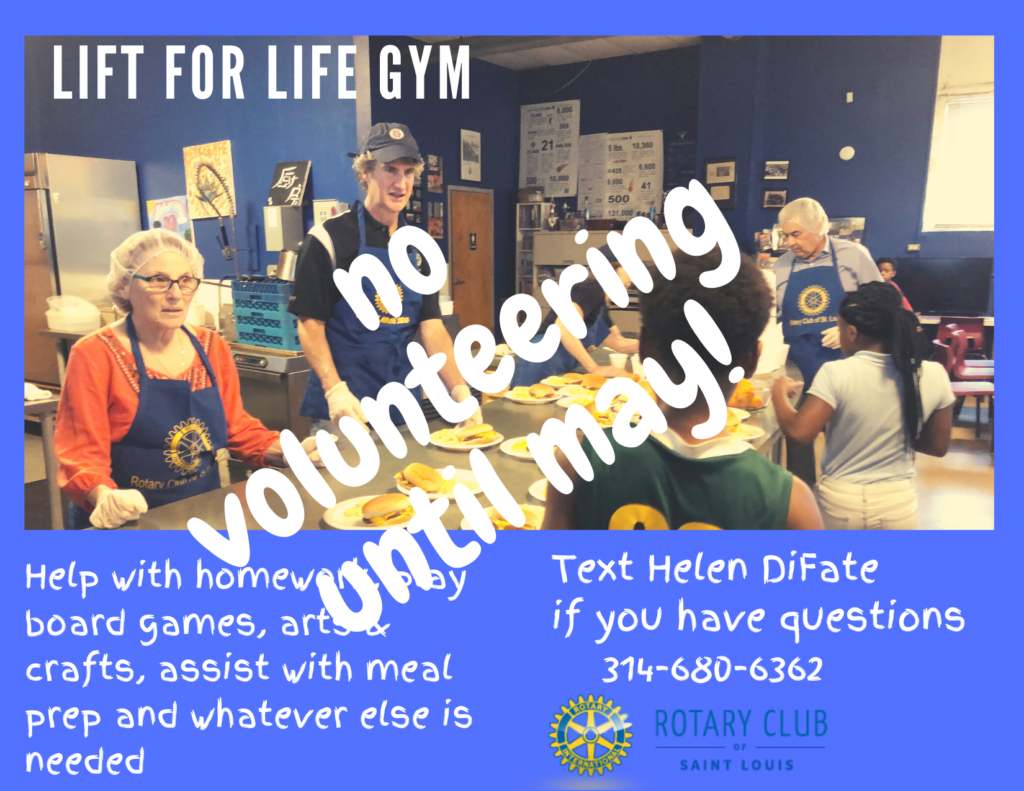 Bowling Alleygations ~ David Cowell ~ March 09, 2020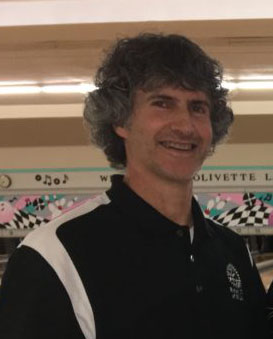 ALLEYGATIONS- 03/09/2020- David Cowell


The top two teams heading into the evening squared off on Lanes 19 & 20 with Team Conway leading Team Cooper by a single point. Team Conway had a full roster with Jeannine Conway, Mike Borough, Carl Lane and Bob Zangas taking on Matthew Maddox and Arnold Hadler from Team Cooper. Wes Hadler, Arnold's grandson, decided to stay and bowl with Arnold. A future bowler for next season? Team Conway took the first match but Arnold and Matthew came back to take the last two and total for a 15-7 win. This should make their Captain Rose happy and keep Matthew out of the middle of Olive Street Road courtesy of a hip check from Aunt Rose! Where was Rose? Matthew said she was at Spring Training in Florida. I heard they shut it down after her visit! Captain Dan was also missing from Team Conway. Jeannine said she wasn't sure where he was, "probably hanging out with his girlfriend"? Dan, you better show up the rest of the year!


The real bowlers for the evening were on Lanes 21 & 22 with Team Soifer taking on Team Lorenz. I said going into this quarter that my money was on Lorenz for the 4th quarter as they spent the first two quarters hanging out with us near the cellar, finishing 4th and 5th, and were 5th again for the 3rd quarter. I figure this puts them in a prime position for a run at the 4th quarter title. Katie LaMarsh led the way for Lorenz (676 handicap) as they took 14 points. Don Klackner after rolling his average (178) the first two games finished with a nice 225 in Game 3 to help the cause. Pete Milne, Vic DiFate, Adam McNutt and Pete Milne were all above average for Team Soifer but it was not enough as they lost one game by 4 pins and total by 10. Kudos to these two teams for fielding full rosters!


It was a quick night down on Lanes 23 & 24 as Team Cowell (Jennifer Krassinger, Bob Barnes and myself) took 21 from Ralph Decker. It was Team Decker but Ralph had to go it alone and did not have a Ralph kind of night. Ralph attributed his lackluster performance to a Sunday of raking gumballs from his acre lot. Those sweet gum trees are pretty in the fall but a pain to clean up. No excuses, though, Ralph! None of the 8 bowlers, four bowlers and four blinds, could find their average but Team Cowell was good enough to beat the blinds and get the points. Matt Weiss, who split with fellow blind Gary "Doc" Jones, yielded the only point to prevent the shutout.


Once again, future Rotarian Ken Schoen took home the 50/50 - $31. Let's get those tickets mixed up a little better next week!



Rotary Youth Leadership Awards Scholarship Opportunity 2020 – Deadline March 31, 2020
The St Louis Rotary Club awards one scholarship to Missouri RYLA annually. The links below take you to the St. Louis Rotary Club RYLA 2020 Handout for our club and to the St. Louis Rotary RYLA 2020 Application. Submit completed application to club11@rotarystl.org by Tuesday, March 31, 2020.


Please share our application materials with St Louis High School students, parents, counselors, and teachers.


Questions??? Contact : Michele Goad


Rose Cooper, New Generations Chair


Assistive Listening Headsets Available for Our Meetings
Do you sometimes have difficulty hearing our speakers despite sitting close to the front of the room? The good news is we now have a solution.