President's Corner ~ March 12, 2020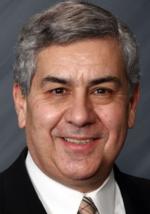 President's Corner
I found last week's presentation by Don Pohl, President of Ranken Technical College, to be very interesting and informative. One aspect was Ranken's three-pronged approach to 1) Educate in the fields of the current leading-edge technologies; 2) Provide a general education; and , 3) Instill a work ethic.
According to Don, it is the work ethic attributes of Ranken students that employers find that help to differentiate their graduates from other programs and result in Ranken's 98% placement record.
Several weeks ago, I attended the Rotary-UMSL Ethics Panel. Club 11, through the initiative of Tom Teasdale, has been a participant in this program since 2008 because of Rotary's commitment to business ethics exemplified by our Four-Way Test.
UMSL's Executive Leadership Consortium hosts a panel of business and professional individuals, including at least one member of Club 11 – Teasdale, Roush, Wicks, Tinucci, Rubinelli, to name a few that have participated. Tom Teasdale was again a panelist (and honored for his past service to the program). The panelists present "real life" ethical dilemmas that are discussed with students from the business school. The students' thoughts/opinions are solicited on how to resolve such conflicts before the panel reveals what happened.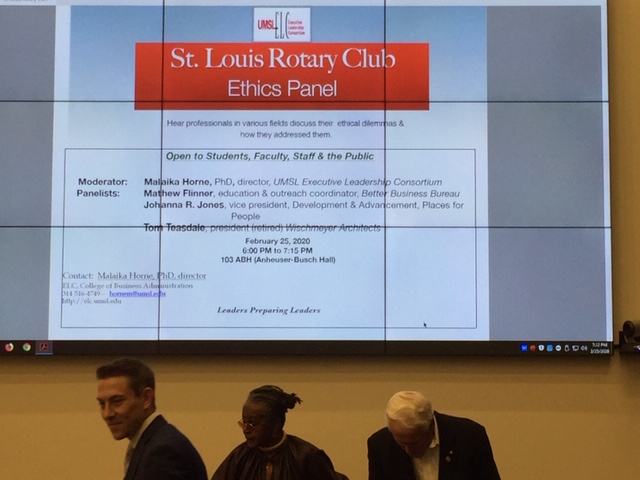 Engineer's Day @ St Louis Rotary ~ March 12, 2020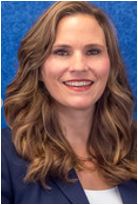 Meg McKee Brown, Director of HR @ Cambridge Engineering


Meg has a heart for unlocking and unleashing the
potential of those around her. She holds a degree in Environmental Engineering
from Northwestern University, and she comes with diverse employment experiences
in manufacturing, environmental, construction, and consulting industries. But
don't let the engineering degree fool you, Meg has spent more than fifteen
years cultivating her expertise in building up people and organizations. It was
through her HR experience that Meg crossed paths with Cambridge -- she fell in
love with the company's culture while helping them on a couple of key
initiatives formally joining the team shortly after.
Lunch Menu ~ March 12, 2020
3/12/20
House Salad w/ Creamy Herb Dressing
~
Roast Strip Loin w/ Mushroom Sauce
Rosemary roasted red Potatoes
Roasted Cauliflower
Special Menu Requests For Members and Guests with dietary restrictions, alternative meals are available,
but they must be ordered by no later than 11:30 am on Wednesday, March 11

,

2020

If you don't reserve in advance please do not take a special meal ticket.
Grant Guidelines & Form 2020
Deadline to Rotary Sponsor: 3-12-20
Club 11 Charity Golf Tournament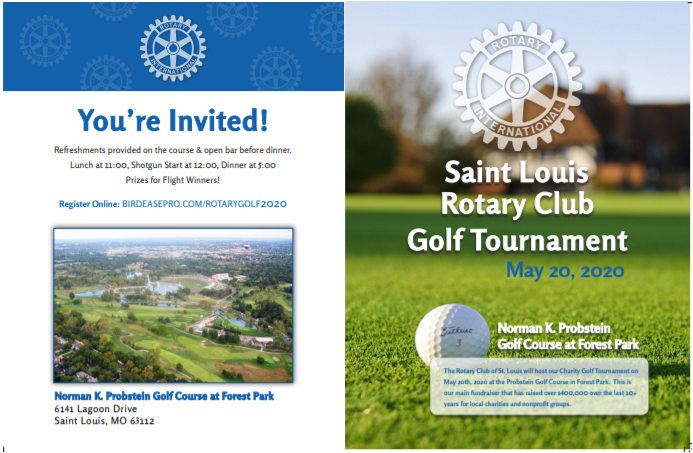 All Club 11 Rotarians, your help is needed. With the successful completion of our Club Trivia Night (thank you Terry Werner and team), it's time to turn our attention to our Club Charity Golf Tournament. The Rotary Club of St Louis will host our Charity Golf outing on May 20th, 2020 at the Probstein Golf Course in Forest Park. This is our main fundraiser that has raised over $400,000 over the last 10+ years for local charities and nonprofit groups. The majority of the funds used for our Community Service Grants come from this event.
Ok, I know what most of you are thinking, "I am not a golfer, so this event is not for me". While it may be true you are not a golfer, that doesn't mean your help isn't needed to make this year's event a success. Perhaps you know of someone who is a golfer and could extend an invitation to play. Or you could help with securing a sponsorship from you, your company, or one of your vendors. Finally, you might be able to find an auction item from a store or restaurant you frequent (our silent and oral auction is a great ending to the day). No item is too small as we can combine items together to make an attractive package.
Registration or providing a sponsorship is easily accomplished through our web page. Just go to

https://www.birdease.com/Rotarygolf2020

and follow the dropdown menus. Or you can use the hardcopy flyer and send your registration form with your check into the Rotary Office. If you have an auction item, please contact either Rick Tinucci or Rebecca Richie. We can arrange to get it from you at an upcoming Rotary meeting. And if you're not a golfer, you can still enjoy the fun of the Silent and Oral Auctions by joining us for dinner.
The Club 11 Charity Golf Scramble is an important Club fundraiser that truly needs every Club members' support. Please take a moment and consider how you might be able to contribute. If you have any questions, contact either Rick Tinucci or Rebecca Richie.
Scribe's Report ~Brian Elliott ~ March 05, 2020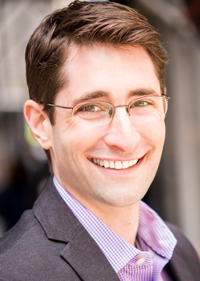 Rotary Club 11 • Scribe Report • March 5, 2020 • Submitted- Brian Elliot
President Bob Garagiola called the meeting to order and led the Club in The Pledge of Allegiance, followed by the Rotary Four Way Test.


Jennifer Krassinger recited a thoughtful invocation about Gratitude and asked us to acknowledge things we can be grateful for, including the fellowship that Rotary brings to our lives.


Songleader and Past President Richard Losciale put an old favorite up on the screen, Sam Cooke's "Wonderful World," and reminded us that we don't know much about algebra, trigonometry, and what slide rules are for.


President Bob made the following announcements:

Dietary Restrictions: Those with dietary restrictions are asked uphold the "is it fair to all concerned" test when requesting special meals. Please only order a special meal if you've placed an order in advance.
Then, President Bob noted some exciting upcoming speakers:

March 12, 2020 - Engineer's Day speaker, Meg Brown
March 19, 2020 - President of the St. Louis Battlehawks
March 26, 2020 - Monsignor Vincent Bommarito
Community Service Co-Chair, Phil Hesley, reminded us that March 12 is the deadline for Grant Applications to be received by their Rotary sponsors.


Terry Werner shared what a success Trivia Night was--the program raised $5,000. Perhaps the greatest success was that out of 8 cases of beer, only 3 cans were left! The program included 120 people, and it was President Bob's table who won the game!


President Bob reminded everyone of other upcoming programs: Lift for Life Gym on March 17 (please let Helen DiFate know if you're interested); a "Get to Know Rotary" Breakfast hosted by Jeromy Fritz on March 18th, and Happy Hour at Seamus McDaniels on March 25th (Please invite friend).


Bowling Alleygations ~ Ralph Decker ~ March 02, 2020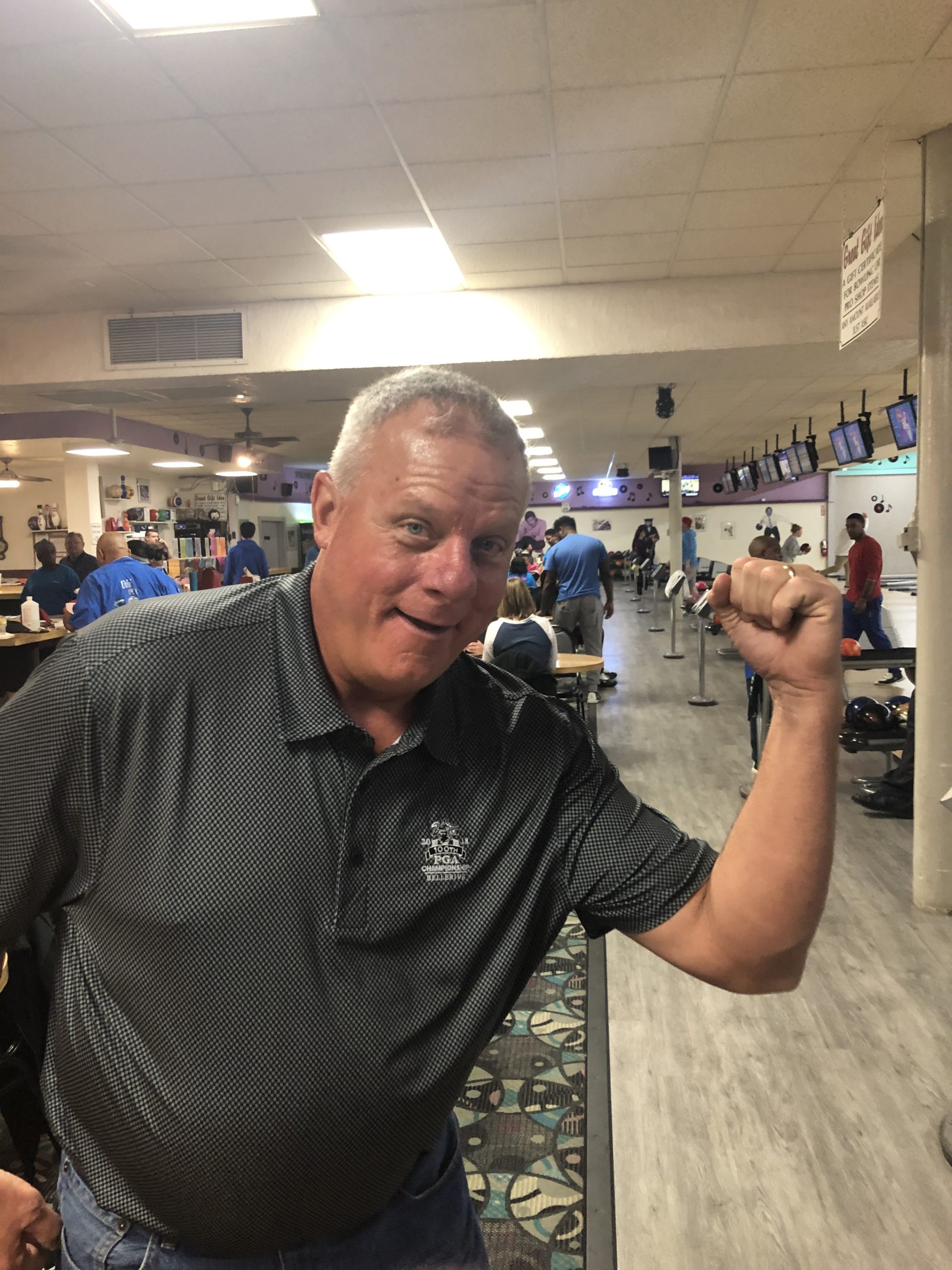 Alleygations for March 2nd, 2020


Just back from a nice three week fiesta in Puerto Vallarta, Mexico....Senior Pete Milne led Team Soifer with a first game 214 to beat Team Decker. Pete came out strong with a string of five strikes in his first game back. Overall, Team Soifer won 14 points to Team Decker 8 points.


Did you know that Jon Soifer is number one in attendance with 63 games bowled! Rose Cooper, Katie LaMarsh, and Don Klackner are tied in second place with 60 games bowled. Big Don Lorenz just discovered you can save 15 percent with GEICO.


Jeanine Conway out bowled her husband with a scratch series 481 to Dan's 396 series. Dan said "It's Jeanine's world, and I am glad to be a part of it!" Jeanine bowled 85 pins above average to help Team Conway stay in first place with 15 points to Team Cowell 7 points.


Top 200 games of the night: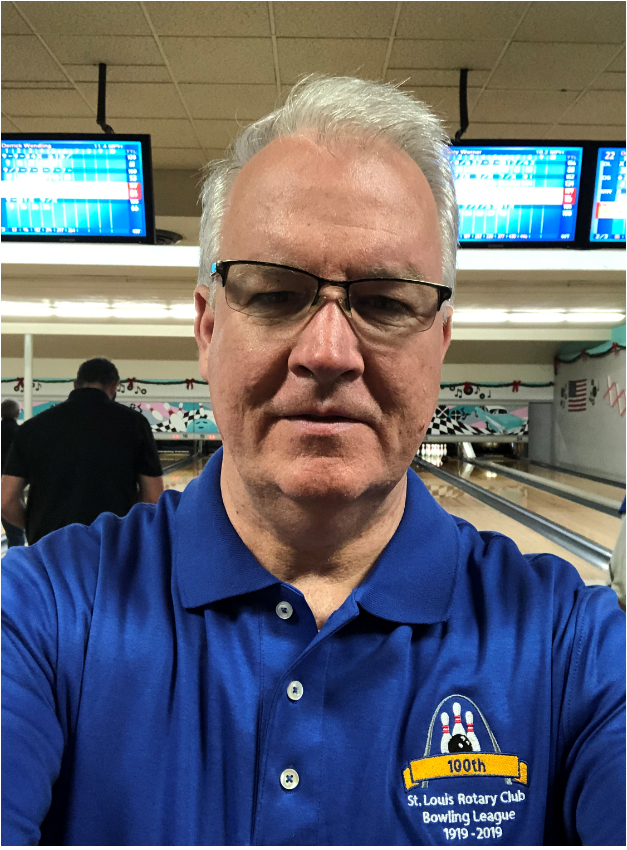 Kurt Hunzeker, St. Louis Battlehawks XFL President ~ Speaker March 19, 2020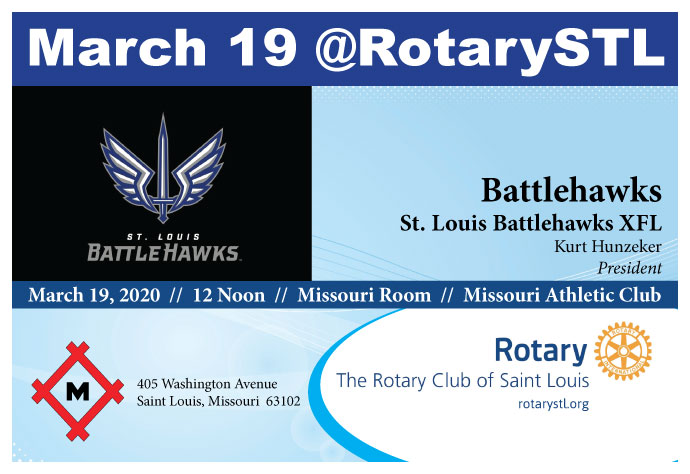 Volunteer @ Lift for Life Gym ~ March 17, 2020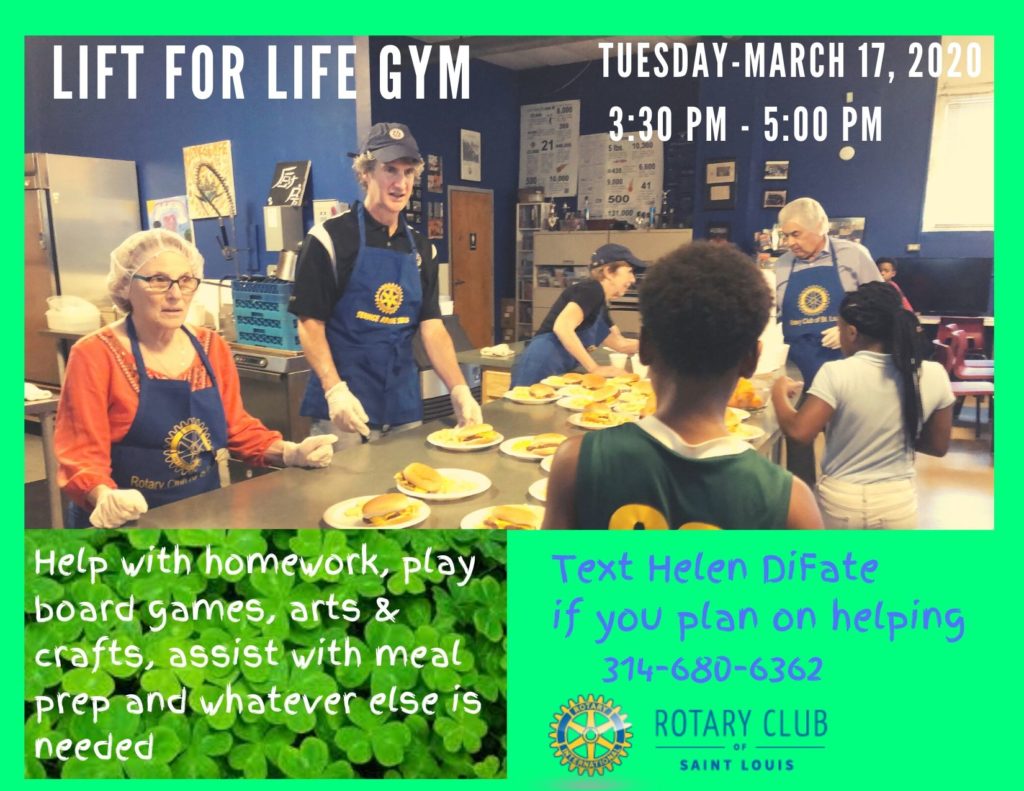 Get to Know Rotary Breakfast ~ March 18, 2020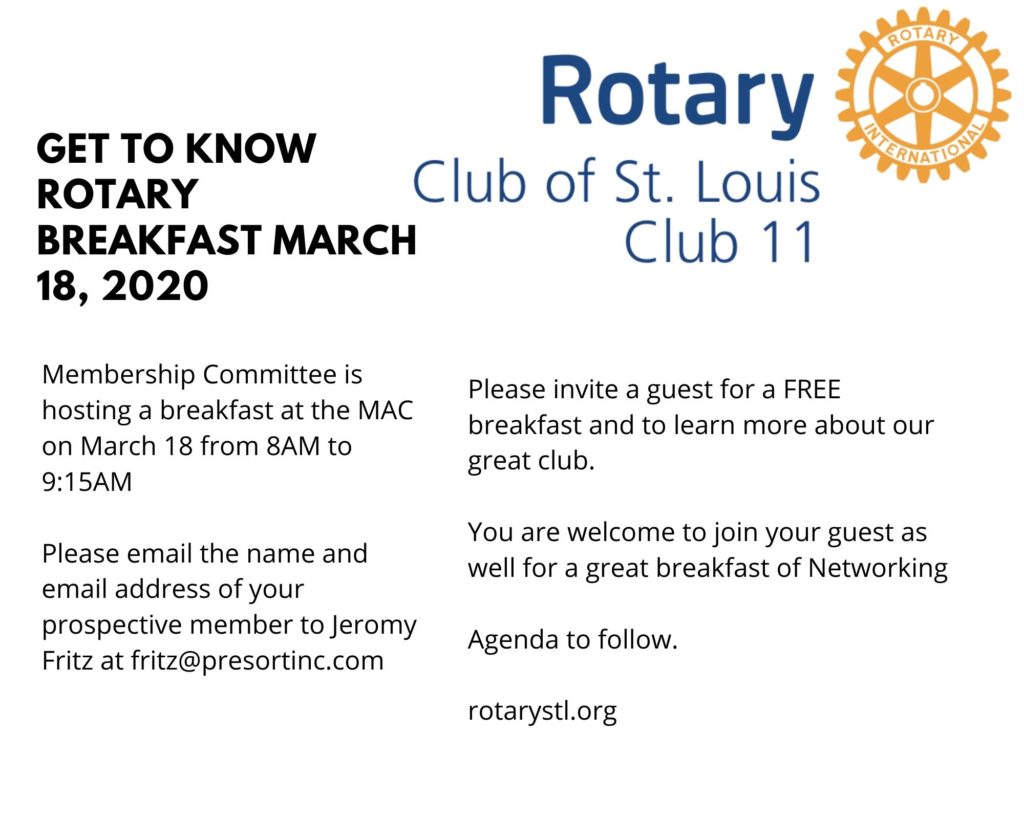 Membership Committee is hosting a breakfast at the MAC on March 18 from 8AM to 9:15AM.
Please invite a guest for a FREE breakfast and to learn more about our great club.
You are welcome to join your guest as well for a great breakfast of Networking. Please email the name and email address of your prospective member to Jeromy Fritz at
fritz@presortinc.com
St Louis Rotary Club Social @ Seamus McDaniel's 3-25-20
Join St Louis Rotary Club @ Seamus McDaniel's on March 25, 2020 from 5pm-7pm - Happy Hour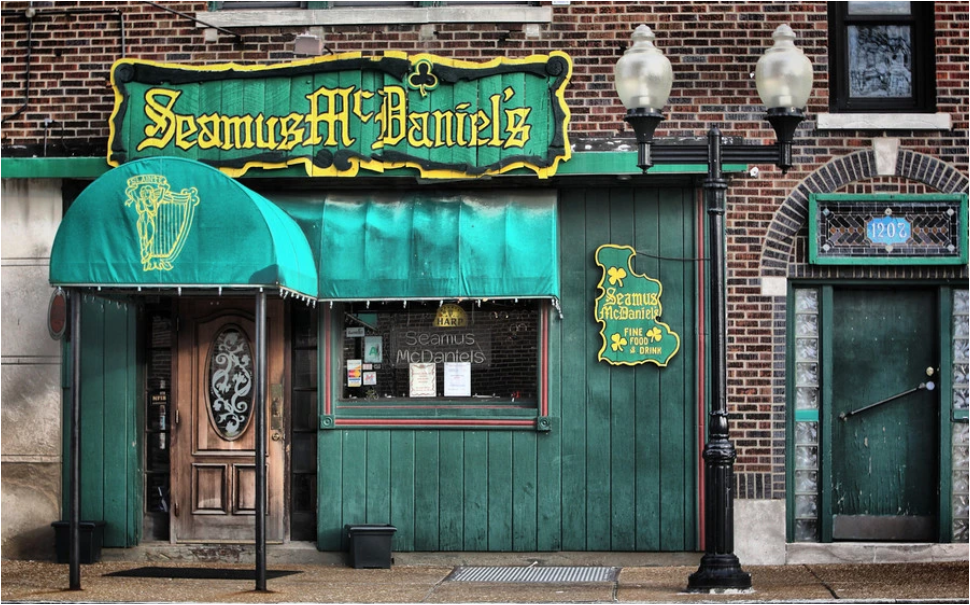 Rotary Youth Leadership Awards Scholarship Opportunity 2020 – Deadline March 31, 2020
The St Louis Rotary Club awards one scholarship to Missouri RYLA annually. The links below take you to the St. Louis Rotary Club RYLA 2020 Handout for our club and to the St. Louis Rotary RYLA 2020 Application. Submit completed application to club11@rotarystl.org by Tuesday, March 31, 2020.


Please share our application materials with St Louis High School students, parents, counselors, and teachers.


Questions??? Contact : Michele Goad


Rose Cooper, New Generations Chair


Assistive Listening Headsets Available for Our Meetings
Do you sometimes have difficulty hearing our speakers despite sitting close to the front of the room?  The good news is we now have a solution.  In collaboration with the Missouri Athletic Club, the Program Committee has purchased an assistive technology system called VocoPro UHF.  It is a wireless system that will broadcast sound directly from the podium microphone to individual headsets.  If you have interest in trying out this new system, headsets can be reserved and checked out at the badge table prior to our weekly meetings.