Speaker February 20, 2020 ~They Will Run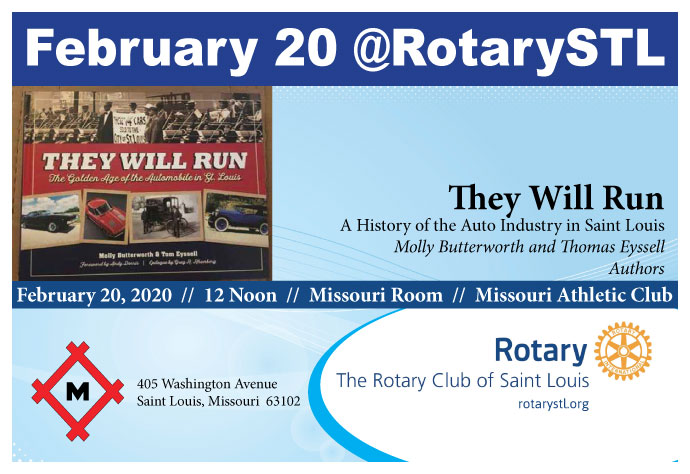 President's Corner ~ February 20, 2020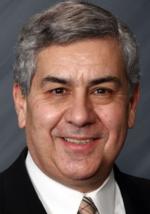 At last Thursday's meeting, I stated that our Club 11 membership now stands at 133. We have added 8 new Rotarians since July 1 and there are 8 or 9 prospective members in the pipeline. Another Get to Know Rotary Breakfast is scheduled at the M.A.C. for March 18.


Here's another number to consider, 44. That's how many Club 11 Rotarians, Satellite Civilians, and Rotaracts attended last week's Happy Hour at Pietro's. (There might have even been a few more) Check us out on FaceBook, Instagram or Twitter to see pictures of a fun evening of members, friends, family and business associates having a good time … Rotary-Style!


See for yourself that Club 11 is becoming a melting pot of ages and backgrounds and interests; but, in the final analysis, we are Rotary! It is all of our people that make our club strong and make it attractive.


Why Rotary? Why not Rotary!


P.S. Don't forget to reach out to those members that we haven't seen recently. Invite them to re-join us on a Thursday. Or, join us at a Trivia Night.....or at a Happy Hour …..or .. ???
Lunch Menu ~ February 20, 2020
February 20, 2020
Spinach salad w/ Crispy Pancetta, Goat Cheese, Spiced Pecans w/ Dijon Vinaigrette
~
Sliced tri tip w/ Shallot Demi ~Roasted Garlic Whipped Potato ~ Wild Mushroom & Broccoli medley
Special Menu Requests For Members and Guests with dietary restrictions, alternative meals are available, but they must be ordered by no later than 11:30 am on Wednesday, February 19, 2020
Trivia Night ~ February 29, 2020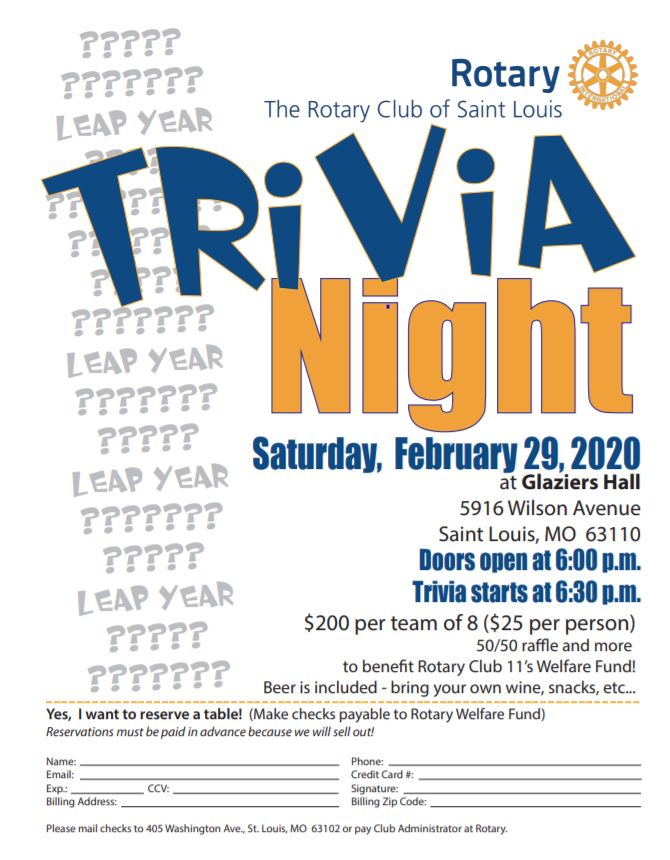 Trivia Night - Saturday, February 29, 2020 at Glaziers Hall, 5916 Wilson Avenue, St. Louis, MO 63110. Reserve a table:
Scribe Report ~ Jennifer Krassinger ~ February 13, 2020

Rotary Club 11 • Scribe Report • February 13, 2020 • Submitted- Jennifer Krassinger
The meeting called to order by President Bob followed by The Pledge of Allegiance, and Rotary Four Way Test.


Jay Ryan encouraged us to 'put a little love in our hearts' with a heartfelt invocation and Richard Losciale led an enthusiastic rendition of "When the Saints Go Marching In"


Upcoming programs/announcements:


February 20, 2020- They Will Run, a history of the auto industry in STL


February 27, 2020- Explore St. Louis with Kitty Ratcliffe


February 29, 2020- Rotary Trivia Night: still needed for this event are players/guests and silent auction items


Phil Hesley announced that the Rotary grant application has been revamped, is available on line, and application are due March 12.


The Get to Know Rotary Breakfast was a success, 8 new members have joined the club since July. The next Get to Know Rotary Breakfast is scheduled March 18.


Acting Sgt. At Arms, Jack Windish, kept the mood light with his wise cracks and several guests were introduced.


Beth Russell introduced Olivia Panopoulos, Operations Specialist at Mardi Gras, Inc.


Bowling Alleygations ~ David Wicks ~ February 10, 2020

Alleygations Week 21 Feb 10, 2020


Another evening in Paradise or at least a slice of Heaven at the Olivette Lanes. Rotary Bowling is GREAT! If you (yes YOU) have been in Rotary any time and you have NOT joined the league or simply come by, WHY NOT! See your Rotary friends having some fun in friendly competition. All are welcome. You can always join in to the 50/50 drawing, too.


For men's individual honors, Ralph Decker had a great evening. A 256 high game (high game for the season so far), capped with a 661 scratch series. Don Lorenz rolled with a strong 225 game and a 580 series. Bob Zangas (Zoltar) and Dave (cowbell) Cowell had 200 games.


Our ladies were led by Rose Cooper with a 149 high game and 425 series. Katie LaMarsh had high handicap at 231.


Community Service Meeting 2-20-20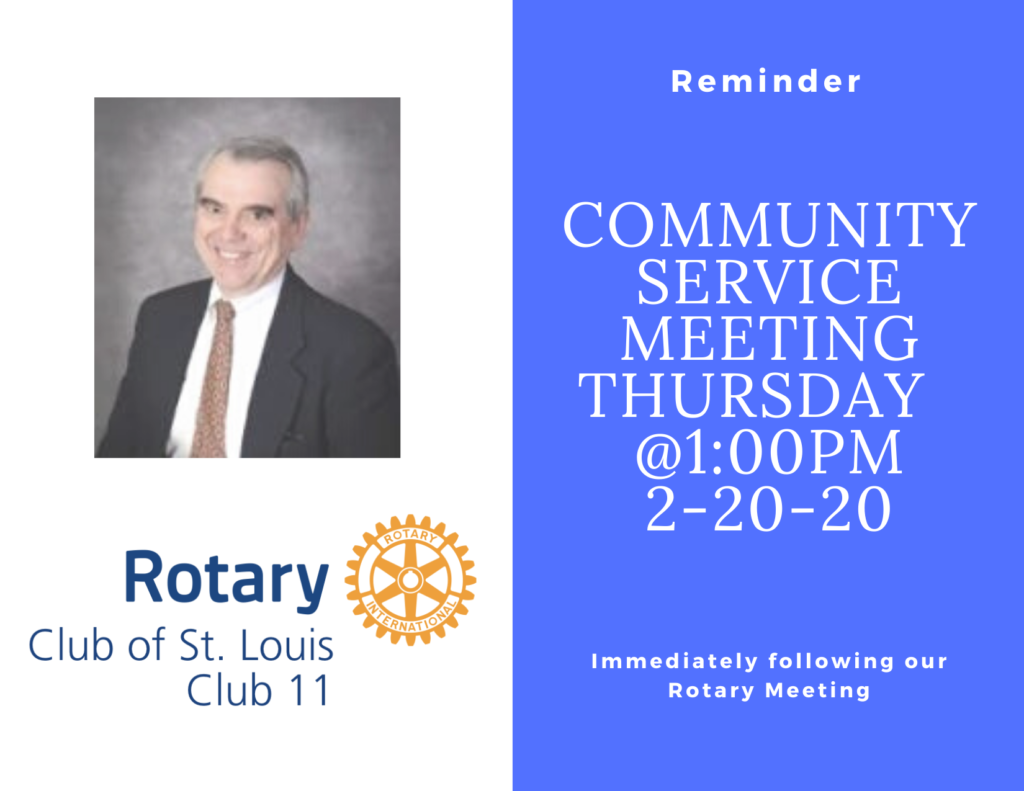 Lift for Life Gym ~ February 18, 2020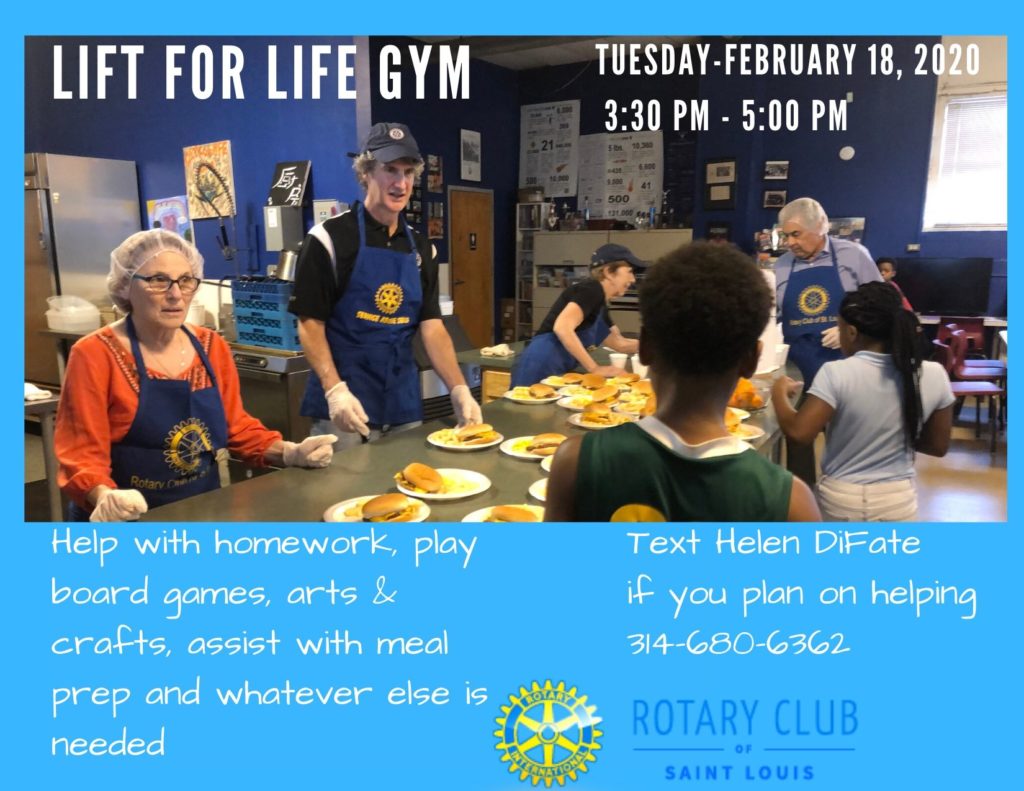 The kids at Lift for Life Gym need you to help with homework, play board games, do arts and crafts, assist with meal preparation and whatever else may be needed. Please text Helen DiFate if you will help on February 18, 2020 from 3:30 pm until 5:00 pm.


Kitty Ratcliffe, President Explore St Louis ~ Speaker February 27, 2020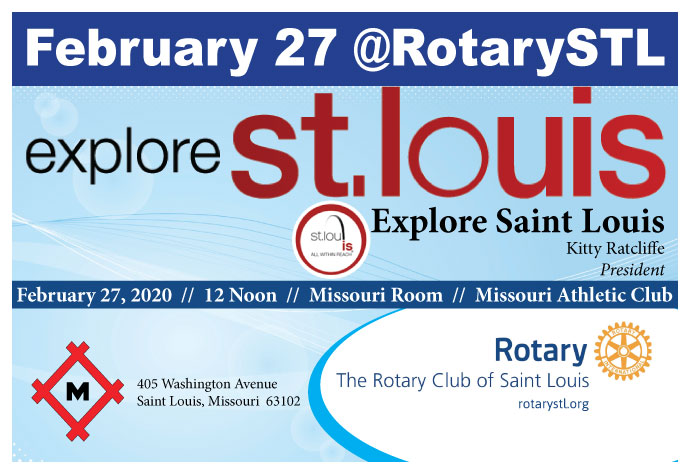 Rotary Youth Leadership Awards Scholarship Opportunity 2020 – Application Materials
The St Louis Rotary Club awards one scholarship to Missouri RYLA annually. The links below take you to the St. Louis Rotary Club RYLA 2020 Handout for our club and to the St. Louis Rotary RYLA 2020 Application. Submit completed application to club11@rotarystl.org by Tuesday, March 31, 2020.


The Missouri RYLA Academy is a 4-day, 3-night training program for current high school freshmen, sophomore and junior students who exhibit a desire for community service. Developed by some of Missouri's top professional educators, the curriculum is designed to identify and enhance the qualities of Servant Leadership for each participant, train them on how to successfully implement a service project, and inspire them to live a lifetime of "Service Above Self." In addition, participants are exposed to all the programs and values Rotary has to offer. Established in 1992, Missouri RYLA Academy has trained and inspired more than 2000 students state wide. It is currently a model for RYLA Academies worldwide.


Do you know a St. Louis high school student who would like to attend this leadership camp? It is held at Williams Woods University in Fulton, MO. Additional details are in our RYLA application links below and on the https://missouriryla.com website.There are two sessions to choose from: Missouri RYLA 2020 Academies ~ Fulton, Missouri


Session 1: Sunday, June 28th to Wednesday, July 1st, 2020


Session 2: Sunday, July 12th to Wednesday, July 15th, 2020
Please share our application materials with St Louis High School students, parents, counselors, and teachers.


St. Louis Rotary Happy Hour February 13, 2020 ~ Pietro's
Thanks Michele Goad and Club 11 Social Committee for planning this Happy Hour at Pietro's on February 13, 2020. What a great turn-out! 44+ in attendance!!!! Photos are posted @rotarystl.org


InterCity Meeting ~ March 4, 2020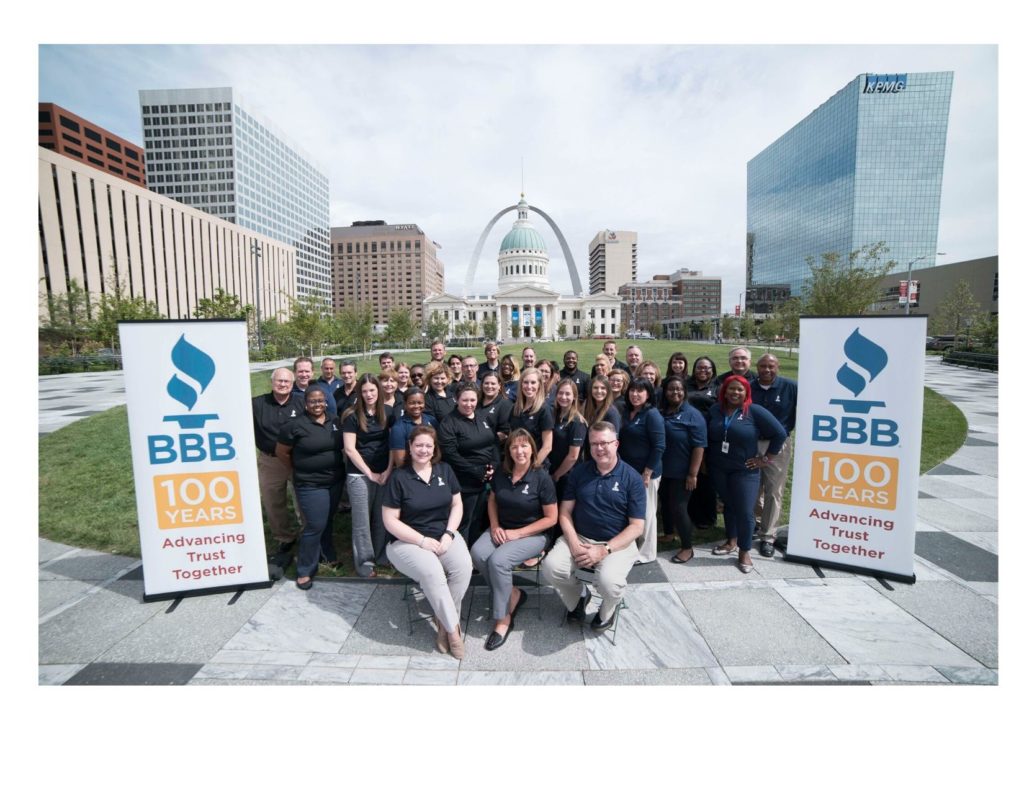 St. Louis Metro InterCity Fellowship Meeting ~ Wednesday, March 4, Noon- 1:15 PM
Sponsored by The Rotary Club of Clayton-Ladue


Matt Flinner, Better Business Bureau's Education and Outreach Coordinator
Matt will reveal the ways fraudsters target consumers and businesses, highlight the most common scams targeting the area, convey steps to prevent identity theft, and share tips to help you keep your hard earned dollars
in your pocket.
$17.50 (Catered by Syberg's)
Get to Know Rotary Breakfast ~ March 18, 2020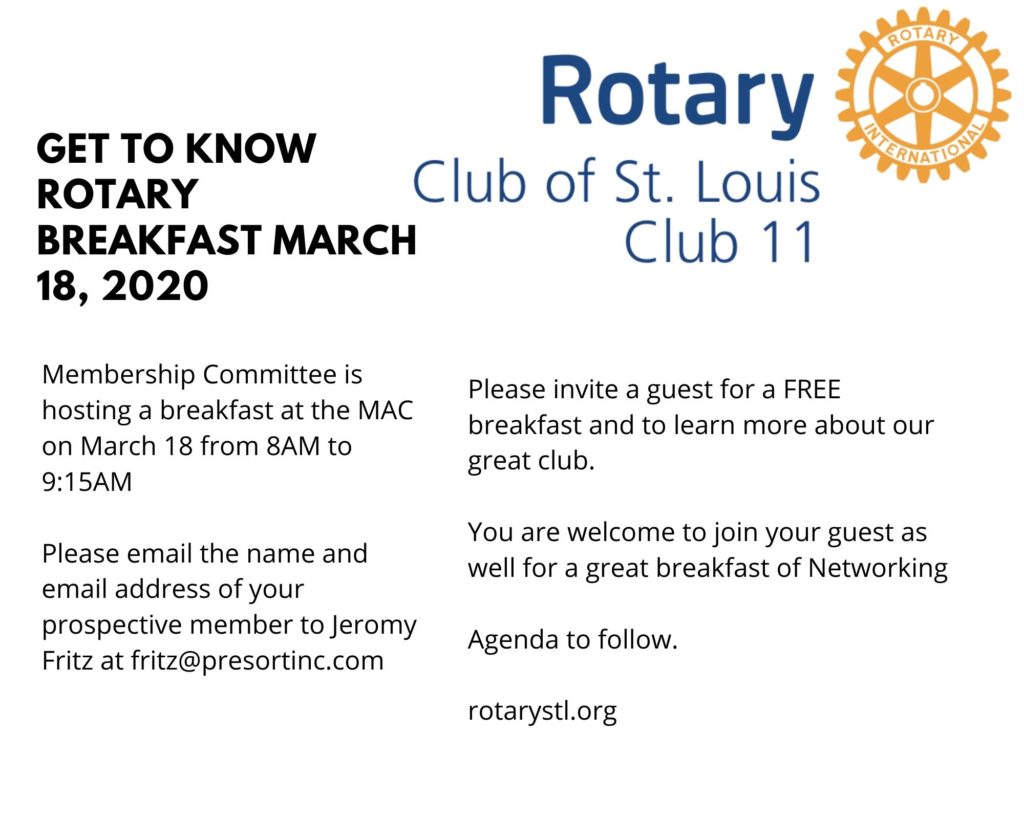 Membership Committee is hosting a breakfast at the MAC on March 18 from 8AM to 9:15AM.
Please invite a guest for a FREE breakfast and to learn more about our great club.
You are welcome to join your guest as well for a great breakfast of Networking. Please email the name and email address of your prospective member to Jeromy Fritz at
fritz@presortinc.com
Rotary International Convention | Honolulu, Hawaii, June 6-10, 2020 Video