Speaker February 13, 2020 ~ Mardi Gras Inc.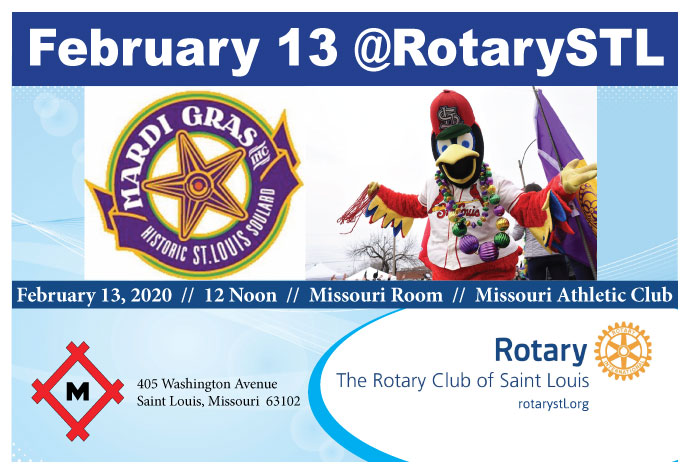 President's Corner ~ February 13, 2019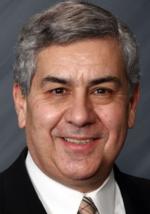 According to Wikipedia, a Leap Day is observed because the Earth's period of orbital revolution around the Sun takes approximately 6 hours longer than 365 whole days. A leap day compensates for this lag, realigning the calendar with the Earth's position in the Solar system; otherwise, seasons would occur later than intended in the calendar year.


So what does Club 11 have to do with Leap Day? Our fund raising Trivia Night is on Leap Day - February 29 !! (details in the PepperBox)


Plans are coming together. But, the committee still needs a few more Volunteers, more Silent Auction items, White Elephant prizes, Theme Baskets, and ...oh yeah... TRIVIA PLAYERS!!
Lunch Menu ~ February 13, 2020
February 13, 2020
Caesar w/ Romaine & Arugula w/ Sundried Tomatoes, Pickled Onions w/ Pretzel Bread Croutons
~
Meat Balls in penne w/ broccoli, mushrooms, onions in Creamy tomato sauce
Special Menu Requests For Members and Guests with dietary restrictions, alternative meals are available, but they must be ordered by no later than 11:30 am on Wednesday, February 12, 2020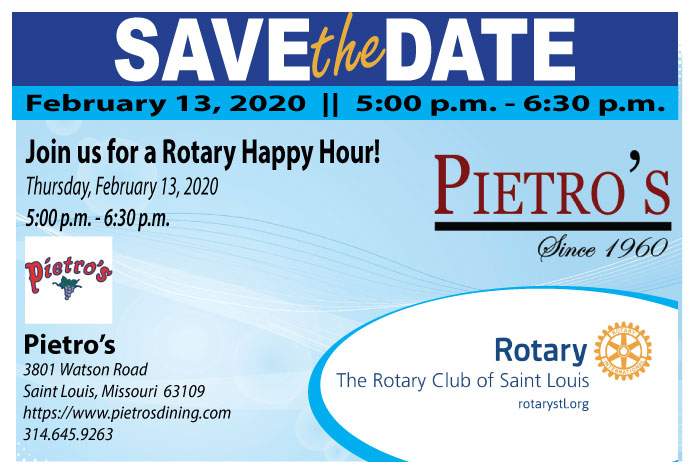 Trivia Night ~ February 29, 2020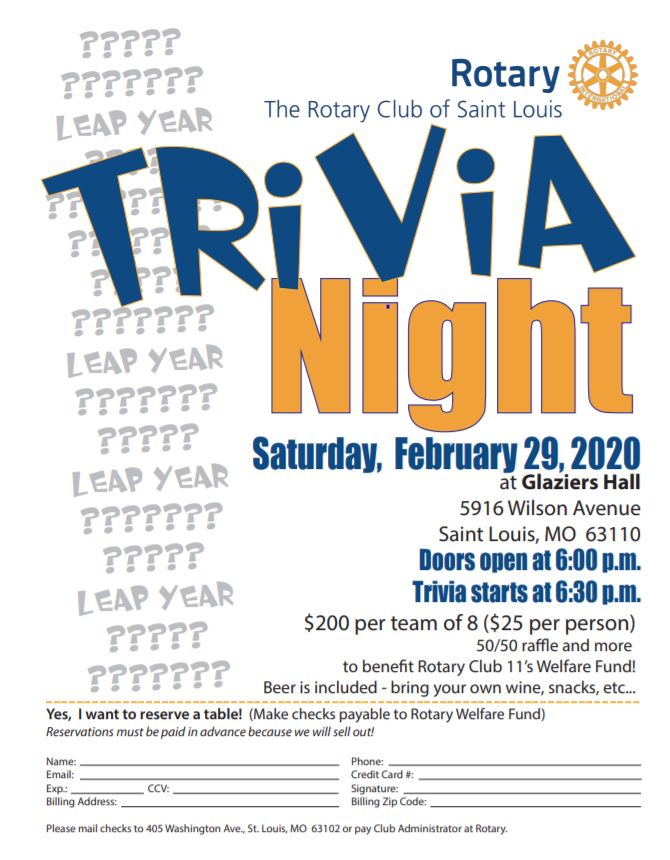 Scribe Report ~ James Webster ~ February 6, 2020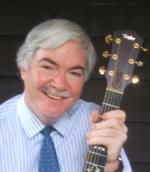 Scribe Report February 6, 2020
Thursday, February 6th, what a wonderful day to be a scribe for Rotary Club #11. Why, you may ask? Because this was no ordinary lunch. For starters it was held in The Art Lounge rather than our habitual location. Indeed, it could be reported that President Bob opened the meeting at noon, Pledge of Allegiance, Four Way Test, The Song etc… but this would hardly capture the spirit of excitement of the promised tour of the MAC facilities.


Our insouciant Sergeant at Arms, Dan Conway, greeted several guests and also entered into a reminiscence regarding The Rams 20th anniversary of their Super Bowl success. This followed congratulations for the Kansas City Chiefs, which Dan described as a Kansas State based team. Ha! a mistake I guess anyone could make.


President Bob then announced an early adjournment of the Rotary meeting in order to accommodate the MAC program and planned tour.


Joint Rotarian/MAC members, Jim Sheets and Beth Russell were then called on to introduce the program and our guest speaker, Najah Fennoy.


Najah gave a brief history of the MAC from its beginnings in preparation for the World's Fair, opening on September 13, 1903, its destruction in the great fire of 1914, and its rebuilding and reopening in 1916. In 1939 the club reverted to its original name, "Missouri Athletic Club" and has remained thus to this day.


The MAC is rated as a "Platinum Club of America" placing it in the refined company of only 3% of clubs in the country. It is owned and governed by its members. Its charitable arms comprise; Preservation; Art; and Sport foundations. Through the "Clubs Within the Club" members have the opportunity to meet, socialize and plan events with members who share similar interests. Some of the shared interest areas focus on dancing, reading, fitness, history, bridge, whiskey, wine and beer tasting.


Its facilities include 70 overnight rooms, workout areas, squash courts, basketball courts and a swimming pool together with a 4th floor dining room and The Jack Buck Grill located on the 1st floor.


What followed was a personal tour of these facilities, my group headed by Rodney Stoyer, Director of Membership. What an experience! For someone who has only ever navigated from the parking lot to The Missouri room this was an eye-opening observation. We visited the overnight rooms, executive suites, dining and grill room and workout and basketball facilities. Of particular interest to the writer were the squash courts. The glass walled singles courts on the 7th floor and the stadium style doubles court on the 5th floor were first class.


Bowling Alleygations ~ Dan Conway ~ February 3, 2020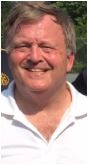 ALLEYGATIONS- 2-3-20 Dan Conway
This past Monday's bowling started slow and then finished with very lopsided results. On Lanes 19 and 20 Team Cooper and Team Soifer were going at it. Team Cooper was too much with three bowlers bowling nice handicapped series Blake Critzas 698, Rose Cooper 684, and David Wicks 608. Team Soifer had nice performances from Adam McNutt 653 and John Soifer 651 but lost all three games. Team Cooper finished with 18 points to Team Soifer 4 points.


Over on Lanes 21 and 22 Team Conway sitting in first place would never take less than 10 points was thrilled to come out with 4 points! Team Decker without their Captain steam rolled Team Conway and we thought we were going to get completely blanked but 4 points were salvaged on the last frame by taking game three by 11 pins. All Conway bowlers lost their head to head matches. Matt Wilson was on fire bowling a 702 handicapped series followed by Ken Schuman with a 631, and Terry Werner's 627. Dan Conway's 677 was negated by Matt Wilson's great night.


Lift for Life Gym ~ February 18, 2020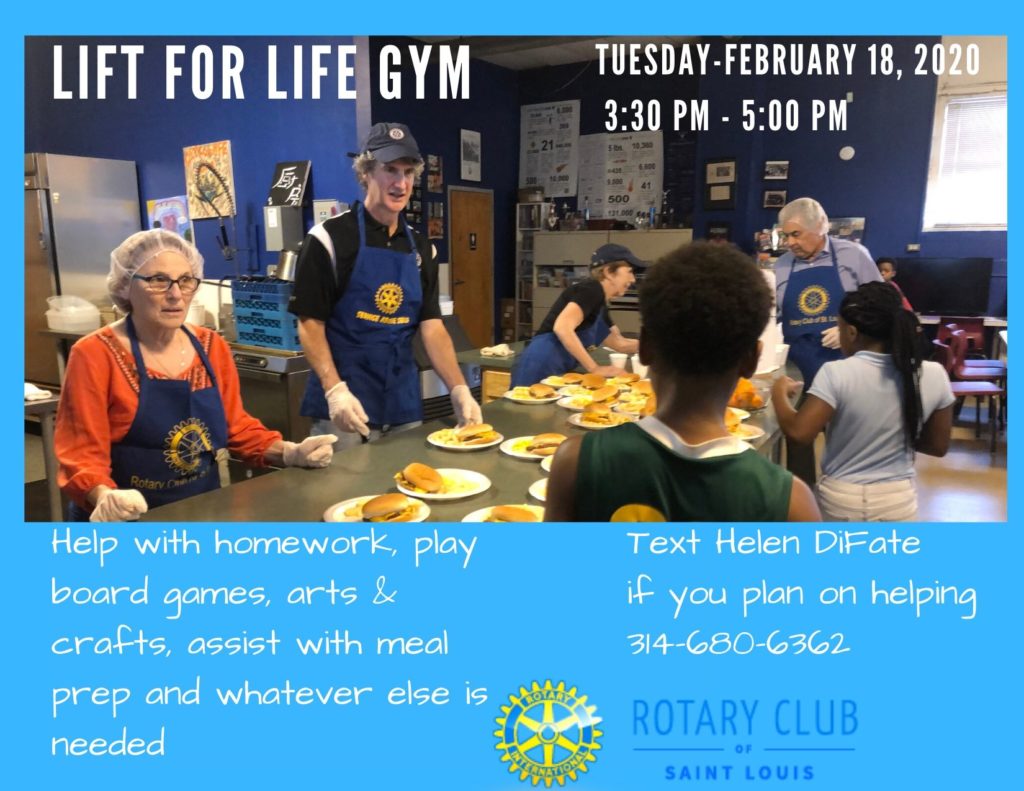 The kids at Lift for Life Gym need you to help with homework, play board games, do arts and crafts, assist with meal preparation and whatever else may be needed. Please text Helen DiFate if you will help on February 18, 2020 from 3:30 pm until 5:00 pm.


InterCity Meeting ~ March 4, 2020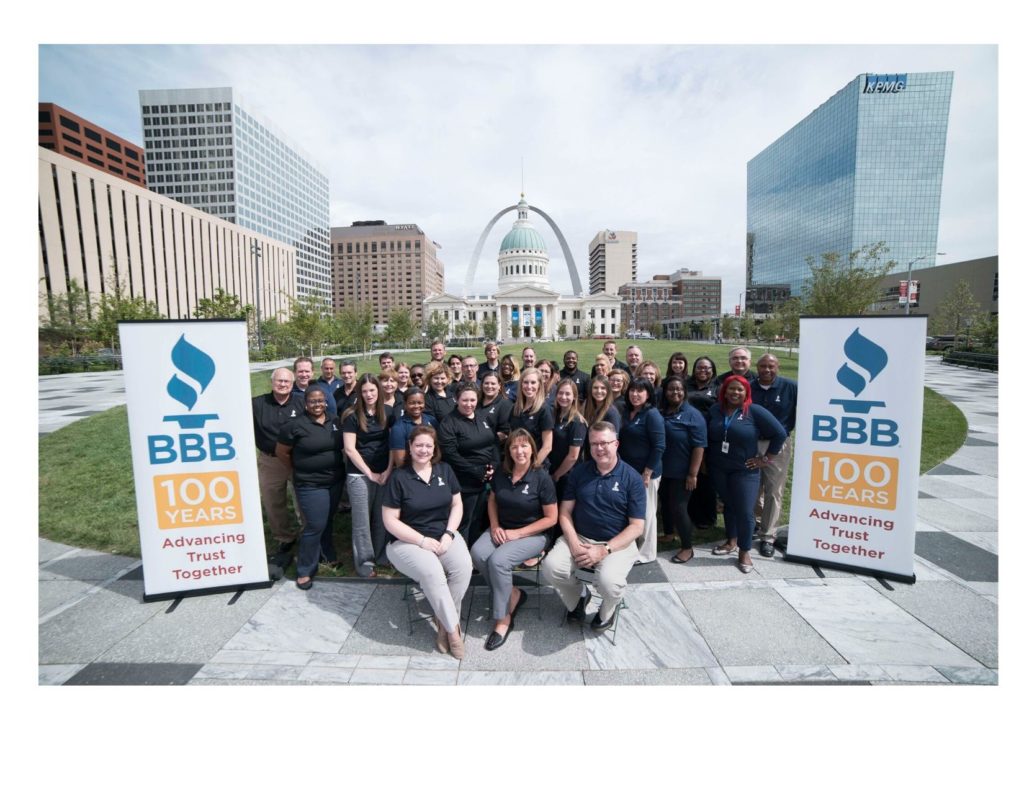 St. Louis Metro InterCity Fellowship Meeting ~ Wednesday, March 4, Noon- 1:15 PM
Sponsored by The Rotary Club of Clayton-Ladue


Matt Flinner, Better Business Bureau's Education and Outreach Coordinator
Matt will reveal the ways fraudsters target consumers and businesses, highlight the most common scams targeting the area, convey steps to prevent identity theft, and share tips to help you keep your hard earned dollars
in your pocket.
$17.50 (Catered by Syberg's)
RSVP by club before Sunday, March 1, 2020 to


The Clayton Community Center, our usual meeting location,
is under construction so we have moved and will be at this location through June.


Rotary International Convention | Honolulu, Hawaii, June 6-10, 2020 Video