Weekly Newsletter November 21, 2019
Judge Thomas C. Grady, Author "The Lost St. Louis Riverfront" November 21, 2019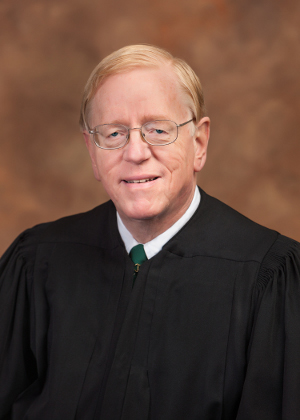 The Lost St. Louis Riverfront 1930-1943 is the first study to document fully the history of the area that is now the Gateway Arch National Park on the St. Louis Riverfront through historic photographs from the Park Archives. Additional information on the businesses and individuals who occupied these buildings brings to life the momentous impact this project had on the city and its riverfront.


The Honorable Thomas C. Grady was a circuit court judge from the 22nd Circuit Court in Missouri serving St. Louis. He was appointed to this position in 1994 and retained through 2008. Grady retired from the court on January 1, 2015 after serving as the as the presiding judge of the court from 2007 to 2008. He is active in many legal organizations and is on the board of historic preservation organizations including the St. Louis Mercantile Library at UMSL and its Herman T. Pott Inland Waterways Collection, Landmarks Association, the Society of Architectural Historians, and the Chatillon-DeMenil Mansion.
Judge Grady will have copies of his book for sale. $35 ($30 if member of Mercantile Library).
Cash or Checks only
President's Corner November 21, 2019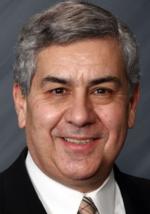 We recite the Rotary 4-Way Test before each meeting affirming that whatever we think, do, or say is TRUE, FAIR, builds GOODWILL & FRIENDSHIP and is BENEFICIAL to all.
Here are some thoughts that fall somewhere within these precepts:

Thanks to 22 Rotarians and helpers (Zangas, the Cooper family & Rotary Exchange Student Thierry Lüthi, Sherrill, Hesley Brothers, Lorenz Brothers, Klackner, Werner & Son, Mosella & Daughter, Goad, Rosenblum, Steinbrueck, Keeline, Milne, Borough & Garagiola) who filled 740 food boxes - up from 720 last year - at Scouting for Food on Nov. 16.
"Rotarians need Rides" Some of our members may need a lift to attend one of our Rotary luncheons or events. Let me know (rjg1949@charter.net) and we'll match you with a member who can help. Don't be reluctant. Your presence will be a benefit to all as well as promote goodwill. Rotarians, let me know if you are willing to help your fellow Rotarian.
Old Newsboys Day can always use an extra newsboy/newsgirl
The approaching holiday season gives us opportunities to think of others - Giving Tree in cooperation with Gateway 180 and Christmas Cards for the USO.
Special Meals - if you would like a special meal for lunch at our Thursday meeting, please pre-order; less stress for the M.A.C. staff and fairness to the members that did "pre-order" so they don't have to wait while you're eating your not-pre-ordered-special-meal.
People of Action ~ Scouting for Food Collection 11-16-19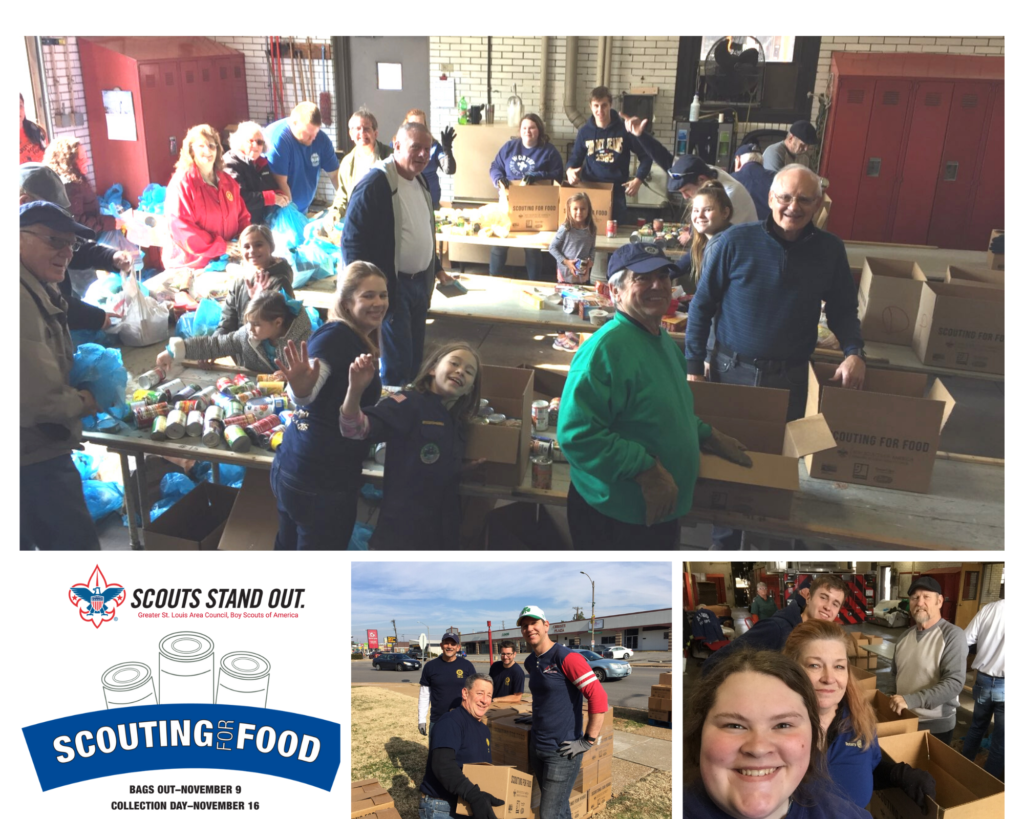 We are People of Action! Twenty-two St Louis Rotary Club members, family and friends volunteered sorting food donations for Scouting for Food on Saturday, November 16, 2019 at Firehouse #36.
Lunch Menu ~ November 21, 2019
Spinach salad w/ Crispy Pancetta, Goat Cheese, Spiced Pecans w/ Dijon
Vinaigrette
~
Sliced tri tip w/ Shallot Demi
Roasted Garlic Whipped Potato
Wild Mushroom & Broccoli medley
Special Menu Requests For Members and Guests with dietary restrictions, alternative meals are available, but they must be ordered by no later than 11:30 am on Wednesday, November 20, 2019.


Scribe Report November 14, 2019 ~ Beth Russell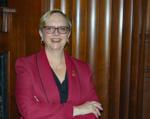 President
Bob Garagiola rang the bell at noon promptly followed by the Pledge of
Allegiance and the Rotary Four Way Test.
Past President and Past Assistant District Governor, Richard Losciale,
gave us an inspiring and thought provoking invocation. Bill Piper filled in for Juli Niemann giving
us a decomposed version of "It's Beginning to Look a Lot Like Christmas." Well done, Bill!


After
a brief respite for lunch, President Bob returned to the podium with the sad
news Past President William (Bill) Schierholz (1981-1982) passed away. A moment of silence was ended with the
traditional single ring of the Rotary bell.


President
Bob reminded us to read the Pepperbox to "be in the know" of the upcoming
programs, opportunities to serve as well as upcoming fun events. Here is a quick rundown of the announcements:

Past President Jim Sheets thanked everyone for
making our Veterans Day program a great success!
Bob Sherrill, Immediate Past President,
announced the election slate. Ballots
will be going out in early December.
Thanks to EVERYONE for raising their hand to be part of the election!

Vice President

Mike
Mosella, Earl Poe, Ken Schuman, Matt Weiss

Directors

Dan
Conway, Tom Keeline, Bob Kocher, Doug Lorenz, Pete Milne, Mike Regan, Rebecca
Richie, Jack Whittle

Bob Zangas, Past President, asked for help with
Scouting for Food.
President Bob made an "unreasonable request"
for help at Lift for Life.
Sean Smith asked for help with Old Newsboy Day
on November 21st. (No bad weather, no
bad weather, no bad weather!)
Don Klackner reminded us about Rolling for
Rotary on November 24th.
President Bob reminded us about the Turkey Burp
at LoRusso's on November 29th.
Phil Hesley asked for participation in giving
holiday gifts to seven families at Gateway 180.
Gifts must be returned by December 12th.
Nominations Announced November 14, 2019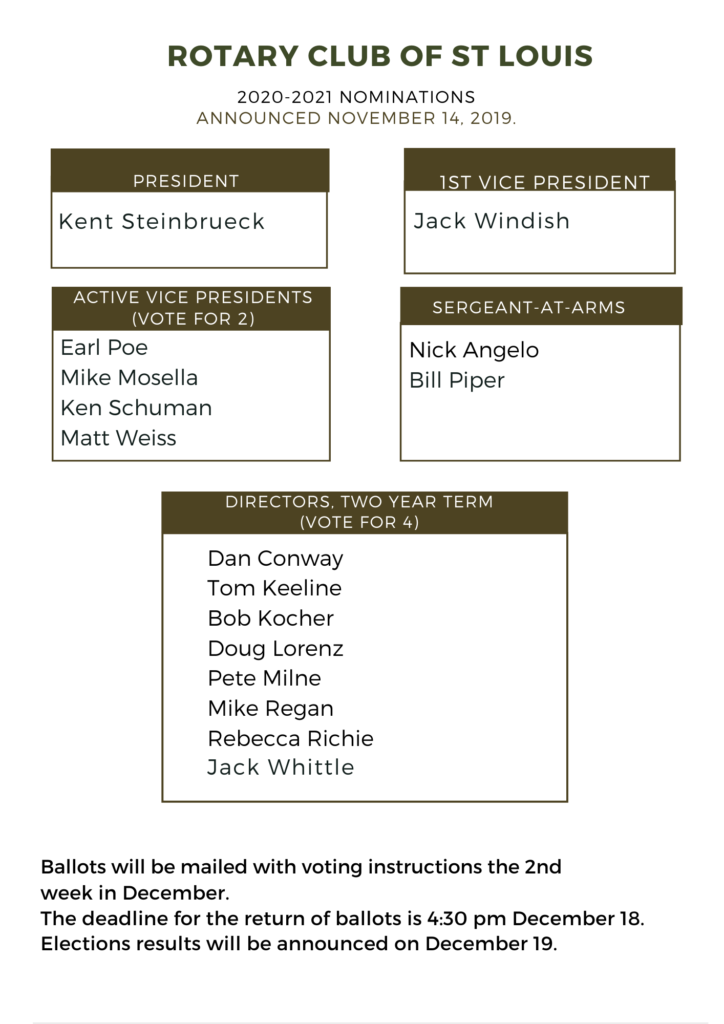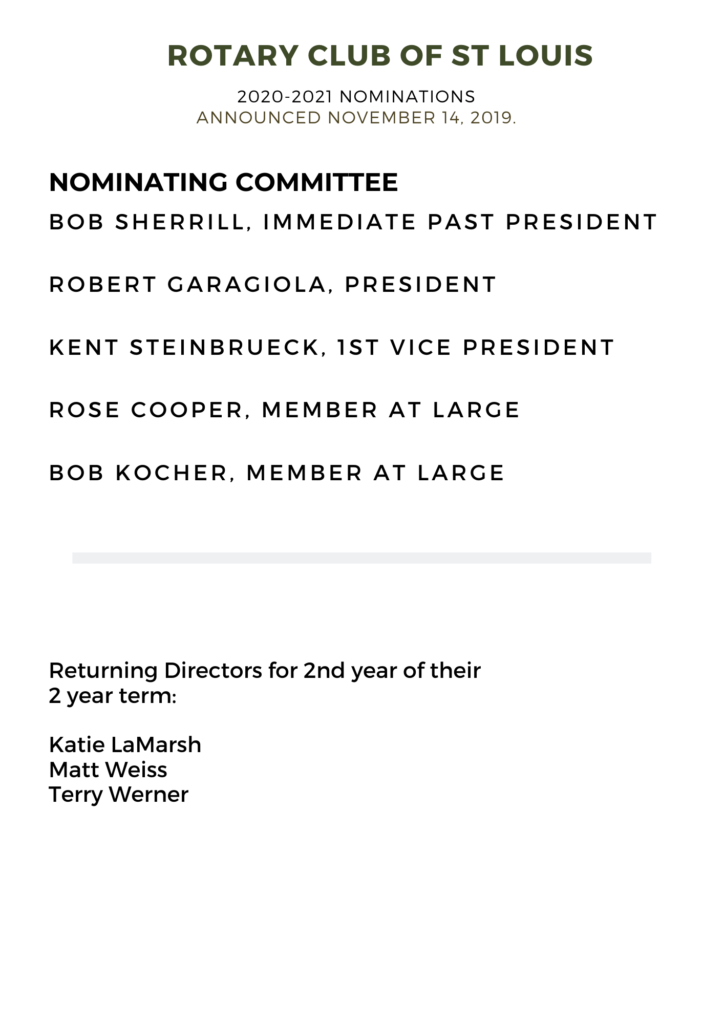 Take a Tag from the tree ~ Bring Gifts for Needy Families by December 12, 2019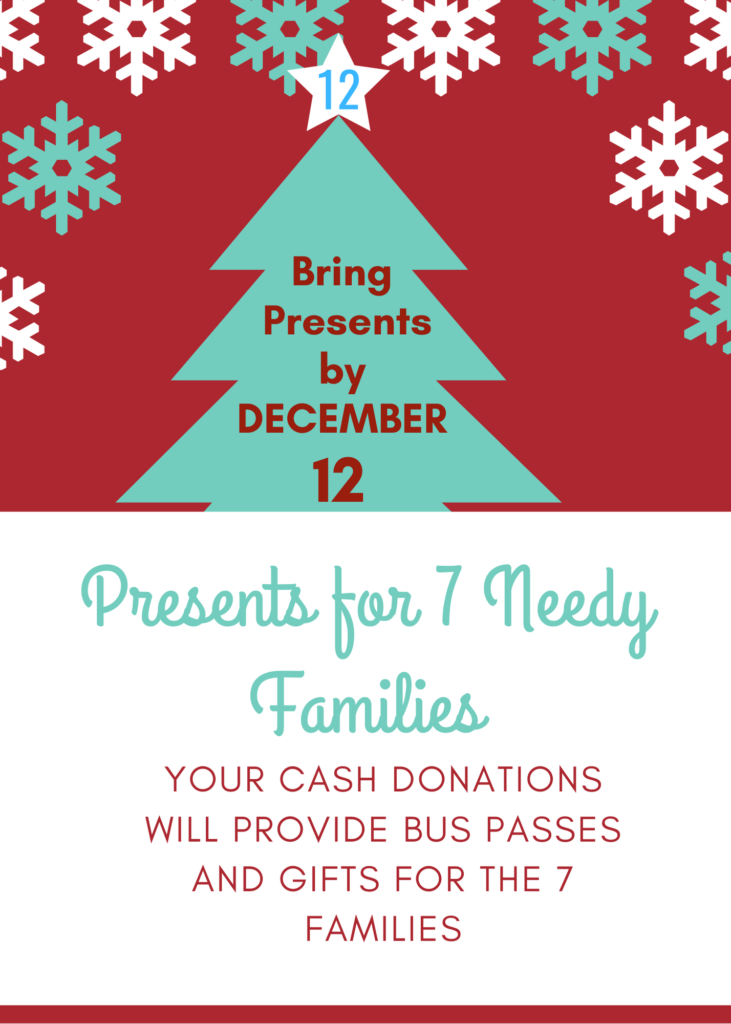 Rotary St Louis will is working with Gateway 180 on presents for seven needy families for Christmas 2019.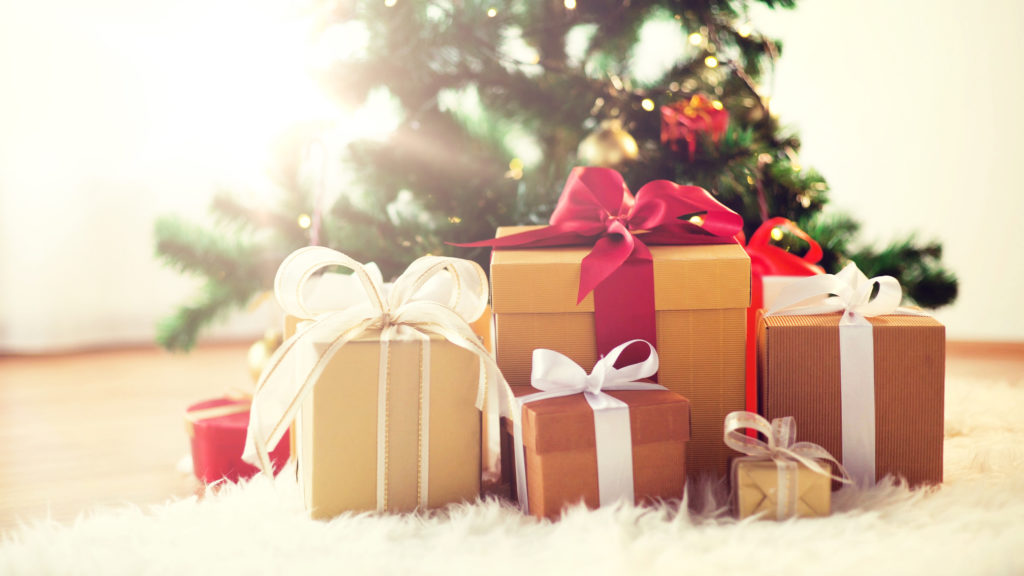 Tags are displayed on the small Christmas Tree near the sign in table.
Presents and cash donation deadline is December 12, 2019.
We are helping 7 families that have been homeless and have recently been placed in temporary housing. Families vary in size from 2 to 4 members. Rotary members can choose a tag to help a specific individual or a family.


Suggestions for presents will be on a sheet next to the Christmas Tree. Cash donations are welcome. The Community Service Committee will purchase bus tickets and presents for the families with the cash donations received.


Old Newsboys Day ~ November 21, 2019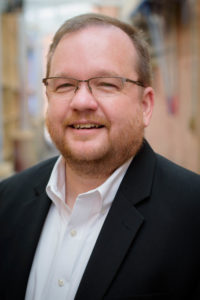 We need YOUR help...
On Thursday, November 21, Club 11 will once again be participating in Old Newsboys Day. We are looking for volunteer "newsboys" and "newsgirls" to help sell special edition newspapers downtown. This is part of an annual campaign that takes place throughout the St. Louis metropolitan area. All funds raised by this event go towards supporting local children's charities.


This is a great event for you to get involved. No experience is necessary--everyone is welcome to participate. We will be meeting in the Art Lounge (bottom of the steps) in the MAC at 6:00am for street assignments. Pastries and coffee will be served. We sell papers until 8:30am-ish.


So, RSVP for your paper route now! To reserve your spot, or for additional information, contact Sean Smith at (314) 494-8628 or ssmith@muny.org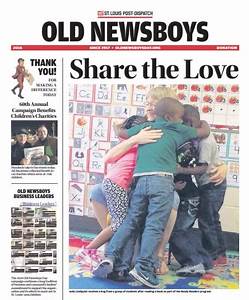 Bowling Alleygations Week 10 ~ Doug Lorenz

First and foremost, we thank all our military veterans on this 2019 Veterans day which also happens to be night 10 of the 101st Rotary Bowling League.  Besides celebrating our veterans, Terry Werner was celebrating the birth of his first grandchild (baby boy).  Colby Thomas Dunn was born last Thursday, congratulations Grandpa Terry welcome to grandparenthood.


We had 19 die hard and brave bowlers show up Monday evening, despite the horrible traffic and weather.  Several bowlers arrived late and many of us only threw one or two practice balls (setting up excuses for poor bowling in first game).  Meanwhile, while we were suffering through the coldest record breaking cold of the year thus far, several of our bowlers were basking in the 85 degree weather of Palm Springs CA playing golf.  Weiss, Windish, LaFara, Critzas, Conner and Guilfoy wimped out of the cold weather and then rubbed it in by us sending pictures.  It did warm us up a little, pars and birdies guys.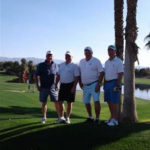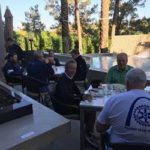 But let's get to the bowling:


Lift for Life Gym ~ November 19, 2019 ~Your Help Needed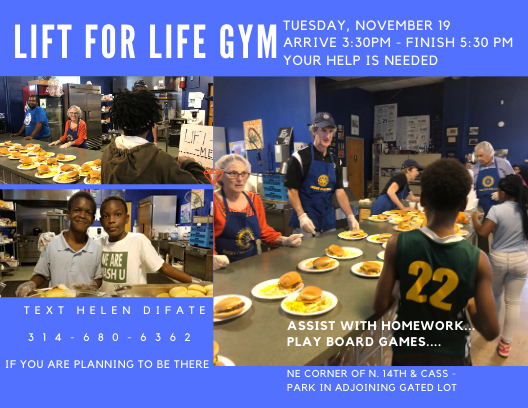 Your Help is Needed
Tuesday, November 19, 2019 ~ Arrive 3:30 PM - Finish 5:30 PM


Assist with homework, play board games, serve dinner......


No Meeting November 28, 2019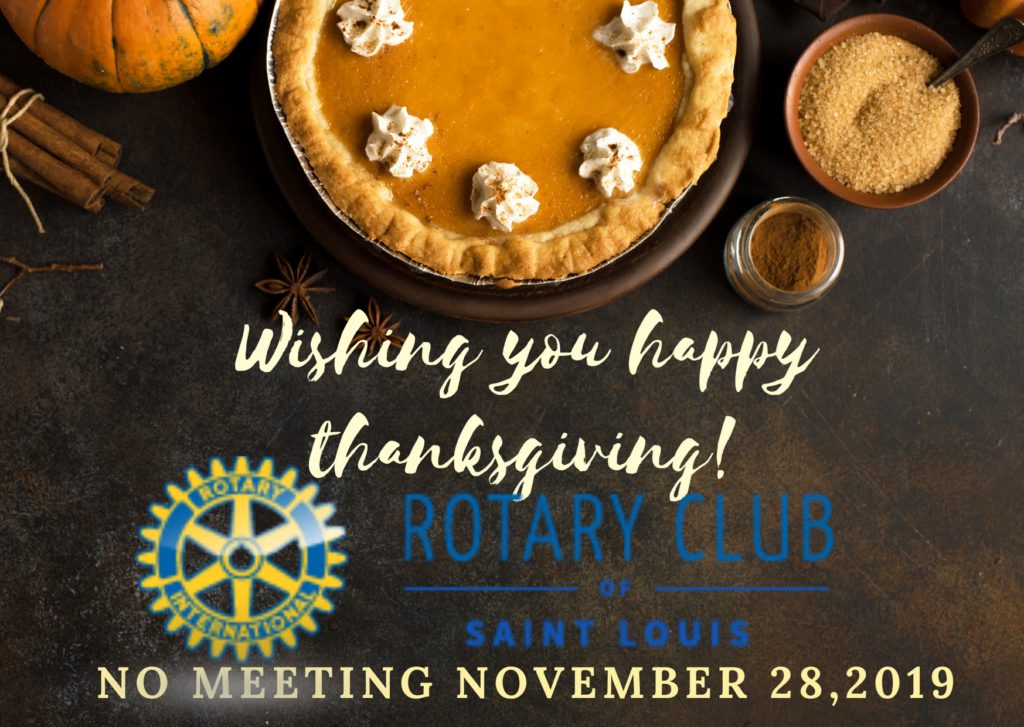 Turkey Burp November 29, 2019 Info with RSVP LINK
Make plans to join us at our annual Turkey Burp on Friday, November 29 2019. The evening starts at 5:00 pm with dinner at 5:30 pm at LoRusso's Cucina, 3121 Watson Road, 63139. Cost: $60.00 (includes tax and tip - does not include drinks)
Menu
Appetizers: ~ Lobster Bisque ~ Della Cassa


Choice of Entree: ~Eggplant Lasagna ~ Tenderloin Mudega ~ Salmon Piccata ~ or Chicken Teresa


Dessert: ~Cheesecake with Raspberry Sauce ~ Tiramisu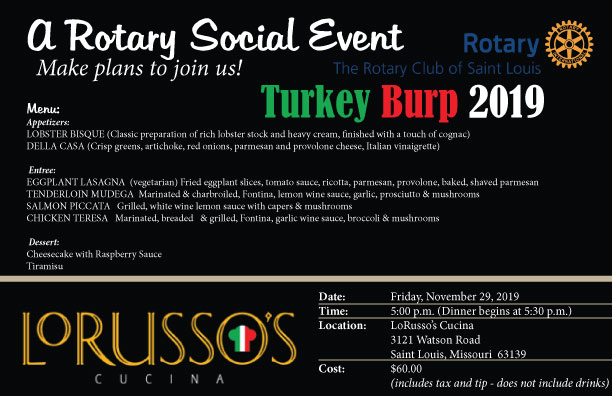 St Louis Metro InterCity Fellowship Meeting 12-4-19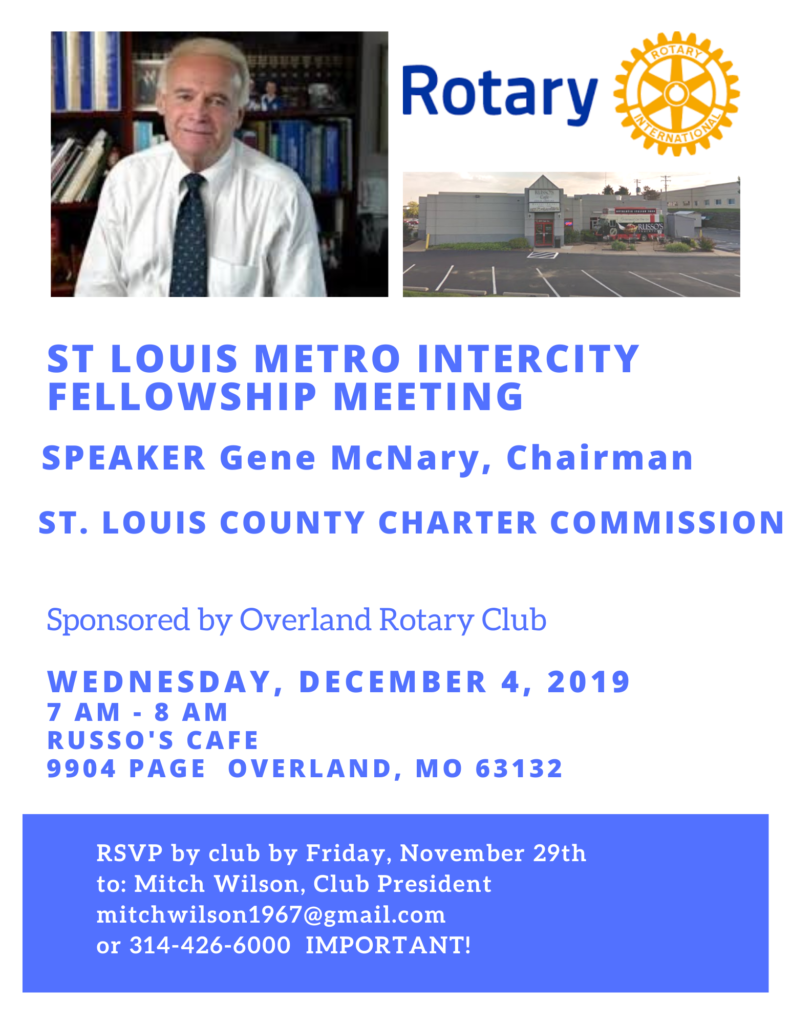 The December 4, 2019 InterCity meeting is sponsored by Overland Rotary Club. Breakfast is $10.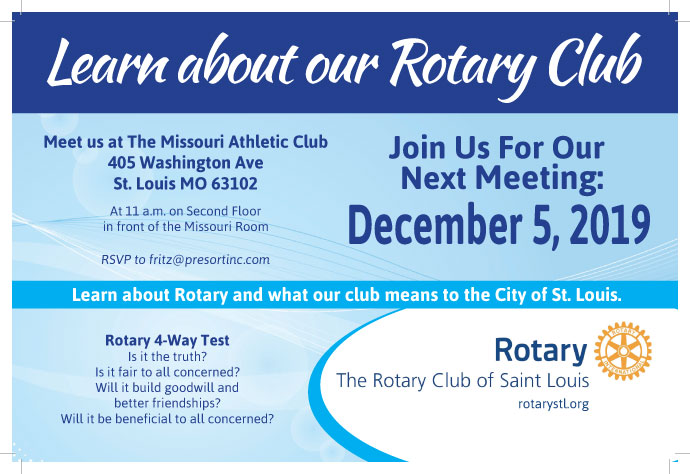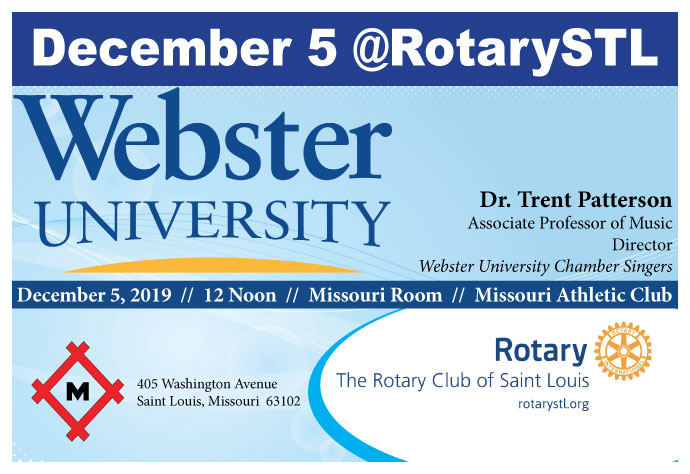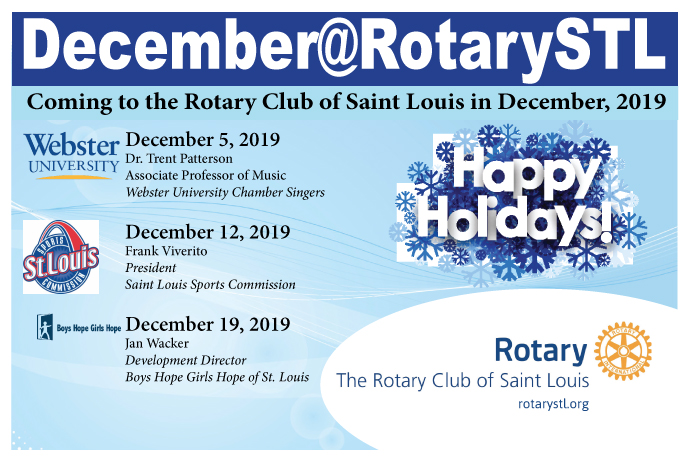 Holiday Party ~ December 13, 2019
Save the Date ~ Friday, December 13, 2019 ~ MAC - Downtown
Plan on joining us for our annual holiday party ~ Cost: $75.00 - Watch for details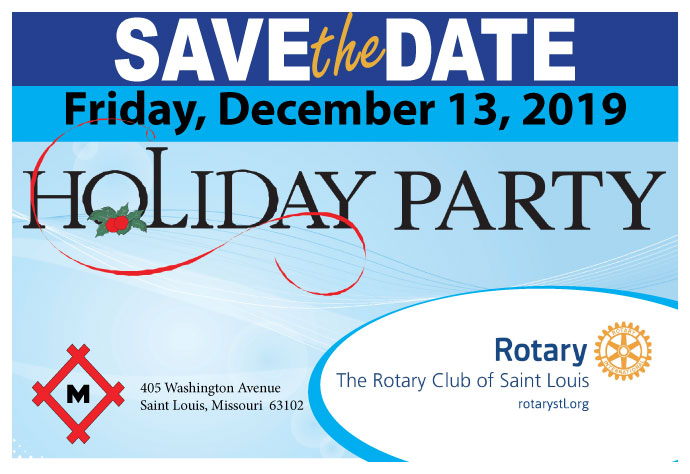 July 1, 2019 - June 30, 2020