Weekly Newsletter November 14, 2019
Sue Cobb, District 6060 Rotary Foundation Chair ~ Speaker ~ November 14, 2019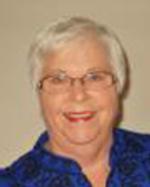 Sue retired 16 years ago after a 28 year career in education as a teacher, principal and superintendent. Retirement has allowed her to become very involved in Rotary. She's been club secretary, Foundation Chair and president at Cottleville/Weldon Spring Rotary. On the district level Sue was a Group Study Exchange leader to India in 2007, Assistant Governor for 6 years, a lead facilitator for club visioning, and District Foundation Chair. Today she'll be sharing How Rotarians Change the World through The Rotary Foundation.
President's Corner ~ November 14, 2019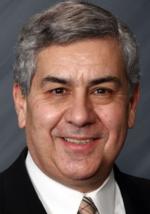 Our regular Thursday Rotary Meeting returns to normal this week following our special events:
Young Citizens Awards and M.A.C./Rotary Veterans Day Program.


Our thanks goes to the Young Citizens Awards Committee (Mary Jane, Rose, Beth, Jean and Michele &
video by Doug) for their hard work. Further thanks goes to Jim Sheets who
represented Rotary on the M.A.C./Rotary Veterans Day Committee. Rotary
had over 75 Rotarians and guests in attendance. As I said in my welcoming
remarks, it is a highlight of our club year, as is the Young Citizens Awards.


Veterans Day Tribute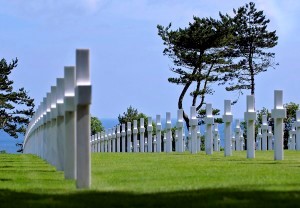 As Diane and I negotiated the small streets in Vernon, France a few years ago, we heard yelling ahead. As we turned the corner, we saw an older woman waving three large flags out her second story window and enthusiastically proclaiming, "Merci, Merci!"


As we paused she continued earnestly, "Etes vous Americain? Anglais? Canadien?" When she learned that most of this group was American, she switched the flags to display the Stars and Stripes as she shouted in French, "Thank you for our freedom! Thank you for our freedom!"


We didn't know what to think, but our guide's explanation touched our hearts. This woman, he explained, waits for occasional passing Western tourists to loudly display her gratitude for their country's involvement in the D-Day Normandy invasion that liberated the French from German occupation in World War II. The woman isn't crazy, and she isn't senile. She just wants to do her small part to tell the world that she has not forgotten that seventy five years ago, young men came to help strangers release her country from the strangle hold of tyranny. How can the children and grandchildren of those who put their lives on the line so long ago, be unmoved as they continue past this small but profound connection?


The next day, our tour moved on to those Normandy beaches. Gentle English Channel waves lapped fine sands where, on June 6, 1944, transport after transport deposited groups of young men tasked with crossing a mine and barrier filled expansive sand tract and climbing up a bluff on which concrete German bunkers protected with rapid firing machine guns. You may have seen the movies, Saving Private Ryan or The Longest Day, but, let me tell you, the distance between water and bluffs is significantly longer than you imagined --- impossibly longer than you imagined.


Lunch Menu ~ November 14, 2019
Butternut Squash Soup w/ Cranberry Relish & Toasted Pumpkin Seeds
~
BBQ Spiced Salmon w/Roasted Tomato & Basil Pesto
Creamy Yellow Grits
Wilted Spinach
Special Menu Requests For Members and Guests with dietary restrictions, alternative meals are available, but they must be ordered by no later than 11:30 am on Wednesday, November 13, 2019.


Scribe Report ~ November 7, 2019 ~ Bill Piper

The meeting for November 7th was called to order by President Bob at noon. He spoke
briefly about the background of Rotary for the benefit of the many people
present, in and out of uniform, who were not members of Club 11 and invited
those interested to join us at future lunch meetings or other activities.


Here, the gavel was passed to CAPT Mel Burkart, USN (Ret.),
longtime member of the MAC, the main co-sponsor of the event with our club, to
act as Master of Ceremonies for the rest of the meeting. The colors were presented by the Gateway STEM
High School Air Force JROTC color guard and the attendees were led in the
singing of the National Anthem by MAC Past Governor Peter Dunne, accompanied by
the Missouri National Guard's 135th Army Band. This was followed by the recitation of the
Pledge of Allegiance.


Next came the POW/MIA Ceremony, carried out by an Air Guard team. For those of you not familiar with
the ceremony, table for one is set, though no one will use it. The significance of the various elements on
the table is explained, followed by a bugler playing "Taps". Forty years-plus after my commissioning, I
still find it an incredibly moving event, especially when performed, as here, by an expert team.


Lunch followed, and the speaker, General Joseph L. Lengyel, the Chief of the National Guard
Bureau, addressed the audience. As the Chief, he serves as a member of the Joint Chiefs of Staff with the active duty representatives of the various services and is responsible for the readiness for
duty for more than 453,000 soldiers and airmen.


Happy Hour - November 13, 2019 ~ This Wednesday!!!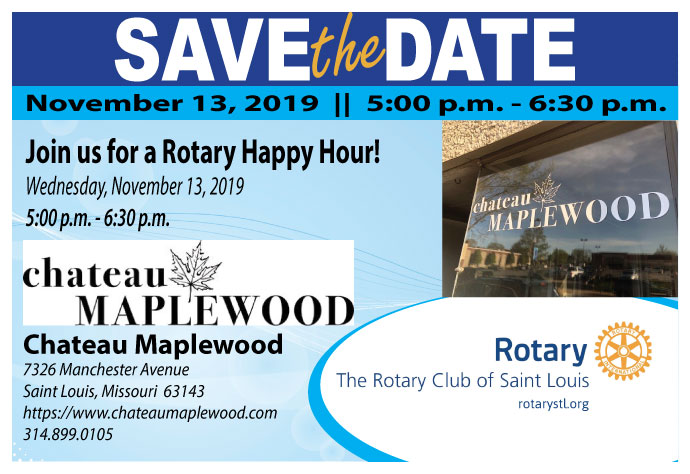 Join us this Wednesday for our Rotary Happy Hour at chateau Maplewood, 7326 Manchester Avenue, 63143 5 pm - 6:30 pm
Rotary St Louis Giving to Help Needy Families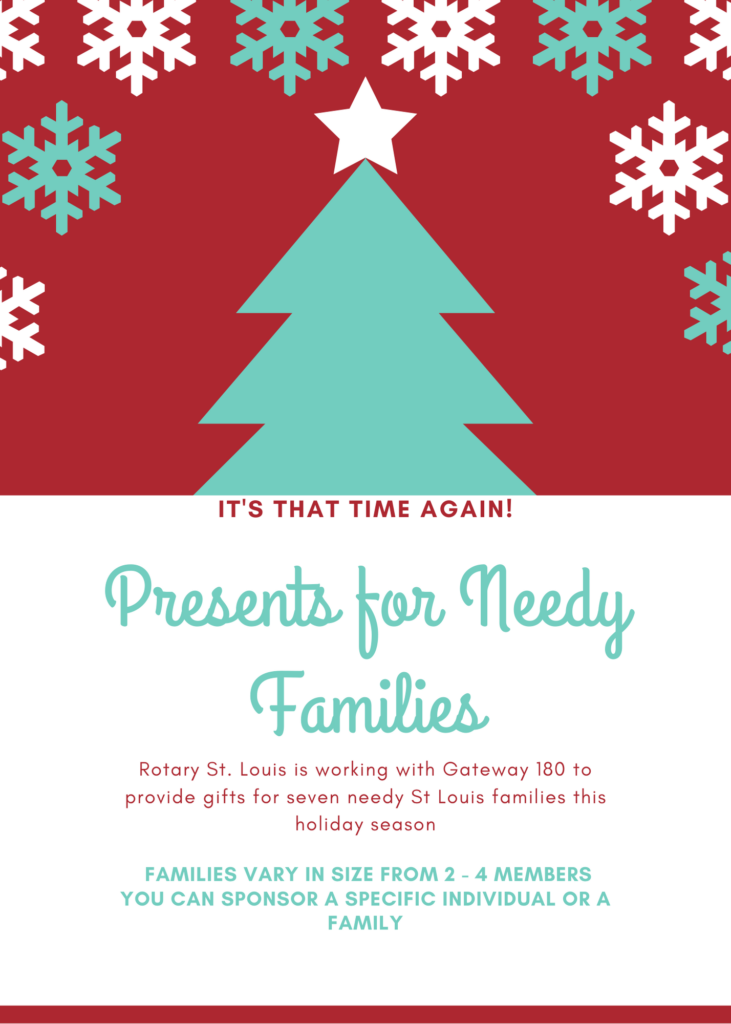 Rotary Sr. Louis will be working with Gateway 180 on presents for needy for Christmas 2019.


Tags will be displayed on the small Christmas Tree near the sign in table on November 14, 2019.


Presents need to be returned no later than December 12, 2019.


We have 7 families that have been homeless and recently been placed in temporary housing.


Families vary in size from 2 to 4 members. Rotary members can choose a tag to help these needy. A member can sponsor a specific individual or a family.


Suggestions for presents will be on a sheet next to the Christmas Tree.


Chairman Community Service Committee.


Scouting for Food ~ 11-16-19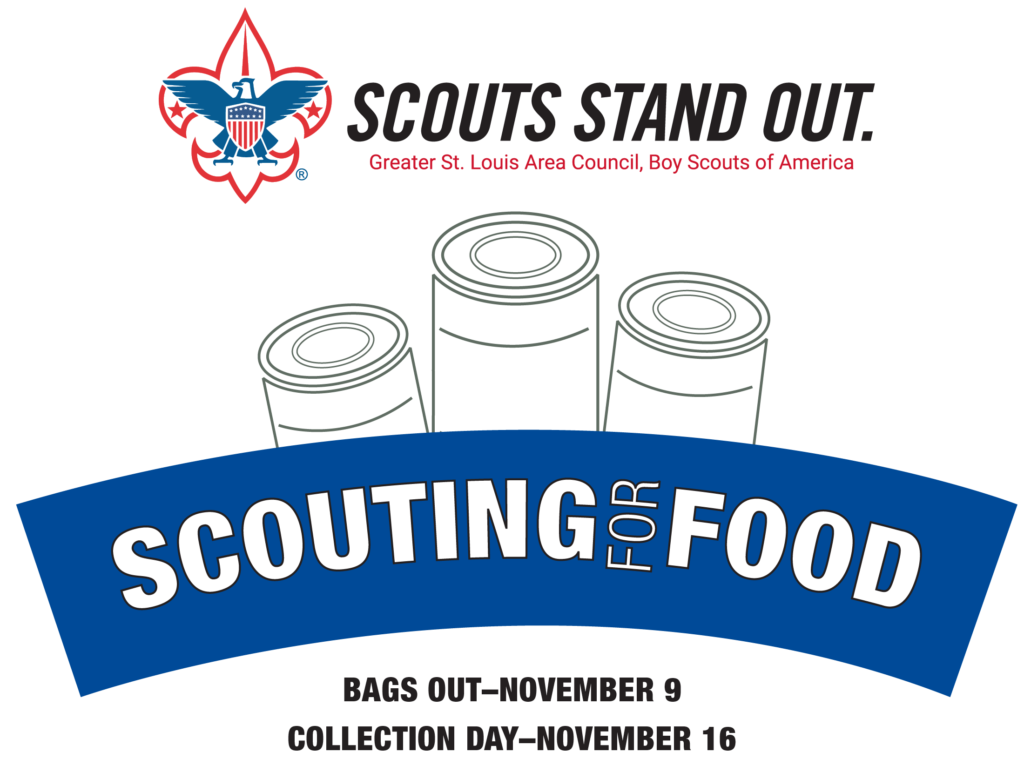 On November 16, 2019, Club 11 will be assisting the Boy Scouting for Food Drive.We will be meeting at Firehouse 36 at 5000 South Kingshighway from 9:00 am until about 1:30 pm.
Please let Bob Zangas know if you can make it. Bob's e-mail bob@anchorhealthcarestl.com
Bowling Alleygations ~ Week 9 ~ 11-4-19 Cooper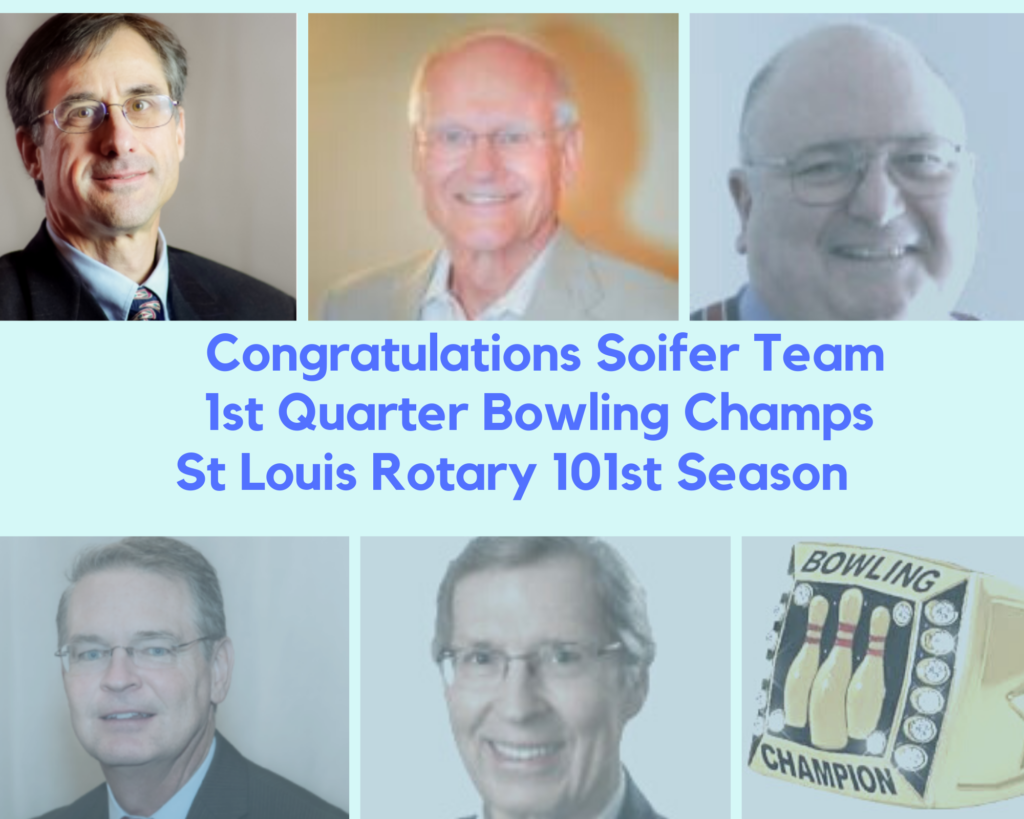 Congratulations to Team Soifer, our first quarter bowling champs! They won the Roll-offs by a landslide. Soifer team bowlers were Captain Jon Soifer, Pete Milne, Vic DiFate, Mike Regan, and Don Fuller.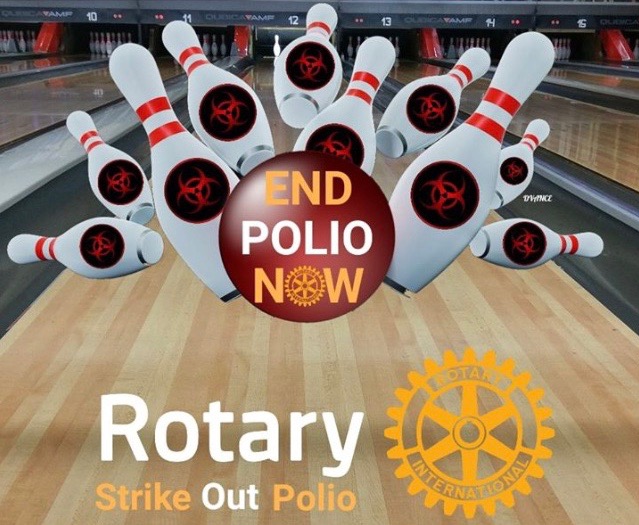 Lift for Life Gym ~ November 19, 2019 ~Your Help Needed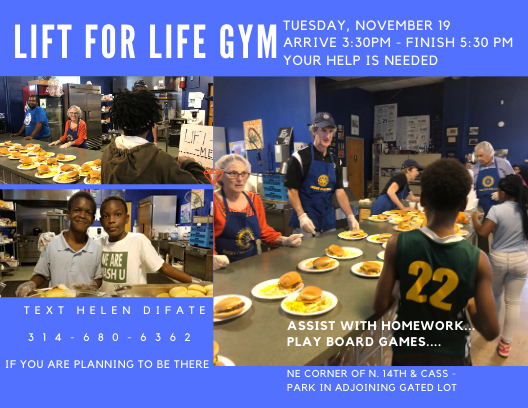 Your Help is Needed
Tuesday, November 19, 2019 ~ Arrive 3:30 PM - Finish 5:30 PM


Assist with homework, play board games, serve dinner......


NE Corner of N 14th & Cass - park in adjoining gated lot.
Text Helen DiFate if you can help 314-680-6362
Old Newsboy's Day ~ November 21, 2019

We need YOUR help...
On Thursday, November 21, Club 11 will once again be participating in Old Newsboys Day.  We are looking for volunteer "newsboys" and "newsgirls" to help sell special edition newspapers downtown.  This is part of an annual campaign that takes place throughout the St. Louis metropolitan area.  All funds raised by this event go towards supporting local children's charities.


This is a great event for you to get involved.  No experience is necessary--everyone is welcome to participate.  We will be meeting in the Art Lounge (bottom of the steps) in the MAC at 6:00am for street assignments.  Pastries and coffee will be served.  We sell papers until 8:30am-ish.


So, RSVP for your paper route now!  To reserve your spot, or for additional information, contact Sean Smith at (314) 494-8628 or ssmith@muny.org


Turkey Burp ~ November 29, 2019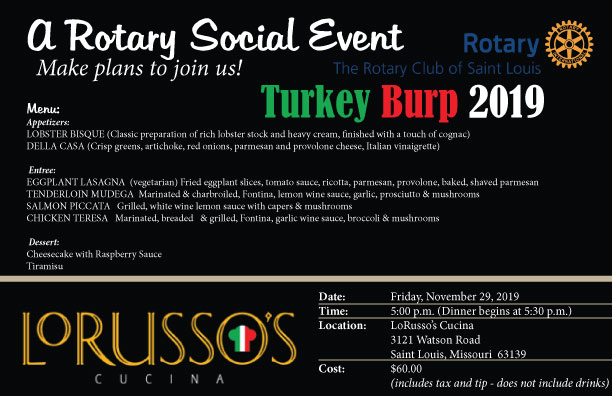 Make plans to join us at our annual Turkey Burp on Friday, November 29 2019. The evening starts at 5:00 pm with dinner at 5:30 pm at LoRusso's Cucina, 3121 Watson Road, 63139. Cost: $60.00 (includes tax and tip - does not include drinks)
Menu
Appetizers: ~ Lobster Bisque ~ Della Cassa


Choice of Entree: ~Eggplant Lasagna ~ Tenderloin Mudega ~ Salmon Piccata ~ or Chicken Teresa


Dessert: ~Cheesecake with Raspberry Sauce ~ Tiramisu
Holiday Party ~ December 13, 2019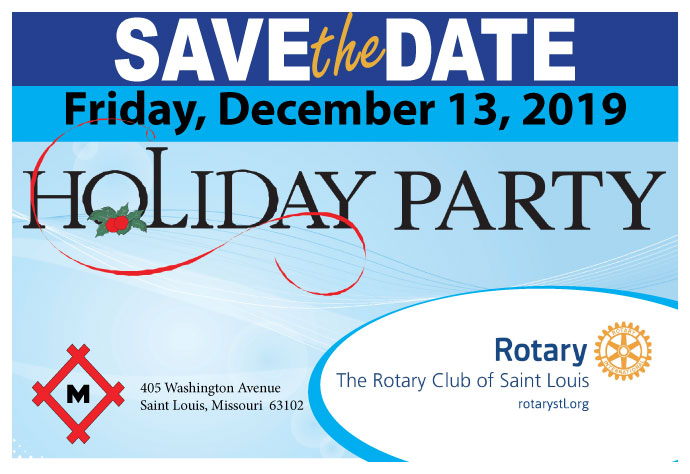 Save the Date ~ Friday, December 13, 2019 ~ MAC - Downtown
Plan on joining us for our annual holiday party ~ Cost: $75.00 - Watch for details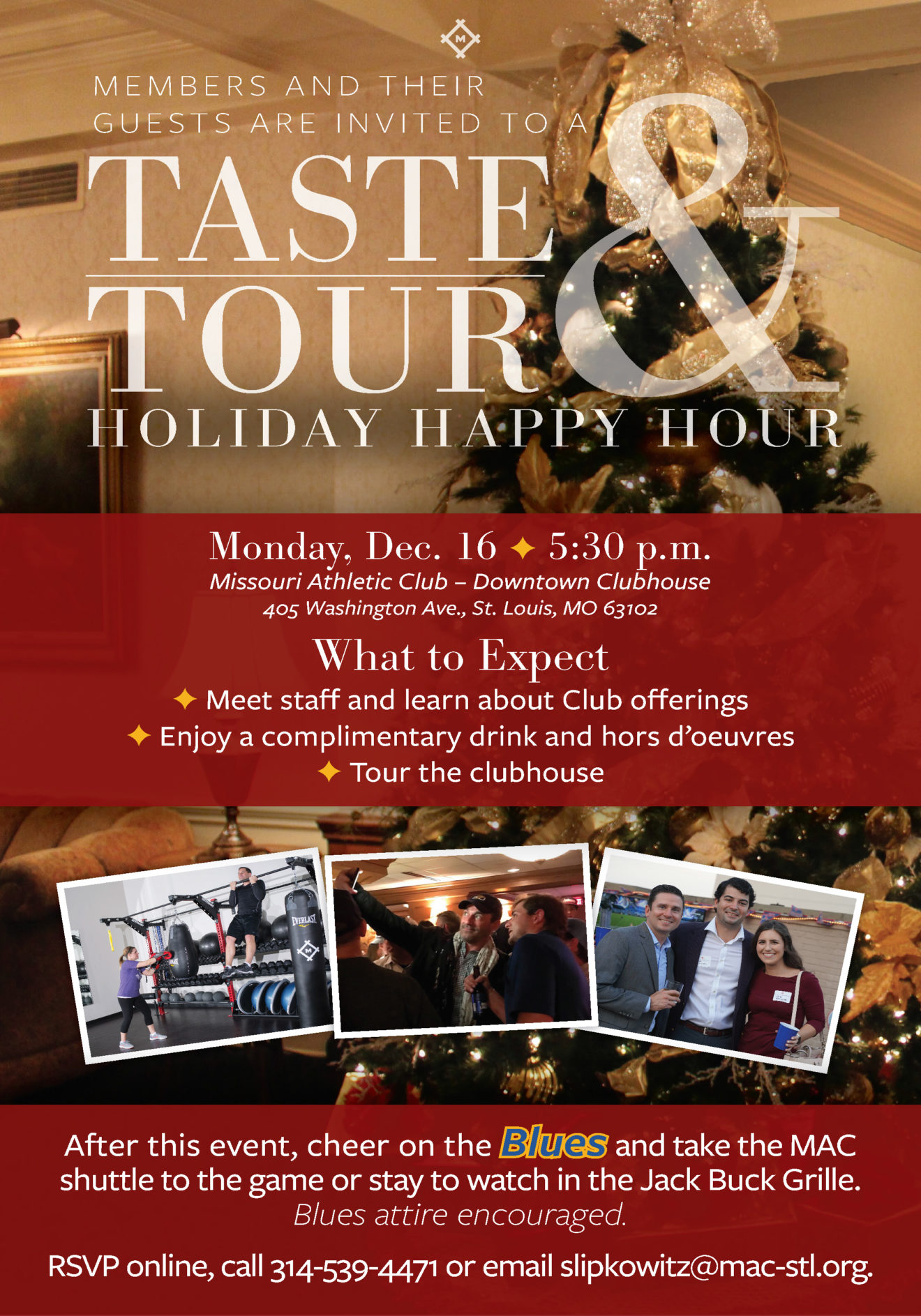 July 1, 2019 - June 30, 2020