Weekly Newsletter January 9, 2020
Speaker Robert Garagiola, President St. Louis Rotary Club - Annual Business Meeting January 9, 2020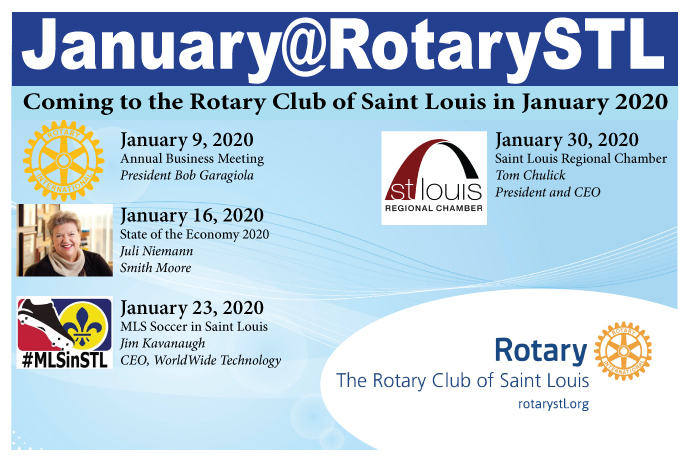 President's Corner ~ January 9, 2020

Had enough holiday parties? Had enough family? Had enough football? It's back to business for Club 11 after the Christmas break.
We'll start Rotary's 2020 with the Annual Business Meeting featuring presentations from select committees to tell us what's going on. There's a lot of Rotary Club 11 info coming your way. I hope you'll join us on Thursday. Prepare to be amazed!
You may have already trashed your New Year's Resolutions. I skipped the gym yesterday - that makes five years in a row! I still have the best of intentions and, I'm sure, you do, too. Rotary's resolutions are more than just good intentions. They are important to the continuing fellowship and goodwill of Club 11. So, we have to stay focused on them:


Trivia Night ~ February 29, 2020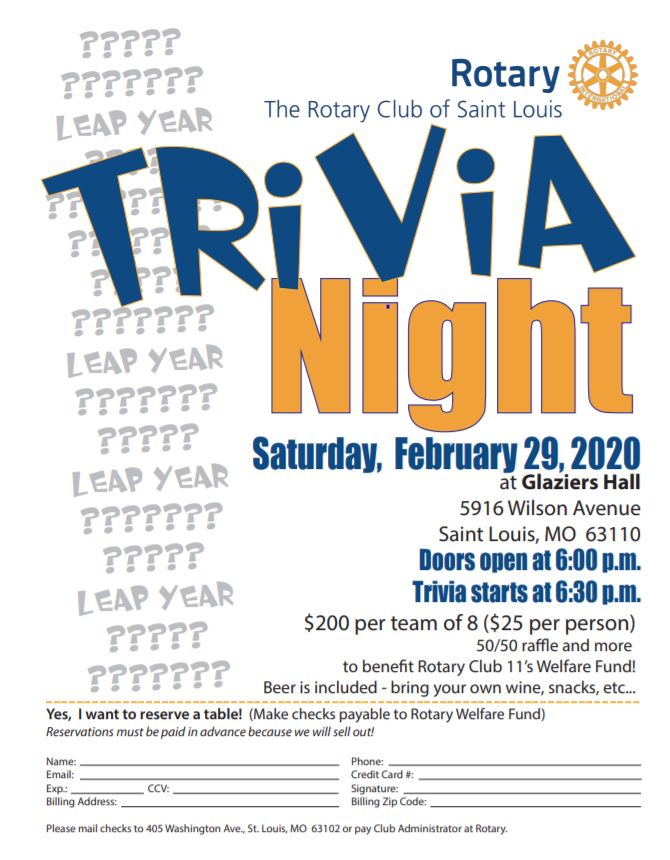 Trivia Night - Saturday, February 29, 2020 at Glaziers Hall, 5916 Wilson Avenue, St. Louis, MO 63110. Reserve a table: $200 per team of 8 ($25 per person) to benefit our community grants. Beer is included - bring your own wine, snacks, etc..
Lunch Menu ~ January 9, 2020
Waldorf Salad
~
Fried Chicken
Mashed Potatoes
Green Beans
Special Menu Requests For Members and Guests with dietary restrictions, alternative meals are available, but they must be ordered by no later than 11:30 am on Wednesday, January 8, 2020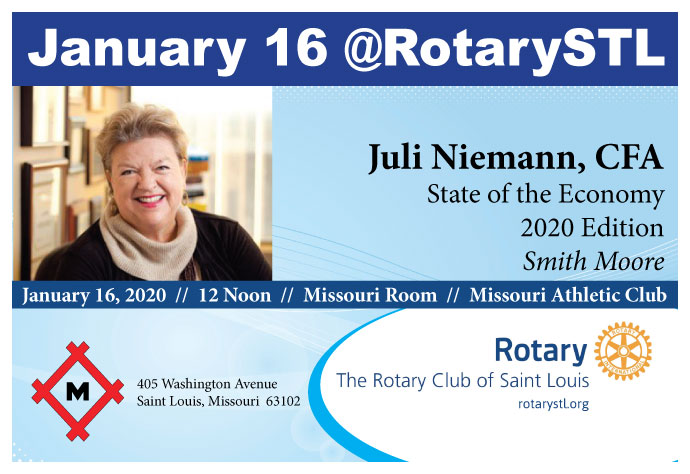 Lift for Life Gym ~ January 21, 2020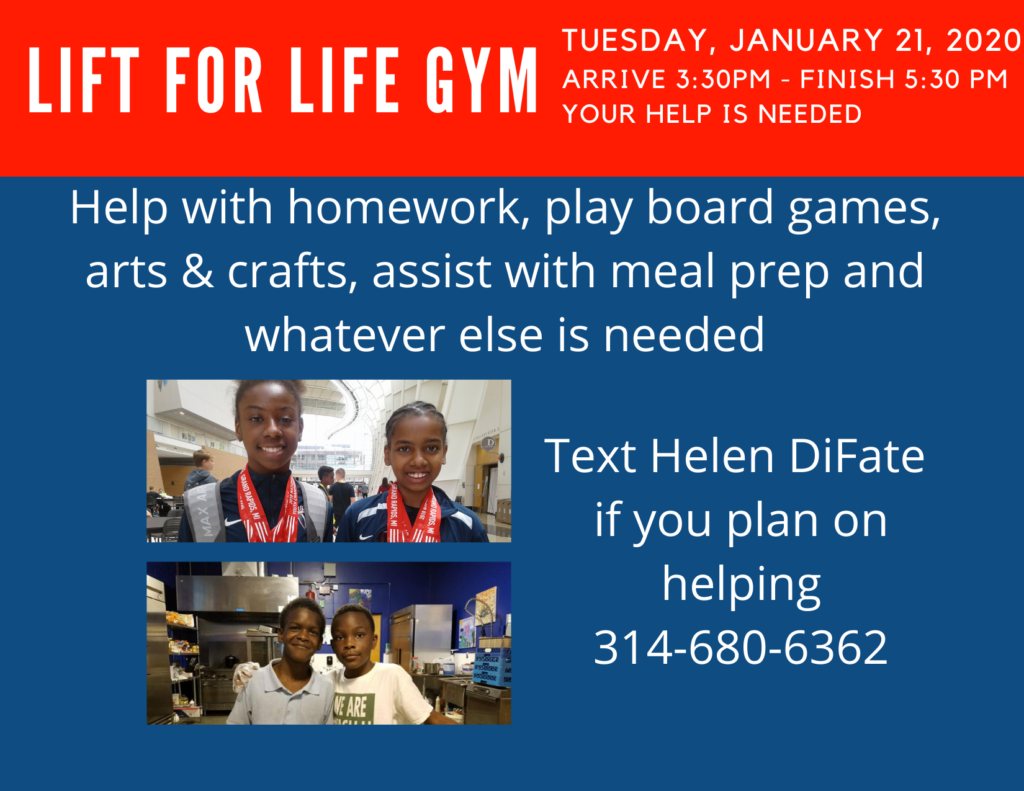 The kids at Lift for Life Gym need you to help with homework, play board games, do arts and crafts, assist with meal preparation and whatever else may be needed. Please text Helen DiFate if you will help on January 21, 2020 from 3:30 pm until 5:00 pm.


2nd Quarter Bowling Champs ~ The Coopers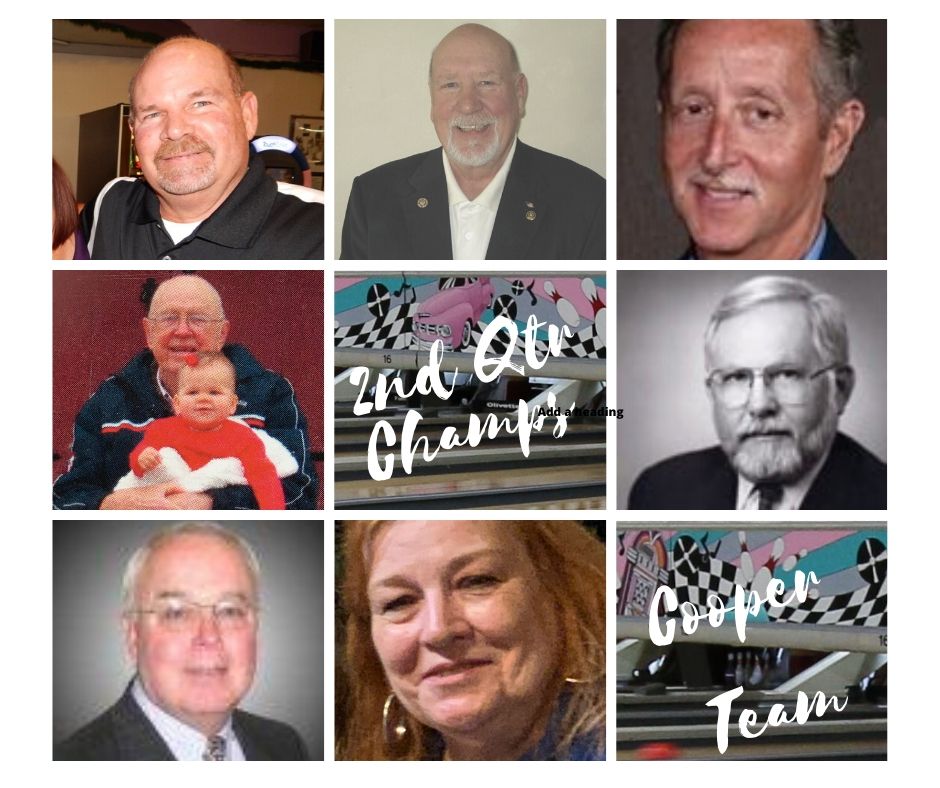 The second quarter of the St. Louis Rotary's 101st season was won by "The Coopers". The team members are Jim Conway, Blake Critzas, Arnie Hadler, Bob Kocher, Dan Naes, David Wicks, and Captain Rose Cooper. Congratulations Team!
3rd Quarter of St Louis Bowling League begins Monday, January 6, 2020 - See you at Olivette Lanes!
Completed Scholarship Application Deadline January 31, 2020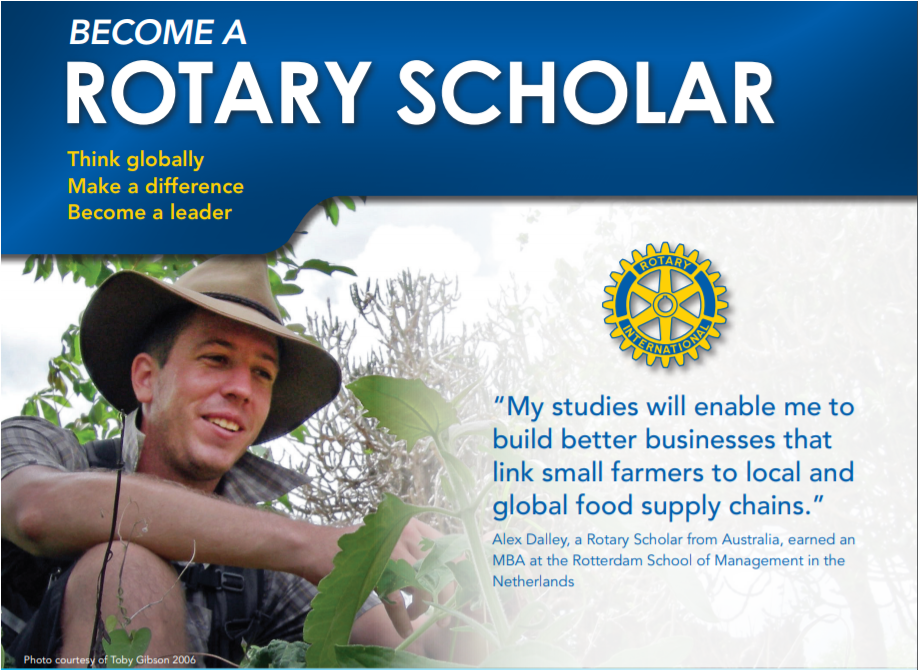 Ambassadorial Scholarship
Ambassadorial Scholar: $25,000 offered by Rotary District 6060