Weekly Newsletter November 28, 2019
President's Corner ~ November 28, 2019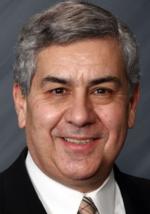 As you know, we take Thanksgiving Week off so that we can be with our families and friends to give
thanks for our blessings.


In the President's
Corner, I was going to list all of the Rotary things that I am thankful for,
like:

Service Projects - Young Citizens Awards, Lift for Life
Gym, Old Newsboys Day, Giving Tree, USO Christmas/Holiday cards, Veterans Coat
Giveaway, etc.
Programs - Navy Week, Veterans Day with the M.A.C.,
Blues Museum, great speakers telling us about many interesting aspects of St.
Louis (Music, Buildings & the Browns, to name a few)
Social Events - Happy Hour, Christmas/Holiday Party,
Turkey Burp
Fund Raising - Bowling - Trivia
Concern for fellow Rotarians
Club 11's volunteer spirit and
cooperation
I could go on … you
get the idea.


But, what I most
thankful for as a Rotarian is:


The people of Rotary! You make all of the above happen for
the goodwill and benefit of all.


God bless you and
Happy Thanksgiving !


Lift for Life Gym November 19, 2019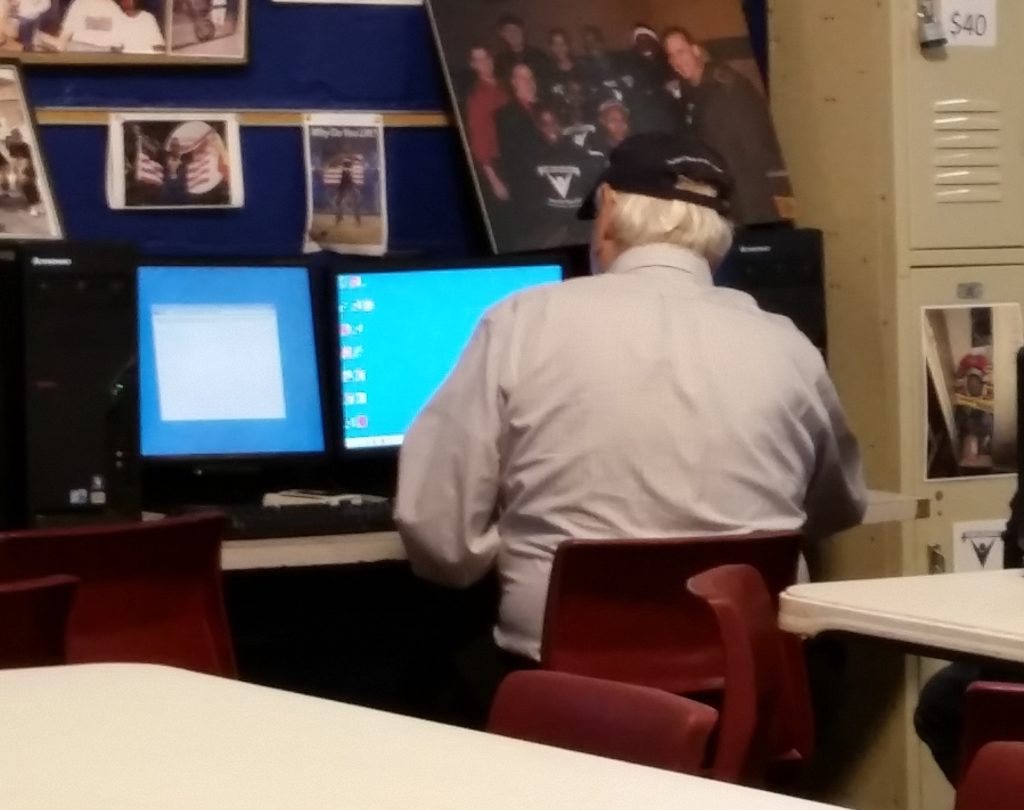 There were six St Louis Rotary Club volunteers at Lift for Life Gym on November 19, 2019: President Bob Garagiola, Teddy Garagiola, David Cowell, Bob Sherrill, Vic DiFate and Helen DiFate.


Old Newsboys Day RECAP, Thursday, November 21, 2019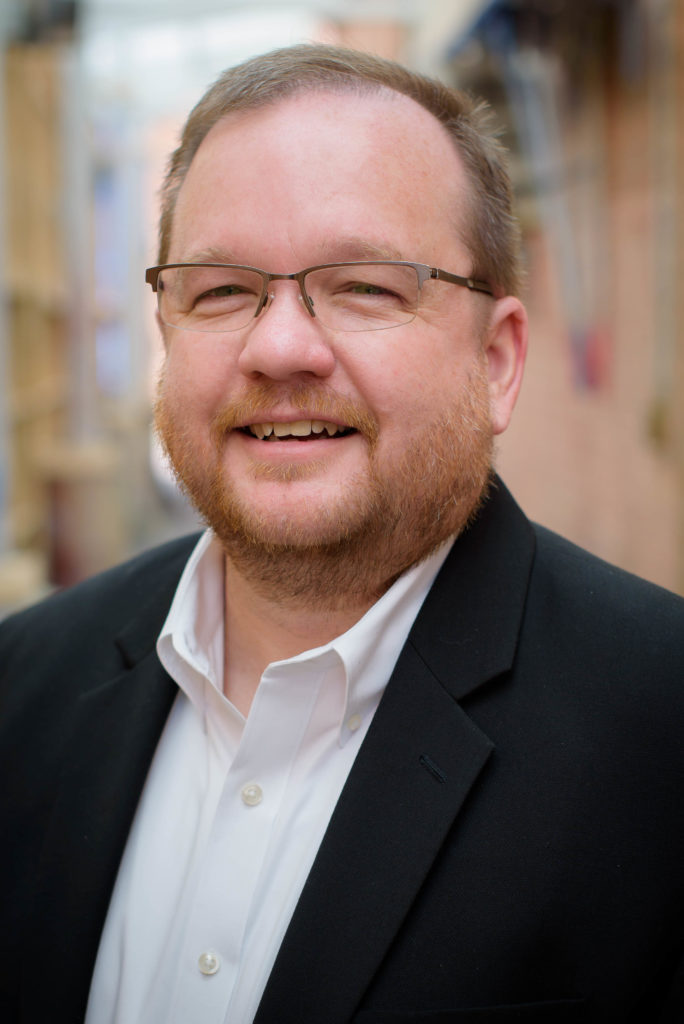 On Thursday, November 21, 2019, members of St. Louis Rotary Club 11 participated in the Old Newsboys Day paper drive by selling special edition newspapers at various locations downtown. This is part of an annual campaign that takes place throughout the St. Louis metropolitan area. All funds raised by this event go towards supporting local children's charities. I would like to thank the following "newsboys" for their participation: 1. Mike Borough 2. David Cowell 3. Bob Garagiola 4. Don Klackner 5. Doug Lorenz 6. Phil Roush 7. Sean Smith 8. Kent Steinbrueck 9. David Wicks The top three "newsboys" this year were Bob Garagiola at $180.05, Phil Roush at $258.84 and Kent Steinbrueck at $354.60. All together, Club 11 raised $1,356.64 for local children's charities. Thank you to all who participated in making this year's event successful!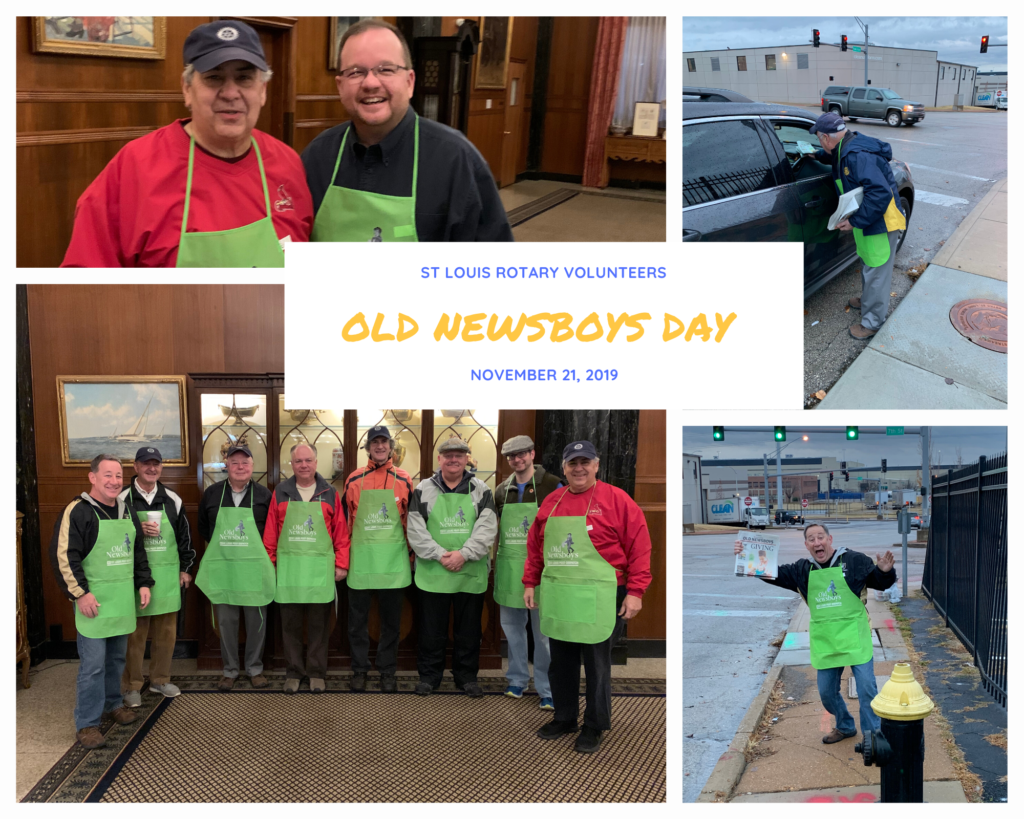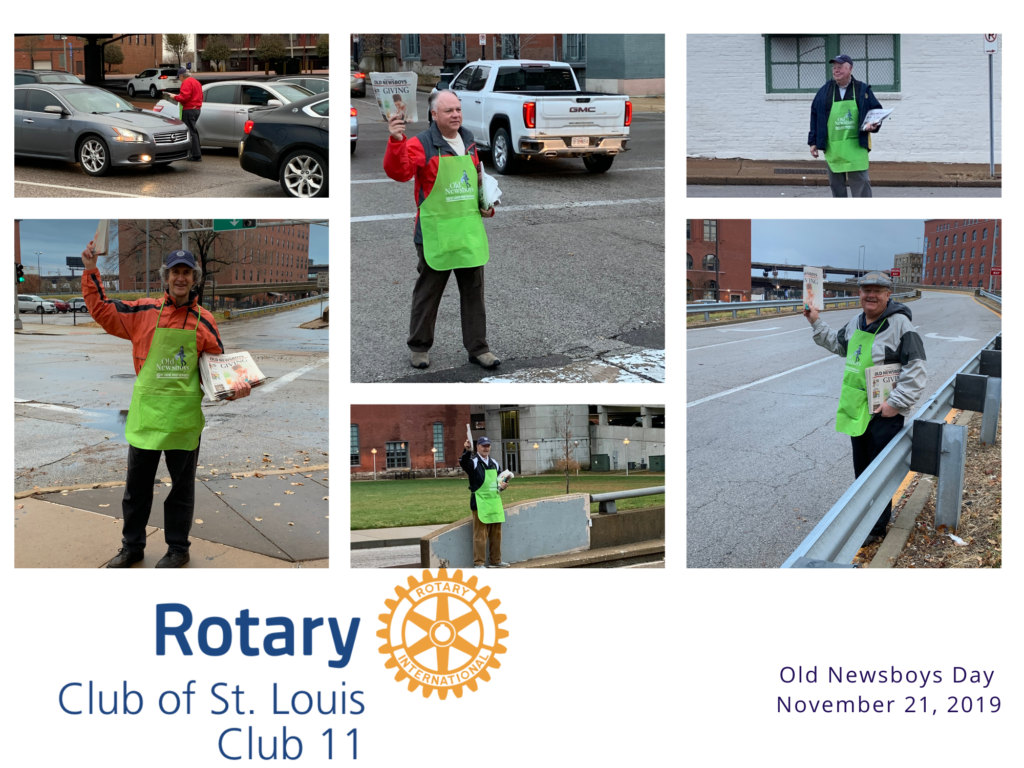 Sean M. Smith, #463 Old Newsboys Day Chairperson
Nominations Announced November 14, 2019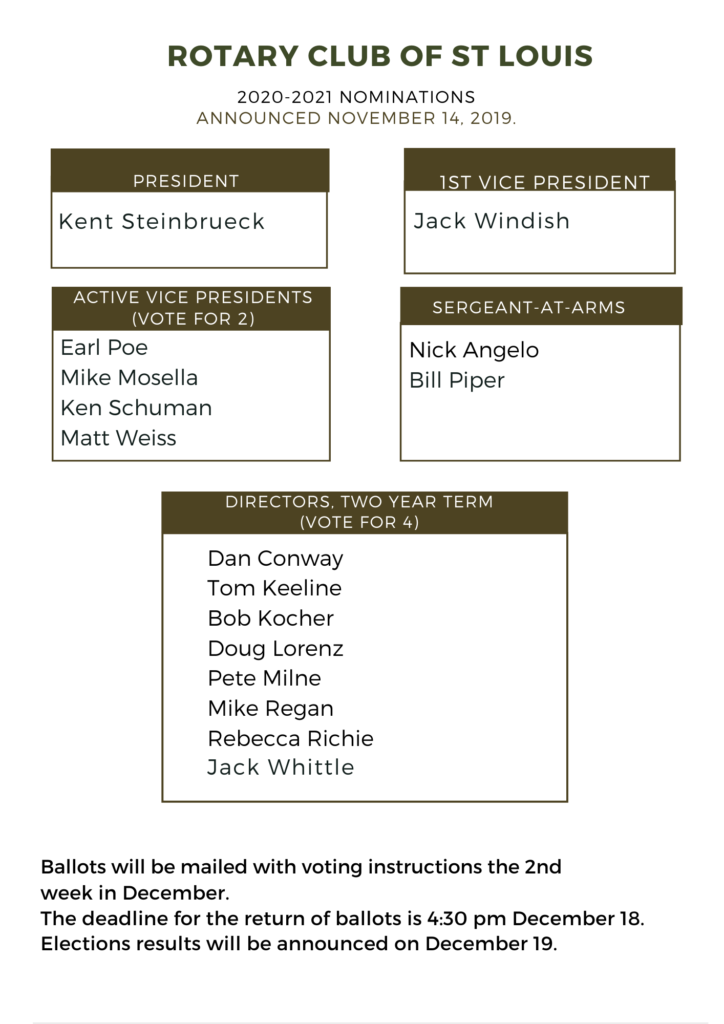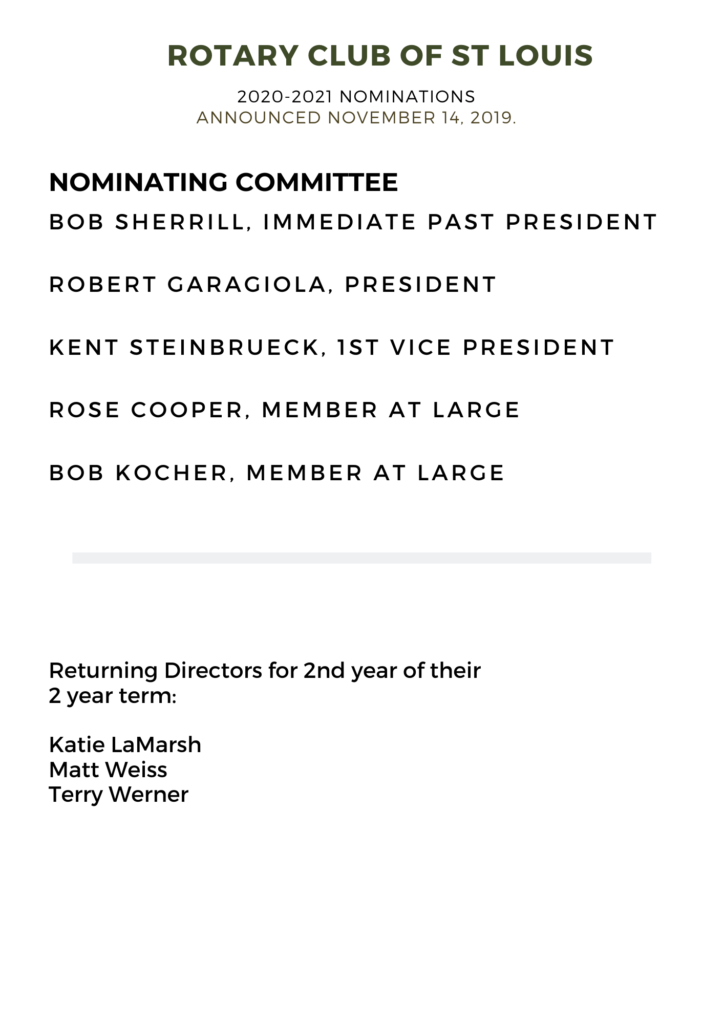 Take a Tag from the tree ~ Bring Gifts for Needy Families by December 12, 2019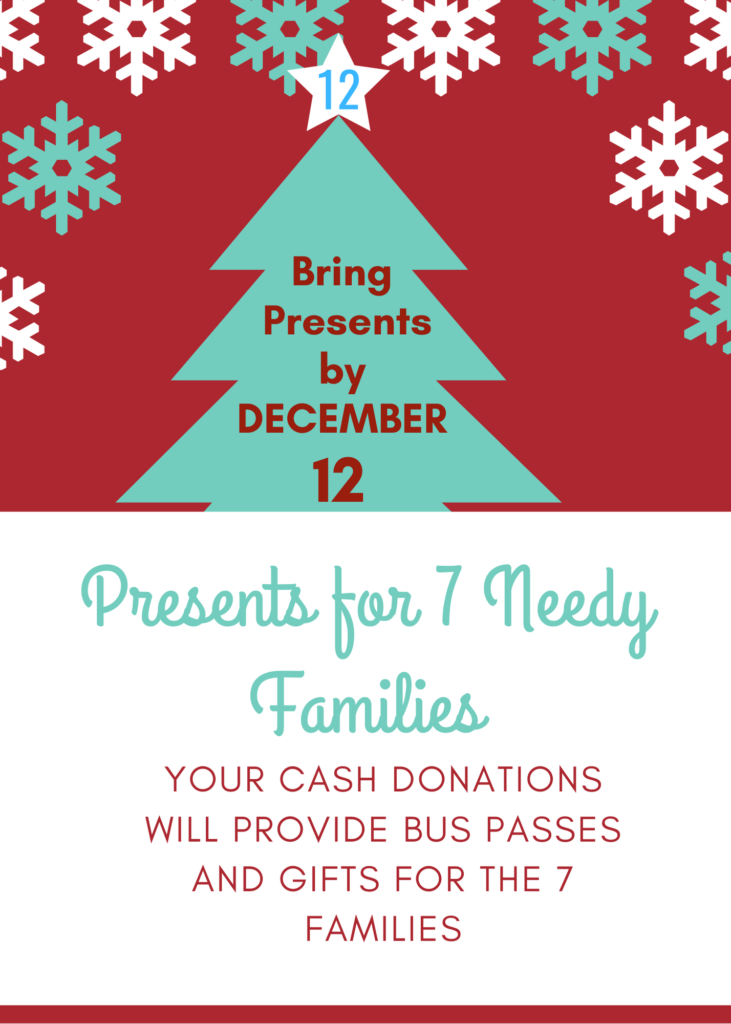 Rotary St Louis will is working with Gateway 180 on presents for seven needy families for Christmas 2019.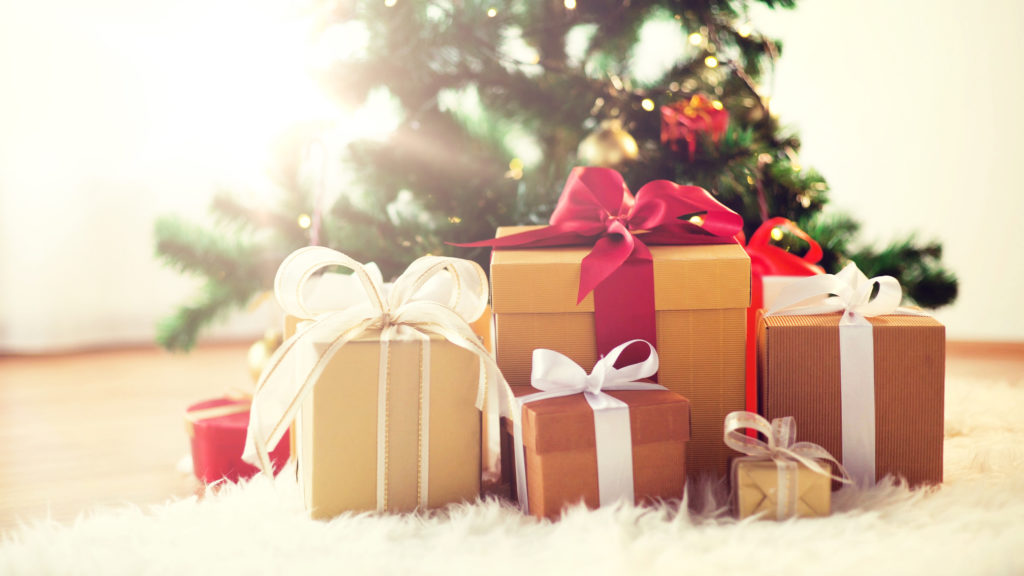 Tags are displayed on the small Christmas Tree near the sign in table.
Presents and cash donation deadline is December 12, 2019.
We are helping 7 families that have been homeless and have recently been placed in temporary housing. Families vary in size from 2 to 4 members. Rotary members can choose a tag to help a specific individual or a family.


Suggestions for presents will be on a sheet next to the Christmas Tree. Cash donations are welcome. The Community Service Committee will purchase bus tickets and presents for the families with the cash donations received.


Turkey Burp November 29, 2019 Info with RSVP LINK - Deadline Monday 11-25-19
Make plans to join us at our annual Turkey Burp on Friday, November 29 2019. The evening starts at 5:00 pm with dinner at 5:30 pm at LoRusso's Cucina, 3121 Watson Road, 63139. Cost: $60.00 (includes tax and tip - does not include drinks)
Menu
Appetizers: ~ Lobster Bisque ~ Della Cassa


Choice of Entree: ~Eggplant Lasagna ~ Tenderloin Mudega ~ Salmon Piccata ~ or Chicken Teresa


Dessert: ~Cheesecake with Raspberry Sauce ~ Tiramisu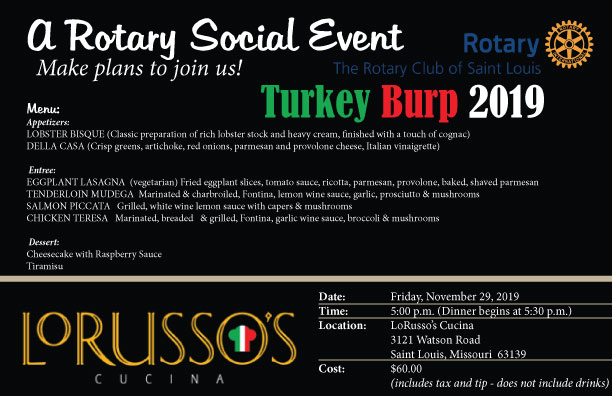 St Louis Metro InterCity Fellowship Meeting 12-4-19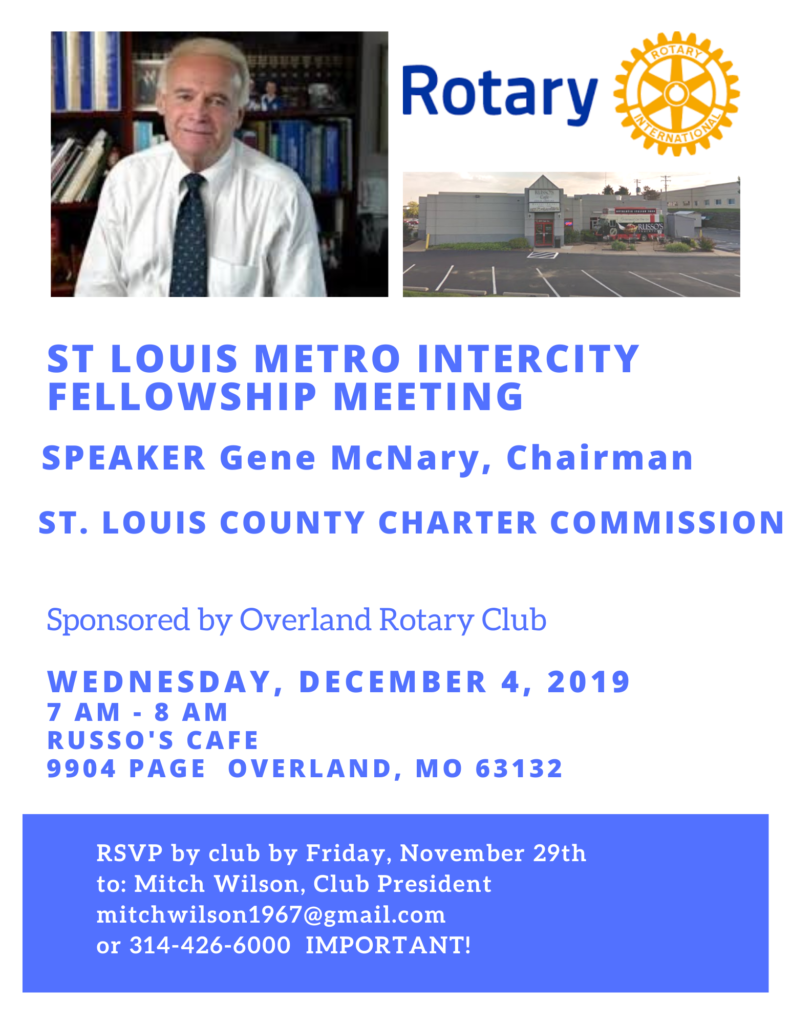 The December 4, 2019 InterCity meeting is sponsored by Overland Rotary Club. Breakfast is $10.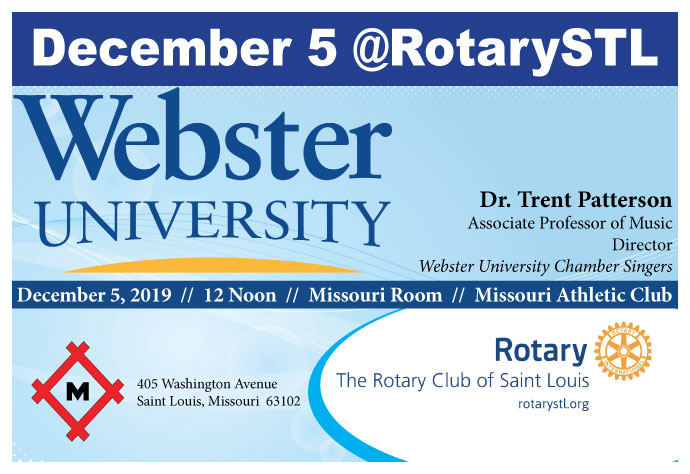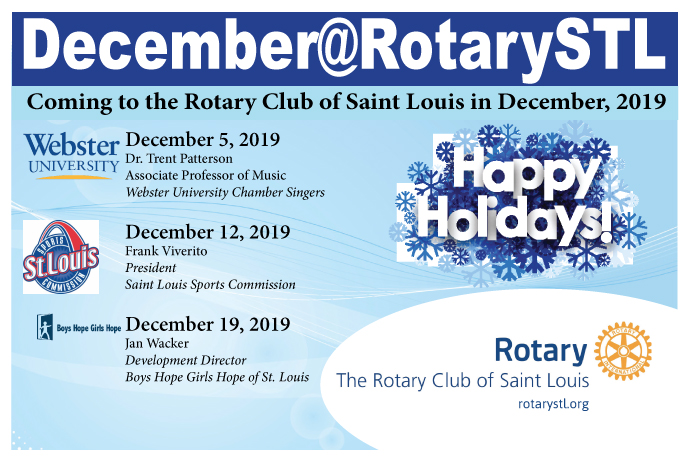 Holiday Party ~ December 13, 2019
Save the Date ~ Friday, December 13, 2019 ~ MAC - Downtown
Plan on joining us for our annual holiday party ~ Cost: $75.00 - Watch for details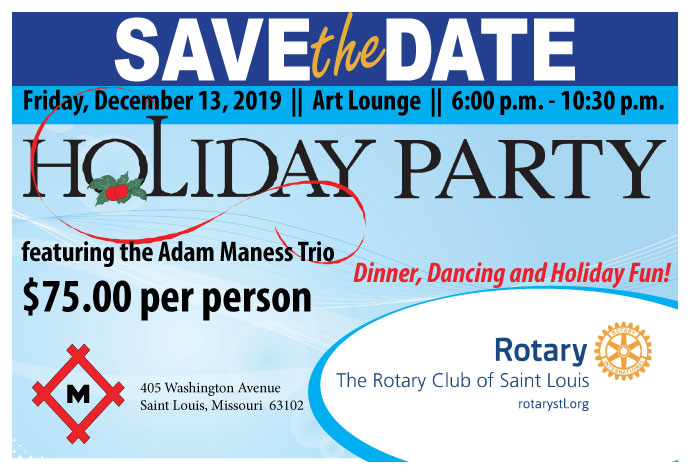 July 1, 2019 - June 30, 2020