May 04, 2023 ~ Pepperbox Edition ~ St. Louis Rotary Club
Off Site Outing ~ The Arch | May 4, 2023 ~ Registration Closed
This is a walk to the Arch Museum. Park at the MAC, come inside to registration lobby for parking tickets. Then you will walk to the Arch Museum. No guests allowed at this one. This is also a day baseball game so parking around the Arch will be premium pricing. The …


St. Louis Rotary Bowling Alleygations 2022/2023 Season
Final Alleygations report for 2022/2023 Rotary Club #11 Bowling Season

The evening of April 24th, the St. Louis Rotary Club #11 Bowling League celebrated the 104th season with their annual bowling league banquet at LoRusso's Cucina Restaurant on The Hill. Emceed by the Master of Ceremonies, Matt Weiss.


Club Social | El Catrin | Thursday April 27, 2023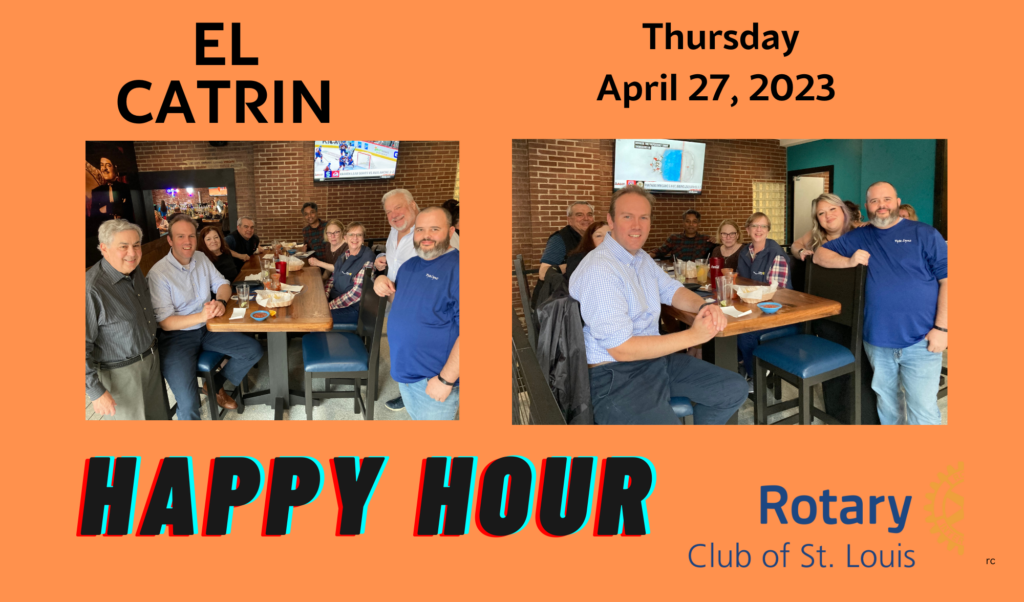 Nice turnout. We enjoyed talking to each other, the food and drinks, and the venue is nice! Watch for details of our May 2023 event.
St. Louis Rotary Club Golf Leagues Kicks Off 5-10-23
Tri-Presidents: Mike Regan | Chris Conner | Adam McNutt
Handicap Chairmen: Terry Werner | Dave Wicks
Treasurer: Earl Poe
Annbriar | St. Louis Rotary Golf League | May 10, 2023
Tee Time 1 PM Wednesday


Navy Week | Rear Admiral Ingrid Radar | May 11, 2023
Rear Adm. Ingrid Rader is a graduate of the University of Michigan. She studied Russian at the Defense Language Institute, received her commission through the Officer Candidate School program, completed Joint Professional Military Education through the Naval War College, and holds master's and doctoral degrees from Saint Leo University. A …


Cigar Dinner Fundraiser | May 18, 2023 at the MAC Downtown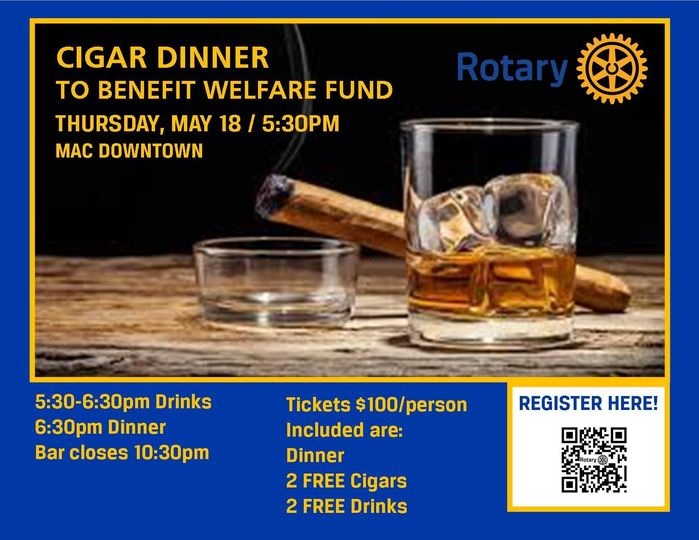 Cigar Dinner at the MAC Downtown |Proceeds to Welfare Fund
Tickets: $100 each
Includes: Dinner, 2 Free Cigars and 2 Free Drinks
5:30PM- 6:30PM Drinks | 6:30 PM Dinner Bar Closes 10:30PM
Save May 25, 2022 About 5pm For Our Next Club Social - Details will Follow
Stay Up to Date With Club Events and Programs
District 6060 Golf Fellowship Kicks off on May 20, 2023
Date: Saturday, May 20th, 2023
Location: Norwoods Country Club, 52651 Norwood's Place, Hannibal, MO 63401
Price: $80 Per Golfer
Includes: Greens fee, cart, and entry into all on course contests (Flight prizes, skins, closest to pins)
Start Time: Tee Times beginning at 10:00 a.m.
Registration Deadline: May 13th, 2023
Register HERE: Register for the Norwoods-2 Person Scramble