April 20, 2023 ~ Pepperbox Edition ~ St. Louis Rotary Club
St. Louis Cardinals | Bill DeWitt III, President ~ April 20, 2023
Bill DeWitt III, President | St. Louis Cardinals "Bill DeWitt III was named President of the St. Louis Cardinals in March, 2008. In his role as team President, DeWitt oversees all aspects of the team and its affiliates.He led the effort to develop Ballpark Village, a mixed-use project adjacent to Busch Stadium which opened in 2014. In 2020, the Cardinals, …


St. Louis Rotary Bowling Alleygations - April 10, 2023
Alleygations for 04-10-23 BowlingTeams are set for the April 17 Roll Offs. Quarter 4 winner Team Weiss will join Quarter 1 winners Team Soifer, Quarter 2 Team Milne, and quarter 3 Team Lorenz.Team Weiss beat Team Milne with Don Klackner's strong 657 and Matt Weiss' 623 series. Pete Milne's paltry 582 undermined Carl Lane's strong 647 and Bob Zangas' 634 …


Mark Your Calendars St. Louis Rotary Bowling League:
St. Louis Rotary Bowling League Trip to Columbia, MO:
April 18, 2023
St. Louis Rotary Bowling League Banquet:
April 24, 2023
Zoom Recording ~iFM ~ Where Medicine Meets Community | Dr. David Campbell~ April 13, 2023
Mission: Strengthening underserved communities, one patient at a time, to promote community health.

IFM Community Medicine lives this mission every day by taking healthcare services directly to points of need in our community, overcoming access barriers related to cost, transportation, language, and trust.


In Person Link Registration Link and Zoom Registration Link for April 20, 2023


St. Louis Rotary Lunch Menu ~April 20, 2023
Chicken picatta with lemon caper sauce
Guests with dietary restrictions, alternative meals are available, but it must be ordered by 11:30 am on Wednesday, April 19 , 2023. If you do not reserve an alternative meal in advance, please do …


Next Club Social | El Catrin | Thursday April 27 - About 5 pm.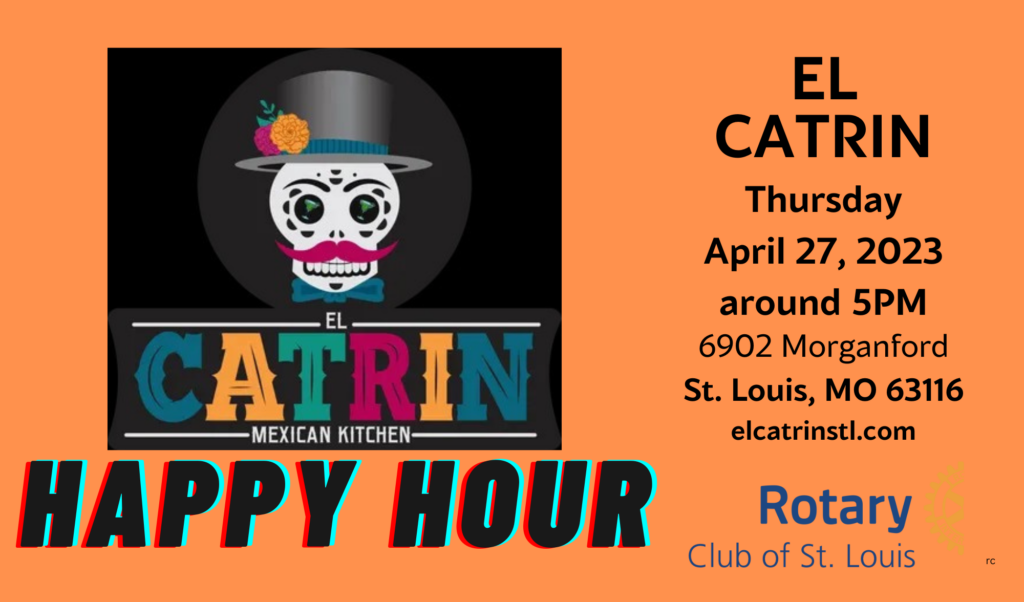 Ranken Technical College Outing | Don Pohl, President - April 27, 2023
Outing to Ranken Technical College - Student Scholarship Awards _ Don Pohl, President "Donald J. Pohl, president of Ranken Technical College, has been with the institution for over 20 years, having served as Executive Vice-President, Vice-President for Education, Dean of Academic Affairs, Information Technology Division Chair, and as a computer networking technology instructor. Mr. Pohl holds a Master of Business …


May 4th | Arch Museum Outing - Registration Deadline April 19th!!!!
5-4-23 Registration Link Click HERE
This is a walk to the Arch Museum - Park at the MAC come inside to registration lobby for parking tickets. Then you will walk to the Arch Museum. No guests allowed at this one. This is also a day baseball game so parking around the arch will be premium pricing.
Cigar Dinner Fundraiser | May 18, 2023 at the MAC Downtown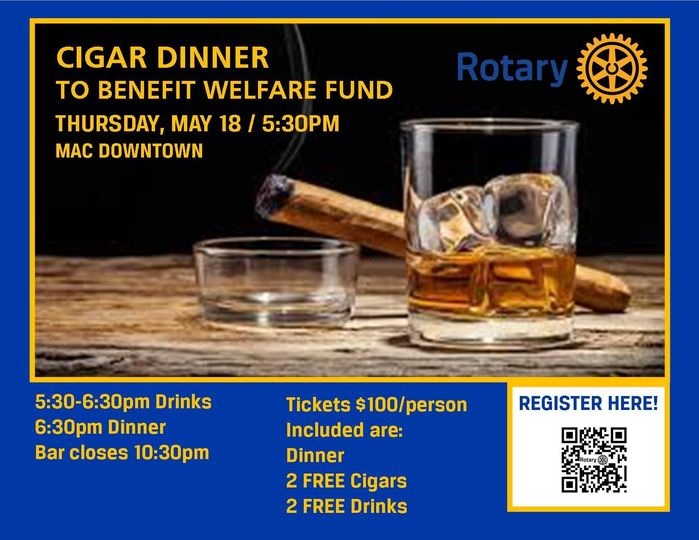 Cigar Dinner at the MAC Downtown |Proceeds to Welfare Fund
Tickets: $100 each
Includes: Dinner, 2 Free Cigars and 2 Free Drinks
5:30PM- 6:30PM Drinks | 6:30 PM Dinner Bar Closes 10:30PM