February 23, 2023 ~ Pepperbox Edition ~
Soccer Made in St. Louis | Dave Lange, Author | February 23, 2023
Dave Lange has covered soccer for various media outlets since the 1970s. His stories have appeared in daily newspapers such as The St. Louis Globe-Democrat and the St. Louis Post-Dispatch; magazines such as Soccer America and The Sporting News; and websites such as MLSsoccer.com.


February 23, 2023 Meeting Links for St Louis Rotary Club |
Please use the In Person Link to Register in advance for St Louis Rotary February 23, 2023 meeting. If registration is closed call 314-894-1759 or email joanh@rotarystl.org 63102. Or join us via Zoom Link…


St. Louis Rotary Lunch Menu ~ February 23, 2023
Lunch menu February 23, 2023


Salisbury Steak w/ Mushroom sauce,
Boursin whipped potatoes & Buttered Carrot


Grant Guidelines & Forms 2023 | St. Louis Rotary Club 11
Rotarian Sponsor may only sponsor one Financial Grant Application. Applications must be submitted to the Rotary Sponsor by March 10, 2023. The Rotary sponsor …


St. Louis Rotary Bowling Alleygations - February 13, 2023
The Third Quarter race for first place has heated up with three teams within 3 points of each other.
The Conway team was able to hang on to first place with a strong scratch series of 617 from Ralph Decker and a 107 scratch game from Amy Lewis for a …


RESULTS

: FEBRUARY 19:

ROLLING FOR ROTARY!!!!!
"Our Sunday Rolling for Rotary was a great success. We had 14 lanes sponsored with the following money raised for the Welfare fund: $3621!!!!" ~ Don Klackner


Join Us at Pietro's on February 23, 2023 About 5 PM!!!!!
THIS THURSDAY EVENING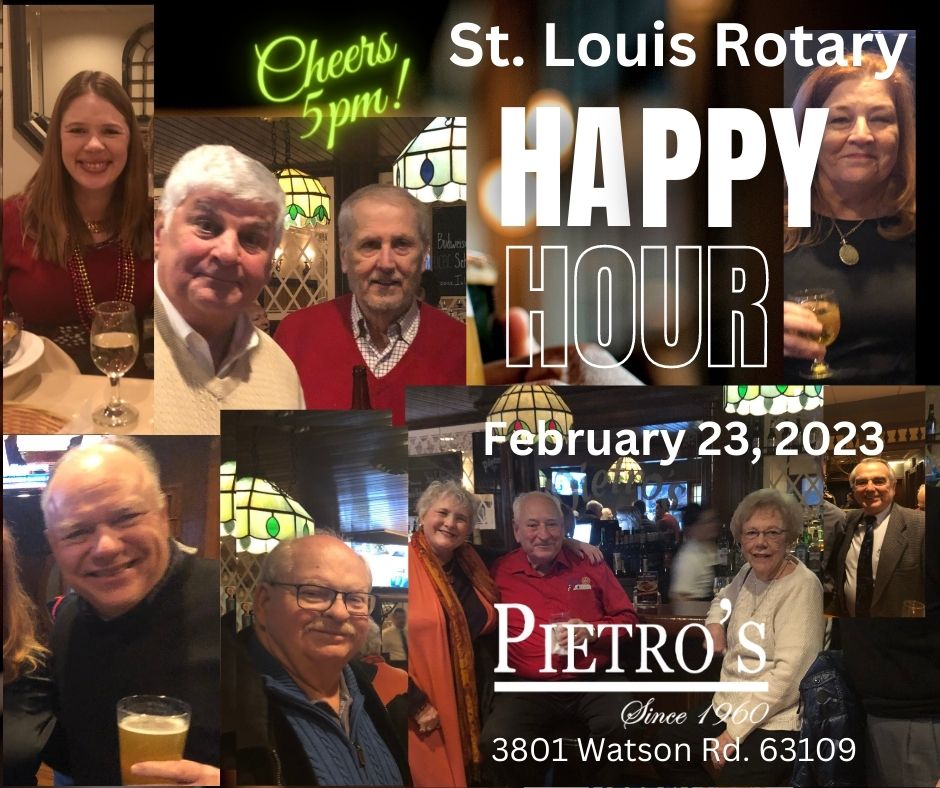 Next Week: Engineers Day | Bob Clark, Executive Chairman and Founder, Clayco
"Bob started Clayco with the goal of finding new, better ways to do business, and hasn't looked back since. Over the past 35+ years, Bob has grown Clayco into one of the top full-service building firms in North America while building Clayco's commitment to the communities in which they work and becoming a national civic and business leader.


Missouri Rotary Youth Leadership Academy (MO-RYLA) 2023| Scholarships
St. Louis Rotary Club is awarding scholarships to the Missouri RYLA Academy 2023. MO RYLA is a 4-day, 3-night leadership training program focused on service for current high school freshman, sophomore and junior students across Missouri.


March 2023 Programs & Events | St. Louis Rotary Club
March 2023 | St. Louis Rotary Club Event Details