Weekly Newsletter September 26, 2019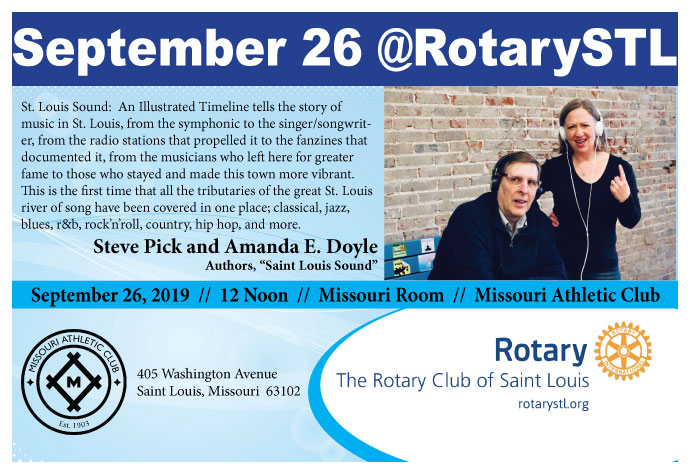 Lunch Menu ~ September 26, 2019
Greek Green bean & Onion Boursin Stuffed Chicken Breast ~ Wild Rice Medley ~ Grilled Cauliflower
Special Menu Requests For members and guests with dietary restrictions, alternate meals are available, but they must be ordered by no later than 11:30 am on Wednesday

September 25, 2019
President's Corner ~ September 26, 2019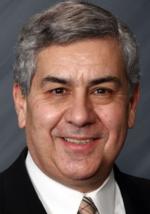 The President's Corner was in Washington, Missouri this past week-end for the 2019-2020 District 6060 Conference.
It was my privilege to accept several awards that Club 11 earned. I was also humbled by the Memorial Service that honored the recently deceased members of the District including our Club's Jim McDonald, Earl Burkhardt, and Jim Mellow. We will have our own special remembrance for them in December.
I met Rotarians from all over the District: Hannibal, Cape Girardeau, Vandalia, Union, Washington, and Poplar Bluff to name a few. Also, there were representatives from local clubs: Kirkwood, Clayton-Ladue, Webster Groves, St. Charles, Cottleville, Overland. Good people! Rotary is filled with good people!
I encourage you to attend another Rotary Club's meeting either as a make-up or to enjoy the fellowship and goodwill of another club. It's easy to find out when they meet.


Scribe Report ~ Jean Cowell, September 19, 2019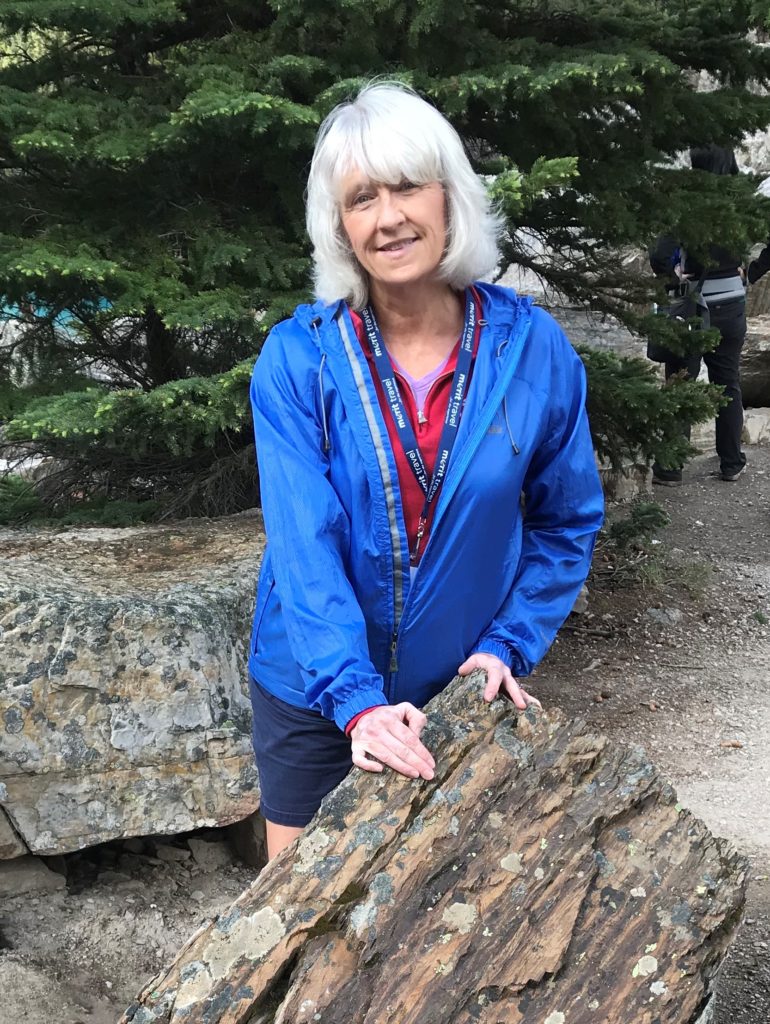 President Bob rang the bell to call the meeting to
order.


We opened the meeting with the Pledge of Allegiance and the
Four Way Test.


Bob asked that we take a moment of silence for Rotarian Carl
Stifel's wife Barbara who passed away and Bob Hesley led us in a solemn
invocation.


Songstress Beth Russell moved us forward with a
Rotarian-friendly tune entitled Rotary – sung to the melody of Petula Clark's
hit Downtown.


President Bob noted that several Rotarians will be attending
the District 6060 Conference this weekend in Washington, MO.


There is another prospective member meeting October 3. Recruit!


MAC Tank (like Shark Tank) is October 25


President Bob started a rumor that we will have a speaker
associated with the new local MLS team sometime after the first of the year.


District Conference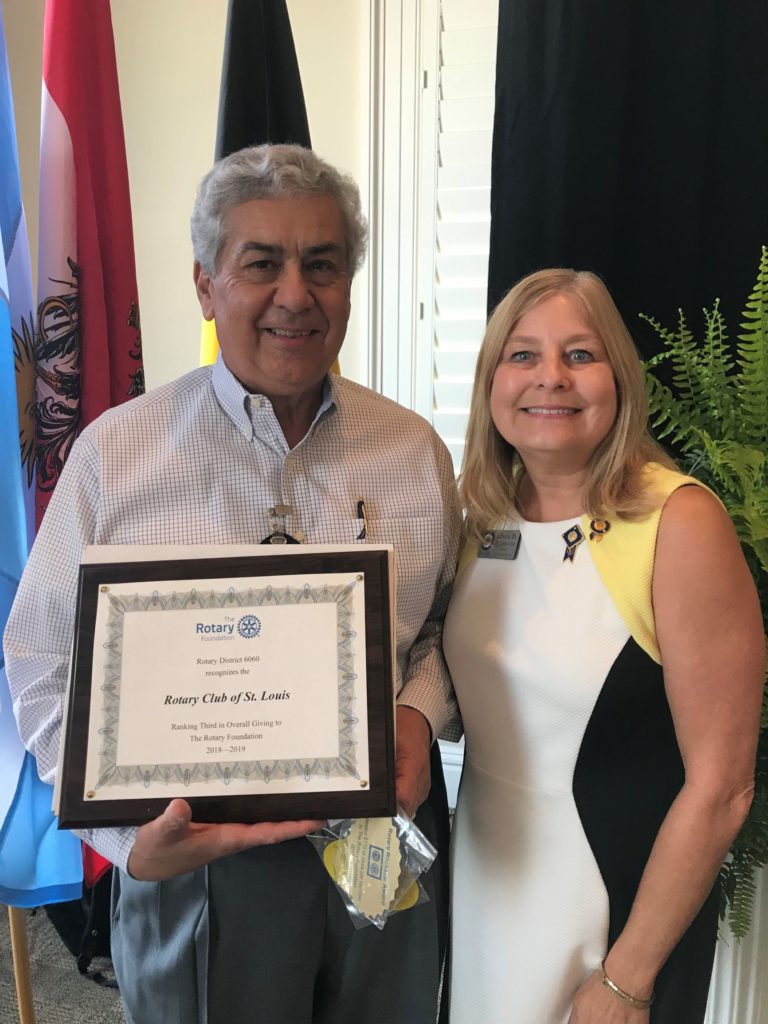 Each year our District holds a conference for the purpose of exchanging ideas and recognizing Club achievements. For the first time, this year's conference was held in nearby Washington, Missouri hosted by District Governor John Vietmeier and the Washington Rotary Club.


After a hiatus of a few years, this year the conference again kicked off with a golf outing with several Clubs participating. Club 11 was represented by President Bob Garagiola, and Past Presidents Mark Rubinelli, Rick Tinucci, and Bob Zangas. While the Washington Club walked away with first place, I am sure our all "Mediterranean" team had the most fun as we were entertained by Mark's wit and wisdom.


This year's speakers included RI Zone 30/31 Director Floyd Lancia from Fort Wayne IN, DG Tiffany Ervin from District 7670 in North Carolina and President Representative Wendy Walsh-DeMaria from District 7255 in Long Island NY. Each shared an inspiring message on Rotary's vision of a world free from disease and conflict with Rotarians leading the way and making a difference.
President Bob accepted awards for the accomplishments of Club 11 during last year.   Of the 51 Clubs in District 6060, Club 11 was recognized for:

One of 4 Clubs to achieve the Presidential Citation.
One of 14 Clubs to reach $170 per capital giving
to the Rotary Foundation.
The Number 3 Club in total giving to the Rotary
Foundation.
The Number 1 Club in Membership Growth.
Club 11 Rotarians attending this year's conference included
Bob Garagiola, Rick Tinucci, Rose Cooper, David and Jean Cowell, and Catherine Selby. We have much to be proud of.


Bowling Alleygations - Dan Conway, September 16, 2019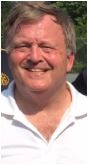 This
past Monday's bowling started out with a country flair with Beth Russell showing
off her singing and dance move's to John Denver's "Thank God I'm a Country Boy".


The
team Conway versus team Cooper matchup featured three lady bowlers. Jeannine Conway (hdcp series 643) and Doug Russell
(hdcp series 601) bowled two strong games in game one and two and with a strong
game by Kent Steinbrueck (hdcp series 603) in game two proved too much for Rose's
team. Rose Cooper (hdcp series 613) also
had strong games in games one and two with a strong game by David Wicks and with
a strong game by Arnie Hadler in game three salvaged the night for Team Cooper
who finished with 6 points and Conway 16 points.


Over
on lanes 21 & 22, Team Decker and Cowell were going at it with Ralph Decker
and David Cowell going head to head. Bob Barnes had a great night bowling a 657 hdcp
series but was out done by Ken Schuman who bowled a 704 hdcp series. Gary Jones was on Fire and was recorded bowling
over 27 mph as the new equipment was still getting troubleshooted.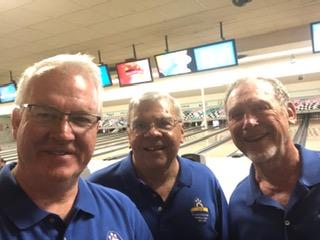 Golf League Outing ~The Legends-September 17, 2019
The Rotary Golf League had their next to last outing for the 2019 golf league season at The Legends Country Club in historical Eureka, MO. It was a very warm afternoon but we still enjoyed the very challenging Robert Trent Jones course with one of the best layouts in the St. Louis area. Many thanks to Jim Petru and his wife Sue for being wonderful host for our day at The Legends. In fact, Sue Petru had a very good round with a score of 84 net 62. Well done Sue.


The Legends was closed not too long ago for an extended period of time but the greenkeeping staff there has done an outstanding job of bringing it back and then some. They still have work to do but I would think by next year at this time they will have it back to top country club conditions. They have trimmed down over 400 trees, replaced most of the tees and have done a nice job on the greens. The remaining greens, tees and bunkers should be back in good shape by next year. We had only 13 golfers with all 13 staying for dinner as a number of golfers were either out of town or on the disabled list.


The next and last outing for the golf league is scheduled for Tuesday October 8th at Greenbriar Country Club in Kirkwood (270 and Big Bend). It should be another great outing and will determine the winners of the league in each of the 3 flights. Be sure to get your reservation into Dave Wicks and feel free to invite guests.


Lift for Life Service Opportunity October 15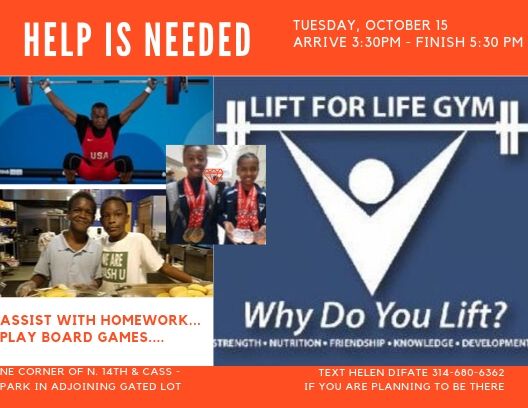 Help is needed...assist with homework...play board games...


Tuesday, October 15 - arrive 3:30 pm - finish 5:30 pm


NE corner of N. 14th & Cass - park in adjoining gated lot.


Text Helen DiFate (314-680-6362) if you are planning to be there.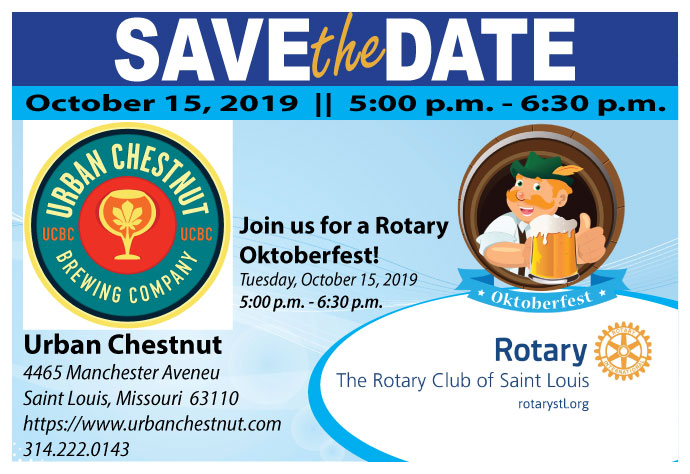 October 3 - InterCity Meeting Details on the Calendar!
July 1, 2019 - June 30, 2020