December 15, 2022 ~ Pepperbox Edition ~ TOP STORY
Tom Kelly | St. Louis Rotary Holiday Program | December 15, 2022
Tom Kelly | St. Louis Rotary Holiday Program | December 15, 2022


With over a 30 year career, Tom Kelly has been singing in many venues around St. Louis and nationally. Based on Fridays at Failoni's and Bartolino's on Thursday, Tom continues to use his 4 octave range to entertain a range of audiences. With a music catalog of over 11k songs, Tom can easily move from standards to rock/pop, oldies, and sacred selections. Sit back and enjoy the voice.
St. Louis Rotary Lunch Menu ~ December 15, 2022
St Louis Rotary Lunch Menu: December 15, 2022


Salad ~

Ham, mashed potatoes, honey glazed carrots

..
~ Dessert
Guests with dietary restrictions, alternative meals are available, but it must be ordered by 11:30 am on Wednesday, December 14, 2022. …


December 15, 2022 Meeting Links for St Louis Rotary
In Person Link ~ December 15, 2022 Please use the In Person Link to Register in advance for St Louis Rotary 12-15-22 meeting. We meet on Thursday, from 12 pm until 1 pm at the MAC Downtown - 2nd floor, 405 Washington Avenue, St. Louis, MO 63102.


St. Louis Rotary Bowling Alleygations - December 5, 2022 |
Bowling Alleygations | December 5, 2022


This is the 3rd week of a 5 week quarter so things are shaking up a bit as the teams position for the roll off run. We had 23 out of a possible 24 bowlers, it was good to see high attendance this week. Matt Weiss celebrated winning the 50/50 this week (that's about the …


December Programs at St. Louis Rotary Club: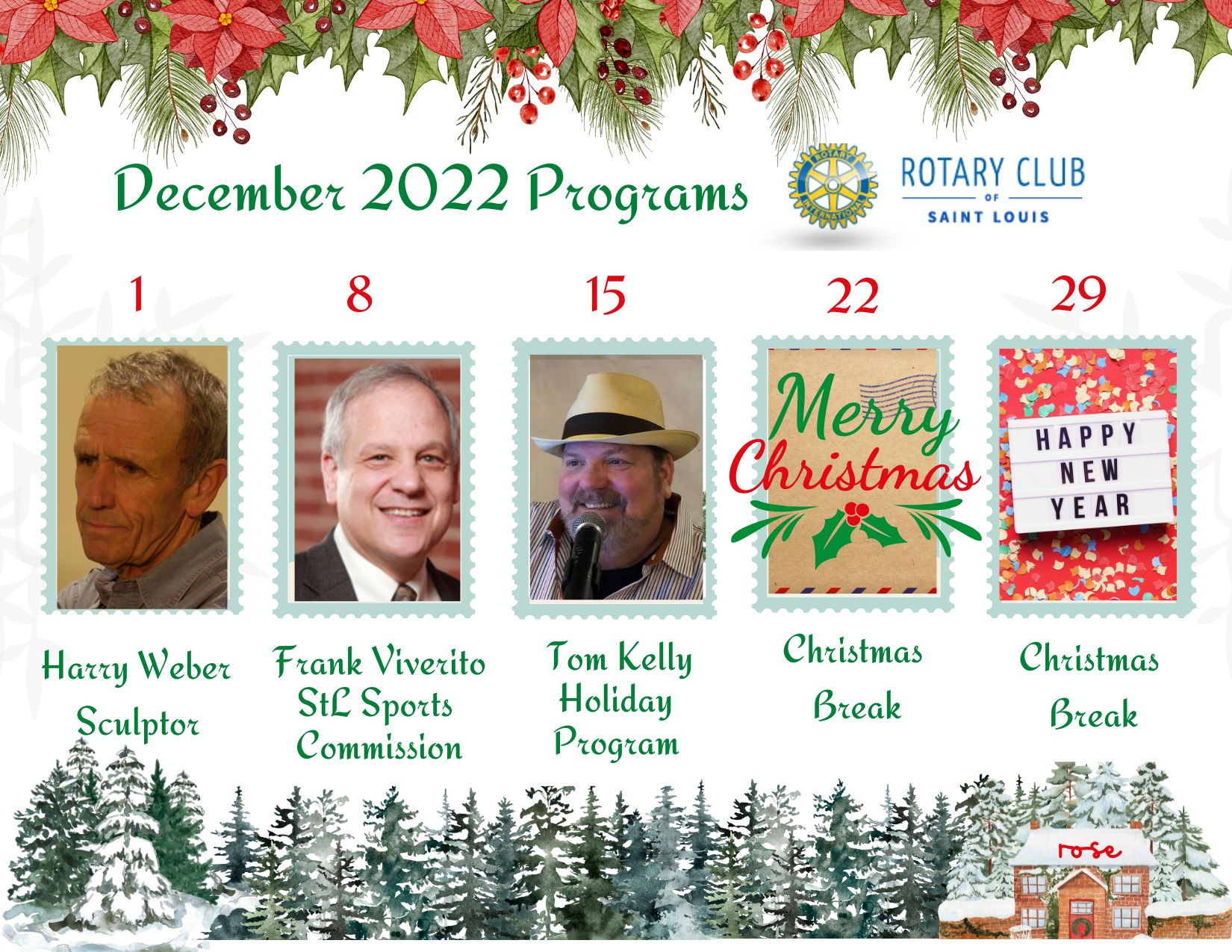 Holiday Party ~ River City Casino | December 17, 2022
St. Louis Rotary Holiday Party | December 17, 2022


RSVP Required Registration Link
Saturday, December 17th @ River City Casino in South City


$100 per person (drinks and dinner included - 3 drink tickets per person)Buffet with beef tenderloin, salmon, and chicken marsala. Also, we have a block of hotel rooms at …


Zoom Recording Frank Viverito | St. Louis Sports Commission | December 8, 2022