December 8, 2022 ~ Pepperbox Edition ~ TOP STORY
Frank Viverito, President St Louis Sports Commission | December 8, 2022
Frank Viverito is president of the St. Louis Sports Commission, the privately-funded nonprofit organization that makes St. Louis a better place to live, visit, work and play through sports. Attracting, creating and managing major sporting events for the St. Louis region, the organization uses the power of sports to enhance the area's quality of life and generate economic and social benefit for the community.

.
St. Louis Rotary Lunch Menu ~ December 8, 2022
St Louis Rotary Lunch Menu: December 8, 2022


Salad ~ Grilled Cheese w/ Brisket on Texas toast ...


~Dessert -




Guests with dietary restrictions, alternative meals are available, but it must be ordered by 11:30 am on Wednesday, December 7, 2022. …


December 8, 2022 Meeting Links for St Louis Rotary
In Person Link ~ December 8, 2022 Please use the In Person Link to Register in advance for St Louis Rotary 12-8-22 meeting. We meet on Thursday, from 12 pm until 1 pm at the MAC Downtown - 2nd floor, 405 Washington Avenue, St. Louis, MO 63102.


St. Louis Rotary Bowling Alleygations - November 28, 2022 |
Bowling Alleygations | November 28, 2022


I hope everyone had a great (and turkey filled) Thanksgiving. For those of you who were eagerly awaiting Team Lorenz's musings (it is their week to do Alleygations) - they weren't there. Apparently they were still recovering from Thanksgiving. Well, only Chris Wilson showed up from Team Lorenz (more on that below). So, with just …


December Programs at St. Louis Rotary Club: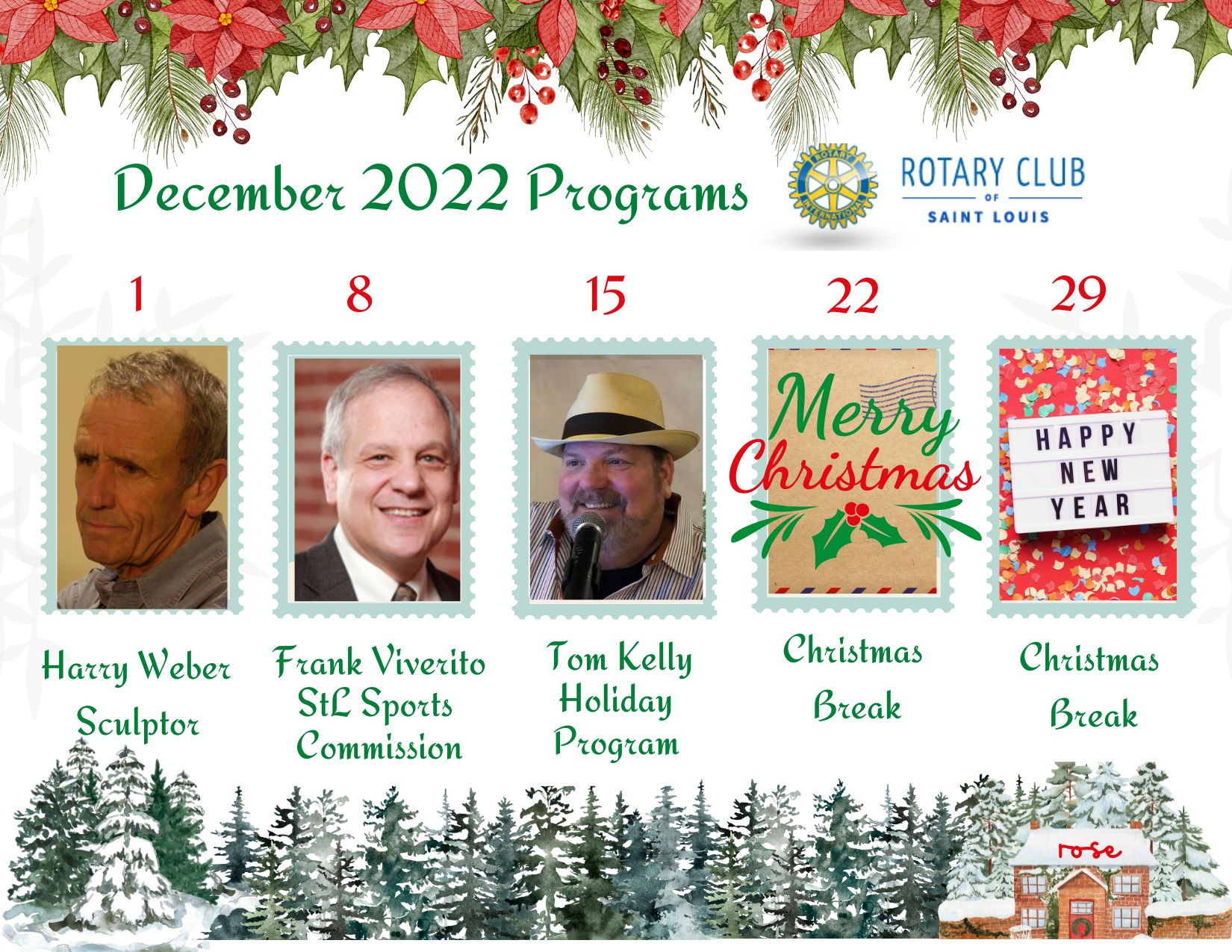 Holiday Party ~ River City Casino | December 17, 2022
St. Louis Rotary Holiday Party | December 17, 2022


RSVP Required Registration Link
Saturday, December 17th @ River City Casino in South City


$100 per person (drinks and dinner included - 3 drink tickets per person)Buffet with beef tenderloin, salmon, and chicken marsala. Also, we have a block of hotel rooms at …


Thank you Sean Smith, Don Klackner, Nicole Kliebert, Kent Steinbrueck, Richard Warriner, and Chris Wilson for Volunteering on Old Newsboys Day 2022 | $650 was raised for Childrens' Charities!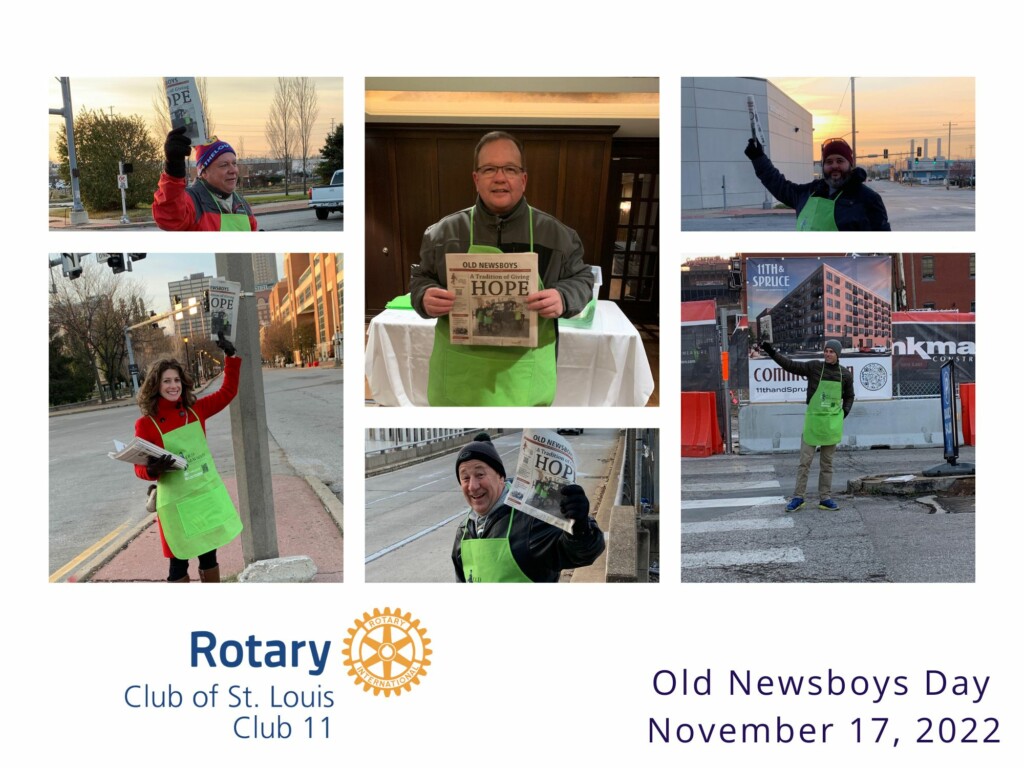 Thank you Rotary Club 11 for Helping The Kaufman Fund Support Our Local Veterans "At Risk"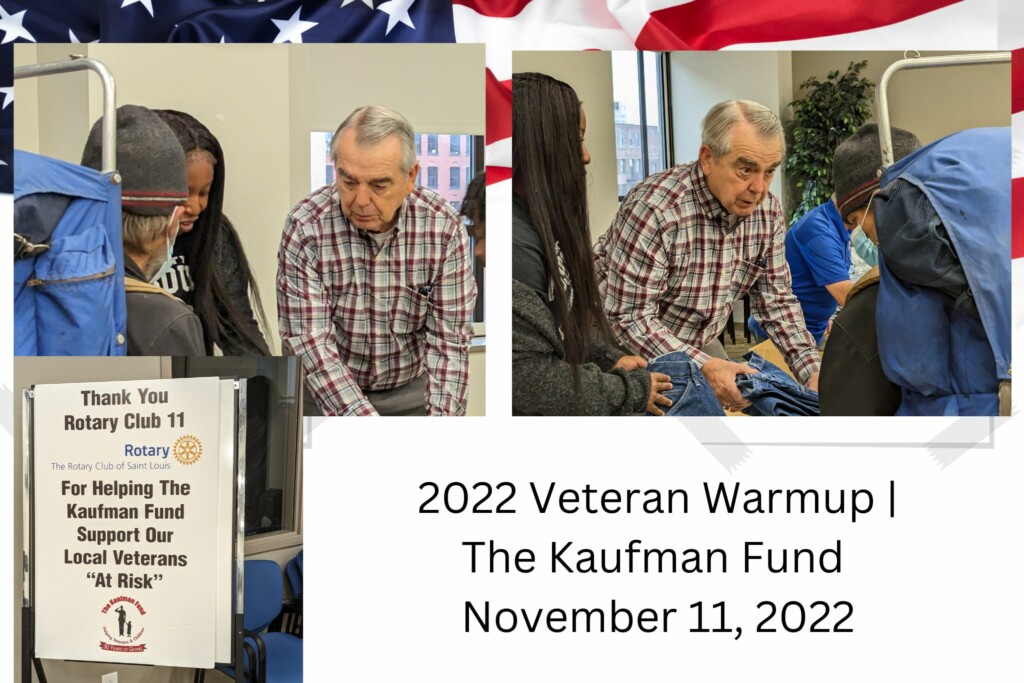 "

With the generous support of Rotary Club 11 as a contributing sponsor again this year, The Kaufman Fund was able to provide brand new winter coats, hats, gloves, assorted toiletries and a few other articles of clothing to 185 homeless Veterans. This is an increase of over 25 Veterans from last year. We could not do this without the grant we received from Rotary.Included in the 185 Veterans were 35 Veterans with the Salvation Army. We are proud of our partnership with Rotary and gratified that we can make a difference in the lives of some of those men and women who have served our country.On behalf of all of us at The Kaufman Fund, we are grateful for your assistance." ~Thanks, Steve Rosenblum, Vice President | The Kaufman Fund
Program Committee Meeting | Monday, December 5, 2022
Meet on the 4th Floor, in the Veterans Room at 12 PM for the December Program Committee meeting.
December 1, 2022 Zoom Recording Harry Weber | Moving Sculptor
Zoom Recording Harry Weber | Sculptor | December 1, 2022 Zoom Recording Harry Weber - Sculptor | 12-1-22


Next Week: Thursday, December 15, 2022 | Holiday Lunch Program with Tom Kelly!
Based on Fridays at Failoni's and Bartolino's on Thursday,
Tom
continues to use his 4 octave range to entertain a range of audiences.
With a music catalog of over 11k songs,

Tom

can easily move from standards to rock/pop, oldies, and sacred selections.