December 1, 2022 ~ Pepperbox Edition ~ TOP STORY
Harry Weber | Moving Sculptures | December 1, 2022
Harry Weber was born in St. Louis, Missouri in 1942. He earned a degree in English from Princeton University, and he served six years in the United States Navy including a full year commanding river patrol boats in Vietnam. Weber's sculptures have won major awards at national juried competitions. His work has appeared on the covers of several national …


St. Louis Rotary Lunch Menu ~ December 1, 2022
St Louis Rotary Lunch Menu: December 1, 2022


Salad ~ Salisbury Steak w/ Mushroom sauce ...


~Dessert -




Guests with dietary restrictions, alternative meals are available, but it must be ordered by 11:30 am on Wednesday, November 30, 2022. …


December 1, 2022 Meeting Links for St Louis Rotary
In Person Link ~December 1, 2022 Please use the In Person Link to Register in advance for St Louis Rotary 12-1-22 meeting. We meet on Thursday, from 12 pm until 1 pm at the MAC Downtown - 2nd floor, 405 Washington Avenue, St. Louis, MO 63102.


THANK YOU DEE BAEBLER, New Member & Coat Drive Chair for spearheading the 2022 Coat Drive for SLPS. At last count 96 coats were donated.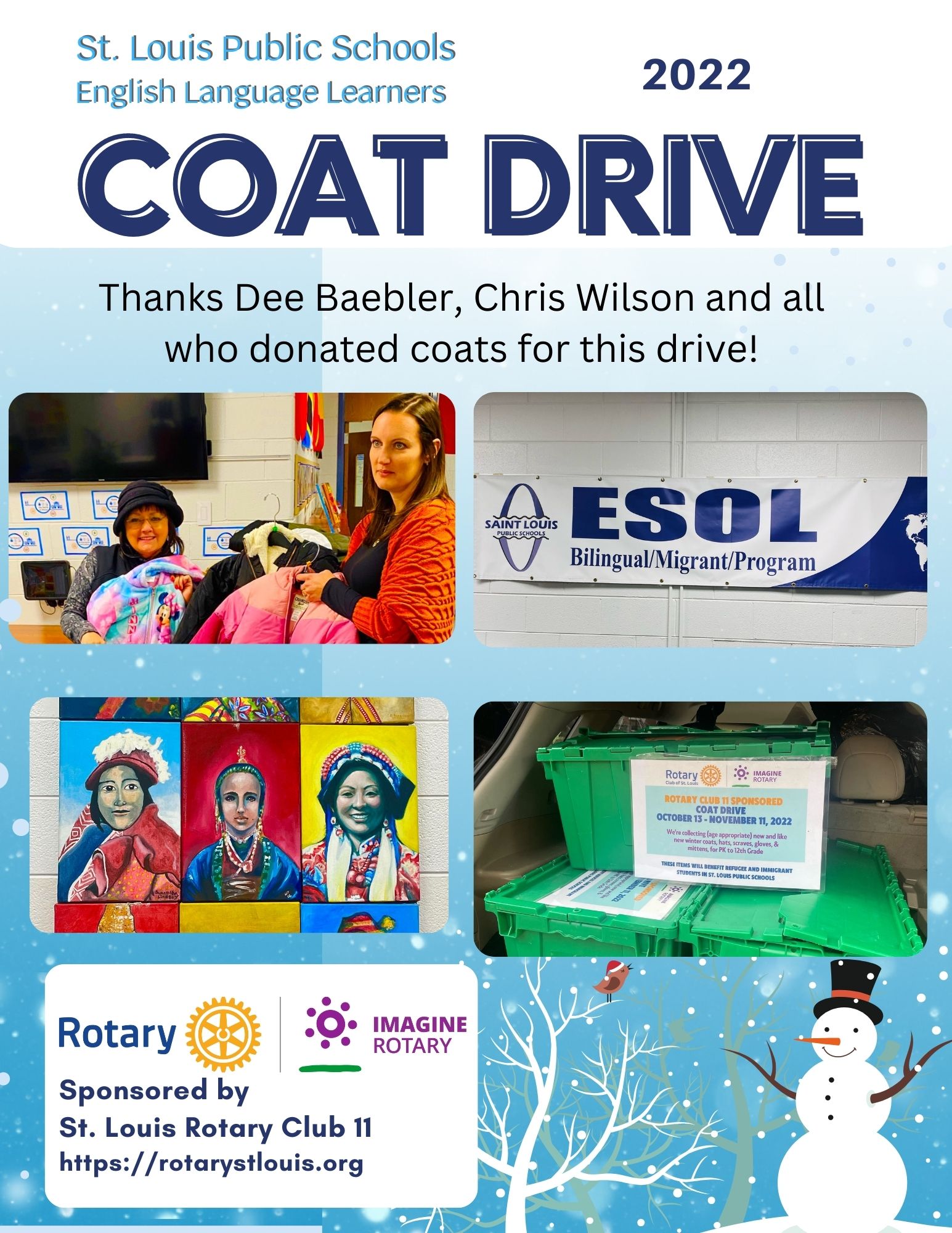 STL Rotary -Scouting for Food Volunteers ~ November 19, 2022 - Thank you!
Scouting for Food Collection Day | St. Louis Rotary Volunteers | November 19, 2022


Thanks to each of the St. Louis Rotary members, family and friends who volunteered sorting incoming food for the Scouts on November 19, 2022 at Firehouse #36! What a great group!


St. Louis Rotary Bowling Alleygations - November 21, 2022 |
Team Weiss took Team Lorenz 16-6 with Jack Windish's 644 and Matt Weiss' 635 Handicap Series. Amy Lewis led her Team with a 637 Handicap Series and a 237 Handicap second game to earn Lorenz's 6 points. Team Soifer beat Team Conway 14-8 behind Matt Wilson's top 714 Handicap Series for night and Rose Cooper's 659. …


December Programs at St. Louis Rotary Club: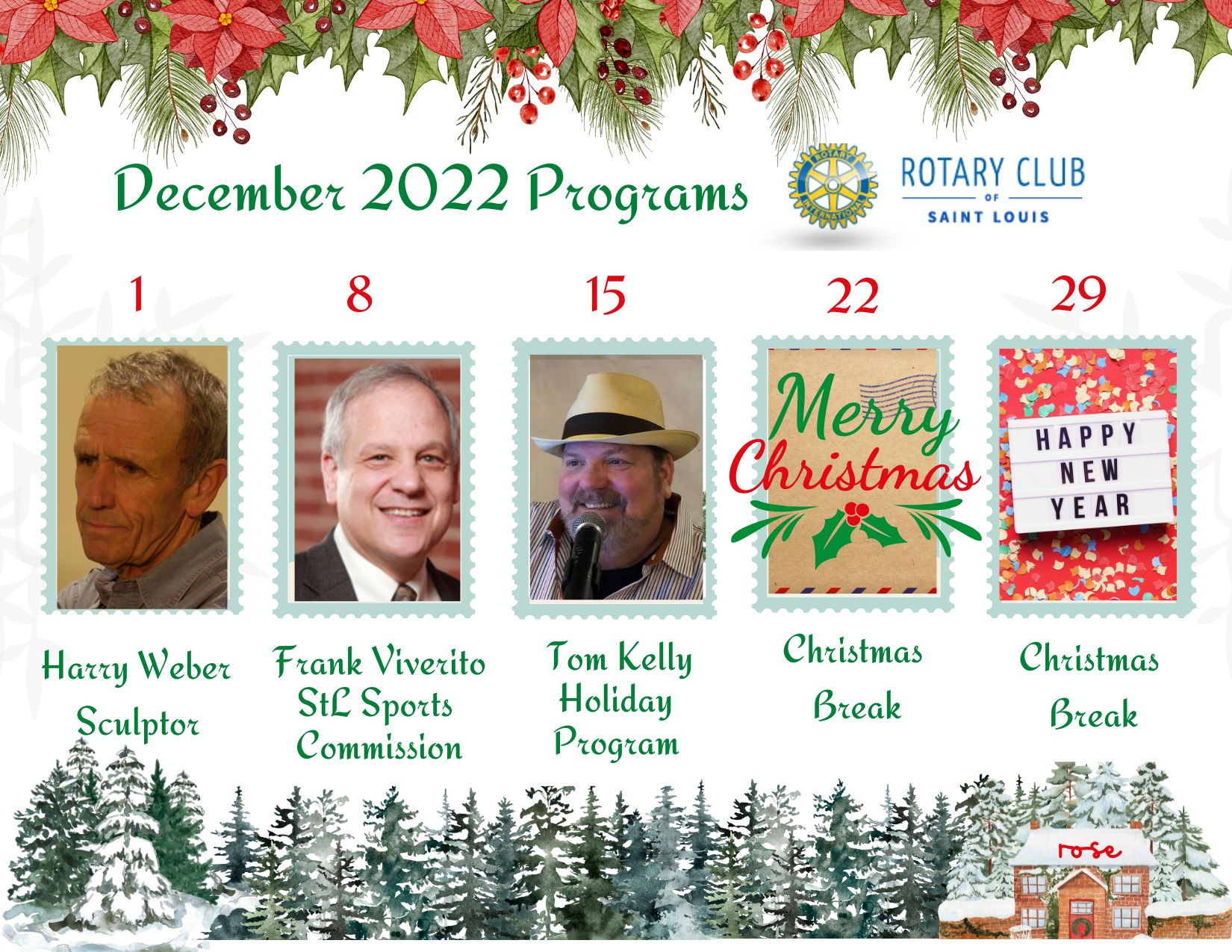 Holiday Party ~ River City Casino | December 17, 2022
St. Louis Rotary Holiday Party | December 17, 2022


RSVP Required Registration Link
Saturday, December 17th @ River City Casino in South City


$100 per person (drinks and dinner included - 3 drink tickets per person)Buffet with beef tenderloin, salmon, and chicken marsala. Also, we have a block of hotel rooms at …


Invite to Civilians Holiday Party ~ December 2, 2022
Civilians Holiday Party
804 Ann Avenue, St Louis Mo
Friday December 2nd, 6pm-Saturday 1AM.
Hosted by Civilian Kevin King.


We would like to invite anyone from Club 11, including prospective members, etc, to our annual holiday party. Feel free to bring food and beverages to share, we usually have a very diverse array of goods.
Program Committee Meeting | Monday, December 5, 2022
Meet on the 4th Floor, in the Veterans Room at 12 PM for the December Program Committee meeting.
November 17, 2022 Zoom Recording Joey Vitale | St. Louis Blues Radio Color Analyst