November 3, 2022 ~ Pepperbox Edition ~ TOP STORY
The Rotary Foundation | Elizabeth Usovicz, Rotary International Director ~ November 3, 2022
Elizabeth Usovicz is principal of WhiteSpace Consulting, which focuses on business coaching, business development strategy, and market insights. She previously held leadership positions at Deloitte, Kellogg's of Mexico, and two venture capital-funded startup companies. Formerly associate director of international programs at Bentley University and an adjunct professor at the John F. …


Meeting Registration Links
November 3

, 2022 | Elizabeth Usovicz




Please use the In Person Link or ZOOM link to register in advance for our meeting.


St Louis Rotary Lunch Menu ~ November 3, 2022
St Louis Rotary Lunch Menu:
November 3, 2022


~

Sautéed Rainbow Trout w/ Toasted Almonds




Guests with dietary restrictions, alternative meals are available, but it must be ordered by 11:30 am on Wednesday, November 2, …


Program Committee Meeting
St. Louis Rotary Bowling Alleygations - Week 7~ October 24, 2022 | Matt Weiss
"Will someone grab the microphone from Ralph" came a shout out from the crowd on this lovely 7th week of Rotary bowling. Ralph was certainly in the spirit of Halloween, reciting a few of his favorite jokes! " Where do ghosts like to swim?" Lake Erie! …


Bring your donations for the Coat Drive to lunch on Thursday!
We are collecting (age-appropriate) new and like new winter coats, hats, scarves, gloves & mittens!
Just 2 more weeks to bring your coat donations to our St. Louis Rotary Club lunch on Thursday: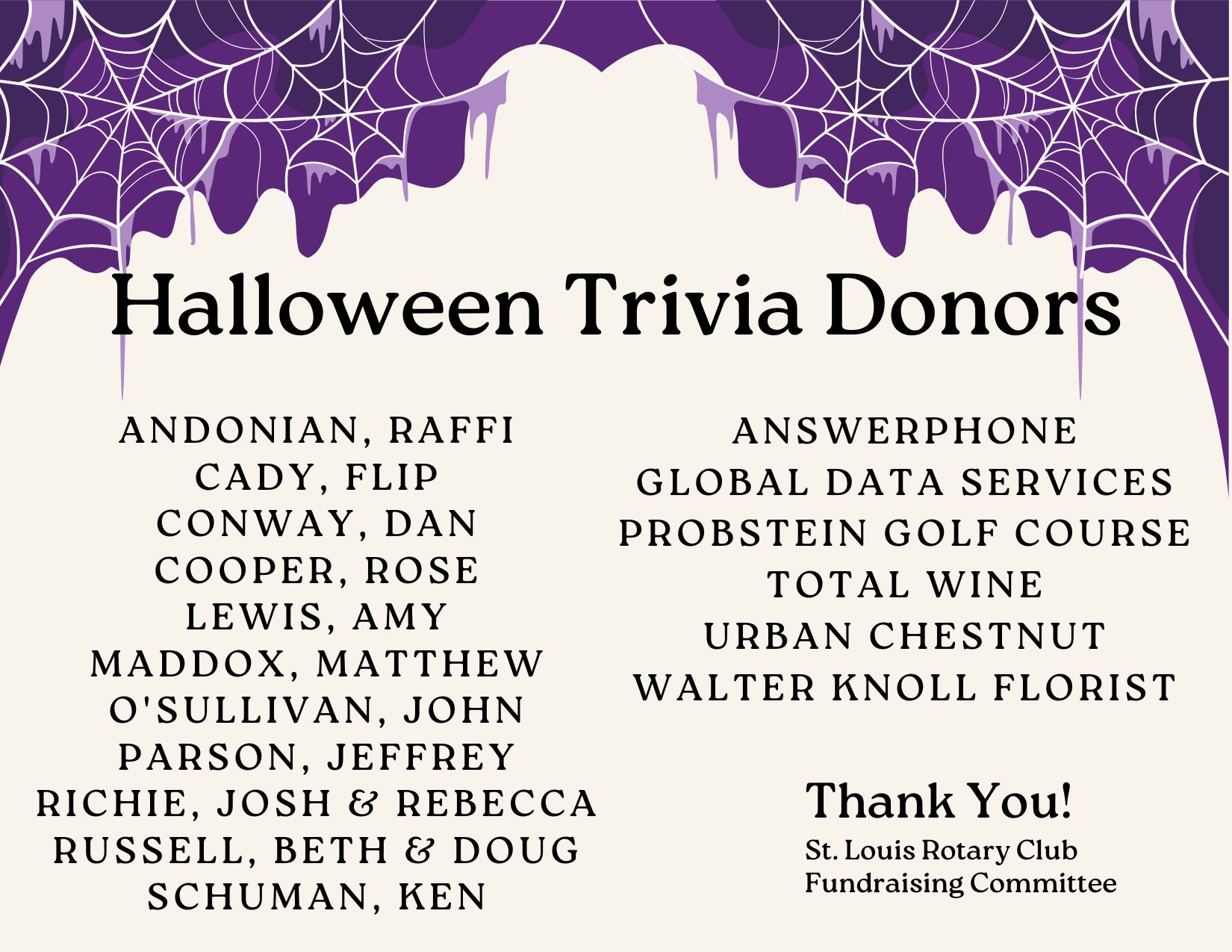 All Proceeds Benefit the St. Louis Rotary Welfare Fund
Old Newsboys Day ~ November 17, 2022 | Volunteer Op
Old Newsboys Day | Thursday November 17, 2022.. We are looking for volunteer "newsboys" and "newsgirls" to help sell special edition newspapers downtown. All funds raised by this event go towards supporting local children's charities. No experience is necessary--everyone is welcome to participate. We will be meeting in the Art Lounge (bottom of the steps) in the MAC at 6:00am …


November Programs at St. Louis Rotary Club: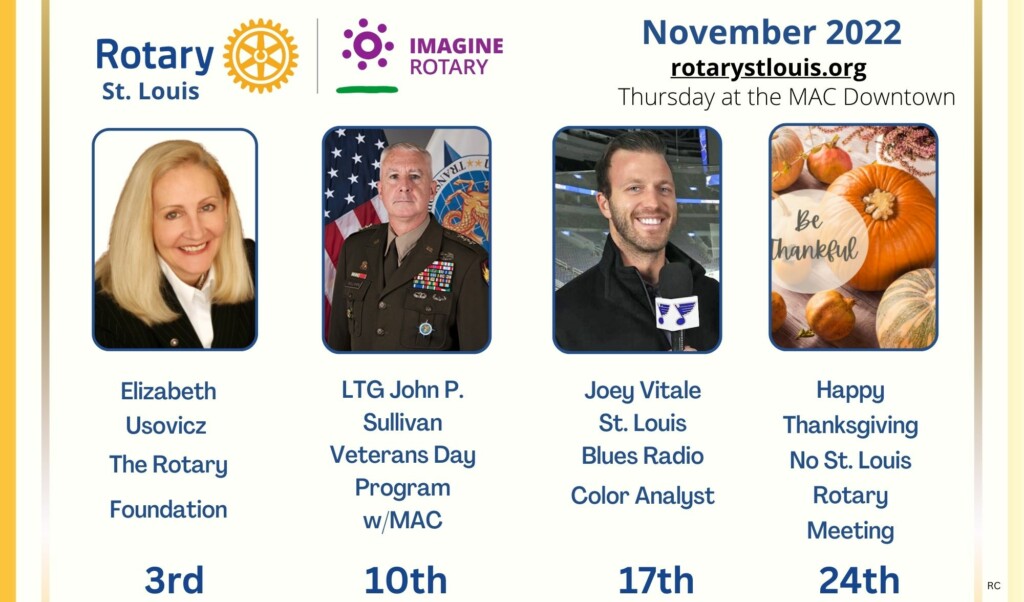 NEXT WEEK: Veterans Day Program | LTG John P. Sullivan ~ November 10, 2022
Next Week: November 10, 2022


Keynote Speaker and Guest of Honor: Lieutenant General John P. Sullivan (USA) Deputy Commander United States Transportation Command General Officer Assignments


Club 11 Good Vibes Grant News
Books for Newborns
and

Foster Together

both received a grant from our Rotary Welfare Fund during our last grant awards program at St. Louis Rotary.
They found out about each other that day and decided to work together to bring books to foster children across St. Louis City, St. Louis County, Jefferson County, and St. Charles County!
They plan to continue working together to help the childen they support read and succeed!
A feel good story highlighting how St. Louis Rotary Welfare Grants are making a difference!
Read more >>>>>>>>>>>>>>>>>>>>>>>>>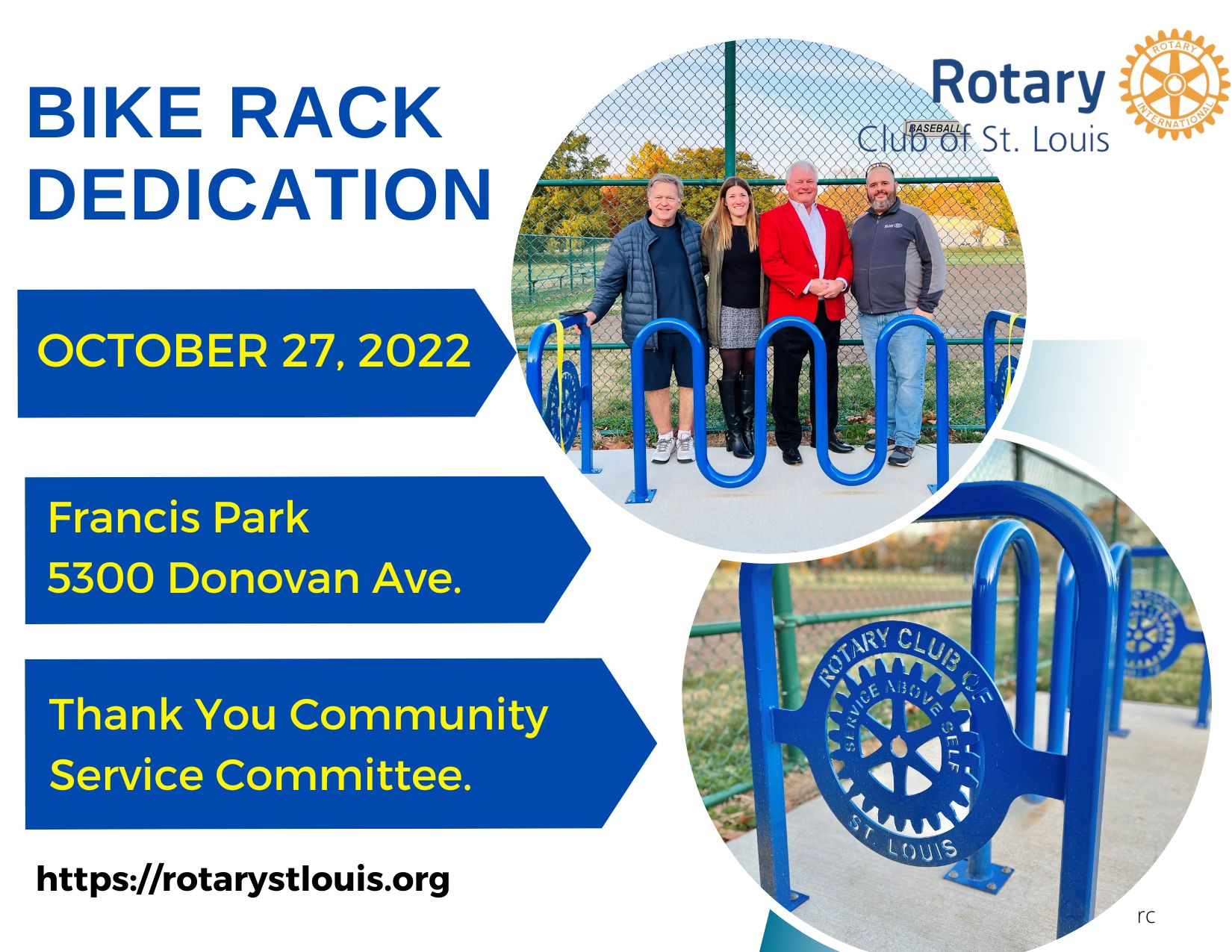 It was a beautiful night for our Bike Rack Dedication at Francis Park and the turn-out was fantastic. Many Rotarians and family members were there and enjoyed the evening. Thanks to Past President Jack Windish, Dan Conway, Rebecca Richie, and Chris Wilson and the Community Service Committee for designing, creating, and installing the bike racks!
October 27, 2022 Zoom Recording Ed Wheatley | St. Louis Sports Memories
Zoom Recording of Ed Wheatley, Author | St. Louis Sports Memories | October 27, 2022.


Invite to Civilians Holiday Party ~ December 2, 2022
Civilians Holiday Party




804 Ann Avenue, St Louis Mo




Friday December 2nd, 6pm-Saturday 1AM.


Hosted by Civilian Kevin King.



We would like to invite anyone from Club 11, including prospective members, etc, to our annual holiday party. Feel free to bring food and beverages to share, we usually have a very diverse array of goods.




Be excellent to each other!


-

Chad

Baker


CINEMA ST LOUIS: Here's a "discount code for any Rotary member to take advantage of during SLIFF. This will provide you with a $5 discount on each regularly-priced ticket. CODE: SLIFF22_Rotary"


Here is the

link

to explore SLIFF this year.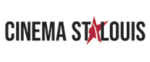 Bree Maniscalco


Executive Director

.