Weekly Newsletter September 19, 2019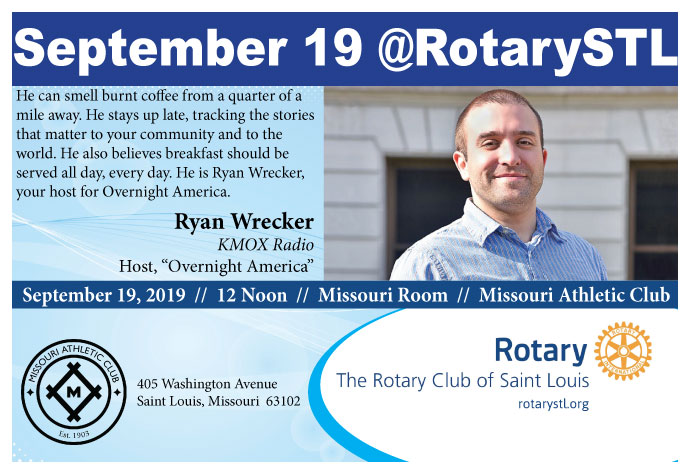 Ryan Wrecker - Speaker September 19, 2019
He can smell burnt coffee from a quarter of a mile away. He stays up late, tracking the stories that matter to your community and to the world. He also believes breakfast should be served all day, every day. He is Ryan Wrecker, your host for Overnight America. He moved his family to St. Louis in 2017 from a state where Hoosier means something different, but maintains the values of what it takes to grow a strong community. A proud graduate from Central Michigan University in Mt. Pleasant, Michigan, he grew up outside of Detroit and has also lived in Ohio, Indiana and Wisconsin.


Quick Questions with Ryan: Are you married and do you have kids? Yes! My wife Melissa and 2-year-old son Emmett moved to St. Louis and are always looking for new attractions to check out.


How did you get into radio? It was around 3rd grade that I knew radio was my future. In college, I became involved with the college station at Central Michigan University and got my first job at a news station in Grand Rapids, Michigan.


You were a program director, and now you're an on-air talent. Why did you want to be back on-air? When managing stations, the most fun and fulfilling portion of the job was the on-air moments. I love live radio, connecting with listeners and discussing the big events of the day. I also love discovering new stories that I think are important and bringing them up for discussion.


What kind of show can listeners expect? The biggest stories of the day. Sometimes it's political, sometimes it's entertainment or sports. You can expect open dialog and friendly discussion where the listener is always welcome.


How are you planning to use social media in conjunction with your show? I'm going to always be accessible. When there's daylight between us, the best way to continue the conversation will be on social media. We'll be able to preview some of the topics of the show and even present original material you won't get anywhere else.


What are your hobbies? I'm looking forward to exploring the city with my family and finding the best meal in town. Right now, my hobby is finding the perfect community to join around town! There's a lot of great neighborhoods my wife and I are considering.


Favorite food? Pizza or ribs. I can eat pizza any time, even at 3 a.m.


Favorite TV show? I don't watch a lot of TV. I do watch a lot of YouTube and really enjoy the creative things personalities have created.


If you weren't in radio, what would you be doing? I would try to have a podcast or show on YouTube. Either that or something in marketing.


What are you most looking forward to doing in St. Louis? Raising my son and getting involved with school athletics. And trying out all the great food options around town.
Lunch Menu ~ September 19, 2019
Spinach, mushroom, artichoke salad w/ Italian dressing, Fried Chicken, Mashed potatoes, Green beans
Special Menu Requests For members and guests with dietary restrictions, alternate meals are available, but they must be ordered by no later than 11:30 am on Wednesday

September 18, 2019
President's Corner ~ September 19, 2019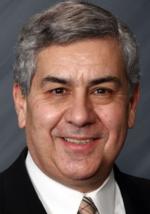 The first quarter of the Club year will be coming to a close in less than two weeks.. We've gotten off to a positive start. There have been some first class programs (Blues Museum & Admiral Moore/Navy Week) and some decent attendance at our Thursday meetings. We've been getting the PepperBox to you regularly. It's been full of articles including the Scribe Report and (humbly) the President's Corner. The Committees are working to fill the balance of our year with events and activities that will be Rotary Proud. The interim administrator has helped to stabilize our operations.


But what about our engagement in Rotary. Are we supporting the requests of our Club and our Committees? Can we do more?


I think now would be a good time to assess our individual participation in Club 11. Are you able to help by giving more service above self to the Rotary mission?


I'm not looking to keep score; but if we did, attendance at a Thursday meeting would only be one part of it. I'm asking that each of us examine our attendance and engagement in Rotary.
Scribe Report ~ James Webster, September 12, 2019
President Bob opened the meeting at noon and immediately
made a first attempt at screwing up the audio/visual apparatus. In this he was
successful. Nevertheless, the Pledge of Allegiance and The Rotary 4-way Test
were recited without impediment. At this
point Dr. Beth Russell came to the rescue and with her resourceful IT knowledge
restored the slide for the lyrics for the song of the day. "School Days, School Days" was
given a somewhat tentative rendition until the second verse when the members
found their groove and set the crystals vibrating in the eponymous room.


Over a lunch of spicy chicken enchiladas President Bob enumerated several upcoming events including the District Conference next week, the prospective members program, board meeting next week, "MAC Tank", and the forthcoming golf outing at "The Legends".


Recent events included last night's happy hour at "Vin de Set" and a reminder that a similar event is scheduled at "Urban Chestnut" next month. Plus, the Bowling League has begun its season meeting on Monday evenings. The Bowling League represents one of our oldest activities having first been formed in 1964.


Finally, an unreasonable entreaty for scribes was requested once again.


Sergeant at Arms, the always insouciant Dan Conway, welcomed visiting guests; Diane Berendzen, Matthew Maddox, Melanie McClintock and David Casteel. Our regular visiting Rotarian, Jay, was also recognized. The theme of Dan's presentation concerned professional sports connections to St. Louis. This included a review of "The Cardinals" failure to score with a man on third and no outs, and also the recent soccer match between the U.S. national men's team and Uruguay which ended in a 1 - 1 tie. Two of the U.S. players are St. Louisans. Josh Sargeant, a gifted 19 year old currently playing in the Bundesliga, and Tim Reem, a member of the Fulham squad playing in The Championship league in England. Both are players of great promise especially Josh. At 19 years old you can be sure we'll be hearing a lot more about him.


Past president, Bob Sherrill introduced our speaker, Dr. Nicole Conaway. Dr. Conaway is the principal of the "Nahed Chapman New American Academy". The academy essentially provides new immigrant children a safe place to learn English and begin to adapt to the American way of life. Dr. Conaway described the school as a "Festival of Nations". There are 170 students at the school representing 13 countries and using 10 different languages. Currently, Honduras makes up 46% of the student body. The school seeks to provide a loving and welcoming environment. The syllabus consists of language development, reading, writing and math. The challenges facing the teachers and the students are significant. Many have come from refugee camps in Africa, Central America and The Middle East. In many cases refugee camps are the only 'home' they have ever known. Dr. Conaway spoke with much passion concerning the work that the school does as befits someone who has worked in this inner city environment for 25 years. With the current crisis on the southern border and the debate over internment camps she continues to challenge and attempt to educate the general public, no easy task given the current political climate. She was given a rousing round of applause at the conclusion of her presentation.


The 50:50 drawing concluded the meeting with Jim Conway holding the winning ticket but alas, in drawing the six of clubs the pot was preserved giving us hope for a winner next week.


In conclusion I am happy to say that I have completed this report without once using the word "prolixity"..........................dang! There it is afterall. I am guided by the words of Pliny The Elder, "Castigat Ridendo Mores" a sentiment with which this scribe is pleased to concur.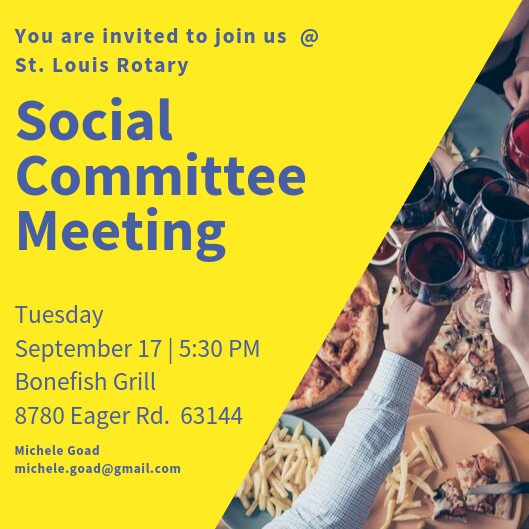 Bowling Alleygations - David Cowell, September 9, 2019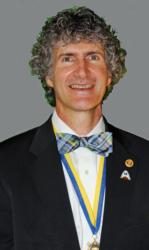 What a start
to the 101st year of the Rotary Club of St. Louis (Club 11) Bowling
Season.


The night
started off with our Club President, Ralph Decker, calling us to
attention for the National Anthem. He
enlisted the help of Bob Barnes, serving as color guard. As has been the case at some of our Club
meetings there were some technical difficulties with the A/V system. Where were you Doug Russell? Ralph did make it through with the help of
his cell phone and a cordless microphone.
How about the timeless one, Bob, in his 56th year of Rotary Bowling? Yes, he started in 1964. Do the math all you doubters.


We are down
to six teams for this bowling season, but morale is higher than ever. We had a full slate of bowlers with all teams
full and three bowlers watching from the sidelines. Wait, there were only two looking on. Read on.


Team Captain
Doug Lorenz let me know that his team has "high hopes and low
expectations" for the coming season. Boy,
was that foreshadowing things to come.


Rose
Cooper took home a respectable $55 in the 50/50 drawing and we got our 1st
bit nugget from our financial wizards as our own Ken Schuman said, "Well
you know since we don't have as many bowlers there won't be as much money in
the 50/50 drawings." But quoting Monty
Python maybe we should just "Always look on the bright side of life." You SHOULD have a better chance of winning. Well, on this night that proved true for
Rose.


Another bit
of financial wisdom came from our Club President, Bob Garagiola, after
he delivered a strike on literally the 1st ball of the entire Rotary
bowling season. I told him was a good
sign for the fortunes of Team Cowell in the 101st Rotary Bowling
season. Bob said; "Past results are not
an indicator of future returns." Bah Humbug.
It took our opponents 27 attempts to find their 1st strike of
the night with Carl Lane finally striking in the 7th and
turning the tide in the match. Team
Cowell took game one with Garagiola and Barnes leading the way, but Lane led
Team Conway with a 635 handicap series to take the match 14-8. Hardly the ***kicking Dan Conway proclaimed
on Thursday as Sergeant at Arms.


The ***kicking
occurred in the matchup of Team Cooper and Lorenz as Rose and the gang took 22
points, shutting out Doug and his crew.
Doug, expectations can only rise from here! Arnie Hadler had the best night for
the entire league with a 638 handicap series.
Not one bowler was able to reach a 200 scratch game on the new and
improved lanes at Olivette. Rose told me
that my wife, Jean, had taught her a few new words at lunch earlier in the day. ****! I
don't believe anyone is going to be teaching Rosarita anything new.


Team Decker
(with five bowlers) took the final match against Team Soifer (with four
bowlers) 16-6. Personally, I think Jon
Soifer should file an appeal. No,
Ralph did not count Gary Jones scores as the 5th but maybe he should
have as Doc had the high scratch game of 198.
It clearly was throwing off the rhythm of Matt Wilson and the
rest of Team Soifer. Oh, wait Matt is on
Ralph's team! And, he had the best handicap series on their team (590). My bad!
How the **** did they get 16 points?
Jon judiciously picked his team on draft night to get the same roster as
last year. Well, it did not work out so
well in Week 1 but it is a LONG season.


One week
down and only 30 more remain! See you
all again next week at Olivette Lanes.


Well, at
least I hope to see 6 x 4 = 24 of
you.


Bowling Happy Hour Video
August 29, 2019 @ Olivette Lanes
Another great video by Doug Russell....


Program Next Week: Steve Pick & Amanda Doyle, Authors "Saint Louis Sound"
Intercity Mtg October 3 - see calendar for details
7020rotary.org Disaster Msg from Barry Rassin, Immediate Past RI President
Rotary Foundation Receives Highest Rating
July 1, 2019 - June 30, 2020