October 13, 2022 Pepperbox Edition ~ TOP STORY
October 13, 2022 | Police Awards ~ Lt. Colonel Michael Sack, SLMPD Interim Chief
Lt. Col. Michael Sack joined the St. Louis Police Department in 1994. After graduating the Police Academy, Lt. Col. Sack worked in District Four, the Central Patrol Detective Bureau, and the Special Services Division.


Memorial Service for Past President Bob Bodine | October 11, 2022 ~ 4:00 PM
It is with great sadness that we share that on October 5, 2022, Robert J. Bodine died peacefully at age 98.


Bob joined the St. Louis Rotary Club on May 25, 1950. He was our President in 1964-1965. Bob was a member for seventy-two years.


Lunch Registration Links
October 13

, 2022 | Police Awards




Please use the In Person Link or ZOOM link to register in advance for our meeting.


St Louis Rotary Lunch Menu ~ October 13, 2022
St Louis Rotary Lunch Menu:
October 13, 2022


~ Beef Stroganoff on Egg Noodles w/Broccoli


Guests with dietary restrictions, alternative meals are available, but it must be ordered by 11:30 am on Wednesday, October 12, …


Our October 2022 Programs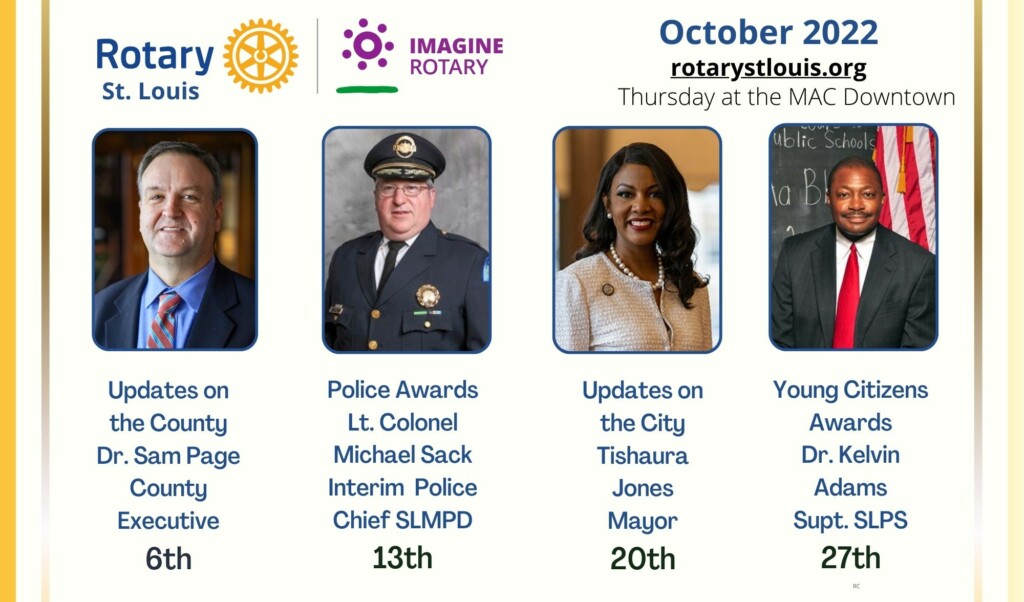 St. Louis Rotary Bowling Alleygations - Week 4~ October 3, 2022 | Carl Lane
This week was notable because all 6 teams competed with 4 bowlers. This is not to say that was necessarily a good thing for the team score. The blind would have beaten six of the 24 bowlers.On the bright side, Terry Werner continued his prolific scoring with a high game of 226 …


October 6, 2022 Zoom Recording Dr. Sam Page | St. Louis Rotary Club
Zoom Recording of Dr. Sam Page, County Executive, speaking at St. Louis Rotary Club on October 6, 2022.


Halloween Trivia Night Fundraiser | October 21, 2022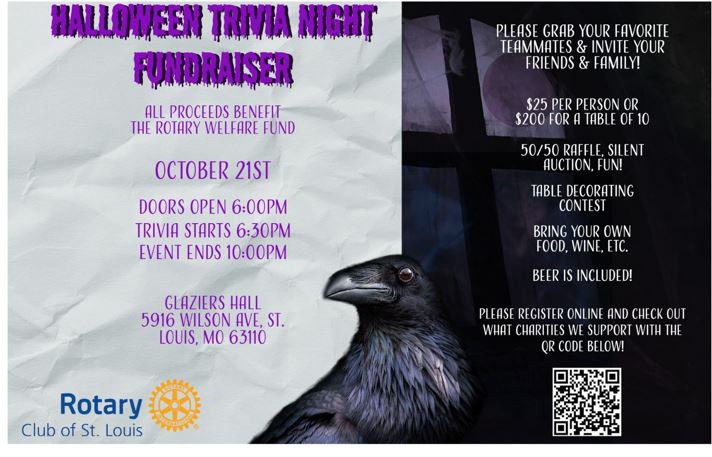 There is also a Table Decorating Contest at Halloween Trivia Night!!!!
October 18, 2022 | Fox Run Golf League Outing | St. Louis Rotary
Fox Run Golf Club 10-18-22 | St. Louis Rotary Golf League OutingTee Time 1 PM http://www.foxrungolfclub.com/1 Putt Ln, Eureka, MO 63025


Sunset C C Golf League Report October 4, 2022 | Cris Conner
28 golfers descended upon Sunset Country Club on October 4th for our last outing of the Rotary Golf season, and the much anticipated annual Awards dinner. Our hosts were Matt Wilson and Cris Conner.


October 20, 2022 | Mayor Tishaura Jones | Updates on the City
With a deep personal commitment, a wealth of experience, and a proven record of leadership, Mayor Tishaura O. Jones started her career as a public servant in 2002 when she was appointed as Democratic Committeewoman of the 8th Ward in the City of St. Louis. She served two …