August 31, 2023 ~ Pepperbox Edition ~ St. Louis Rotary Club
Marie-Helene Bernard , President & CEO | St. Louis Symphony Orchestra | August 31, 2024
Marie-Hélène Bernard joined the St. Louis Symphony Orchestra (SLSO) as President and CEO on July 1, 2015. Under her leadership, the SLSO has sharpened its commitment to artistic excellence, educational impact, community connections, and access to music—all in service to its mission of enriching lives …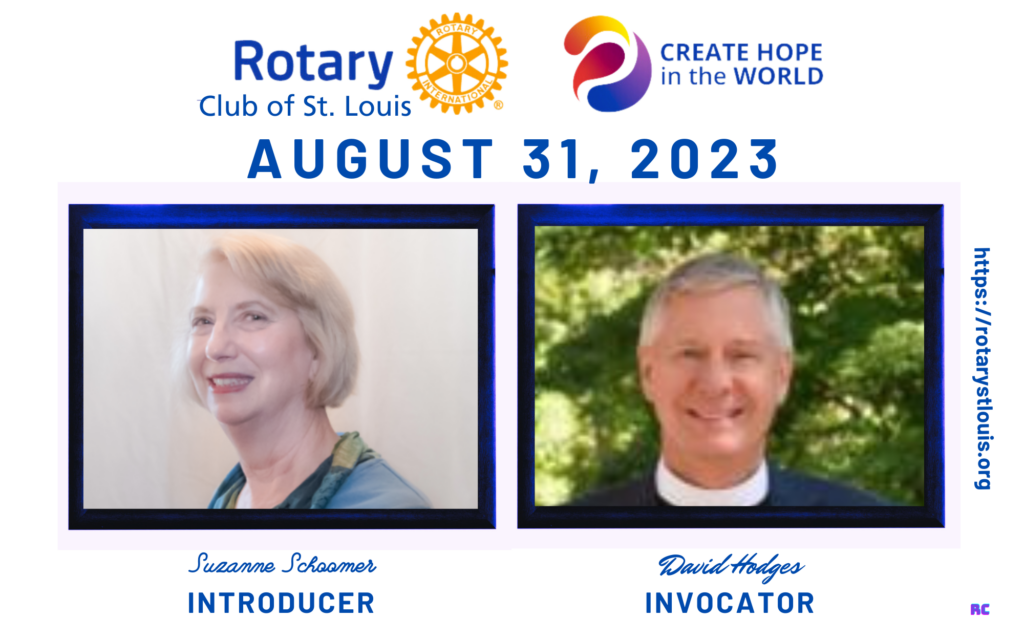 Suzanne Schoomer is introducing our speaker and David Hodges is our invocator on Thursday, August 31, 2023.
St. Louis Rotary Lunch Menu ~August 31, 2023
Endive Salad w/ fresh mint, field greens, spiced pecans, feta cheese Creamy orange dressing
~
Scaloppini of Turkey Breast Marsala w/ Mushroom Marsala Demi sauce
~
More
Alternative meals must be ordered by 11:30 am on Wednesday, …
August 31, 2023 Meeting Links for St Louis Rotary Club |
In Person and Zoom Registration Links are available:


105th Season St. Louis Rotary Bowling League | 9-11-23 Start
Our Bowling League begins Monday, 09/11/23, at 6:00 PM - that is just 2 weeks away! Sign up Sheets are on the lunch tables! This is fun for all from beginner bowlers up! The handicap system our league uses levels ...


St. Louis Rotary Charity Golf Tournament | August 30, 2023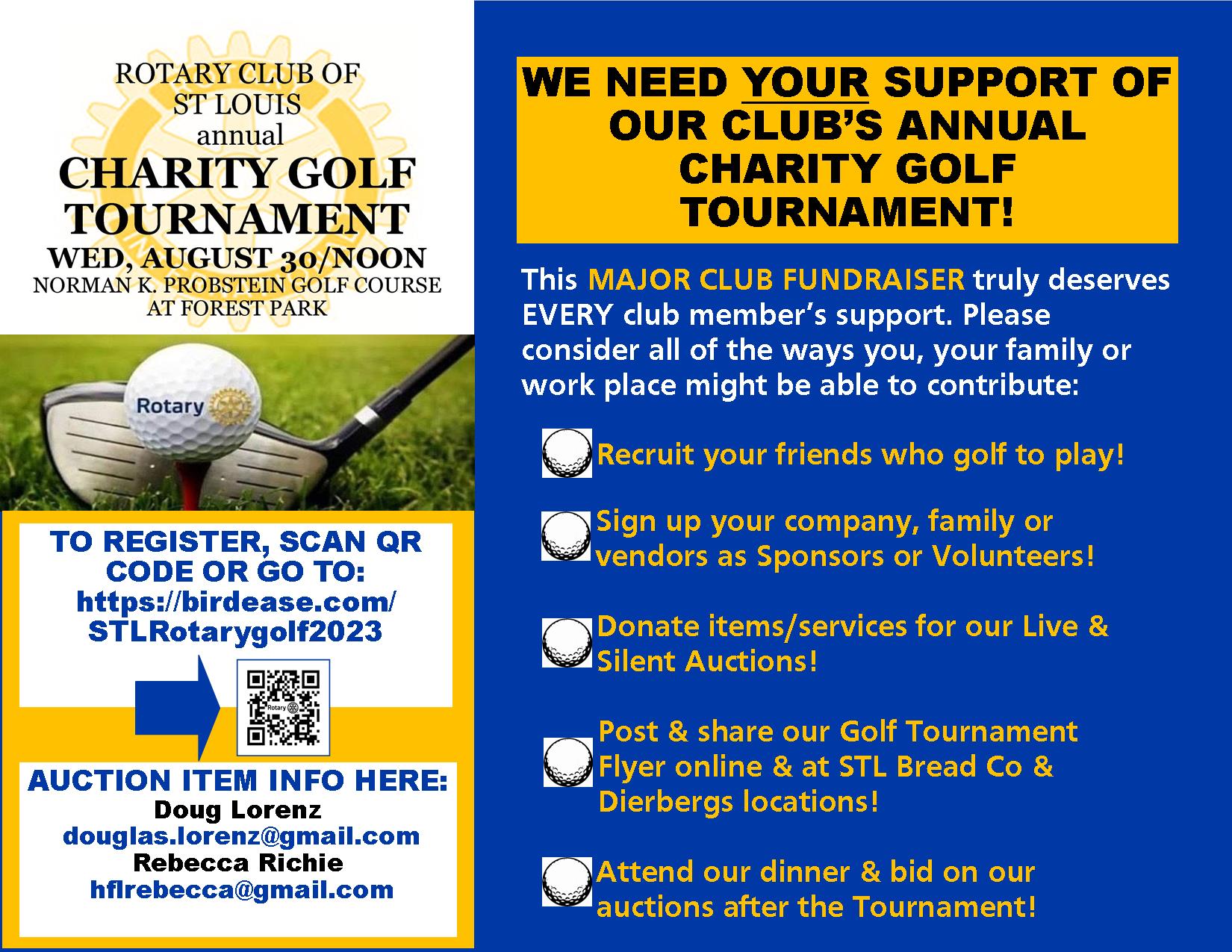 Membership Recruitment Event | Sept 13, 2023
Golf League Report Forest Hills CC ~ August 15, 2023 | St. Louis Rotary
On Tuesday, August 15th, we had a great turn out of 27 golfers for our day at Forest Hills.
We welcomed 5 great guests: Craig Sorce, Nick Riordan, Lane Davis, Mitch Sarandos, and Charlie Hirner.


Winners and Highlights Closest to the Pin: 1st Place: Jim Bernardini - 7'11"2nd Place: Flip Cady - 12' …


Zoom Recording August 24, 2023 | District Governor Valerie Sorensen
Zoom Recording of August 24, 2023 at St. Louis Rotary | District Governor Valerie Sorenson

She is our District 6060 Governor from July 1, 2023 until June 30, 2024.

Read more
Next Week: September 7, 2023 ~ Gene Mc Nary, American Politician, Former County Executive


Join us on Thursday, September 7, 2023 for Reflections on the Political Landscape ~ Gene McNary, American Politician, Former County Executive


St. Louis Rotary Golf League at Bogey Hills on Tuesday, September 12, 2023
St. Louis Rotary Golf League Bogey Hills Country Club, Saint Charles, MO | Tuesday, September 12, 2023


Volunteer Opportunity at St. Louis Art Fair | September 8, 9, 10, 2023
Lift for Life Gym Needs Volunteers at the St. Louis Art Fair

This is an opportunity to volunteer at the LIft for Life Gym Beverage Booth on September 8th, 9th, and 10th at the Saint Louis Air Fair!

To sign up, please send an email with your name, phone number, & desired shift(s) to Lucia Boxdorfer at development@liftforlifegym.org


Club Events and Programs
Stay Up to Date |
Rotary Club 11 Creating Hope in the World

Send news items for The Pepperbox to rosec904@gmail.com