July 13, 2023 ~ Pepperbox Edition ~ St. Louis Rotary Club
St. Louis Regional Crime Commission - Francis Slay, Executive Director
Francis Slay, serves as the Executive Director of the St. Louis Regional Crime Commission.


Freedom Suits Memorial Steering Committee 2017-Present
St. Louis Mayor, 2001-2017
Member, East-West Gateway Council of Governments Board of Directors, 1995-2017 …
Jack Windish is introducing our speaker and Phil Hesley is our invocator at our lunch program this Thursday, July 13, 2022
St. Louis Rotary Lunch Menu ~July 13, 2023
Sliced BBQ Brisket
Wedge Fried Potatoes
Broccoli ~
Dessert


For Guests with dietary restrictions, alternative meals must be ordered by 11:30 am on Wednesday


July 13, 2023 Meeting Links for St Louis Rotary Club |
Please use the In Person Button to Register in advance for St Louis Rotary July 13, 2023


*We meet on Thursday, from 12 pm until 1 pm at the MAC Downtown - 2nd floor, 405 Washington Avenue, St. Louis, MO 63102. *Unless otherwise noted.
Or use the Zoom Button…


Summer Diaper Drive July 20 - August 10, 2023
We are collecting diapers and onsies for St. Louis Diaper Bank and GiFT from July 20 - August 10. We welcome diapers and onsies in all infant sizes. Bring your donations to weekly Club meetings at the MAC, Walter Knoll Florists or Olivette Lanes


St. Louis Rotary Golf League @ Glen Echo CC | July 11, 2023
St. Louis Rotary Golf League | Glen Echo Country Club Tuesday, July 11, 2023 Tee Time NOON 3401


St. Albans C C | St. Louis Rotary Golf League Report | 6/28/23
The Rotary Golf League had an outing at the Country Club at St. Albans on Wednesday, June 28, 2023. Our host for the day was Rotarian and St. Albans member, Jim Bernardini. Thanks Jim. Our group of 22 players was able to enjoy St. Alban's Lewis …


Next Week - July 20, 2023 | Chamber Music Society of St. Louis - Marc Gordon, Executive Director
EXECUTIVE & ARTISTIC DIRECTOR – Marc Gordon served as English horn soloist and oboist with the St. Louis Symphony from 1972-2005. He performed with the Chicago Symphony Orchestra in that position replacing the retiring CSO English horn soloist until 2008 and then with the San Diego Symphony in …


St. Louis Rotary Charity Golf Tournament | August 30, 2023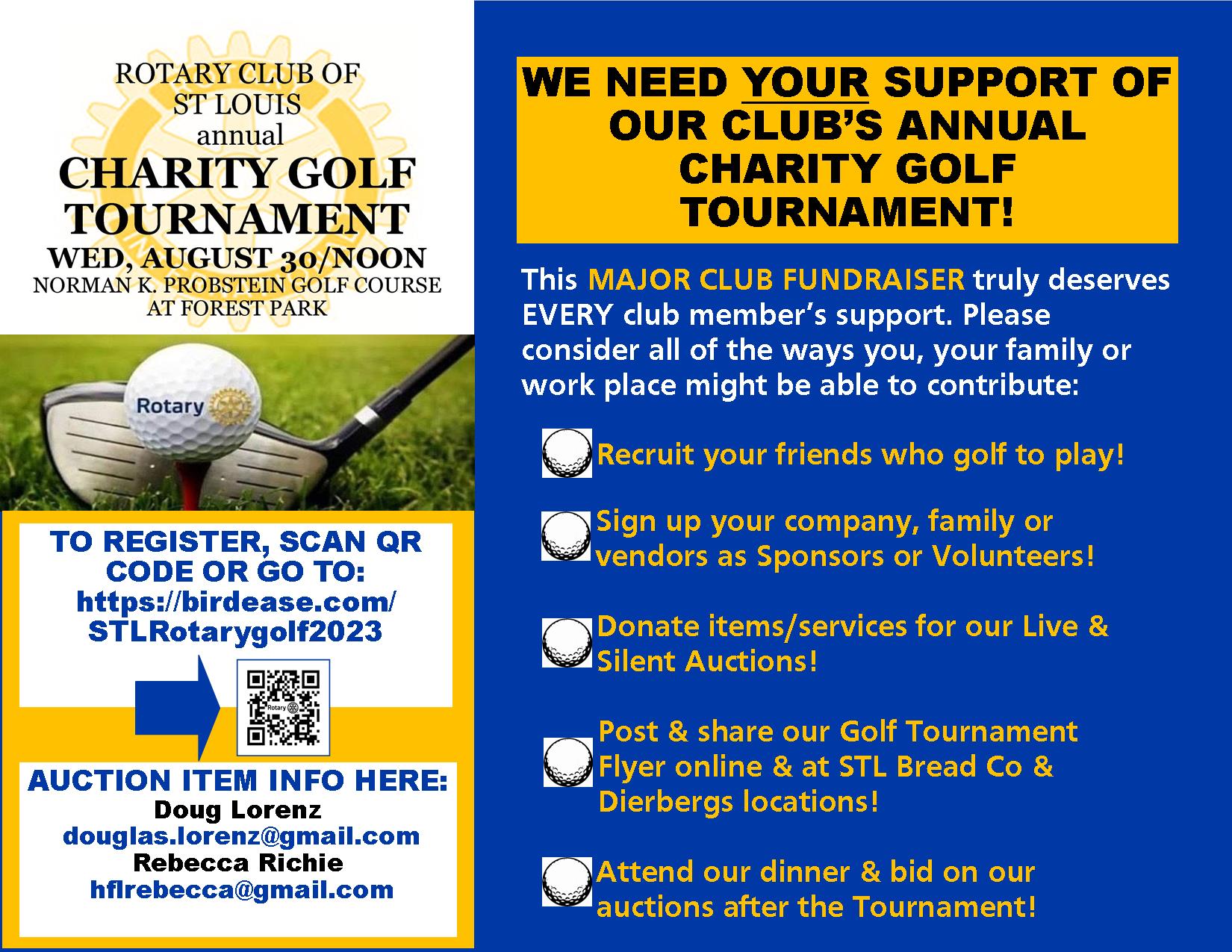 Call for Silent Auction Items
All proceeds benefit local charities.
Donations are TAX DEDUCTIBLE


Donate now through August 15, 2023


The silent auction is at our 2023 Charity Golf Tournament on August 30, 2023.


List of Donation Ideas Available


Club Events and Programs
Stay Up to Date |
Rotary Club 11 Creating Hope in the World

Send news items for The Pepperbox to rosec904@gmail.com