Weekly Newsletter October 03, 2019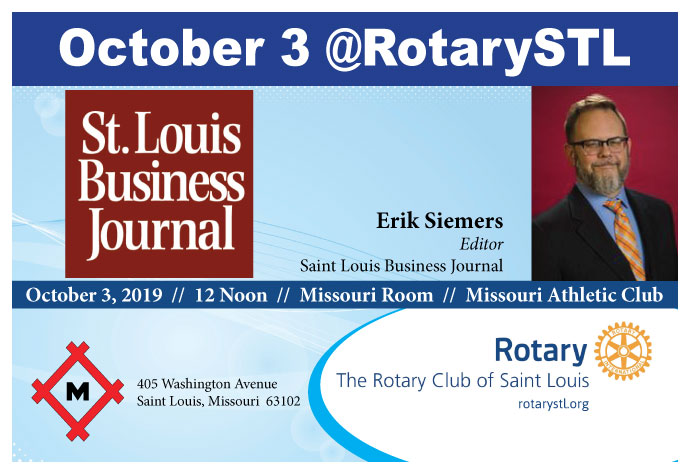 Erik Siemers ~ Speaker October 3, 2019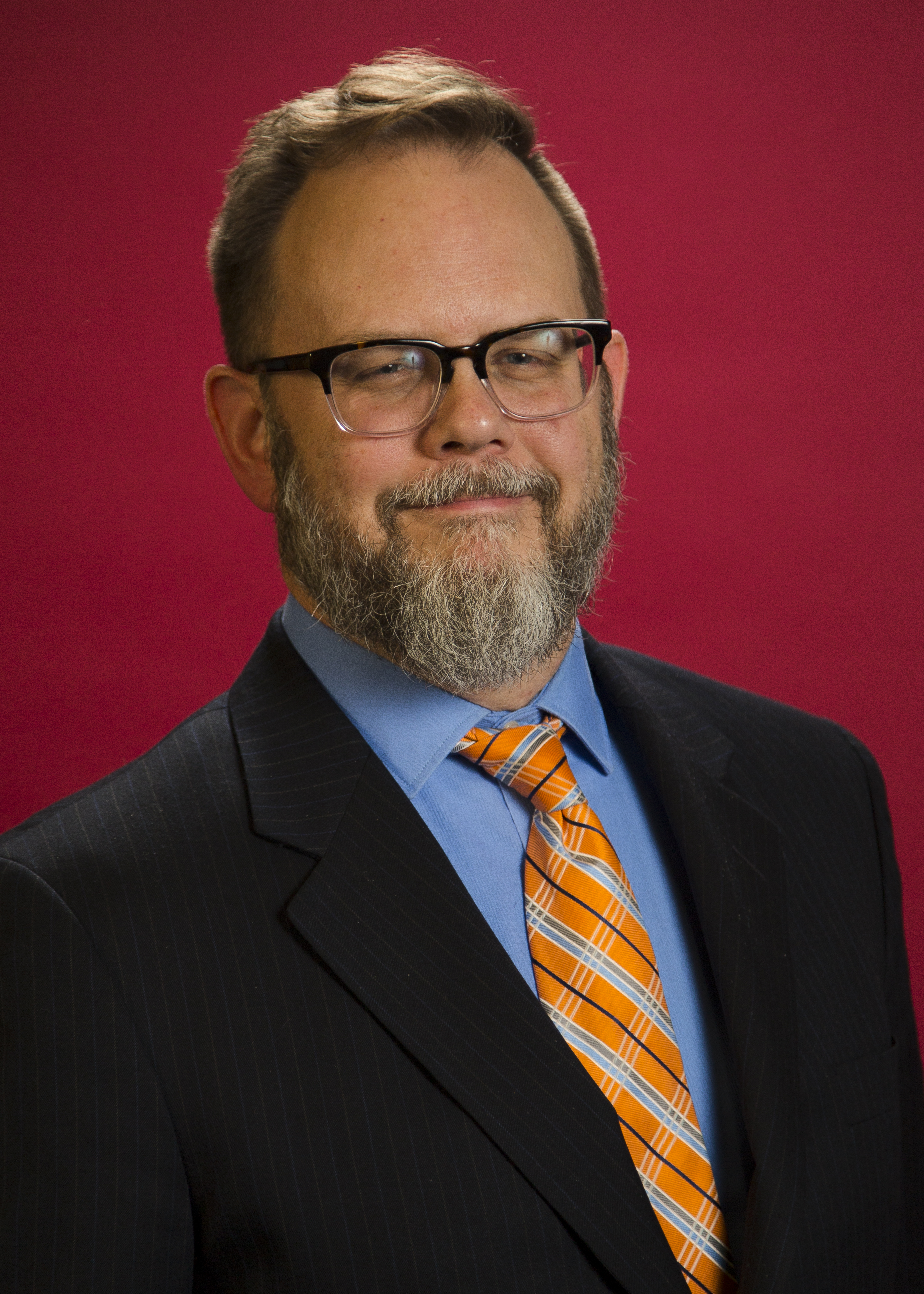 Erik Siemers has been editor of the St. Louis Business Journal since December 2018. He came to St. Louis from Portland, Oregon, where he spent 10 years at the Portland Business Journal, the last five of those years as managing editor. Prior to that he was a staff reporter at the Albuquerque (N.M.) Tribune and Pittsburgh (Pa.) Tribune-Review, and has written for the Wall Street Journal, The (Allentown, Pa.) Morning Call and the Grand Forks (N.D.) Herald.


Lunch Menu ~ October 03, 2019
Black Bean & Grilled Corn Salad
Soft Shell Fish tacos w/ Spanish Rice


Special Menu Requests For members and guests with dietary restrictions, alternate meals are available, but they must be ordered by no later than 11:30 am on Wednesday

October 2, 2019
President's Corner ~ October 3, 2019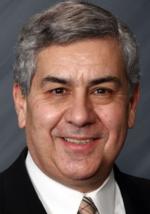 "With all of the excitement that Club 11 has been generating - District Awards & Service Projects (Kidsmart/Lift for Life/Red Cross Blood Drive) & Club Fun (Golf/Bowling/Social Hours), we still have to take care of business.

We've had some issues with billing members for dues/meals: not billing - double billing - incorrect application of payments - bad e-mail address. We've been working through them, trying to make sure that the Club's records and your records are correct.

With that in mind, as the quarterly invoices are now out,



Scribe Report September 26, 2019 ~ Bill Piper

On September 26th, President Bob called the weekly meeting to order at our usual starting time. He welcomed speakers, visiting Rotarians and guests, then led us in recitations of the Pledge of Allegiance and the Four Way Test. The invocation was presented by Doug Russell (substituting for Dr. Beth). Julie Niemann then led us in a revised version of Meet Me in St. Louis (Tinuccified).


After lunch, Pres. Bob pointed
out several awards that our club earned during 2018-19 year-


Top 3 overall giving in the
District;


Rockstar award (giving more than
$170 per member to the annual fund and Polio Plus);


Century award (giving at least
$100 per member to the Annual Fund);


Significant service award (for
our CAP GRANT project);


And the (yet to arrive)
President's Citation


October 3, 11:00 AM, will be a meeting for prospective members, to be followed by our regular program featuring Erik Siemers, editor of The St. Louis Business Journal. He will be followed on October 10 by Dr. Sam Page, the St. Louis County Executive. On October 17, Lisa Stone, the head basketball coach of St. Louis U.'s women's basketball team will speak and a week later Ed Wheatley will speak about the St. Louis Browns - you had to love baseball to watch the Browns (past member Vernon Piper). This month will be finished by the the presentation of the Young Citizens Awards for the St. Louis Public Schools, to be led by Dr. Kelvin Adams.


The golf league's final outing
will be October 8 at Greenbriar Hills. Openings are available.


Help is needed at the Lift for Life Gym on Tuesday, October 15 from 3:30 to 5:30 PM. Please contact Helen DiFate about this.


Lindsey Knoll Rawlings ~ Walter Knoll Florist - New Member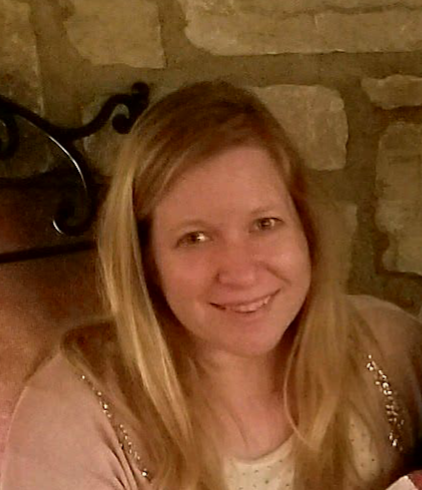 Lindsey Knoll Rawlings was born and raised in St. Louis, working through her school years at the family business Walter Knoll Florist. Her parents, grandparents, and great grandparents, from the Knoll side have all worked in the family business dating back to 1883.


From 2003 until currently she has been within the floral industry. In 2006 she gained the Gold Award with Girl Scouts and it is still a foundation she supports and volunteers with. In high school she participated in many volunteer opportunities with church and school. Leading girl scout summer camps from 2008-2010.


Lindsey enjoys volunteer work and helping those in need. Lindsey mentored in the Big Brothers, Big Sisters program for a few years following high school. Since 2013 Lindsey has been helping to support the American Foundation for Suicide prevention, through working the St. Louis walks.


Lindsey graduated from Webster University with her BA in Psychology. Lindsey married Ted Rawlings in 2015 and now have a wonderful little daughter Evelyn who just turned 2! Lindsey & her family are members at Peace Lutheran and their daughter attends preschool there.


Matthew Maddox ~ Global Data Services - New Member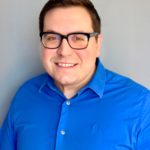 Matthew Maddox, President of Global Data Systems, LLC. has led strategic technological planning to achieve business goals by prioritizing technology initiatives and coordinating the evaluation, deployment and management of current and future technologies. He has analyzed complex business needs of organizations and recommended technical solutions. Website: www.teamgds.com


Matthew has also analyzed and improved upon technology standards across organizations to maintain a technological and competitive edge within the market. He has developed, tracked and controlled information technology annual operating and capital budgets in addition to promoting and overseeing strategic relationships between internal IT resources and external entities.


Certifications » NetSuite SuiteScript, SuiteTalk, SuiteFoundation & SuiteSuccess Experience » Present: Global Data Services / President 2012-18: Retail Technology Group / Senior Director of Technology 2003-11: Webster University / Information Technology Department (several positions) 2002-12: Greater St. Louis Phone Services / Information Technology Director


Bowling Alleygations 2019 ~ Rose Cooper - Week 3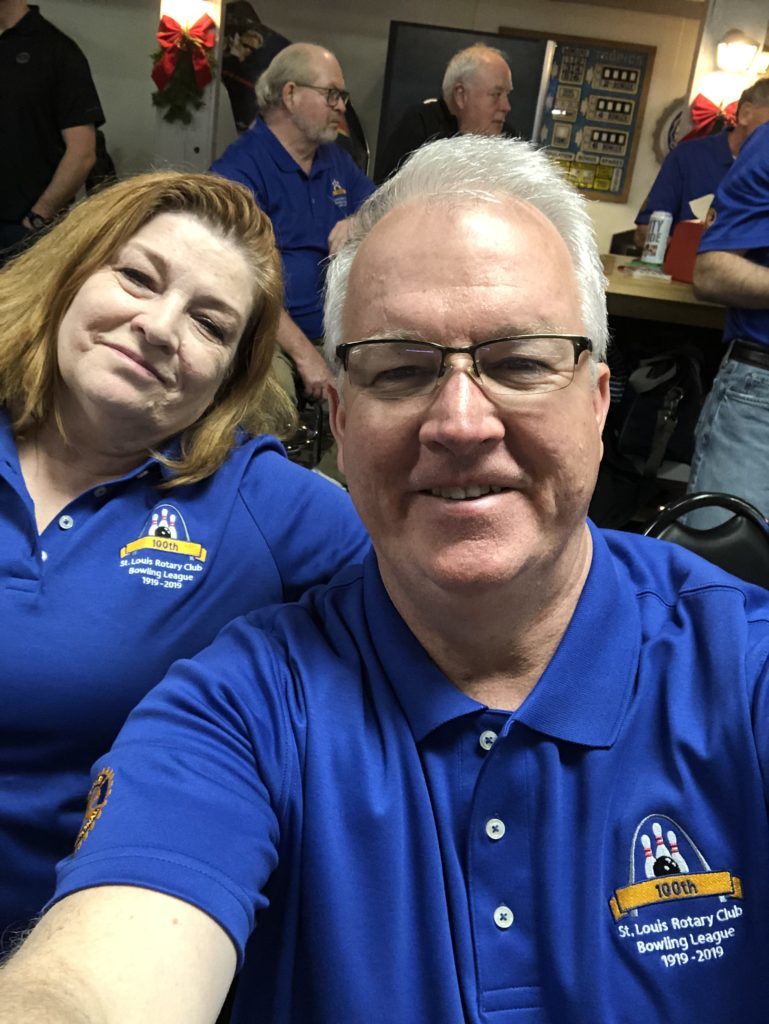 September 23, 2019 was quite frankly another great night at Olivette Lanes. Each Monday night at the alley brings lots of opportunities for fun, fellowship, and fortune $$$$. (if you win the 50/50).


Don
Klackner gave "Welcome
Back Bowlers" coupons to each of us. Thank you, Don for your generosity. We are
using them already.


Ashley was
missing! ☹ but Queen Bee and the team tending
bar did a great job keeping our bowlers hydrated. Very important!!!!


Club member Mary Block,( AKA Blood Hawk) visited Olivette Lanes to speak to the bowlers about signing up to donate blood at our Rotary Club 11 Blood Drive at the MAC on October 17.


Mary also
asked if some of the bowlers are also employers who will invite their employees
to set a donation appointment during their work hours and keep the donor on the clock while they donate
blood. Thank you Mary for your dedication to making our blood drive successful!


Decker and Lorenz teams first two
games were separated by a total of 12 pins! (6 pins each game) Ralph Decker's first game was a 203


Conway and Soifer were the speediest
teams ever averaging 25-35 miles per hour on all the balls rolled.


The Cooper team bowled Cowell's team and I witnessed that Newsy Shuffle made famous by the one and only Bob Barnes at least 5 times – was that all in one game?


Bob
Barnes and Wally
Knoll were both on the 1966-67 Bowling League. Wally Knoll was a Captain that year!
Is this the year Newsy started shuffling?
There were
20 teams that year AND in addition to those twenty teams there were 4 Rotary Ann teams!!!!! I want to know about that season. How did
that go over with all the bowlers,( Rotarians and Rotary Anns)?


Were there
additional years of Rotary Ann teams? Some
of the women were good bowlers: several
mentioned in the 1966-67 Pepperbox are Cecile Krieghauser with a 176
game and Hazel Azar with a 181 game.


Back to
current reality, on 9/23/2019 there were two Scratch Games over 200: Blake Critzas with a 225 and Ralph
Decker with a 203 game. See the League
Standing Sheet Week below for the MANY Handicap Games over 200 including all
four women bowlers: 226 Rose Cooper, 221 Jeanine Conway, 209 Beth
Russell and 201 Katie LaMarsh.
Way to go ladies!


I'm looking
forward to Monday night Week 4!


Spending
time bowling with Club 11 members is a lot of fun! If you're not bowling come to the alley
anyway to check it out and get to know your fellow Rotarians a little better.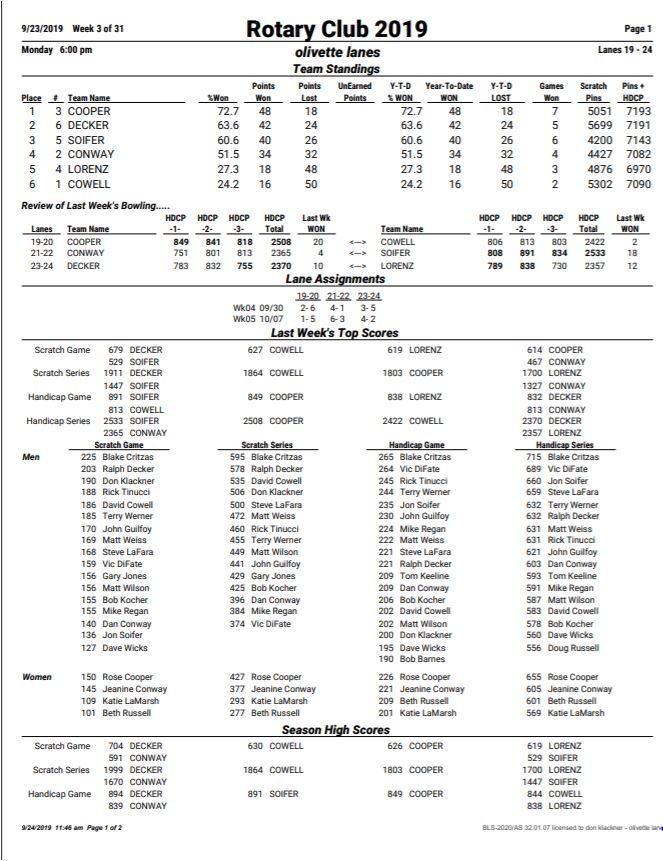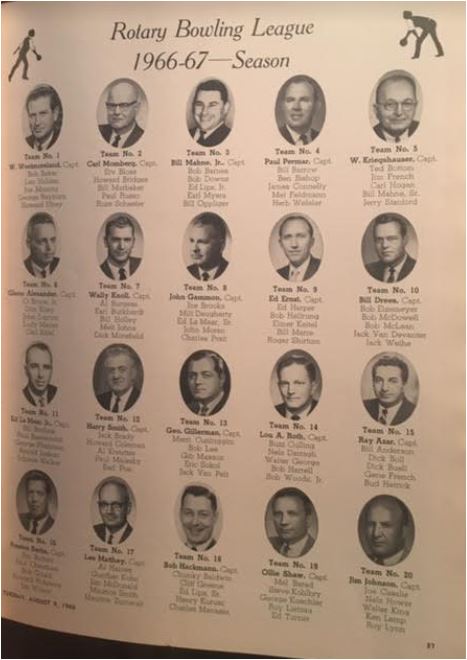 Blood Drive October 17, 2019
St. Louis Rotary Club has a special incentive for blood donors at the October 17 Blood Drive!! Anyone who attempts to donate will receive the 2019 Cardinals Saint Louis University Theme Ticket ¼ Zip. All sizes are available. The Billiken branded Cardinals shirt is also the perfect match for our speaker that day, SLU Basketball Coach Lisa Stone. Get your donation time confirmed now and get this great Billikens Cardinals shirt compliments of FOX Sports Midwest.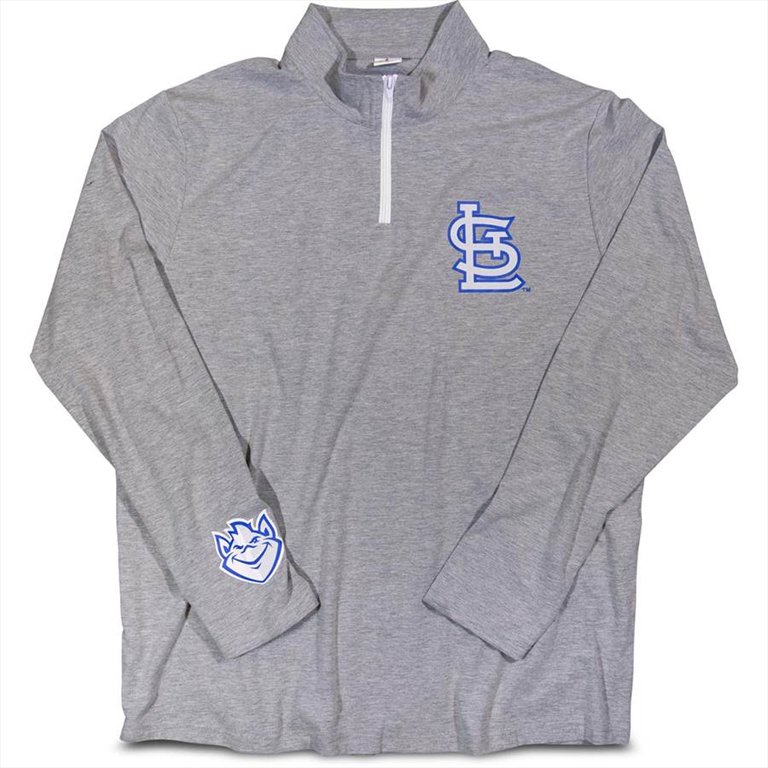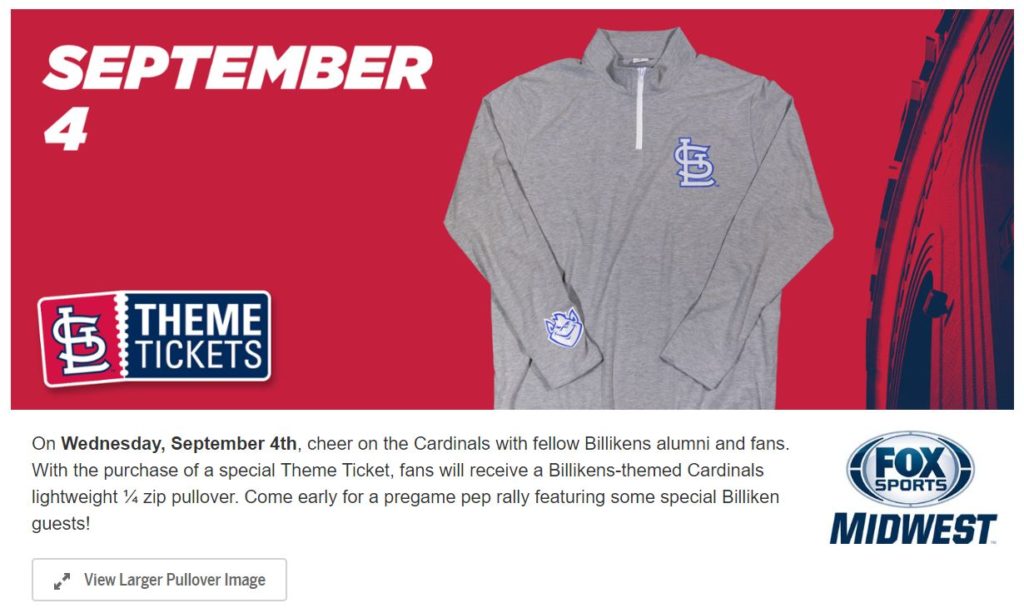 Watch for the email with the Blood Drive Appointment Link!!!!
Lift for Life Service Opportunity October 15
Help is needed...assist with homework...play board games...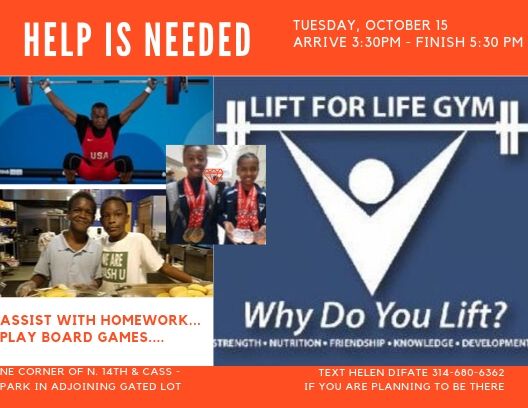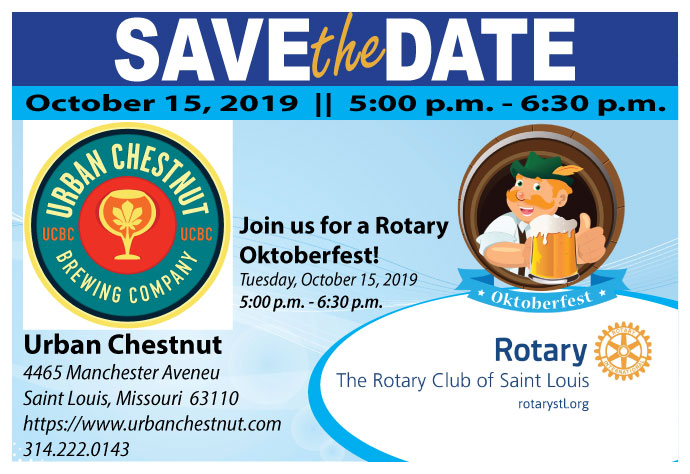 October 3 - InterCity Meeting Details on the Calendar!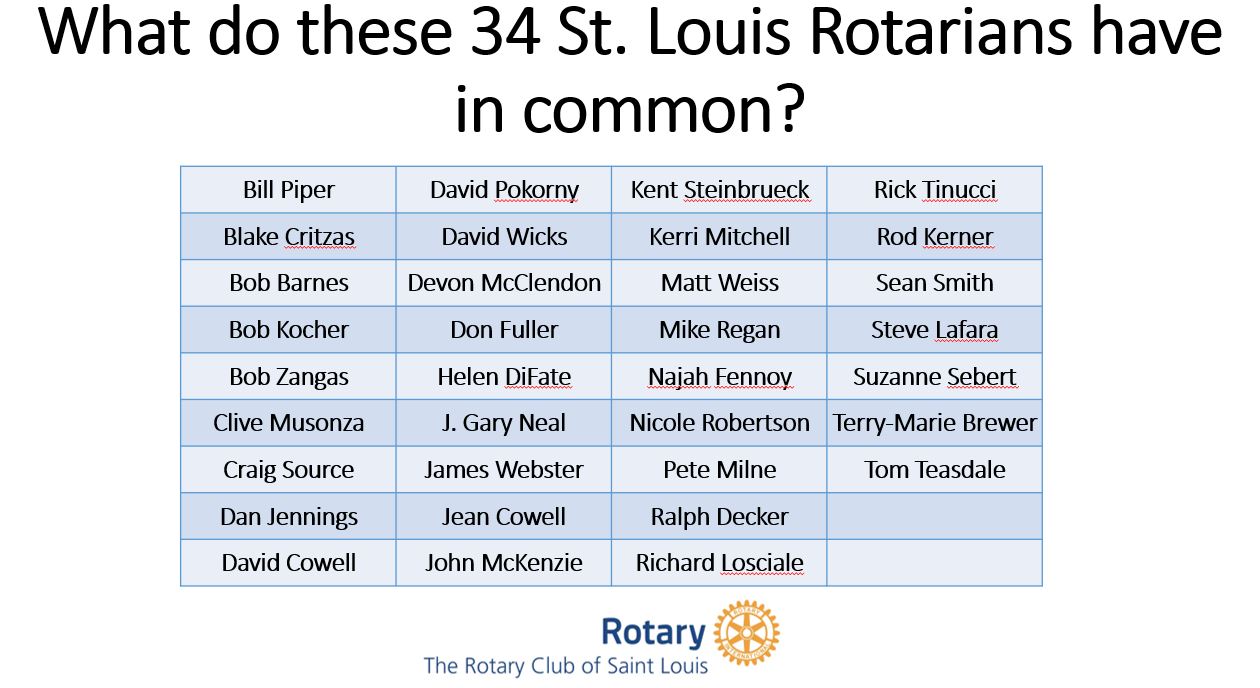 They volunteered as Young Citizens Mentors in the past 2 years (some even did it twice!)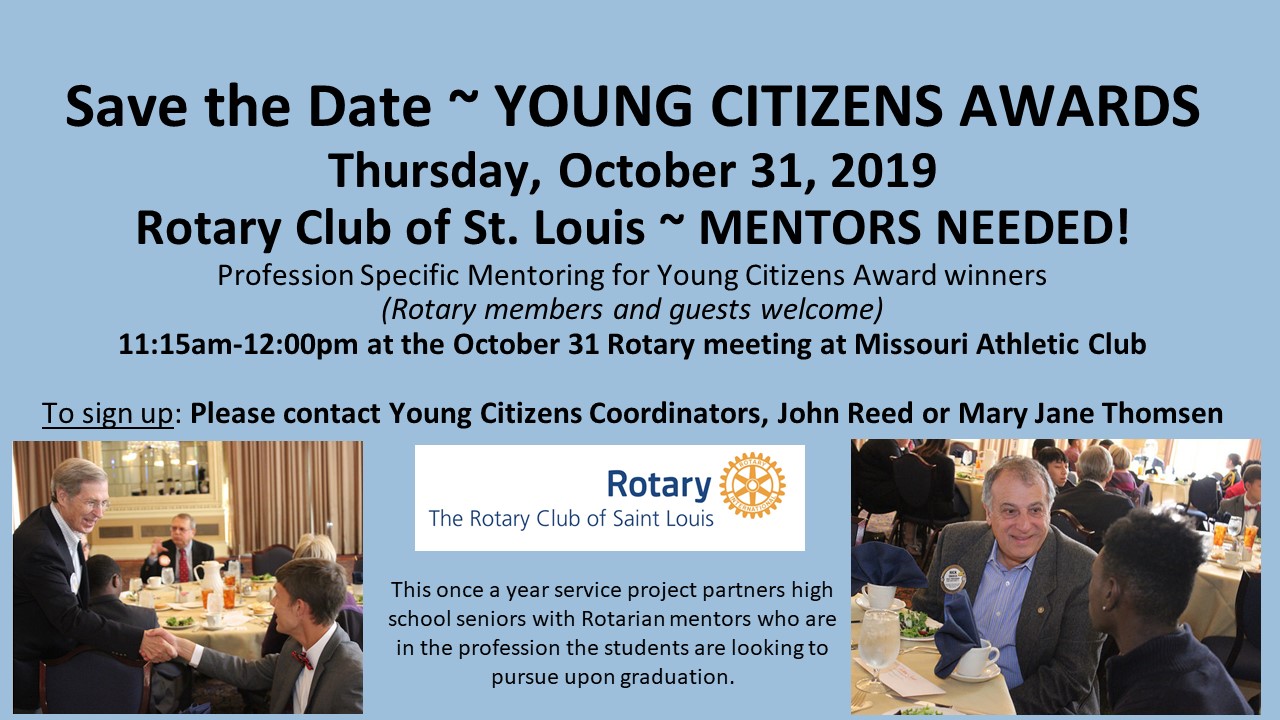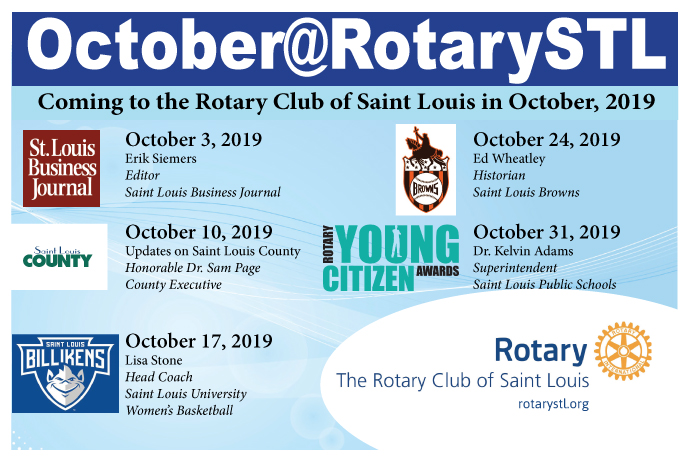 July 1, 2019 - June 30, 2020