Rotary Club 11 ~ St. Louis, MO https://rotarystlouis.org |https://www.Facebook.com/RotarySTL
Bill DeWitt, III, President St. Louis Cardinals | April 15 @ STL Rotary
"Since March 2008, Bill DeWitt III has been President of the St. Louis Cardinals, overseeing all aspects of the team's business and its affiliated entities, which include the team's minor league affiliates. He also helped in the development of Ballpark Village, the 100,000 square-foot retail/entertainment project adjacent to Busch Stadium.


Prior to his appointment as team President, DeWitt was Sr. Vice President of Business Development with the Cardinals and oversaw the design and construction of the new Busch Stadium. Prior to that, he was involved in several merchandising, marketing, and operational projects for the team. DeWitt was also involved in the planning for Roger Dean Stadium in Jupiter, Florida, the Cardinals spring training headquarters and is host to their Florida State League team, the Palm Beach Cardinals" ~ St Louis Sports Hall of Fame
St. Louis Rotary Club Program Introducer & Invocator | April 15, 2021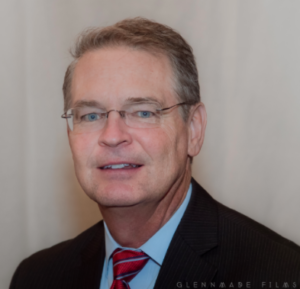 Introducer
Mike Regan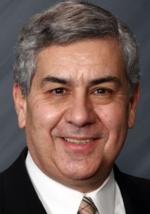 Invocator
Bob Garagiola
2021 VIRTUAL ST LOUIS ROTARY AUCTION | May 8 - 21, 2021 - Sponsors & Donations Needed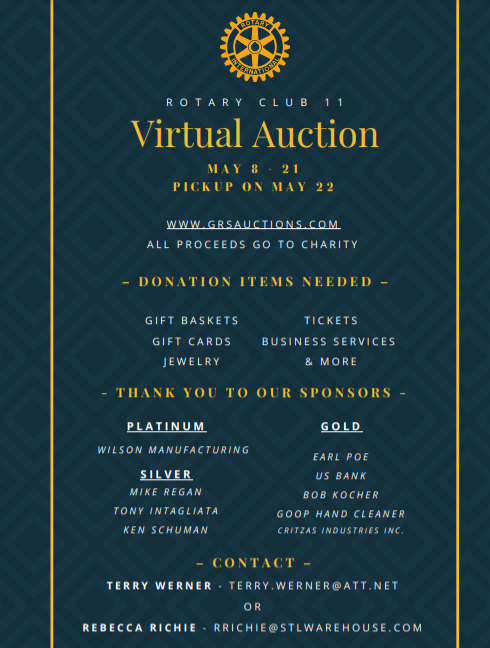 Donation Deadlines: May 1, 2021 | Return Form and Questions to:


We truly appreciate your generosity!
Please make checks out to: Rotary Club of St. Louis Welfare Fund


Virtual Auction Donation form is also available on the lunch table!
Meeting Links for April 15, 2021
Bill DeWitt III | President, St. Louis Cardinals
Register in advance for our April 15, 2021, 12 pm meeting with the
IN Person Link

. Pre-registration closes @ 11:30 am on Wednesday, April 14, 2021. We meet at the MAC Downtown on the second floor in the Missouri Room.
To attend via Zoom: Please use the St Louis Rotary Zoom Link for our April 15, 2021 meeting @ 12 pm :
After registering, you will receive a confirmation email containing information about joining the meeting
St Louis Rotary Lunch Menu ~ April 15, 2021
Endive Salad w/ fresh mint, field greens, spiced pecans, feta cheese Creamy orange dressing
~
Scaloppini of Turkey Breast Marsala w/ Mushroom Marsala Demi sauce, Garlic Mashed Potatoes & Sautéed Green Beans & Onions
Guests with dietary restrictions, alternative meals are available, but they
must be ordered by no later than 11:30 am on Wednesday, April 14, 2021.
If you don't reserve in advance please do not take a special meal ticket.


Alternative meals may be ordered by emailing the Club


Bowling Alleygations - Gary Jones | 3-29-21
St. Louis Rotary Bowling League


Alleygations for week 29 March 29, 2021


Only two weeks of bowling left in this season.


Breakdown on our leaders -


Maddox is our leader with 106 points - they won first quarter
Conway is in second place with 89 points
Jones is in third place with 66 points
Lorenz is in fourth place with 63 points - they won third quarter
Lane is also tied for fourth place with 63 points

Klackner is in fifth place with 46 points - they won second quarter


High scores -
Don Lorenz - 228
Don Klackner - 225
Ralph Decker - 216
Jeanine Conway - 191
Rose Cooper - 173


Bowling Alleygations Matthew Maddox 4-5-21
St. Louis Rotary Bowling League


Alleygations for week 30 - April 5, 2021


Last Monday was another night of fellowship and fun at Olivette Lanes!


Team Maddox won 1st place for the fourth quarter with 120 points total!!! (Having won 1st quarter also, Team Maddox has won 2 of the 4 quarters.)
The 2nd place team was Team Conway with 95 points.


And coming in 3rd place was Team Lorenz with 81 points.


Ralph Decker had the highest game of the night with a 229 scratch. He also had the highest scratch series of the night with a 643.


Don Lorenz had the second highest game with a 223. Don is still aspiring to be the next Carmen Salvino. A reminder again for those who don't know who Carmen Salvino is, he is one of the founding members of the PBA. He is 87 years old and still bowling. Carmen lives in Chicago.


ALL are welcome to join our bowling league (which happens to be the oldest bowling league west of the Mississippi!)
Bowling League Banquet | April 19, 2021
St Louis Rotary Club Bowling League Banquet is April 19, 2021


3121 Watson, St Louis, MO 63139


The Missouri RYLA Academy is a 4-day, 3-night training program for current high school sophomore and junior students across Missouri who exhibit a desire for community service.


Do you know a St. Louis high school student who would like to attend this leadership camp?
4/15/21 Presidential Telegram - Kent Steinbrueck
Rotary Club of St. Louis – Club 11
Presidential Telegram
Service Above Self and One Profits Most Who Serves Best, Rotary's official mottoes, can be traced back to the early days of the organization.


In 1911, the second Rotary convention, in Portland, Oregon, USA, approved He Profits Most Who Serves Best as the Rotary motto. The wording was adapted from a speech that Rotarian Arthur Frederick Sheldon delivered to the first convention, held in Chicago the previous year. Sheldon declared that "only the science of right conduct toward others pays. Business is the science of human services. He profits most who serves his fellows best."


The Portland gathering also inspired the motto Service Above Self. During an outing on the Columbia River, Ben Collins, president of the Rotary Club of Minneapolis, Minnesota, USA, talked with Seattle Rotarian J.E. Pinkham about the proper way to organize a Rotary club, offering the principle his club had adopted: Service, Not Self. Pinkham invited Rotary founder Paul Harris, who also was on the trip, to join their conversation. Harris asked Collins to address the convention, and the phrase Service, Not Self was met with great enthusiasm.


"Rollin' Down the River-Discovering People & Places Along the Mighty Missouri" 4-22-21
Dr. Campbell spent his career working in mathematics and mathematics education, mostly split between College of the Ozarks near Branson, MO and Missouri State University in Springfield, MO. He is now officially retired from MSU and is running AfterMath Enterprises, LLC, an umbrella organization for all the activities in which he is engaged. Besides doing talks, programs, & workshops for civic/community groups and schools (in pre- and semi-post-pandemic times), he also puts out a (free) Weekly Photo/Sharing e-mail with several Monday morning brighteners, tidbits, and a photo for the week. He also writes a bi-weekly educational column for the Springfield (MO) News-Leader. His 2nd & 3rd books – Spitballs from the Back Row and MORE Spitballs . . . – are selected collection of those columns.


Board Meeting - April 21, 2021
Board Meeting
12 PM Wednesday
MAC Downtow
Golf League Wednesday April 28th ~ Annbriar Golf Course
St Louis Rotary Golf League 2021
The schedule with all the courses and dates will be coming out within the next few weeks.
Social - Thursday, April 29, 2021 | Schafly's in Maplewood @ 5 pm
Schlafly Bottleworks
7260 Southwest Avenue
Maplewood, MO 63143
https://www.schlafly.com/bottleworks-brewpub/


4/08/21 Zoom Recording Ron Jacober & Bill Tiemann | Immortal Moments in Cardinals History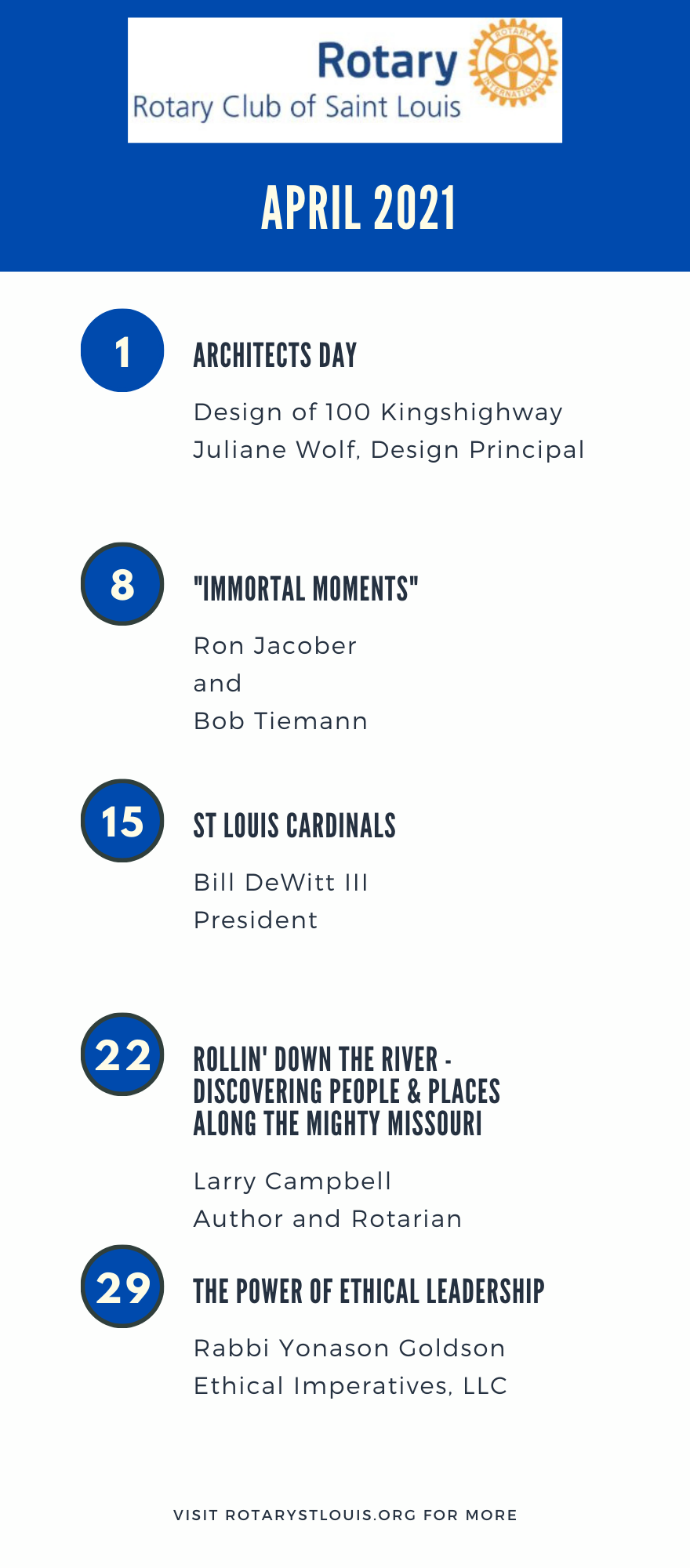 Register NOW - The District Conference is next week: April 19-23,2021 - These are one hour sessions Monday - Friday. Don't miss it!!!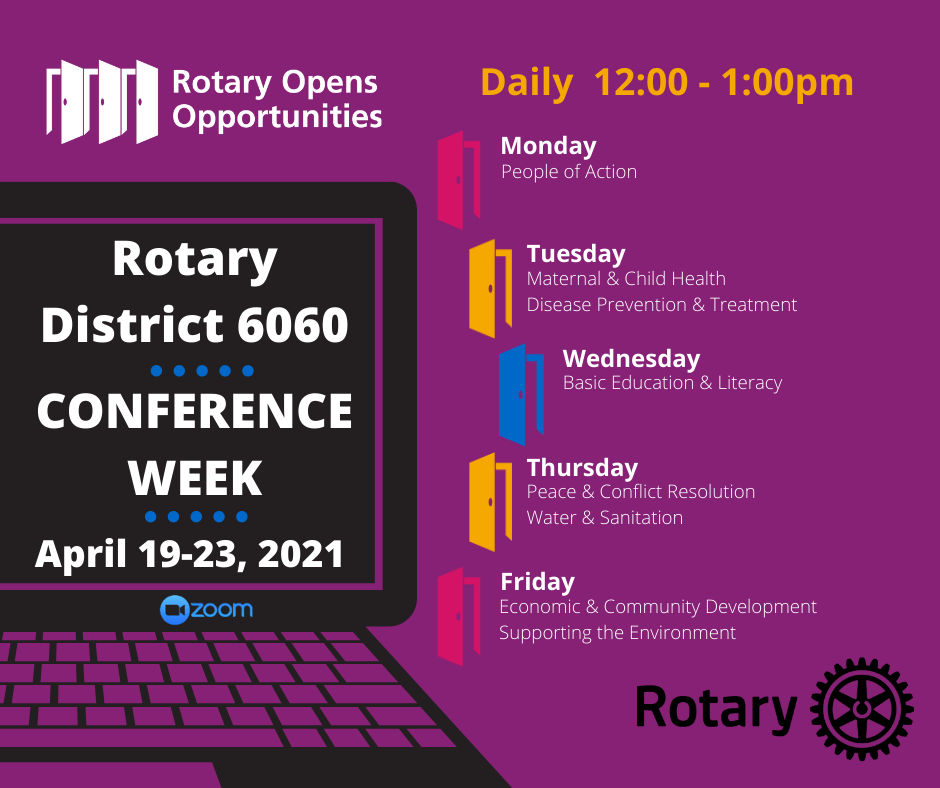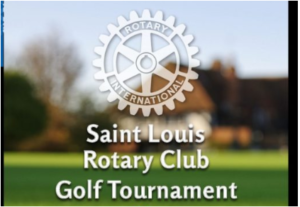 Save the Date: Club 11 Charity Golf Tournament ~ September 1, 2021.