Rotary Club 11 ~ St. Louis, MO https://rotarystlouis.org |https://www.Facebook.com/RotarySTL
"Immortal Moments in Cardinal History" | Ron Jacober & Bob Tiemann | April 8, 2021
For more than a century, the St. Louis Cardinals have given their fans a long succession of glorious memories and milestones. Immortal Moments in Cardinals History, a magnificent collection of Cardinal highlights, revives the greatest moments in franchise lore, from the forgotten victories of four consecutive pennant winners in the 1880s right through the 2014 National League Championship. The cavalcade of names and milestones roll along in every page.
Highlights include: 3,000 hits for Lou Brock and for Stan the Man October heroics by Pepper Martin, Jim Edmonds, and David Freese home run feats by Albert Pujols, Mark McGwire, and Mark Whiten no-hitters by Jess Haines, Paul Dean, and Bob Forsch achievements of superstars like Enos Slaughter, Rogers Hornsby, and Yadier Molina. shining moments of lesser stars like Tom Lawless, Glenn Brummer, and Jose Jimenez Compiled by leading historian Robert L. Tiemann with legendary Cardinal broadcaster Ron Jacober, the book reflects exhaustive research performed for decades. Their work receives a complement of rare and action-packed photos. The result is a wild and wonderful ride through Cardinal history that will delight and inform generations of fans.
St. Louis Rotary Club Program Introducer & Invocator | April 08, 2021

Introducer
Ken Schuman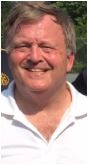 Invocator
Dan Conway
2021 VIRTUAL ST LOUIS ROTARY AUCTION | May 8 - 21, 2021 - Sponsors & Donations Needed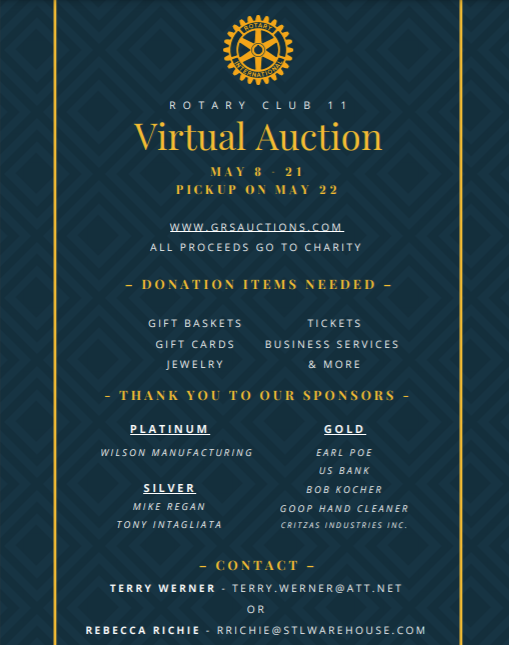 Donation Deadlines: May 1, 2021 | Return Form and Questions to:


We truly appreciate your generosity!
Please make checks out to: Rotary Club of St. Louis Welfare Fund


Virtual Auction Donation form is also available on the lunch table!
Meeting Links for April 08, 2021
Immortal Moments..| Ron Jacober & Bob Tiemann
Register in advance for our April 8, 2021, 12 pm meeting with the InPerson Link. Pre-registration closes @ 11:30 am on Wednesday, April 7, 2021. We meet at the MAC Downtown on the second floor in the Missouri Room.
To attend via Zoom: Please use the St Louis Rotary Zoom Link for our April 8, 2021 meeting @ 12 pm :
After registering, you will receive a confirmation email containing information about joining the meeting
St Louis Rotary Lunch Menu ~ April 8, 2021
Spinach & Strawberry Salad w/ Creamy Herb Dressing
~
Sliced Corned Beef Brisket on Rye w/ Sauerkraut, 1000 island dressing and Swiss Cheese
Guests with dietary restrictions, alternative meals are available, but they
must be ordered by no later than 11:30 am on Wednesday, April 07, 2021.
If you don't reserve in advance please do not take a special meal ticket.


Alternative meals may be ordered by emailing the Club


Golf League Wednesday April 28th ~ Annbriar Golf Course
The schedule with all the courses and dates will be coming out within the next few weeks.
Bowling Alleygations - Make-up Night March 24, 2021
St. Louis Rotary Bowling League


Alleygations for week ? (Makeup night) (3/24/2021)


The Rotary Bowling League had to make up a night that was "snowed out" a few weeks back. We did the make-up on 3/24/2021.


We only had 12 bowlers for the makeup round. We had 3 teams with only one bowler and 3 full teams of 3.
As it happens each single bowler team bowled a full 3 man team.


Missouri Rotary Youth Leadership Academy (MO-RYLA) 2021
The Missouri RYLA Academy is a 4-day, 3-night training program for current high school sophomore and junior students across Missouri who exhibit a desire for community service.


Do you know a St. Louis high school student who would like to attend this leadership camp?
4/08/21 Presidential Telegram - Kent Steinbrueck
In addition to the President's Message this month features 3 feature articles: In our Nature, A history of vaccination, Launch & Learn. In addition, each month they have sections: Connect (letters from Rotarians), Our World (things going on in the Rotary World) and Our Clubs (projects, fundraisers and other information about specific club). This month they also have an article out Starting a new Rotary Club.


Finally, they have Service Above Self; The Object of Rotary, The Four-Way Test and the Rotarian Code of Conduct.


If you are not getting the ROTARY magazine, let our office know and we can make sure your address is correct in the Database.


Bill DeWitt, III, President St. Louis Cardinals | April 15, 2021 @ STL Rotary Club
"Since March 2008, Bill DeWitt III has been President of the St. Louis Cardinals, overseeing all aspects of the team's business and its affiliated entities, which include the team's minor league affiliates. He also helped in the development of Ballpark Village, the 100,000 square-foot retail/entertainment project adjacent to Busch Stadium.


Prior to his appointment as team President, DeWitt was Sr. Vice President of Business Development with the Cardinals and oversaw the design and construction of the new Busch Stadium. Prior to that, he was involved in several merchandising, marketing, and operational projects for the team. DeWitt was also involved in the planning for Roger Dean Stadium in Jupiter, Florida, the Cardinals spring training headquarters and is host to their Florida State League team, the PalmBeach Cardinals."
~ St Louis Sports Hall of Fame
Board Meeting - April 21, 2021
Board Meeting
12 PM Wednesday
MAC Downtow
Social - Thursday, April 29, 2021 | Schafly's in Maplewood @ 5 pm
https://www.schlafly.com/bottleworks-brewpub/
4/01/21 Zoom Recording Juliana Wolf | 100 N Kingshighway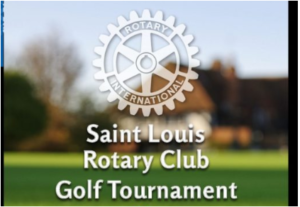 Save the Date: Club 11 Charity Golf Tournament ~ September 1, 2021.