Rotary Club 11 ~ St. Louis, MO https://rotarystlouis.org |https://www.Facebook.com/RotarySTL
Architects Day 4/1/21 ~ Juliane Wolf, Studio Gang ~ 100 Kingshighway
Juliane Wolf designs and advocates for built structures that simultaneously serve the community and the environment. Leading designs from the Chicago office as Design Principal and Partner, Juliane brings expertise in the design of sustainable public spaces, complex visitor-serving organizations, towers, and largescale, international projects.
Juliane is a graduate of the Architectural Association (AA) in London, where she received a Master of Science in Sustainable Environmental Design and remained following graduation to teach as Unit Master at the Diploma School. She holds a Bachelor of Architecture degree from IIT.
Juliane has served as a juror for the American Institute of Architects (AIA), participated in panel discussions at the American Society of Landscape Architects (ASLA) National Conference, and lectured at the Chicago Committee on High Rise Buildings (CCHRB) and the Chicago Building Congress (CBC).
St. Louis Rotary Club Program Introducer & Invocator | April 01, 2021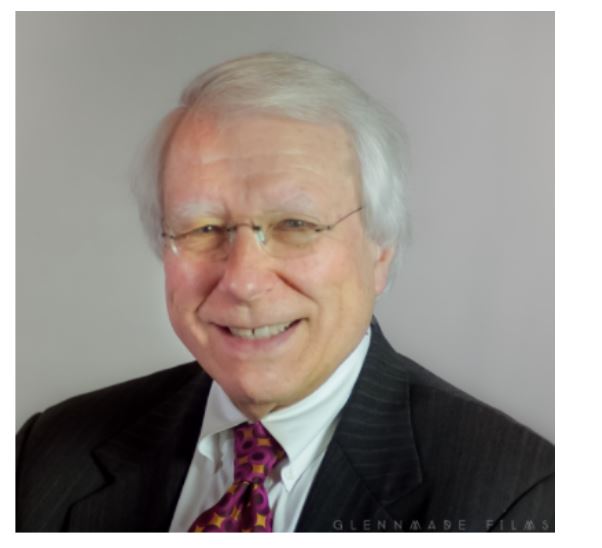 Introducer
Dale Ruthsatz

Invocator
Helen DiFate
2021 VIRTUAL ST LOUIS ROTARY AUCTION | May 8 - 21, 2021 - Sponsors & Donations Needed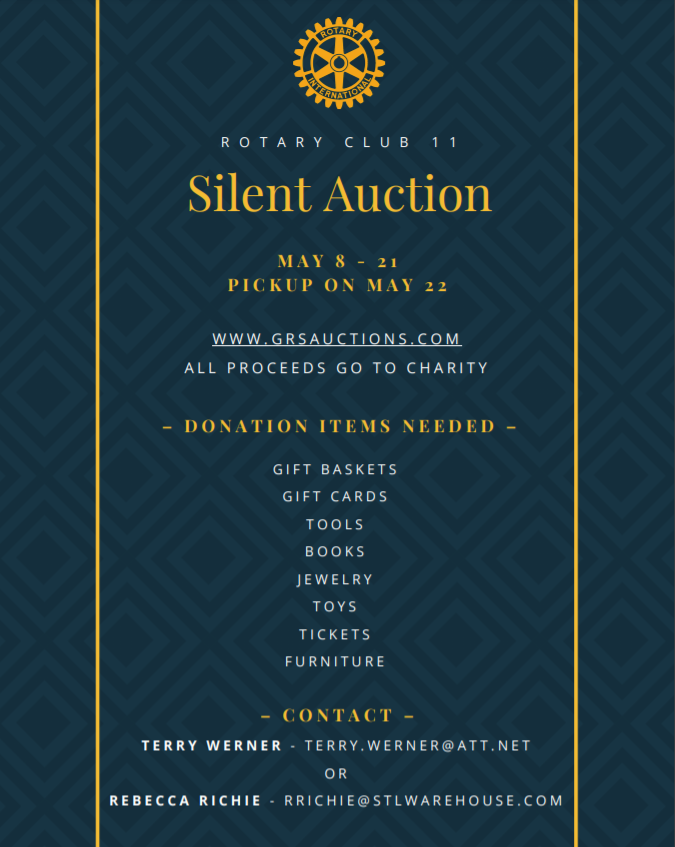 Sponsorship Opportunities
Paul Harris Award
Premium advertising space on auction site
Recognition on all flyer and email correspondence
$50.00 Auction "bucks" to use for bidding
Early preview of auction items and chance to purchase an item prior to general bidding
Advertising space on auction site
Recognition on all flyer and email correspondence
Recognition on all flyer and email correspondence
Recognition on list of donors to be displayed at Club 11 meetings
Donation Items Needed (Not Limited to)

Donation Deadlines: May 1, 2021


Return Form and Questions to:


WE TRULY APPRECIATE YOUR GENEROSITY!


Please make checks out to: Rotary Club of St. Louis Welfare Fun


Virtual Auction Donation form is also on the lunch table!
Meeting Links for April 01, 2021
Juliane Wolf | Design Principal
Design of 100 Kingshighway
Register in advance for our April 1, 2021, 12 pm meeting with the InPerson Link. Pre-registration closes @ 11:30 am on Wednesday, March 31, 2021. We meet at the MAC Downtown on the second floor in the Missouri Room.
To attend via Zoom: Please use the St Louis Rotary Zoom Link for our April 1, 2021 meeting @ 12 pm :
After registering, you will receive a confirmation email containing information about joining the meeting
St Louis Rotary Lunch Menu ~ April 1, 2021
Greek Salad ~ Romaine, Arcadian Mix, Feta Cheese, Kalamata Olives, Marinated Sweet Onions, Pepperoncini, Grape Tomatoes and Cucumbers Red Wine Vinaigrette
~
Blackened Tilapia w/ Papaya relish On Potato Pepper Hash
Guests with dietary restrictions, alternative meals are available, but they


must be ordered by no later than 11:30 am on Wednesday, March 31, 2021.


If you don't reserve in advance please do not take a special meal ticket.


Alternative meals may be ordered by emailing the Club


Rotary Golf League ~ 2021
Golf Season 2021 is just around the corner.


The schedule with all the courses and dates will be coming out within the next few weeks.


Missouri Rotary Youth Leadership Academy (MO-RYLA) 2021
The Missouri RYLA Academy is a 4-day, 3-night training program for current high school sophomore and junior students across Missouri who exhibit a desire for community service.


Do you know a St. Louis high school student who would like to attend this leadership camp?
This year it is held at University of Central Missouri in Warrensburg, MO. Additional details are in our RYLA application link


Bowling Alleygations 3-22-21 | Curt Linton ~ Team 3
St. Louis Rotary Bowling League | Alleygations Week 27 - March 22, 2021


The highlight of the evening was seeing Buzz Gerber and wife, who came in to say hi.


BULL SHIT for the night: Ralph Decker came in late during the second game and sat out until 3rd game. But he was in time to buy into the 50/50 and Won it.


Team Jones might be calling Bull Shit also. Don Klackner subbing for Team Conway help lead Team Conway to victory.


Team Klackner, drinking a few beers, sure missed their Captain and lost all 20 to Team Lorenz.


Personal highlights: Terry Werner took high scratch and handicap games and series. 724 High series.


Don Klackner 647, Doug Lorenz 631, and Matt Weiss 629.


Team Conway is in the lead for the quarter. I bet that is short lived.


4/01/21 Presidential Telegram - Kent Steinbrueck
Rotary Club of St. Louis – Club 11 Presidential Telegram
Last week's Rotary song Vive Le Rotary didn't give as much feedback at the previous week's Rotary Song, so I promise this is the last week of ROTARY SONGS!!


Oh when the saints! Oh when the saints!
Oh when the saints go marching in
Yes I want to be in that number
When the saints go marching in
And when the sun! And when the sun!
And when the sun begins to shine
Yes I want to be in that number
When the sun begins to shine.
Oh when we meet! Oh when we meet!
Oh when we meet at Rotary
Yes I want to be in that number
When we meet at Rotary.
"Immortal Moments in Cardinal History" | Ron Jacober & Bob Tiemann
For more than a century, the St. Louis Cardinals have given their fans a long succession of glorious memories and milestones. Immortal Moments in Cardinals History, a magnificent collection of Cardinal highlights, revives the greatest moments in franchise lore, from the forgotten victories of four consecutive pennant winners in the 1880s right through the 2014 National League Championship. The cavalcade of names and milestones roll along in every page.
Highlights include: 3,000 hits for Lou Brock and for Stan the Man October heroics by Pepper Martin, Jim Edmonds, and David Freese home run feats by Albert Pujols, Mark McGwire, and Mark Whiten no-hitters by Jess Haines, Paul Dean, and Bob Forsch achievements of superstars like Enos Slaughter, Rogers Hornsby, and Yadier Molina. shining moments of lesser stars like Tom Lawless, Glenn Brummer, and Jose Jimenez Compiled by leading historian Robert L. Tiemann with legendary Cardinal broadcaster Ron Jacober, the book reflects exhaustive research performed for decades. Their work receives a complement of rare and action-packed photos. The result is a wild and wonderful ride through Cardinal history that will delight and inform generations of fans.
3/25/21 Zoom Recording E. Tracy Beckett | Focus on Army Priorities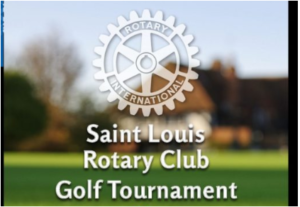 Save the Date: Club 11 Charity Golf Tournament ~ September 1, 2021.