Rotary Club 11 ~ St. Louis, MO https://rotarystlouis.org |https://www.Facebook.com/RotarySTL
Missy Kelley and Sarah Arnosky ~ Greater St. Louis, Inc on February 25, 2021
AllianceSTL, Arch to Park, Civic Progress, Downtown STL, Inc., and the St. Louis Regional Chamber came together on January 1, 2021, as Greater St. Louis, Inc.


Leaders of the new organization will work collaboratively to address the metropolitan area's challenges and opportunities for broad-based prosperity.Leaders of the new organization will work collaboratively to address the metropolitan area's challenges and opportunities for broad-based prosperity.
St. Louis Rotary Club Program Introducer & Invocator | February 25, 2021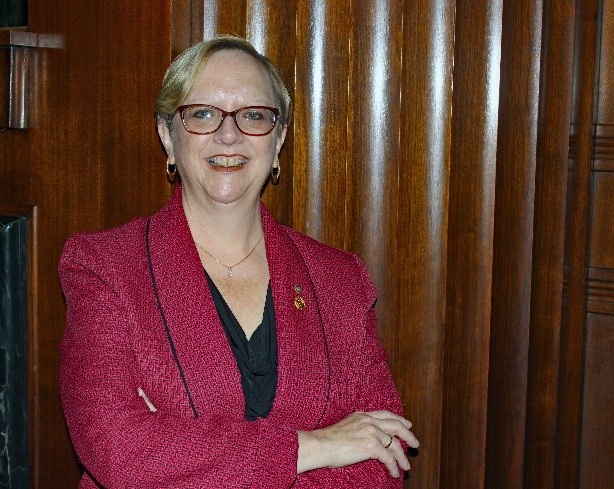 Introducer
Beth Russell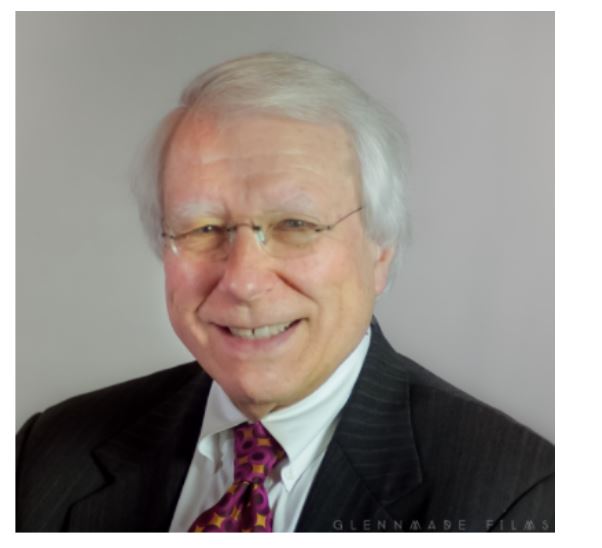 Invocator
Dale Ruthsatz
Grant Deadline to Rotary Sponsor: March 12, 2021
Each application must be sponsored by a current member of the Rotary Club of St. Louis. Applications must be submitted to the Rotary Sponsor by March 12, 2021.
March 18, 2021 Deadline for Rotary Sponsor to Send Completed applications with all signatures and attachments to the Community Service Committee Chairs: Matt Weiss, Tom Keeline and Matthew Maddox.
Meeting Links for February 25, 2021
Greater St Louis Inc, ~
Missy Kelley & Sarah Arnosky
Register in advance for our February 25, 2021, 12 pm meeting with the Zoom Link Above
After registering, you will receive a confirmation email containing information about joining the meeting.


________________________________
Register with this link for our IN PERSON STL Rotary Meeting on February 25, 2021 at 12 pm @ the MAC Downtown:
St Louis Rotary Lunch Menu ~ February 25, 2021
Ambrosia on lettuce leaf
~
Boursin Stuffed Chicken Breast w/ Shallot/Pancetta Jus
Wild Rice Medley, Grilled Cauliflower


Guests with dietary restrictions, alternative meals are available, but they
must be ordered by no later than 11:30 am on Wednesday, February 24, 2021.
If you don't reserve in advance please do not take a special meal ticket.
Alternative meals may be ordered by emailing the Club
St. Louis Rotary Speakers Schedule for February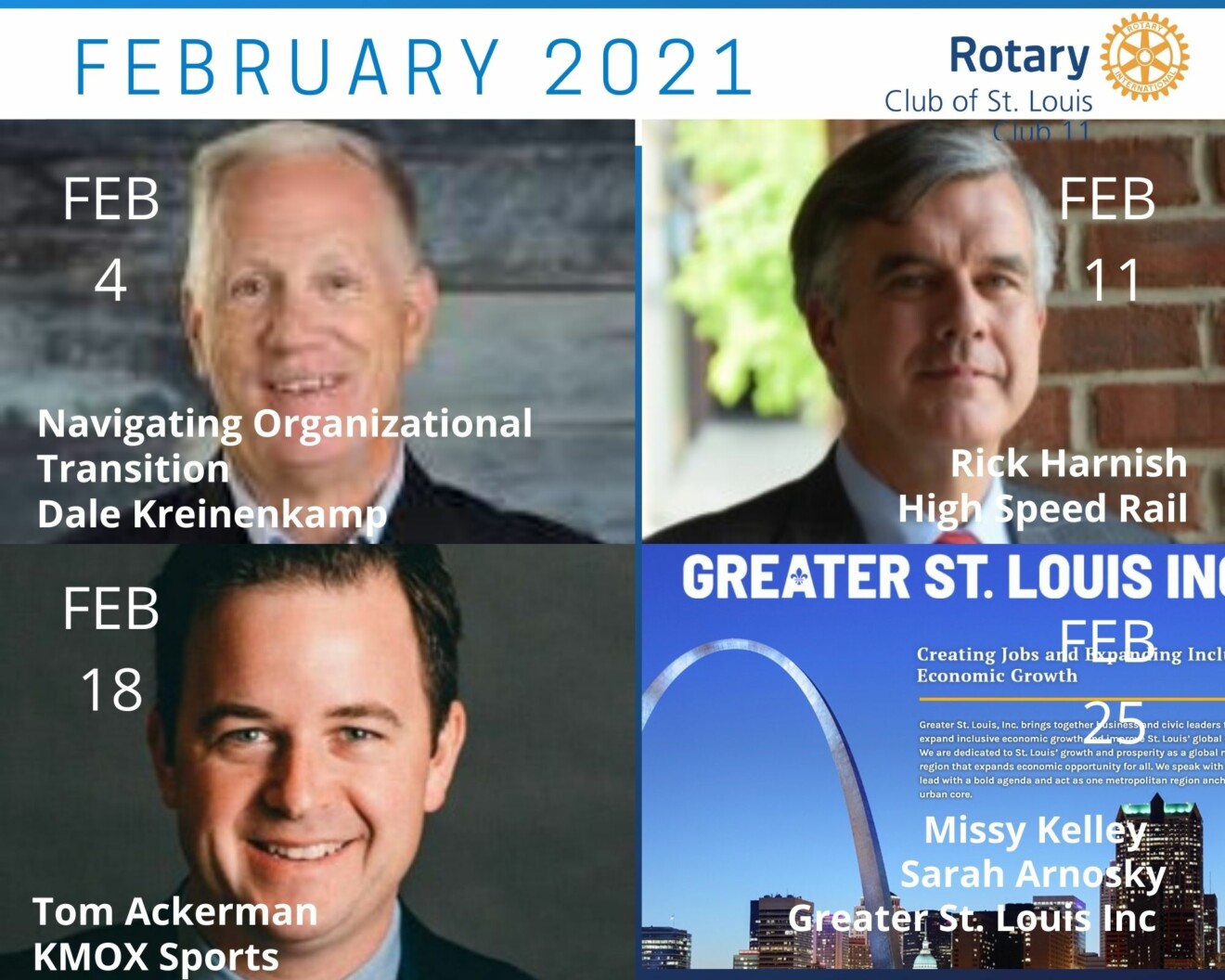 No Bowling Alleygations For 2-15-21 | Due To Weather Bowling was Cancelled :-(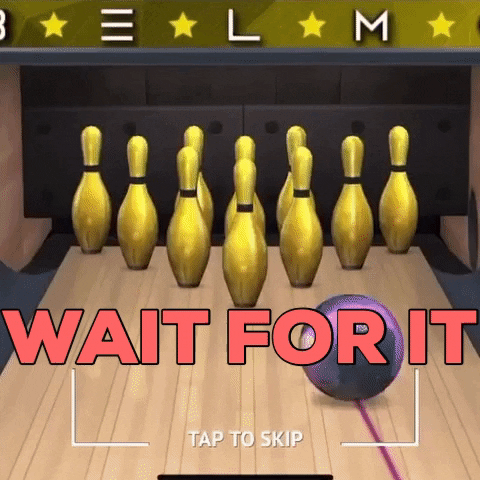 2/25/21 Presidential Telegram - Kent Steinbrueck ~
Did you know that some also observe the following Holidays annually on February 22nd?
National Be Humble Day (Some need this more than others); National Cook a Sweet Potato Day (Does that mean you should eat it too or just cook it?); National Play more cards day (Does this included our 50/50?); World Thinking Day (Just think about that a moment!!); National Margarita Day (Reminds me of Los Lupes and a few other Mexican restaurants); National Walking the Dog Day (Always a good idea especially with your best friend)
Hope you enjoyed


The Four-Way Test of the things we think, say or do
⦁ Is it the truth?
⦁ Is it fair to all concerned?
⦁ Will it build goodwill and better friendships?
⦁ Will it be beneficial to all concerned?
DEFINITELY WORDS TO LIVE OUR LIVES BY
PROGRAMS
Tom Ackerman, Sports Director at KMOX radio was our speaker giving a program on Sports in St. Louis in 2021. He covered that gamut of the sports scene and gave his insight on the local coaches, players and teams. Tom also gave some of his real life experiences and how he got to where he is today as only the 3rd Sports Director at the mighty KMOX.
This coming Thursday we have Missy Kelley, Sr Vice President of Greater S. Louis, Inc as our speaker. She will be co-presenting with Sarah Arnosky, a colleague of Missy. They will give an overview of Greater St. Louis, Inc and their mission of inclusive economic growth anchored by a strong urban core. They will the give highlights of the new 10-year development plan for Downtown St. Louis.
I know I have said this before – but you really do not want to miss this one. They are such a vital part of St. Louis being strong once again.


Annie's Hope is recruiting camp volunteers! ~ An Opportunity for Hands On Service
"...an opportunity for our Club members to sign up as volunteers for one of the Organizations that we have supported through the Grant process. Actually, Annie's Hope held their first Camp Courage out at Skyway Farm many years ago. " Rick Tinucci "Will you please publish this opportunity in the next Pepperbox?" Thanks, Matthew Maddox
Annie's Hope – The Center for Grieving Kids is a St. Louis-based nonprofit whose mission is to offer comprehensive support services to children, teens, and their families who are grieving a death.
This summer, we will host two Camps for grieving kids: Camp Courage, a five-day, four-night in-person camp; and Camp Courage–Virtual, a five-day virtual camp. Volunteers are essential to the success of the Camps. Can you please help us spread the word of our need for volunteer camp counselors, arts and crafts leaders, and helping hands?

We are looking for energetic, kid-loving volunteers who are 18 years old or older to support the bereaved kids who come to Camp. No experience as a social worker, counselor, or major in a social service profession is required. Some of our greatest counselors have represented the nursing, education, child life, outdoor education, physical education, and business disciplines. No matter the course of study or professional role, a volunteer experience with Camp Courage and/or Camp Courage–Virtual is sure to inform one's education and professional work.
St Louis Rotary Program Committee Meeting 3-1-21
St. Louis Rotary Club Program Committee Meeting


MAC Downtown - Veterans Room


Engineers Day ~ Dr. Joel Burken, Missouri S & T | March 4, 2021
Dr. Joel Burken,
Missouri S & T
Curators Distinguished Professor
Highlights include Recent Headline News and Research Interests
2/18/21 Zoom Recording Tom Ackerman | Sports in St Louis 2021
A Conversation with Jenny Stotts- ZOOM February 24, 2021
Jenny Stotts ~ The science of resilience as a tool to strengthen organizations.


Meeting ID: 843 6239 6413


Provided by Heart of America Rotary Zones 30 and 31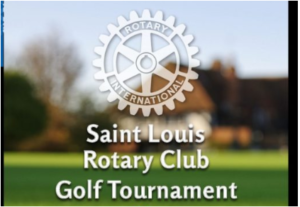 Save the Date: Club 11 Charity Golf Tournament ~ September 1, 2021.