Rotary Club 11 ~ St. Louis, MO https://rotarystlouis.org |https://www.Facebook.com/RotarySTL
Rick Harnish, E.D. High Speed Rail Alliance | February 11, 2021
By connecting cities, towns and airports, the high-speed trains will dramatically expand economic opportunities and slash carbon emissions.


A native of the Chicago area, Harnish has been MHSRA's executive director since 2001. His perspective on trains and transportation policy has appeared in
Bloomberg, the Wall Street Journal, USA Today, Politico, Governing, the Chicago Tribune, Chicago Magazine, Crain's Chicago and many other publications, in addition to various NPR programs. He has achieved notable successes and progress in MHSRA's three focus areas: advocacy, education, and research.


Harnish's work is informed by his strong commitment to researching and learning from global best practices. He has ridden high-speed trains—often in the context of leading small groups—in Belgium, China, England, France, Germany, Italy, Japan, South Korea, Spain, and Turkey, and he draws on a global network of colleagues with expertise in trains and transportation policy.


St. Louis Rotary Club Program Introducer & Invocator | February 11, 2021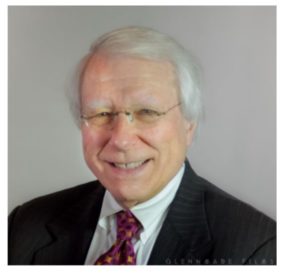 Introducer:
Dale Ruthsatz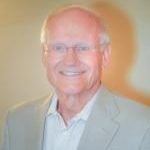 Invocator:
Pete Milne
2020 Grant Recipient Success!
Rotary $$ at work from last year:


"Check out the future electricians of Missourah. The kids love construction classes. "


Picture and note received from


"best to you all. Hope to see you in person soon. Stay safe!"


Grant Apps & Guidelines Available Now!
Meeting Links for February 11, 2021
High Speed Rail~
Rick Harnish
Register in advance for our February 11, 2021, 12 pm meeting with the Zoom Link Above
After registering, you will receive a confirmation email containing information about joining the meeting.


________________________________
Register with this link for our IN PERSON STL Rotary Meeting on February 11, 2021 at 12 pm @ the MAC Downtown:
St Louis Rotary Lunch Menu ~ February 11, 2021
Spinach, mushroom, artichoke salad w/ Italian dressing
~
Fried Chicken ~ Mashed potatoes, Green beans
Guests with dietary restrictions, alternative meals are available, but they
must be ordered by no later than 11:30 am on Wednesday, February 10, 2021.
If you don't reserve in advance please do not take a special meal ticket.
Alternative meals may be ordered by emailing the Club
Here is the St. Louis Rotary Speaker Schedule for February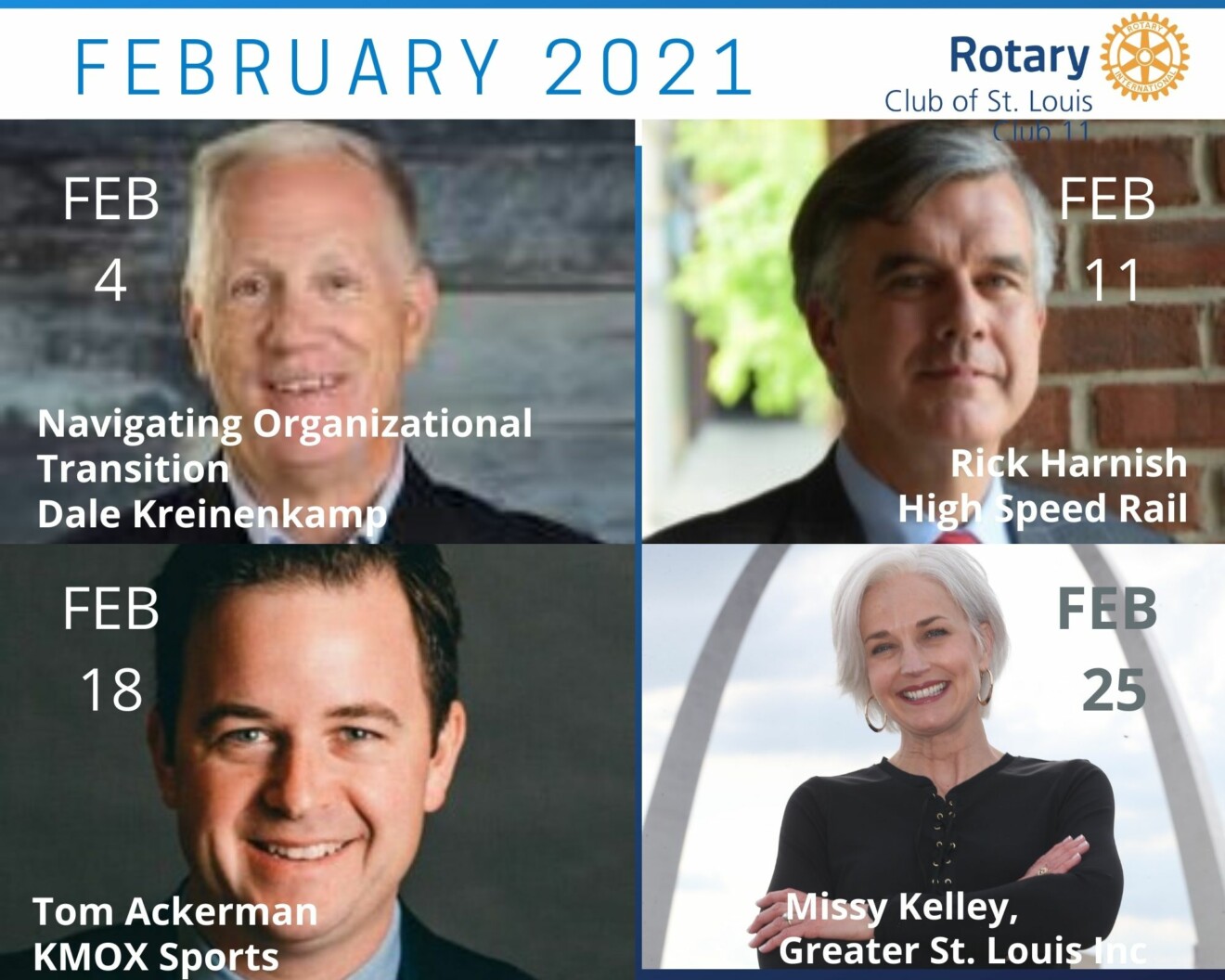 Bowling Alleygations 2-4-21 | Dan Conway ~ Team 3
Week 21 - February 1, 2021
From: Captain Dan Conway - Team 3


This past Monday's bowling finished the 3rd quarter with Team Lorenz finishing first over Team Lane which finished second. It could have gone either way but Team Lorenz closed it out winning the third game thus taking two of the three games and total pins.
Kent Steinbrueck bowled a nice 617 game with nice performances by Bob Barnes and Doug Lorenz. This was enough to offset Carl Lane's nice 622 game. Team Lorenz wins 14 points to Team Lane's 6 points.


On Lanes 21 and 22, Team Jones thwarted any effort of Team Conway moving up by taking 18 of 20 points. Gary Jones bowled a 604 handicapped team with strong enough support from Arnie Hadler and Vic DiFate to defeat Team Conway.


Over on Lanes 23 and 24 Team Maddox and Team Klackner, previous first place finishers of the first and second quarter were yucking it up watching the balance of the Rotary bowling teams fight out. Team Klackner did not let up winning 14 out of 20 points from Team Maddox with strong games from Jack Windish 645 and Leonard Lehmkuhl 638. This was somewhat offset by the return of Ralph Decker with a nice 648 gameTeams Conway, Lane and Jones will now battle it out for the last spot.
Presidential Telegram - Kent Steinbrueck ~ 2/11: Rick Harnish, High Speed Rail
" Whatever Rotary May mean to Us, to the World




it will be known only by the results it achieves."
Paul Harris, Rotary Founder


The Four-Way Test of the things we think, say or do
Is it the truth?
Is it fair to all concerned?
Will it build goodwill and better friendships?
Will it be beneficial to all concerned?
DEFINITELY WORD TO LIVE OUR LIVES BY
BE PROUD TO BE A ROTARIAN
ESPECIALLY A ROTARIAN IN THE ROTARY CLUB OF ST. LOUIS
As we have consistently done with our Club and our Meetings, we will continue to follow the guidelines set by the City of St. Louis and the Missouri Athletic Club (our meeting site) while having a safe environment.


As we come out of the COVID 19 this year, let's try to work adding to our membership. If everyone just asks one close friend or business associate, we will be able to grow in 2021.
Pass on information about our club and about Rotary to your friends, send the Pepperbox to them, Like and Share on Social Media. We really do have a great club, let's not be afraid to tell the WORLD.
MAKES ME PROUD TO BE A ROTARIAN IN THE ROTARY CLUB OF ST. LOUIS
Dale Kreienkamp had talked to our Club previously and sometimes with repeat speakers it becomes monotonous and doesn't keep the attention of our members. Dale was not monotonous. He spoke to us about Navigating Organizational Transitions. He did a great job of weaving his personal experiences with the theories of how to handle job and company reorganizations. In addition, he donated his book, How Long, Oh Lord, How Long? Great program!!


Our next meeting will be on Thursday February 11th. The program will be an update on the High Speed Rail Alliance. The Executive Director, Rick Harnish will be the speaker. Their website, High Speed Rail Alliance | (hsrail.org) ,


Tom Ackerman, STL SPORTS IN 2021 | February 18, 2021
Tom Ackerman's first gig behind a microphone came when he was a sophomore at St. Louis Country Day School. It was his first real experience in the press box, rifling through rosters, interviewing head coaches, and calling plays on the field as the school's public address announcer. The games were on Saturday, and at halftime, Ackerman would call the old KMOX Sportsline to get the college football scores, which he then relayed to the crowd.
The updates were his first official sportscasts. His dad, Bill, would give him advice, listing what he liked to hear in a broadcast. Of particular importance? The right way to introduce "The Star-Spangled Banner." "'Ladies and gentlemen, please rise and join in the singing of our national anthem,'" his dad would instruct him. "That's the proper way to address the crowd, Tommy." ***** "Mr. Buck, I'm Tom Ackerman. I just started working here." After graduating from Indiana University, Ackerman returned to St. Louis and applied for a minimum-wage position at KMOX as board operator during Cardinals and Blues games.


St Louis Rotary Club Moments February 4, 2021
Club 11 Charity Golf Tournament - Save the Date ~ September 1, 2021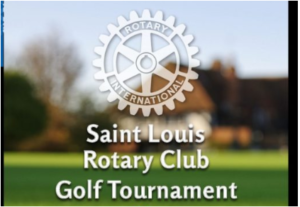 An Innovative Approach to Saving Lives in Latin America
Join us this Wednesday 10 February -- An innovative approach to saving lives in Latin America.


Topic: Stove Team Initiative---Latin America


Time: Feb 10, 2021
7:00 PM Eastern
6:00 PM Central


Meeting ID: 829 6095 5126
Passcode: 109208