Rotary Club 11 ~ St. Louis, MO https://rotarystlouis.org |https://www.Facebook.com/RotarySTL
History of St. Louis Sport's Business History| Ken Weintraub ~ January 21, 2021
Ken

Weintraub

is a retired social worker currently volunteering with The Kaufman Fund veterans organization while continuing his passionate studies of sports and sports business.
He is the immediate past CEO of the Jewish Community Center and a former Senior Development Officer at the Jewish Federation of St. Louis. Ken received his BA in History at the State University of New York at Binghamton, and his masters in social work (MSW) at the University of Pennsylvania.



A native of Buffalo, NY, Ken literally "grew up" in arenas and stadiums. Growing up in a family of active sports fans, as a young boy who developed an interest in the business of sports complimenting his excitement over the games itself...These interests began by observing the concession business at stadiums and arenas alike, especially admiring the efficiencies of stand workers and in stadium vendors.


His older brother was the assistant ticket manager and an administrator for the Buffalo Bills in the mid 1960's, and in 1968 Ken was placed in charge of hiring vendors for the sale of programs at Bills home games. Between 1970/73, Ken worked to record "minutes played" for home games of the Buffalo Braves NBA team who are now known as the Los Angeles Clippers.


Over the past 5 decades, Ken has attended major events of all the major sports, nationwide, and has been fortunate to see games in a wide variety of the most storied arenas and stadiums, viewing classic teams coast to coast. Visits to such stadia as the Los Angeles Memorial Coliseum, United Center, in Chicago, and the 2018 Army- Navy game in Philadelphia are examples of his recent sports travels.


Over the past 10 years, Ken has developed presentations on various aspects of "the business of sports" combining his knowledge of American history, sports and business to create presentations which focus on either the national or local portrayals of the business that supports the athletes at play - either locally or nationally. He has presented on this topic at St. Louis Community College, St Charles Community College, Washington University - University College of Adult Learning, and for Oasis,


While serving as the senior development officer at the Jewish Federation, Ken developed corporate relationships and sponsorships with the St. Louis Rams and the St. Louis Blues, along with the athletic departments of Maryville University and St Louis University.
1-21-21 Introducer & Invocator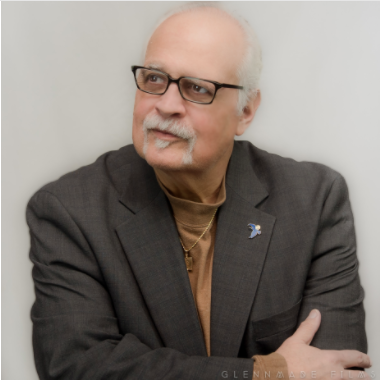 Introducer, Richard Losciale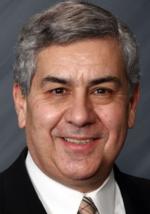 Invocator, Bob Garagiola
Grant Apps & Guidelines Available Now!
Grant Apps and Guidelines are now available here in our Pepperbox letter. You can access the forms with the links we've provided here:


St. Louis Rotary Club Election Results 2021-22
President: Jack Windish

1st Vice President: Richard Warriner

Active Vice Presidents: Rebecca Richie and Jeromy Fritz

Sergeant At Arms: Michele Goad

Directors: Tom Keeline, Pete Milne, and Matt Weiss
History of St Louis Sports -Ken Weintraub
Register in advance for our January 21, 2021, 12 pm meeting with the Zoom Link Above
After registering, you will receive a confirmation email containing information about joining


_________________________
Register with this link for our IN PERSON STL Rotary Meeting ,- It is January 21, 2021 at 12 pm @ the MAC Downtown:
Lunch Menu ~ January 21, 2021
Southwest Caesar
~
Chicken Enchiladas w/ Green Chile Sauce ~ Refried Beans & Spanish Rice
Guests with dietary restrictions, alternative meals are available, but they
must be ordered by no later than 11:30 am on Wednesday, January 20, 2021.
If you don't reserve in advance please do not take a special meal ticket.
Alternative meals may be ordered by emailing the Club
Bowling Alleygations 1-11-21 | Captain Matthew Maddox ~ Team 6
St. Louis Rotary Bowling League | Alleygations for week 18 (January 11, 2021)
Last Monday was another fun night at Olivette
Lanes! We had 2 bowlers who scored over 200 in a scratch game.


Lehmkuhl scored 233 in his 1st game
of the night and Steinbrueck scored 202 in his 3rd game of the
night. Several


of us enjoyed the dining room being open again
where you can always enjoy great food, drinks and conversation.


ALL are welcome to join our bowling league (which happens to be the oldest bowling league west of the Mississippi!)


Trust me the fellowship and competitive fun are both top notch! If you interested in joining the bowling league or if you know someone else who might be interested,
please reach out to Ralph Decker ralph_decker@sbcglobal.net or Matt
Weiss harry_weiss73@yahoo.com


(Note: You don't have to be a member of Rotary to join the bowling league.)


Presidential Telegram - Kent Steinbrueck ~ January 18, 2021
The Four-Way Test of the things we think, say or do
Is it the truth?
Is it fair to all concerned?
Will it build goodwill and better friendships?
Will it be beneficial to all concerned?
BE PROUD TO BE A ROTARIAN
ESPECIALLY A ROTARIAN IN THE ROTARY CLUB OF ST. LOUIS
| | | |
| --- | --- | --- |
| | | "For last year's words belong to last year's language. And next year's words await another voice." — T.S. Eliot |
Here is the 2021-22 Rotary Club of St. Louis Board of Directors to Lead our Club starting July 1, 2021 through June 30, 2022


President Jack Windish President Elect Richard Warriner


Vice Presidents Rebecca Richie, Jeromy Fritz


Sergeant at Arms Michele Goad


New Directors elected Matt Weiss Pete Milne Tom Keeline


Serving 2nd year Dan Conway Bob Kocher Mike Regan Rebecca Richie


Since Rebecca Richie has been elected to one of the Vice President positions, the President will appoint a replacement for the open Director spot.
As we have consistently done with our Club and our Meetings, we will continue to follow the guidelines set by the City of St. Louis and the Missouri Athletic Club (Our meeting site) while having a safe environment.


St Louis Civilians Write Up in Governor's Newsletter 1-18-21
"They are part of Saint Louis Club 11; it is a Satellite Club and was formed in 2019. They started meeting at the Civil Life Microbrewery located in South Saint Louis City. The meeting format was somewhat different as the meetings were not centered around a meal but as a social gathering with service at the forefront.
There currently are 10 members and have been meeting Via Zoom since the pandemic. They are a highly active group and have plans in the work for membership growth. On January 16, 2021, in the spirit of Dr. Martin Luther King Jr., The St. Louis Civilians Rotary Club partnered with a local organization Erase the Trace to tackle the cleanup of the Graffiti Wall aka the Flood Wall in downtown St Louis. Six Rotary volunteers including District Governor Tom Drennan, Michelle Goad of Club 11, as well as Civilians Co-Chair Chad Baker, Nicole Kliebert, Kevin King and Ralph Zuke helped Erase the Trace volunteers collect 40+ bags of trash and recyclables. Dr. King once said, "everybody can be great, because everybody can serve."


Zoom Recording Juli Niemann | State of the Economy 2021
Access Passcode: 5k!3yWHr
Finding the American Dream | Bill Clevlen, Author ~ January 28, 2021
"About Bill Clevlen
"Traveling across America and telling the stories of great people and places is the thrill of a lifetime" says Bill Clevlen.
"Bill On The Road" was born in 2013 after becoming fed up with so many negative stories, focusing on bad things about cities and states - instead of highlighting the positives.


Mediators Beyond Borders International PeaceConnect Session 1-28-21

MBBI is a recognized service partner of Rotary International. The MBBI—Rotary Partnership Working Group (MBBI—RWG) seeks to build bridges to increase the peacebuilding capacity of both organizations to advance the common goals of preventing, reducing, and healing conflicts in communities around the world.


This is a registration link to one of their upcoming sessions.


Join

us for

our

upcoming PeaceConnect sessions! This is the 1st session.



Ambassadorial Scholarship $25,000 Offered by Rotary District 6060 Application Deadline is 1/31/21
Rotarians and relatives of Rotarians are not eligible to apply for a Rotary scholarship. However, members of Rotaract clubs are eligible and encouraged to apply, provided that they meet all other eligibility criteria.
They are available only to applicants whose field of study and career plans pertain directly to one or more of the following seven humanitarian focus areas:
1) Peace and conflict prevention and/or resolution


Jennifer Jones - January 27, 2021 | Save the Date!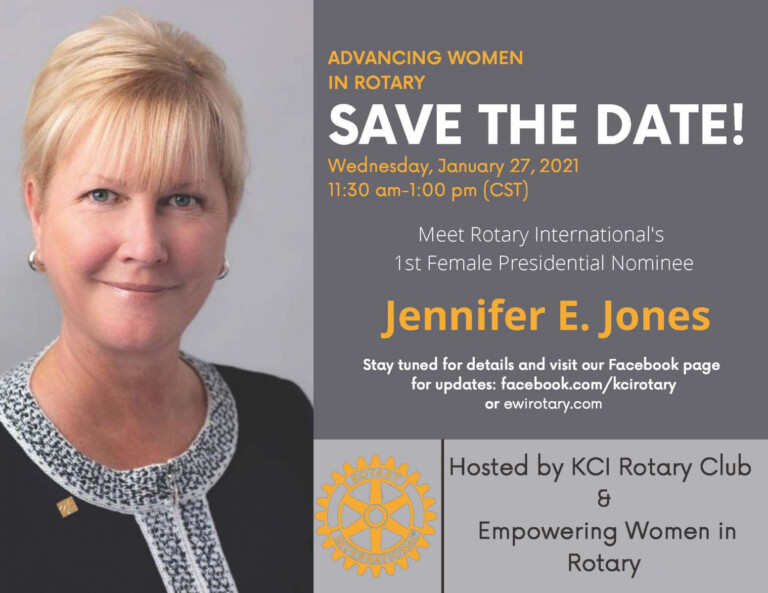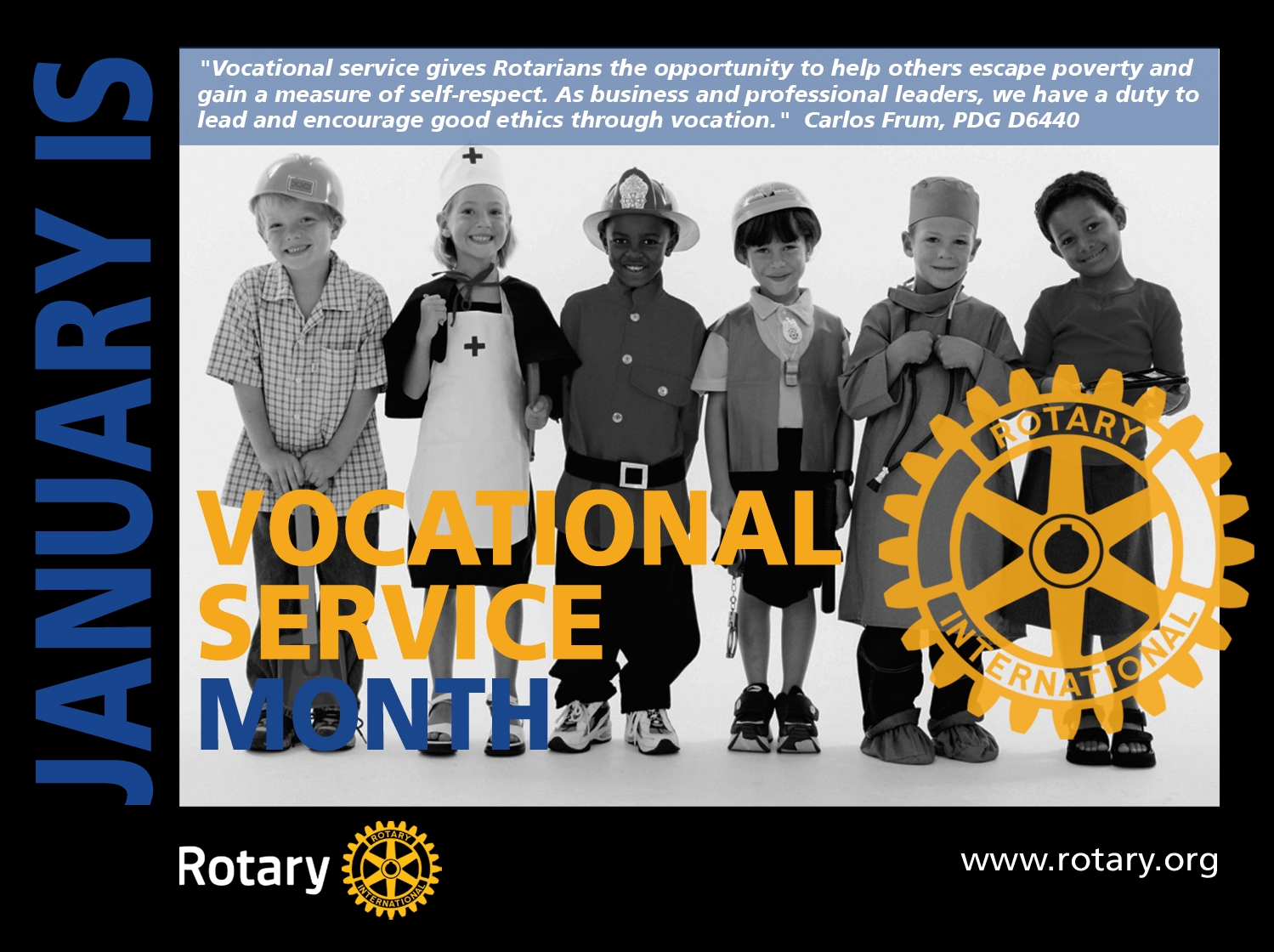 "Everybody can be great...because anybody can serve. You don't have to have a college degree to serve. You don't have to make your subject and verb agree to serve. You only need a heart full of grace. A soul generated by love."