Rotary Club 11 ~ St. Louis, MO https://rotarystlouis.org |https://www.Facebook.com/RotarySTL
Annual Business Meeting - January 7, 2020
Our next meeting will be on Thursday January 7th. We will have our annual Business Meeting. It will be an informational meeting outlining the last 6 months. It will include what committees have accomplished and projects in the works. We will try to make it as fast paced as possible. Be sure to be there either in person or virtually.
Speaker and Invocator January 7, 2021
Slate of Candidates for the Rotary Club Year 2021-2022 from the Nominating Committee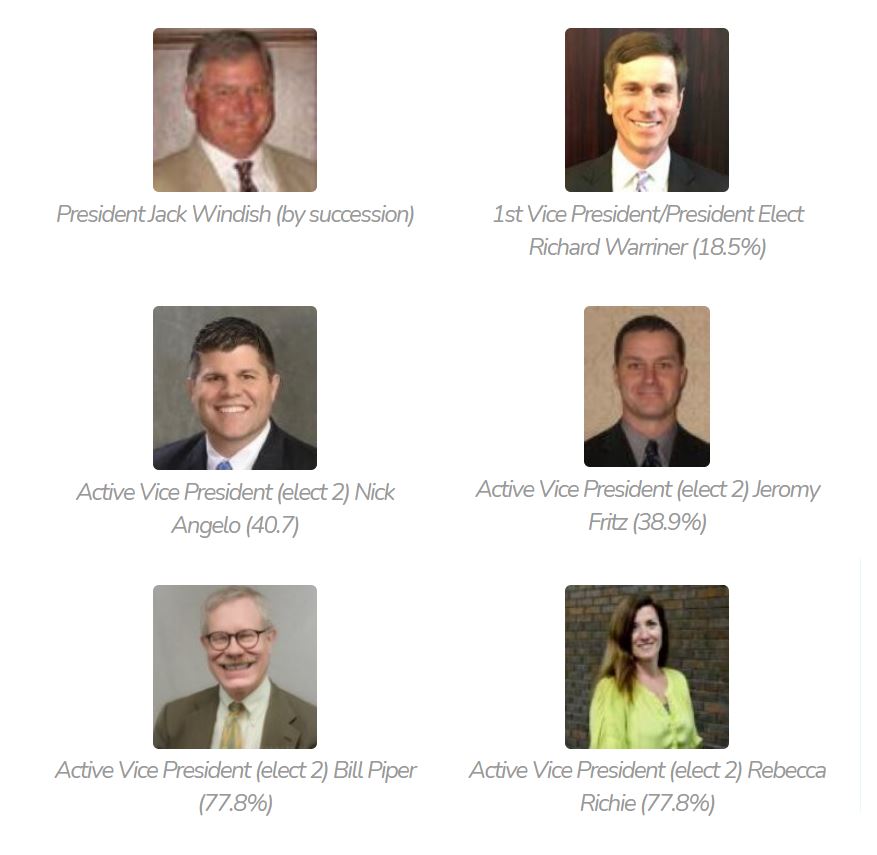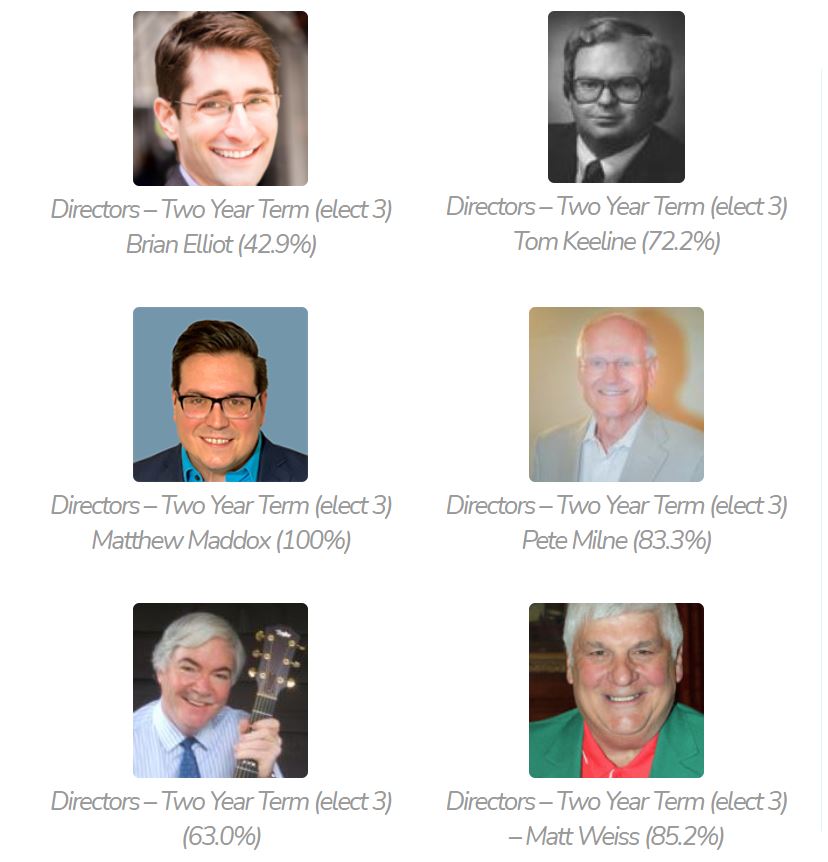 President Jack Windish ( by succession)
1st Vice President/President Elect - Richard Warriner (18.5%)
Active Vice President (elect 2)
Nick Angelo (40.7%)
Jeromy Fritz (38.9%)
Bill Piper (77.8%)
Rebecca Richie (77.8)
Sergeant at Arms (elect 1)
Michele Goad (64.8%)
Doug Lorenz (50%)
Directors - Two Year Term (elect 3)
Brian Elliot (42.9%)
Tom Keeline (72.2%)
Matthew Maddox (100%)
Pete Milne (83.3%)
James Webster (63.0%)
Matt Weiss (85.2%)
Meeting Links 1-7-21
Register in advance for our January 7, 2021, 12 pm meeting with the Zoom Link Above


After registering, you will receive a confirmation email containing information about joining


Register with the link above for our IN PERSON STL Rotary Meeting ,- It is January 7, 2021 at 12 pm @ the MAC Downtown


Lunch Menu ~ January 7, 2021
January 7, 2021
Oil & Vinegar Romaine salad w/ Shredded Romano Cheese & Croutons
~
Chicken Spedini w/ Lemon cream Sauce,
Parmesan Risotto, Roasted Brussel Sprouts w/ Onions
Guests with dietary restrictions, alternative meals are available, but they must be ordered by no later than 11:30 am on Wednesday, January 7, 2021.
If you don't reserve in advance please do not take a special meal ticket.
Alternative meals may be ordered by emailing the Club
Bowling Alleygations 12-28-20 | Captain Doug Lorenz ~ Team 4 (Week 16)
The Rotary Bowling League began the third quarter this week. We had a decent turnout with 16 bowlers this week.


Team Lorenz bested Team Klackner 16 – 4 led by Bob "Newsie" Barnes who bowled a 685-handicap series to lead all bowlers. Kent Steinbrueck was second overall for handicap series this week with a 671 series. I also participated but it was not noteworthy.
This is the first time this season that Team Lorenz is shown in first place in the standings. It is also the first week that Team Klackner is shown in last place. I don't expect either team to remain where they are for long.


Presidential Telegram - Kent Steinbrueck ~ January 4, 2020
Rotary Club of St. Louis – Club 11


READ THE PEPPERBOX
BE PROUD TO BE A ROTARIAN
ESPECIALLY A ROTARIAN IN THE ROTARY CLUB OF ST. LOUIS
HAPPY NEW YEAR 2021 from Club 11 and President Kent Steinbrueck
| | | |
| --- | --- | --- |
| | | "For last year's words belong to last year's language. And next year's words await another voice." —T.S. Eliot |
Very appropriate words by this St. Louisan. Although they were written many years ago, they are still appropriate, especially during these times. Let's hope the voice for 2021 is a good one and will teach us to appreciate every minute of every day.
Program Committee Meeting Monday January 11, 2021 - ZOOM
Program Committee Meeting
January 11, 2021 @ noon by ZOOM


State of the Economy 2021 Edition | Juli Niemann ~ January 14, 2021
Juli Niemann - State of the Economy 2021 Edition
Don't miss this St. Louis Rotary meeting!
Million Mask challenge displays power of Rotary network
A 26-foot truck, emblazoned on all sides with the Million Mask Challenge Tour
message, distributed face masks to Rotary clubs throughout New England.


By Robert Friend, Assistant Rotary Public Image Coordinator for Zone 32
In the early morning of 29 September, a cargo ship carrying 800,000 face masks arrived at the Port of Boston. Over the course of the following 14 days, those masks were delivered to first responders, healthcare providers, and frontline workers in cities, towns, and villages across New England.


This is a story of service and leadership. It's a story of how our District and Zone responded to a crisis, rallied its resources, put boots-on-the-ground to bring disparate and far-flung communities together to spread goodwill. Most importantly, it's a story about working together and using our collective professional backgrounds through the Rotary network to make a difference. Read more of this post


Rotary District 6060 Ambassadorial Scholarship Opportunity
Ambassadorial Scholarship $25,000 Offered by Rotary District 6060
Rotarians and relatives of Rotarians are not eligible to apply for a Rotary scholarship. However, members of Rotaract clubs are eligible and encouraged to apply, provided that they meet all other eligibility criteria.


They are available only to applicants whose field of study and career plans pertain directly to one or more of the following seven humanitarian focus areas:
1) Peace and conflict prevention and/or resolution


Jennifer Jones - January 27, 2021 | Save the Date!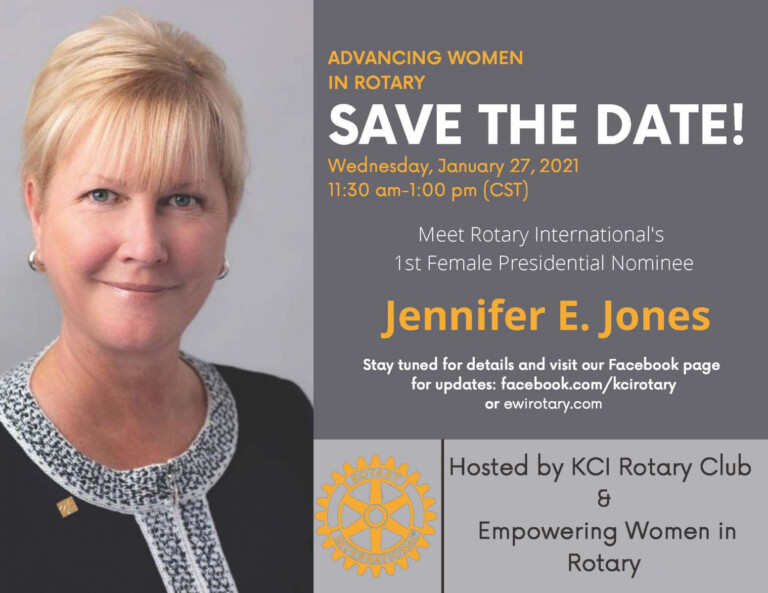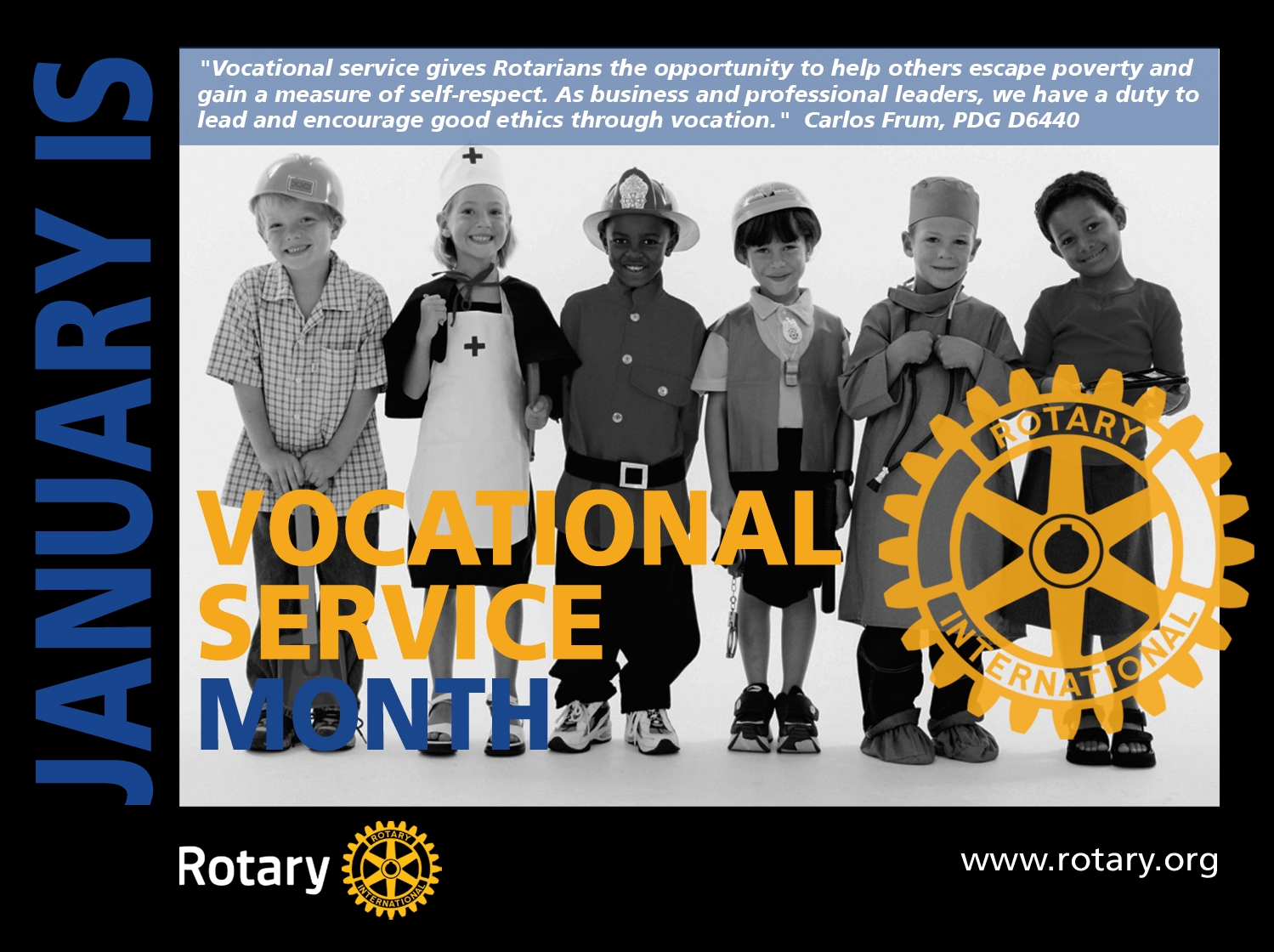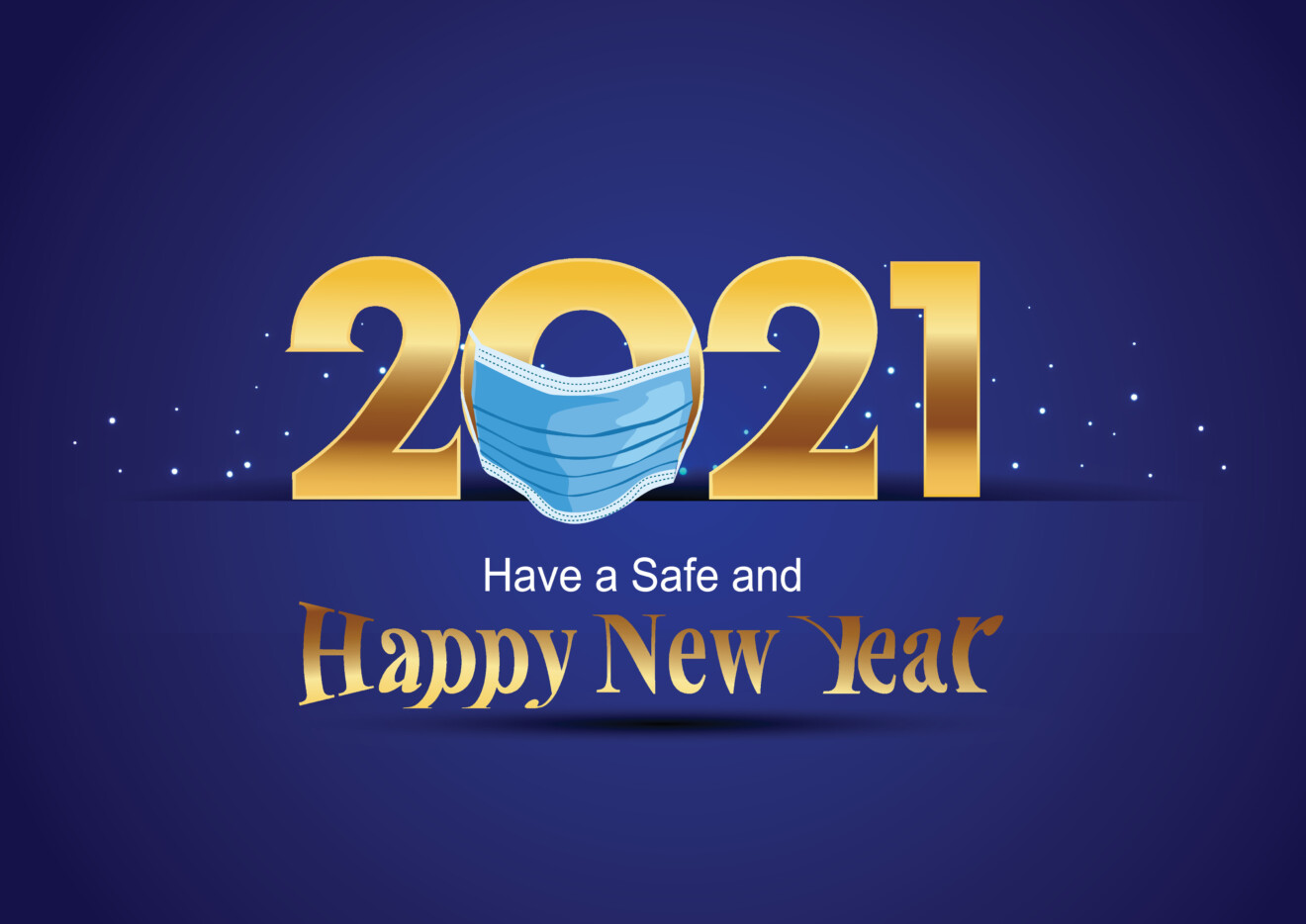 District Conference Week | April 19-23, 2021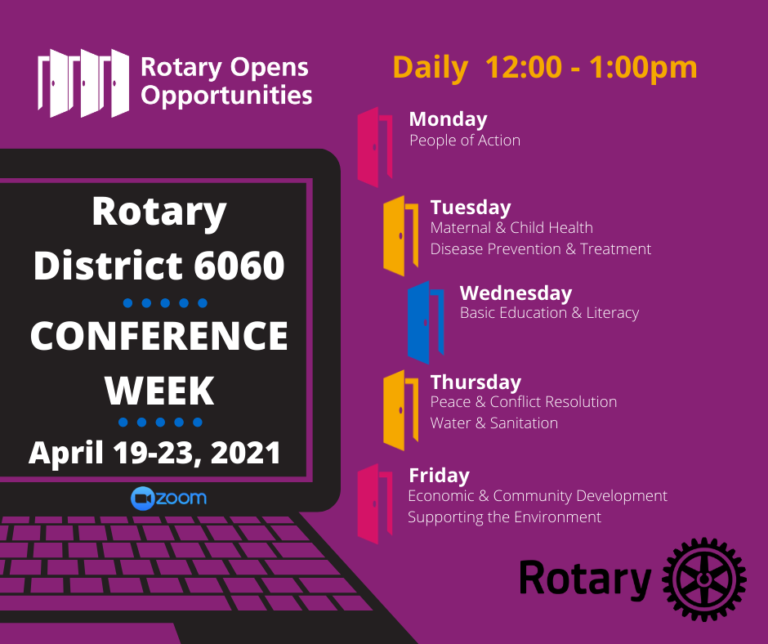 District 6060 Conference Week: April 19 - 23, 2021