Rotary Club 11 ~ St. Louis, MO https://rotarystlouis.org |https://www.Facebook.com/RotarySTL
Speaker ~Frank Viverito, President St Louis Sports Commission | December 10, 2020
Attracting, creating and managing major sporting events for the St. Louis region, the organization uses the power of sports to enhance the area's quality of life and generate economic and social benefit for the community.


Register

BEFORE NOON

on Wednesday 12-09-20 with the In Person link if attending in person.
Register in

advance

for

this

12:00 PM ZOOM meeting Central Time (US and Canada)

After registering, you will receive a confirmation email containing information about joining the ZOOM meeting
Bowling Alleygations 11-30-20 | Captain Matthew Maddox ~ Team 6
As the pandemic continues, attendance has been much lighter the past several weeks. With only thirteen bowlers out of thirty six in attendance, some of the teams got their cardio workouts in. I like to call it "aerobic bowling".


Jack Windish was on fire for part of the evening finishing up game 1 with a five-bagger


and beginning game 2 with a turkey.


I only bowled every blue moon until joining the St. Louis Rotary bowling league and was on


the fence about joining. I can truly say that Rotary bowling has proven to always be a


great time of competitive fun and laughter. I highly encourage others to join or to at least


come visit us some Monday evening for fellowship and to support your fellow Rotarians.


Lunch Menu ~ December 10, 2020
Spinach Salad w/ Strawberries & Candied Walnuts
~
Sliced Pork loin w/ Mushroom Cream, Sweet Potatoes,
Roasted Squash medley
Guests with dietary restrictions, alternative meals are available, but they
must be ordered by no later than 11:30 am on Wednesday, December 09, 2020.
If you don't reserve in advance please do not take a special meal ticket.
Alternative meals may be ordered by emailing the Club
Programs ~ December 2020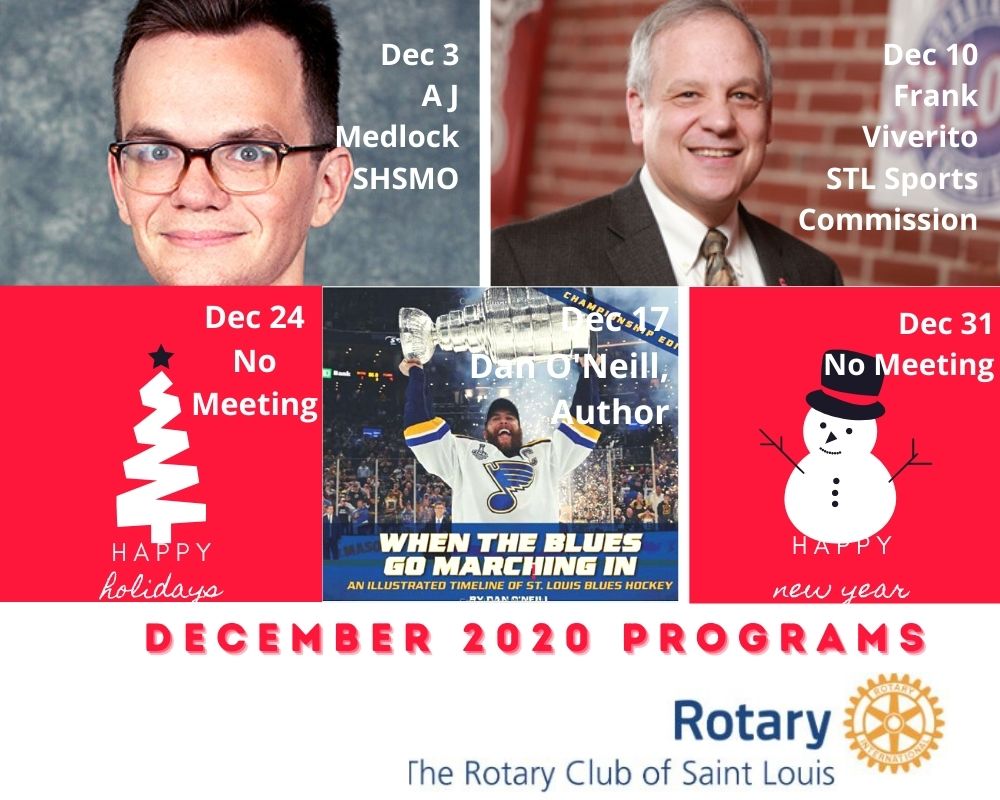 Presidential Telegram - Kent Steinbrueck ~ December 10, 2020
Rotary Club of St. Louis – Club 11


BE PROUD TO BE A ROTARIAN


ESPECIALLY A ROTARIAN IN THE ROTARY CLUB OF ST. LOUIS


As we have consistently done with our Club and our Meetings, we will continue to
follow the guidelines set by the City of St. Louis and the Missouri Athletic Club (Our meeting site) while having a safe environment.
We are one week closer to completing year 2020 and starting a new year 2021. Let's always remember to be THANKFUL for the important things in our lives. Our freedom to speech, religion and other important choices should never be taken for granted.


This Thursday, December 10th will be our second to last meeting of 2020. These last 2 meetings will be held LIVE and via ZOOM. We continue this way until any changes by either the CITY or the MAC.


Pass on information about our club and about Rotary to your friends


Board Meeting - December 16th, 2020
Board Meeting
Noon
MAC - Downtown
When The Blues Go Marching In | Dan O'Neill ~ December 17, 2020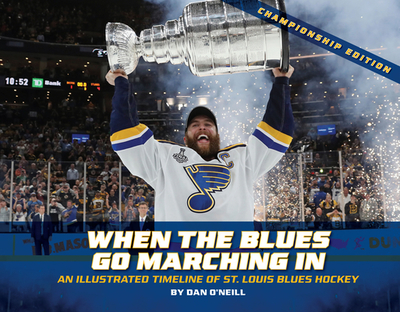 When the Blues Go Marching In: An Illustrated Timeline of St. Louis Blues Hockey | Dan O'Neill, Author at the MAC 12:00 – 1:00 PM…
St Louis Rotary Calendar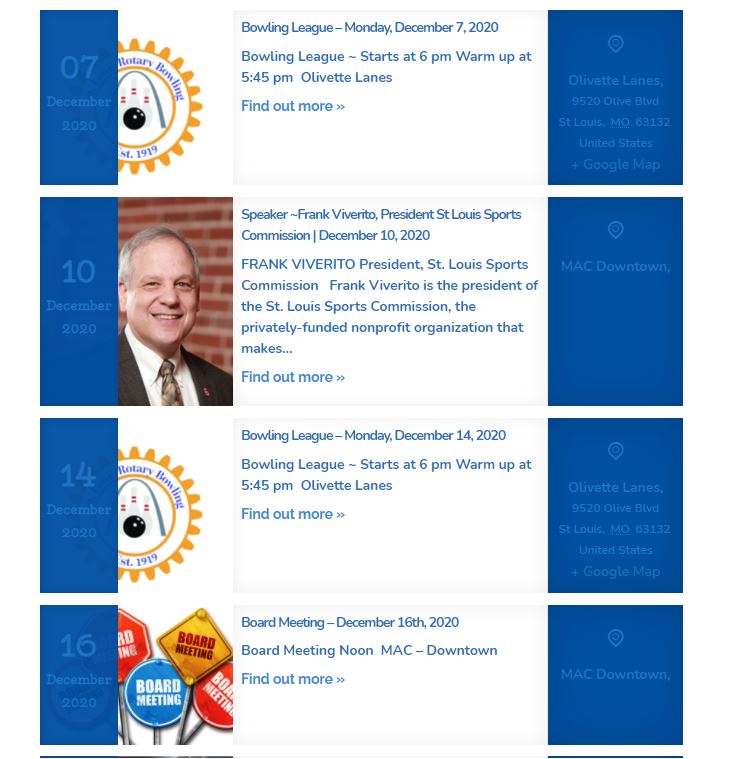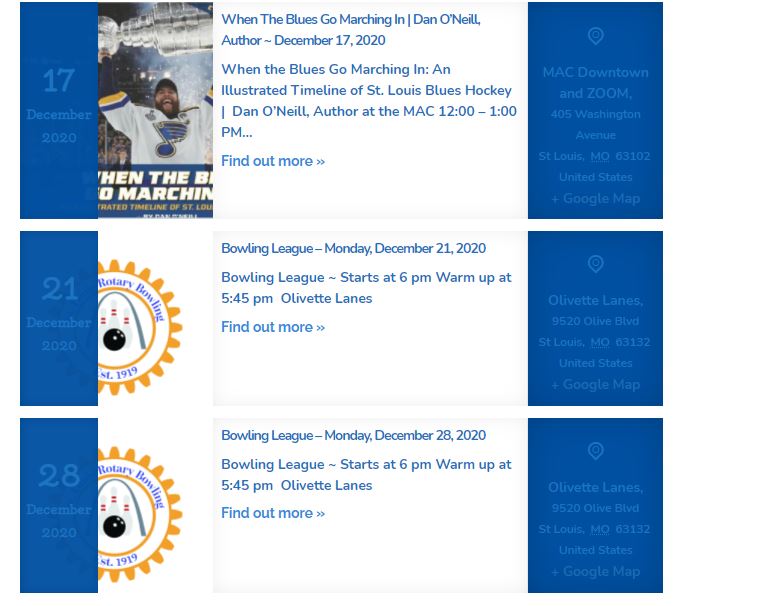 Can you believe it? Coach won the 50 50 pot!


Matt Weiss drew the Winning ACE


Now that's what friends are for: Coach won the 50-50 pot - his winning Ace of Clubs was picked by Matt Weiss.


Rotary District 6060 Ambassadorial Scholarship Opportunity
Ambassadorial Scholarship $25,000 Offered by Rotary District 6060
Rotarians and relatives of Rotarians are not eligible to apply for a Rotary scholarship. However, members of Rotaract clubs are eligible and encouraged to apply, provided that they meet all other eligibility criteria.


Our District-supported scholarship is available for study in any academic field, but preference is given to those whose field of study is related to one of the areas of humanitarian need listed below:
Zoom Recording A. J. Medlock | SHSMO
Access Passcode: C5c@Fapf